National Insect Week is organised by the Royal Entomological Society and occurs every two years. In 2018 it takes place from 18th to 24th June.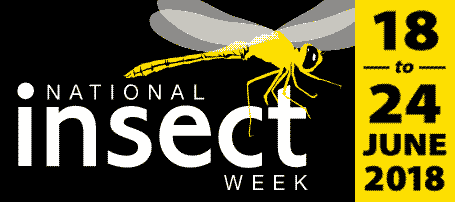 Following the shocking news in 2017 which revealed recent drastic declines in insect numbers, insect and invertebrate biodiversity has never been more critical. National Insect Week aims to inspire people of all ages and backgrounds to learn more about insects and the vital roles they play in almost every ecosystem on earth.
To celebrate National Insect Week hundreds of events will be occurring throughout the UK, ranging from Bioblitz days, insects walks, workshops and even the chance to dine out on edible insects. Take a look at the interactive map on the official National Insect Week website to see what's happening where you live. Or why not organise your own event? Don't forget to submit the details on the website though so that it can be added to the map!
New to the world of insects?
Why not get started by watching the following videos from the Royal Entomological Society. They provide a brief introduction to the various groups of insects and explain why they are so vitally important to life on earth. If you're eager to learn more then you can read about all of the main orders of insects here.
Ready to start finding and observing insects outside?
At NHBS we sell a huge range of insect identification guides as well as butterfly and sweep nets, moth traps, handheld magnifiers, bug pots and all the other accessories you need to start identifying insects in the field. Follow the links below to visit the shopping pages on our website.