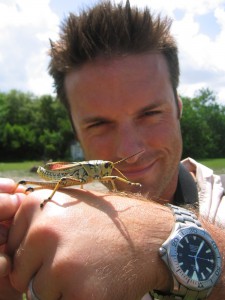 It's that time of the year again –  just like Christmas this little corner of the calendar is sacred, the Birdfair is my annual catch up with the people that circulate in the world of wildlife and wildlife conservation.
It's a time to catch up with old friends and make new ones, as well as loiter with intent on various stands and stalls, fingering salubrious new publications, mentally re-mortgaging the house or conjuring up excuses to tell my wife as I clap eyes on another must-have high-end optic, or Esther Tyson painting, that has to hang on the wall.
Many have tried to emulate the Birdfair's greatness but have failed. The secret seems to be that it grew from a good genuine seed and not a commercial one. It started small and has since built up from a motley collection of gazebos slung up on the edge of Rutland water in 1987 to a fair that has been described as the 'Glastonbury of wildlife'. It just seems to get bigger and bigger, and, more importantly, better.
Did I mention that for all its excellence it has to be one of the most misleadingly named events? Although sporting its fair share of feathers, and with a slight ornithological leaning, this fair is certainly by no means just about birds – and this often comes as a bit of a surprise to those that have not made the annual pilgrimage to the smallest county of Rutland.
Whether you're in the market for a bespoke wildlife holiday, a shiny new pair of bins, nice new multi-laminate breathable pants (meant in the American sense of the word, although given the way the outdoor market is going it wouldn't surprise me if the British definition comes into this market soon!), specialist books and equipment, and taking in every aspect and discipline that could be associated with natural history or wildlife, then there will be something here for you. It's an important thing to mention too, especially in these times of austerity, that this is not wholly a commercial event; sure it is centered around the diverse and sometimes surprising number of trade stands (which in itself makes fascinating window shopping), but there are plenty of things to do and see (and of course learn about), from celebrity-led bug hunts, to wildlife panel shows and presentations.
The best thing about the wildlife world and its people is that generally speaking everyone is friendly and approachable, so if you've always hankered for a signed Simon King calendar or wanted to stroke the shiny pate of the world famous Mike Dilger then the Birdfair is your chance to do just that (well maybe not the latter but you get the gist, everyone is kind of approachable and they all know their stuff).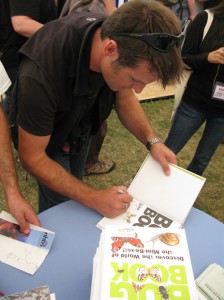 Throughout the three days of the fair, I shall be spending a lot of my time hanging around and blagging cups of tea off the staff at the NHBS stand, not only because I'm an ambassador for them but (don't tell them this) it is where I would want to be standing anyhow. The NHBS stand is a Pandora's box of delights for the naturalist, plenty of gorgeous field guides and other publications as well as loads of quality kit and equipment – from trail cameras and bat detectors to bug pots and pond nets. I will be on hand, along with other staff, to answer questions and queries as well as advise and demonstrate. For the first time this year there will be a selection of workshops and demos by various 'experts' – I for one will be playing around with  minibeasts and microscopes on the stand as well as attempting what may seem like the impossible: trying to hold the attention of an audience of several hundred in the main events tent, with nothing but a microscope (kindly supplied by Zeiss) and a bucket of pond sludge in my 'virtual pond dip – live'. I have no idea whether this will work or not but come and either have your socks knocked off by some of Rutland Water's most surprising inhabitants or watch me fail dismally and 'die' on stage. Either way it'll be entertaining!
Well that is pretty much all there is to say (although truthfully I could go on a lot longer about the joys and qualities of the Birdfair weekend, but I was only going to write a brief taster). So do come along and see us on the stand, enjoy the fair, further your knowledge and have a great time surrounded by the best of the world of naturalists and natural history. If you can, try and build in a bit of time to check out the nature reserve itself, complete with not only the successfully reintroduced ospreys but also resident kingfishers, tree sparrows and a wonderful array of all the other creatures and plants that carry them on their shoulders.
What's on the NHBS events schedule at Birdfair 2012?