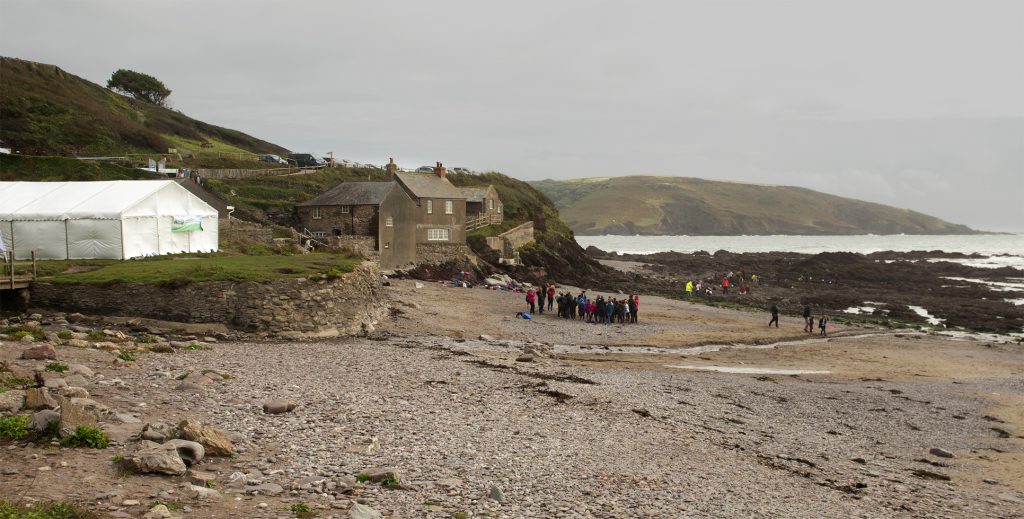 As I walked across the Wembury beach car park something caught my eye, a small brown leaf blustered and bumped across the tarmac, battered by the fierce wind. As I focused, I realised it wasn't a leaf, it was a butterfly! I caught up with the little insect that had temporarily come to halt, and I saw that it was a somewhat ragged looking small copper. Soon it was caught by the wind again and somersaulted unceremoniously onward across the car park.
Minutes later I found myself at the data collection point at Wembury Marine Centre.
"Have you got small copper butterfly yet?", I asked.
"Not yet", came the reply "Not many butterflies have been found in this weather!"
The butterfly was faithfully noted down, just like all species would be over the next 48hrs. For this was Wembury BioBlitz 2019.
You may recall that a BioBlitz is a coming together of professionals and a whole host of other interested parties, from school groups to amateur naturalists. The goal is to engage in a period of intense biological survey in order to record as many species that exist within a particular location as possible. As advertised by Emily Price and her interview with Nicholas Helm in a recent NHBS blog, the Wembury Bioblitz 2019 took place on September 27th and 28th and NHBS had been invited to attend.
This was the 10th Anniversary of the first Wembury BioBlitz and also the 25th Anniversary of the Wembury Marine Centre. An extra special occasion for the partnership of organisations that came together to organise the event especially the Devon Wildlife Trust, Marine Biological Association and the National Trust.
Wembury boasts a spectacular stretch of South Devon coastline which is renowned for supporting a rich diversity of wildlife and as such is designated an Area of Outstanding Natural Beauty, and a Voluntary Marine Conservation Area, so it is an great place for a Bioblitz!
On the morning of Friday 27th September the BioBlitz began and a host of organisers, volunteers and stall holders gathered to start the day's proceedings, the BBC were there too, filming for Countryfile (the story goes out on October 13th). The weather did not look promising with driving rain and an unrepentant wind threatening to lower everyone's spirits. However,  everyone pressed on unperturbed with great enthusiasm and as the first eager local primary school groups arrived the day was up and running!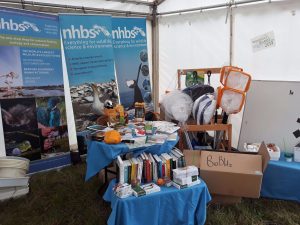 NHBS was there to set up a stall of useful equipment and books such as invaluable field and FSC guides which, like the other stalls, was soon inundated with excited school children. They were particularly impressed with our loan out of hand lenses which were immediately to put to good use! Others gathered around tables that gave the opportunity to peer down microscopes at a range of marine organisms or handle a whale's rib or a dolphin's skull!
The BioBlitz included a series of surveys across the key habitats that the Wembury locale offers including, of course; the rocky and sandy parts of the shore, but also ancient woodland, a stream, meadow, the coastal path and cliffs and parkland. Experts led parties out into the blustery conditions to scrutinise these zones and gather as much data as they could.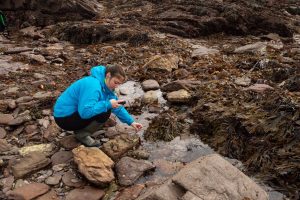 Down on the beach, my colleague Hattie had fun with a nice little gadget called a Video Endoscope to take pictures of rock pool life.
Back in the base camp Marquee, we soon discovered that we could contribute to the data collection ourselves as a host of crane flies, rove beetles, pill lice, spiders and earwigs began to explore the stall! News of rock pool discoveries reached us too, including brittle and cushion stars, snake locks anemones, gobies and five bearded rocklings!
By mid-afternoon the school groups had departed and it was time to pack up for the day, although for some there were many more hours of computer data entry and even nocturnal surveys ahead.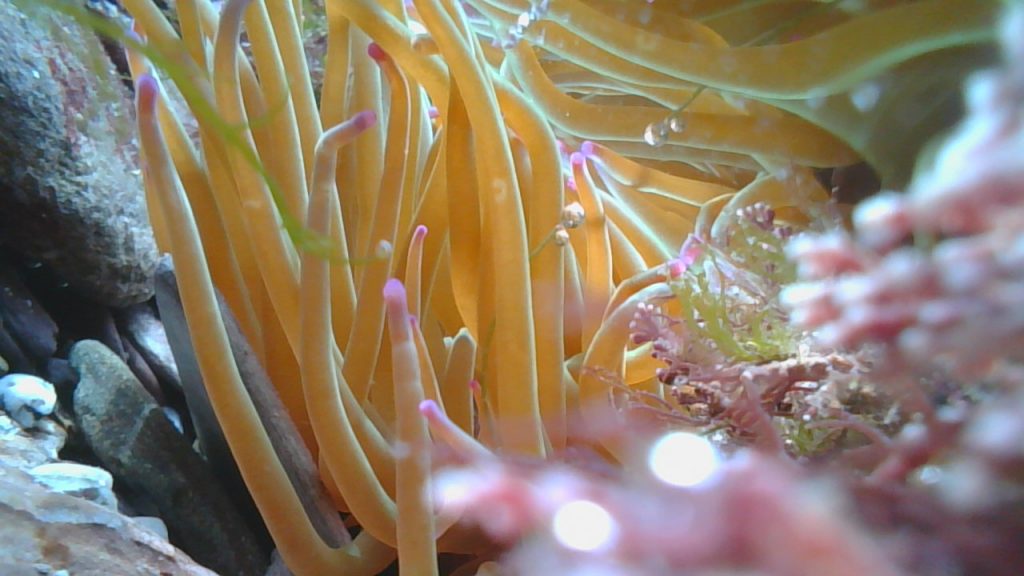 The following day the weather conditions initially seemed to have calmed and even the sun made an appearance! We were ready for Day 2. During the night, moth and bat surveys had taken place to boost the figures, but word came through that the overnight species count was a somewhat lowly 120 and a big push was needed if the target of 1000 species was to be achieved. With no school parties around to help this time, this was a day for families to get involved and once again the surveys commenced.
By 3.30 that afternoon, just as the weather vehemently turned for the worse again, it was time to call a halt to the BioBlitz and everyone began to gather for prize giving, species total announcements and chocolate cake in the shelter of the Marine Centre.
At the time of writing this blog, 840 species made the list for the 10th Anniversary BioBlitz a figure which is comparable to the number of species found in 2009.
Taking part in a BioBlitz is a fantastic way to engage in citizen science. They are great fun but are also a brilliant way to collect important data that can be used to gauge how our local biodiversity is coping with all kinds of environmental pressure including climate change and habitat loss. If you get the chance to get involved in one, I urge that you do so ……. and just ignore the weather!
Edit: We've received some highlight findings from the events organisers:
2x Giant Gobies were found during the night time rockpool safari
Many sightings of a bird called the Cirl Bunting, a once rare species that is now on the up near Wembury!
Gannets were seen diving off the Mewstone.
The St. Pirrans Crab was found; Wembury is the only UK location outside of Cornwall where they've been found!
Conger Eel were found during the diving surveys