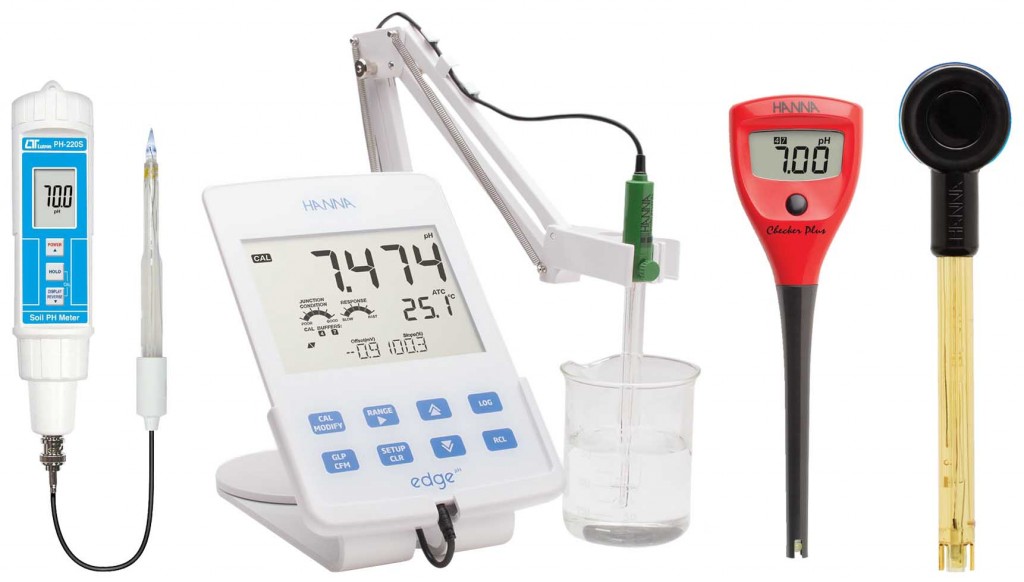 Modern pH meters are extremely efficient and provide highly accurate results if they are well looked after and correctly calibrated. A key part of this is taking care of the pH electrode. In this post we will discuss how you can maintain the accuracy and lifespan of your equipment by following correct pH meter calibration, cleaning and storage guidelines.
The main components of the pH meter are the glass electrode and reference electrode which are housed together inside a thin glass membrane. The pH meter calculates pH by measuring the difference in potential, or voltage, between the two. A well cared for electrode will last for up to two years, although use at very high temperatures or with abrasive chemicals may reduce this. It is also important to make sure that you have the correct meter for your sample type: for example, a pH meter designed for use in soil samples will have a different electrode type to one which is designed for liquids.
To maximise the lifespan of your electrode and ensure that it provides consistently accurate readings, a small amount of care and attention is required. Below we answer the most common questions relating to pH meter calibration and care.

How do I calibrate my pH meter?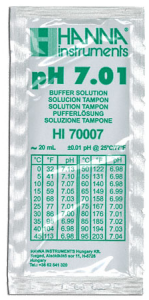 pH meter calibration requires two or more pH buffers. A buffer is a solution of known pH which is used as a standard to ensure the electrode is producing accurate results. The most commonly used buffers are pH 7.0, 4.0 and 10.0. Some pH meters will require two buffers for calibration whilst others require three or more. If you are using only two buffers then you will begin your calibration with the pH 7.0 solution and then use either pH 4.0 or pH 10.0 as your second buffer, depending on whether your sample is acidic or alkaline respectively.
The instructions provided with your meter will detail the calibration process. In general, this will involve dipping your electrode into a buffer and waiting for the reading to stabilise. You will then adjust the pH meter to read the correct pH on the display or, if your meter features automatic calibration, it will automatically adjust itself. This process is repeated with the following buffer(s) until the process is complete and the meter is ready to use. Always remember to rinse your electrode in distilled water between different buffer types and make sure to read your manual carefully before calibrating the meter for the first time.
Buffer solutions are available to purchase in 500ml bottles or as packs of 20ml sachets. Sachets are ideal for infrequent use or for use in the field.

How do I clean my pH electrode?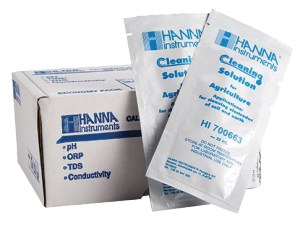 Cleaning your electrode will ensure that it stays in optimum condition and will help to maintain accuracy and efficiency. To use a cleaning solution simply place your electrode in it for 15 to 20 minutes then rinse with distilled water and store as recommended below. For pH meters which are designed for use in soil, a cleaning solution for soil deposits is available which will help to eliminate all impurities and residues which are left on the electrode after use.

How do I store my pH electrode when not in use?

When your pH meter is not in use the electrode should be kept immersed in storage solution. This stops the electrode from drying out and keeps it clean and protected until required again. Most pH meters come with either a specially designed cap, into which a small amount of storage solution can be added, or they come with a storage bottle which can be topped up with solution. Make sure to check the level of the storage solution regularly as it will evaporate over time. If the electrode is allowed to dry out then it will no longer function correctly and will have to be replaced.
Take a look at the NHBS website for our full range of pH meters, buffers, cleaning and storage solutions. For replacement electrodes, please contact us to discuss your requirements by phoning +44 (0)1803 865913 or emailing customer.services@nhbs.com