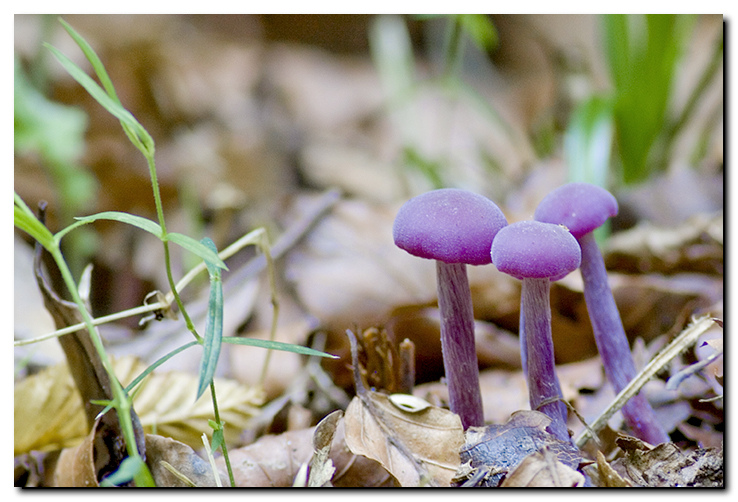 What are fungi and why do they matter?
It has been estimated that the kingdom of Fungi consists of more than five million species ranging from single-celled microorganisms up to the largest living organism on the planet. Fungi are a crucial part of the food web in many habitats and play a vital role in many commercial activities, including the production of pharmaceuticals and food products.
Most fungi grow as microscopic filaments called hyphae which extend to form a large network or mycelium. The part we observe above ground, the mushroom or toadstool, is the fruiting body whose purpose it is to spread spores. These fruiting bodies are only produced when conditions are favourable which means that, at most times, we are largely unaware of the mass of fungal life that is living beneath our feet and in our surroundings.
Where and when to look for fungi
The best time to look for fungi in the UK is during late summer, autumn and early winter, when the relatively mild yet damp weather provides ideal conditions for the production of fruiting bodies. Both deciduous and coniferous forests can host an impressive range and number of fungal types. Meadows, parks and moorland are also great places to look.
What you need to find and identify fungi
Conducting a fungal foray is a wonderful pastime, not least because there is very little equipment you really need. A stout pair of shoes and sharp pair of eyes will go a long way – but if you would like to maximise the chance of identifying your finds, then a few additional things may come in handy.
• Basket or box – Traditional fungi collecting baskets are flat bottomed and woven from willow. However, any sturdy box, tub or crate will do so long as it is relatively easy to carry and will prevent your collection from being squashed.
• Paper bags – Useful for storing individual specimens. Don't use plastic bags if you can help it as they are not breathable and your fungi will become sweaty and slimy.
• Penknife – For lifting specimens from the ground whilst keeping the stem and root intact.
• Hand lens – A lens with 10x magnification is useful for looking at the finer details of your fungi. Try the Opticron 23mm 10x lens which has a robust stainless steel case and a loop for attaching a lanyard.
• Pencil and paper – For making notes of what you find and where it was spotted.
• Field guide – A field guide will help you to identify the fungi that you find. Useful both in the field and for when you get back to your home or classroom. For a small fold-out guide try the FSC Fungi Name Trail. Or for a more comprehensive book take a look at the beautifully illustrated Collins Fungi Guide by Stefan Buczacki or the wonderful photographic guide, Mushrooms, by Roger Phillips.
• Microscope – When used with the Microstand Adapter, the Opticron Gallery Scope can be used for looking at specimens at a greater magnification while you are out and about. When back at home you can also make slides of spores and look at them through a higher powered microscope (x400 – x1000 magnification) – the shape will be a useful aid to identification.
• Camera – For specimens that you want to leave in situ, taking some photographs will be a useful way to aid your identification efforts. A photo of a mushroom you have collected can also help remind you of the habitat and conditions where it was picked.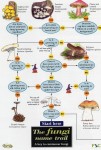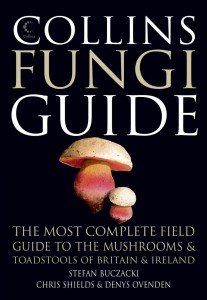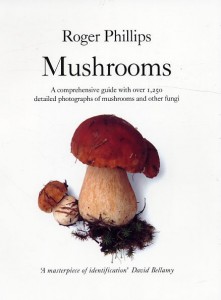 What are the key identifying features of fungi?
When collecting or spotting fungi it is useful to make as many notes as you can, as this will improve your chances of identifying your specimen. Try to get information about as many of the following as possible. (Diagrams to help you with terminology and typical types of mushroom morphology can be found in most field guides).
• Date and location
• Habitat – On the ground, on dead/living wood, in leaf litter
• Situation – Was the specimen solitary or growing in a group. If found in a group, were individuals spread out, in a circle, crowded together?
• Cap – Colour, texture, size and smell
• Gills – Colour, size, type (i.e. crowded, spaced)
• Stem – Length, diameter, texture, colour. Does it have a ring or a shaggy appearance?
• Root – Shape, presence of volva
• Spores – The colour and shape of the spore is a key identification characteristic. Spore colour can be easily studied by making a spore print as described below.
How to make a spore print
Spore colour varies significantly between different species of mushroom, and this colour is another identifying feature which will help you to determine which fungi you are looking at. Making a spore print of a fungi that has gills or pores is a very simple process and can be easily accomplished with very basic equipment.
First you will need to remove the stem as close to the cap as possible using a sharp knife. Place the cap, gill/pore side down onto a piece of paper and leave it to sit undisturbed overnight covered with an upturned glass or bowl. When you remove the cap from the paper you should see a pattern of spores where they have dropped onto the paper. Try using different coloured paper or using a piece which is half black and half white to see which shows the spores best. To preserve your print you can coat it with artists spray or even hairspray.
Where to go to learn more
Many local wildlife groups or country parks run public fungi walks during the autumn. Why not check out local events in your area to see if there is anything happening? The British Mycological Society also has a network of recording groups around the country which consist of volunteers that are working hard to share their knowledge and improve awareness of mycology and conservation.
Please take care if you are picking fungi to eat. Many edible species are easily mistaken for inedible or poisonous ones. Consult an expert if you are in any doubt.