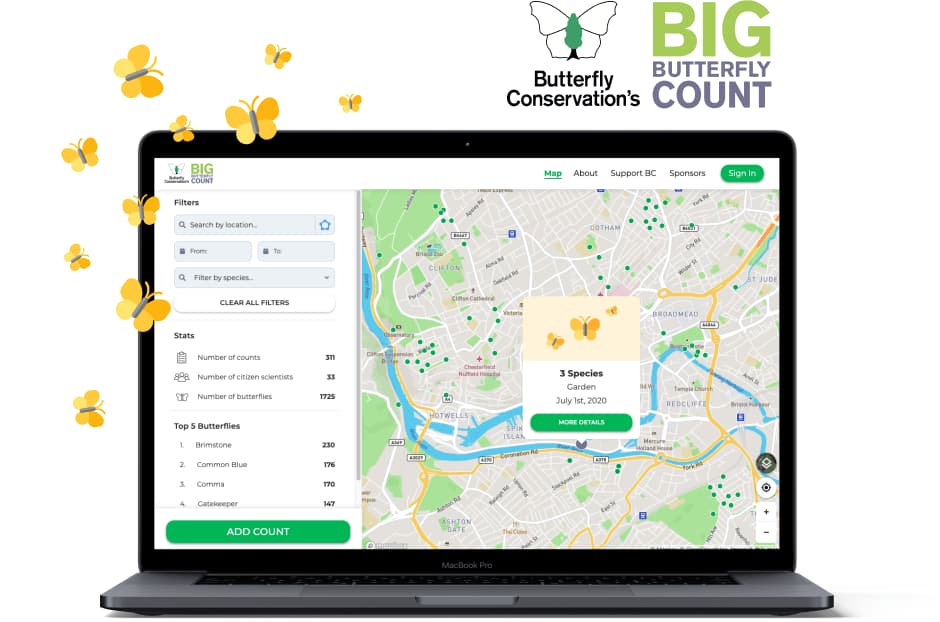 The Big Butterfly Count is an annual citizen science survey organised by Butterfly Conservation. This project, which is the world's biggest survey of butterflies, aims to assess the health of our environment by counting a selection of our most common butterflies (along with a couple of day-flying moths).
Butterflies respond very quickly to changes in the environment and, as such, are useful biodiversity indicators. They can also provide an early warning system for environmental factors that may go on to impact other wildlife. Since the 1970s, numbers of butterflies and moths in the UK have decreased significantly. Monitoring this decline and any future change is an important step in studying the effect of the climate crisis on our wildlife.
The Big Butterfly Count 2020 will run from Friday 17 July to Sunday 9 August.
2019 Results
During the 2019 survey, more than 100,000 counts took place. On average, people saw 16 butterflies during the 15 minutes; this was higher than the 2018 average of 11 and the second highest number recorded since the survey began.
2019 was also notable in that it was a 'Painted Lady year'. Painted Lady butterflies migrate over successive generations from north Africa to central and northern Europe. A Painted Lady year happens about once in a decade, and is when unusually high numbers of this migratory butterfly arrive in the UK. In 2019 they were the most numerous species spotted during the Big Butterfly Count; they accounted for more than a quarter of all butterflies reported and were more than two times as common as the next most abundant species (the Peacock).
Other increases seen in 2019 included the Peacock, Red Admiral and Small Tortoiseshell while the Large White, Small White and Green-veined White all decreased in comparison to 2018.
How to take part
To take part, all you need to do is spend 15 minutes counting butterflies on a sunny day between 17th July and 9th August. You can conduct the count from anywhere you like; in the garden or park, in the woods or fields or wherever you find yourself outdoors.
If you are counting from a fixed position, count the maximum number of each species that you can see at a single time. For example, if you see three Red Admirals together then record it as 3, but if you only see one at a time then record it as 1 (even if you saw one on several occasions) – this is so that you don't count the same butterfly more than once. If you are doing your count on a walk, then simply total up the number of each butterfly species that you see during the 15 minutes. You can do as many counts as you like, even if these take place in the same location.
Submit your results online on the Big Butterfly Count website, where you can also download a handy butterfly ID chart. Or, carry out the survey and submit your count all in one go using the free smartphone app, available for both iOS and Android.
Butterfly identification resources
On the NHBS blog you will find a handy butterfly ID guide, helpfully split into different habitat types. Or why not take a look at one of the popular field guides below: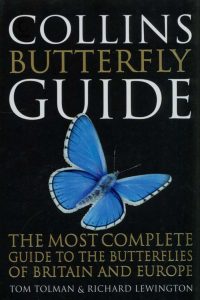 Collins Butterfly Guide
#173624
This comprehensive guide describes and illustrates about 440 species, depicting both males and females and – where there is significant variation – subspecies. Distribution maps accompany every widespread species.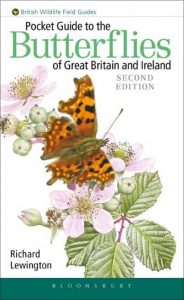 Pocket Guide to the Butterflies of Great Britain and Ireland
#245485
This handy pocket-sized book has become the essential guide to identifying the butterflies of Great Britain and Ireland. It contains over 600 superb illustrations of the life stages of each species, together with beautiful artworks of butterflies in their natural settings.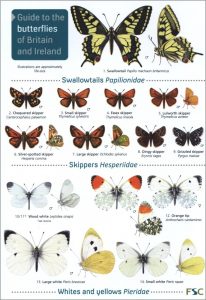 Guide to the Butterflies of Britain and Ireland
#245262
The illustrations in this guide, from originals painted by Richard Lewington, show 58 British butterfly species. The paintings are a quick identification aid to the butterflies most likely to be seen and all are drawn to life-size.