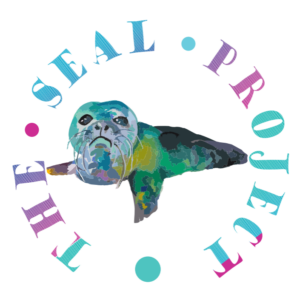 The Seal Project is an environmental conservation charity based in Brixham, Devon, which monitors, surveys and manages the welfare of seals on and around the South West coast, particularly Torbay and South Hams. Alongside seal conservation, the charity also focuses on engaging, involving and educating the community on the importance of protecting our ocean wildlife through presentations, talks, assemblies in educational settings, workshops and public events. Sarah Greenslade spent many years working as a key member of the British Divers Marine Life Rescue before establishing The Seal Project in January 2019. 
Sarah, founder of The Seal Project, took time out of her busy schedule to answer our questions on the amazing work of The Seal Project, the effects of climate change on the local seal population, the importance of raising awareness, and how the current pupping season is going. 
---
What is the Seal Project and where are you based?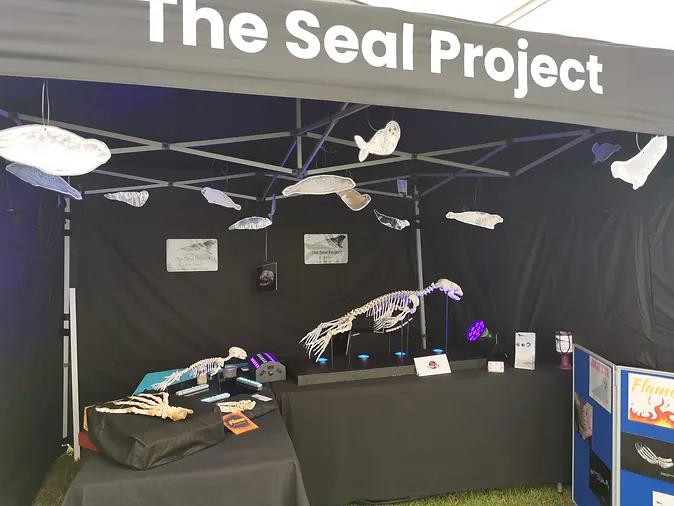 The Seal Project is a small conservation charity based in Brixham that monitors the Grey seals in South Devon – mostly around Brixham, but we now also monitor the coast between Dawlish and Prawle Point, including the River Dart. The charity was born out of a need to protect the seals seen locally, many of which are animals we know individually from all around our stretch of coastline. 
How did you get into seal conservation?
The story began when I encountered a Common Seal Pup stuck in Brixham's Shoalstone seawater pool – who do you call at 5.30 in the morning? Myself and my best friend had no idea. The RSPCA don't wake up that early and we had no clue what to do, but we knew that leaving the pup where it was wasn't an option as people were walking dogs and the seal was clearly in the wrong place. My partner Lee (now a trustee of The Seal Project) suggested wrapping it up in something and putting it back in the sea. We had no hoodies or coats, so my friends partner was called and he brought down their most luxurious fleecey blanket off their sofa (as you do!) The seal, who had been swimming in the pool, came out and literally stopped at my feet. I scooped up the pup in the blanket as if it was a sleeping child and it never struggled once. We never touched it as we carried it over the rocks to the sea and let it free. As soon as we released it, another seal appeared – knowing what I know now that was most likely its mum – and off they went. The pup had clearly come in on a high tide and got stranded and the mum couldn't get through the railings. If that was a grey seal it would have been abandoned there and then but Common seals are more devoted mums, and I hope to see this seal as an adult at some point.
After this, I became a Marine Mammal Medic for the British Divers Marine Life Rescue (BDMLR), which sends medics to call outs for marine life in distress, mostly seals, dolphins and whales. My first call out was to a 'speared' seal which quite literally resembled a tv ariel in the sea. She was eventually sighted locally without the spear attached, however it seems that every seal has some kind of back wound. She, like all seals, has unique identifying marks including their individual fingerprints and fur patterns, in this case a specific 'W' shape to the right-hand side of her head. I knew I had a photo showing that she was alive and well, and that resighting along with later  identification of an animal known by the Seal Research Trust (Cornwall Seal Group Research Trust), with whom we share all our data, are what first sparked my interest in using photos to identify individual seals. After providing the identification I spent two weeks getting called out to every seal sighting in search of the previously speared individual, and it's all gone a bit mad since then!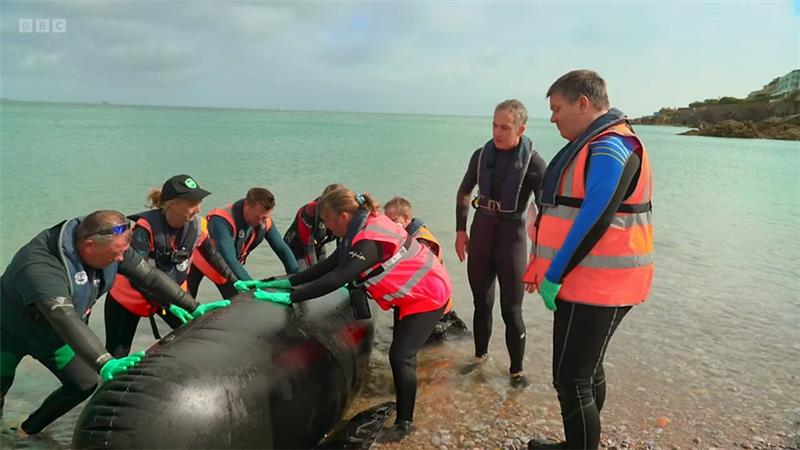 We are at the end of October, which is around the time Seals finish pupping. What has it been like in the Torbay area for pups this year? 
I'll be honest, it has not at all been as expected. Three of our known mums have not been seen for ages, and a first-time mum has been identified as a seal we know which we didn't expect to be pupping just yet. The strange summer/autumn weather also means people are now using the coastline with their watercraft year-round and paddleboards and kayaks are now easily affordable too, so people are everywhere. Pupping seals who once had the coastline to themselves once September kicked in are now finding they don't have these spaces to themselves, and as such pups are born or washed up in busy locations. This often results in a call out to BDMLR (as has just happened on the day I'm writing this).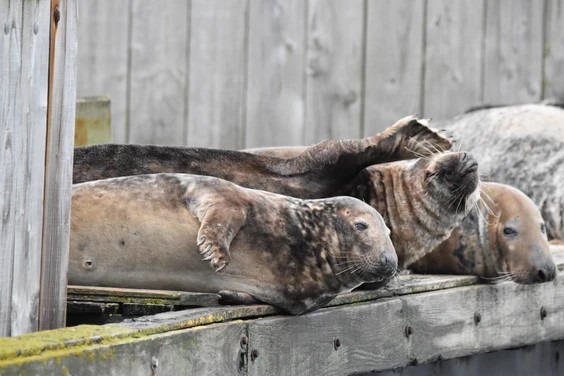 Being based in a tourist area, what challenges do the seals and The Seal Project face? 
That's a good question. Hand feeding is probably our biggest problem. When we first started, our mentor and amazing friend Sue Sayer MBE thought that us starting a Brixham-based project would have a negative response as this is a major fishing port and some believe that seals 'eat all the fish.' But bar the odd comment, and a tiny number of incidents involving fishing and tripper boats hand feeding seals, we have experienced very few problems with the commercial operators in Brixham.
As a tourist area another big problem is angling-line entanglements. Our Breakwater is a busy area for novice anglers and they tend to feed the seals in an attempt to make them go away – clearly that doesn't work. Also, some seals are sadly too habituated and get caught in angling line regularly. With adult seals there is nothing that we can do about this, and they have to be left to themselves until the hooks rust or fall out. Stones are also often thrown at seals to make them go away, and the animals are uncommon at a couple of locations where more 'commercial' land angling takes place.
Our biggest challenge is lack of awareness. We spend so much of our time trying to raise awareness and get the message out there which requires help from the local authorities and the tourist boats, but this doesn't seem to be happening and it's frustrating for us. We should all be working together, and the amazing local wildlife – including seals – should be respected and appreciated. Without our incredible wildlife many tourist boats would just be ferry services.
What projects or research have you been carrying out or got planned for the future?
We monitor and record all seals, sightings, dates and locations to try to build up a big picture of the seal population around our coastline. We now know many seals well and have been gathering data since 2016/2017. Matching our seals to individuals from Cornwall is difficult as there are very few other locations on the south cost carrying out monitoring in this way. Therefore, unless an image of a seal happens to be shared on social media or passed onto us from a private group, our records are mostly limited to the confines of our study area.
We do however have sightings of seals which have been released in Cornwall or seen in north Cornwall. We would love to be able to find out where else our seals have been seen and to build a better picture of their travels. Given that we do have Cornish seals visiting our area, we'd like to know if they behave differently to the individuals normally resident in Devon; my Cornish surveys show that the seals there are much more skittish than the individuals we see in Brixham, which tend to be relaxed and show little concern around the noise and traffic of this major fishing port. We do also have a couple of students planning research, but as of yet nothing is confirmed. Our data is not in the best shape and every sighting of each seal takes time to document – identifying one seal can take seconds or hours, and as this is all done by eye the catalogue is a minefield to get involved in! 
How has climate change impacted the local seal community? 
At this time, I can't say for sure. My biggest concern is the fact that seal pups, born with white fluffy coats to be camouflaged in snow, are increasingly being born in hot September sunshine, and therefore once abandoned they are at a greater risk of dehydration due to being on sunny warm beaches when it should be much cooler. This year, numbers of seals appear to have been increasing unusually slowly as we head towards the winter months, but we're yet to reach peak winter season to be able to confirm whether numbers will remain low. Our only other concern at this time is for the three mums who we've not yet seen pup this year, as they've been so predictable for the past few years.  
Do you have a success story you'd like to share with us?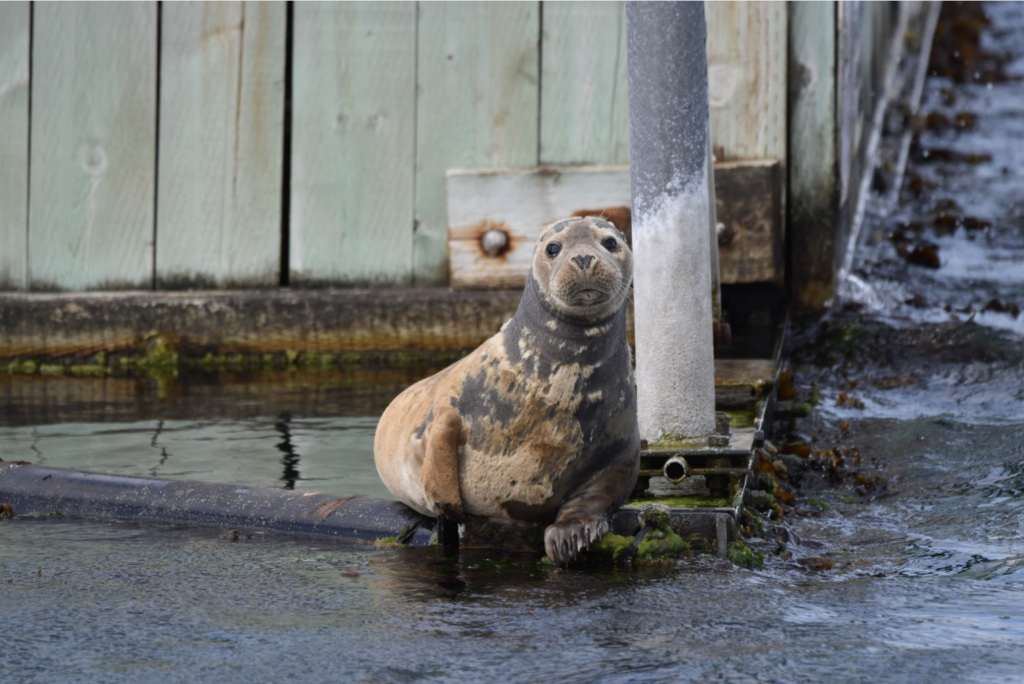 'Easter Bunny' is one of my favourite seals and can still be seen today resting around the local area. We first encountered him in 2020 as a juvenile seal entangled in industrial strength plastic. He vanished and we feared the worst, however a week later, on Easter Sunday, he was back in the same haul out spot on a girder in the marina, freed from the plastic. At the time of our first sighting, he appeared to have a bunny shape on his right-hand side (alongside a letter 'A'), but this time the bunny seems to have disappeared with the 'A' is clearly visible. He reappeared regularly over the coming years, often seen for a few days and until the last several months always in the same spot, before disappearing for a few days and coming back again. We have seen him elsewhere a number of times, and last winter he was seen socialising with two 'tagged' seals (former rescued seals with plastic rear flipper tags for identification), so we look forward to seeing if they return to the area soon too.  
---
You can find out more about The Seal Project and the work they do via their website or by following them on Facebook,  Instagram and Twitter.