Hedgehogs are abundant in urban and suburban areas and can frequently be found in gardens, as these provide safe, accessible spaces for them to forage and rear their young. They are most active between April and September with the main mating season occurring between May and June. Female hedgehogs give birth during June and July, although some will go on to produce a second litter later in the summer. All of this means that now is a great time to look for hedgehogs – and if you're taking part in the Wildlife Trusts' 30 Days Wild Challenge, then this will also contribute to your month of wild activities.
If you're lucky enough to have hedgehogs in your garden, why not take the time to record their behaviours for Hedgehogs After Dark. This project, organised by Hedgehog Street, aims to learn more about the ways in which hedgehogs are using our gardens and the behaviours that they are showing through the spring and summer. Until Sunday 26th July you can submit your observations to their website and have the chance of winning an exclusive hedgehog hamper in their prize draw. Visit their website for lots of information about the different behaviours they are interested in and how to submit your findings (you will need to register as a Hedgehog Champion to do this).
Keep reading for some top tips on making your garden attractive to hedgehogs and how to watch them, either with or without a trail camera.
Is your garden hedgehog friendly?
There are several things that you can do to make your garden more attractive to hedgehogs: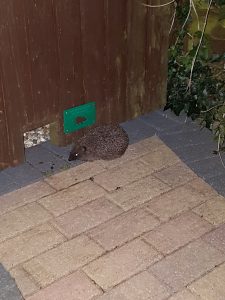 • Improve access – Gardens are only useful for hedgehogs if they can access them. Plus, hedgehogs move long distances throughout the night to find enough food, so creating networks of gardens that they can move between is important. By cutting a 13cm diameter hole in the bottom of a fence or removing a brick from the base of a wall, you can help to provide access and link your garden with surrounding ones.
• Provide shelter – Try to keep some areas of your garden wild and overgrown, as this will provide secure nesting and feeding spaces. An artificial hedgehog home will also provide a safe and warm space for hedgehogs to overwinter and for a female to birth and raise her young in the spring and summer. Try not to use pesticides or slug pellets in the garden, as these are poisonous to other animals as well as slugs.
• Provide food – Make sure that there are lots of worms, beetles and earwigs in your garden by growing wildflowers and providing log piles. Leaving areas of the garden which are overgrown or making a small wildlife pond will also help to encourage a diverse range of invertebrates. (Make sure your pond has sloping sides or piles of rocks to allow any animals to escape.) You could also provide a shallow dish of fresh water along with good quality hedgehog food, meaty dog or cat food, or dry cat biscuits.
Tips for watching hedgehogs
Hedgehogs are nocturnal, so the best time to watch them is during late evening. Throughout the night they can travel up to 2km searching for food and/or mates. (This great video shows radio-tracked hedgehogs moving between gardens in a suburban area of Brighton). If you have a suitable window looking out onto your garden, then you can watch them from the warmth of your home. Make sure that you turn any inside lights off and keep noise to a minimum. If there is no illumination from street lights, visibility will be best at twilight (before complete dark) and around the time of the full moon (provided it isn't too cloudy).
If you can't watch the garden from a window, then wrap up warm, get into stealth-mode and venture outdoors. As with any wildlife-watching endeavour, the most important thing is to be still and quiet. It might also help if you can get low to the ground which will provide a hedgehog-level view of their activities. Don't be tempted to try to get too close to them, however, and never attempt to pick them up or interfere with their natural movements.
Using a trail camera to watch hedgehogs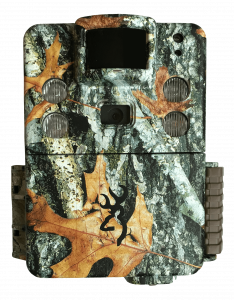 One of the best ways to view the hedgehogs in your garden is using a trail camera. If you're lucky enough to own one of these, then setting it up to record at night is a great way to see if any hedgehogs are around and, if so, what they're getting up to. Here are some tips to maximise your chance of getting great footage:
• When siting your camera, think about where the hedgehogs are likely to be moving around. If you have a hole cut in your fence and you know that hedgehogs are using it to access your garden, then you might want to point your camera towards this. Similarly, if you have provided any food or water, then setting your camera up near to this is a great way to capture footage of them feeding.
• Position your camera low to the ground. Think about the size of the hedgehog and where it is most likely to trigger the infrared beam.
• Set your camera to the highest sensitivity setting. If you find that it is triggering far too much, particularly in the absence of any animals, then you can always reduce this later.
• As you'll be recording hedgehogs mostly in darkness, having a camera with invisible night vision LEDs could be a bonus, as these will not startle the animals. Plus, models with adjustable night-time illumination (or which adjust automatically) will give you the most control over your image quality.
[The Browning Strike Force HD Pro X is one of our bestselling trail cameras for hedgehog watching and is used by lots of great projects, such as London Hogwatch. For more information or advice about trail cameras, please get in touch with us and chat with one of our experienced ecologists.]
No hedgehogs?
Maybe you don't have a garden, or you have one but haven't seen any hedgehogs using it. You can still view lots of great hedgehog videos on the Hedgehog Street YouTube channel. Or, if you use Facebook, why not watch this talk by ecologist and hedgehog fan Hugh Warwick, recorded for the Summer Solstice 'Wonderland' Festival this spring.
Further reading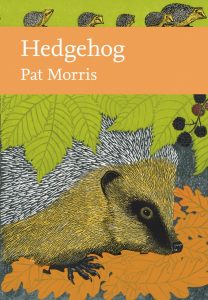 Hedgehog
Pat Morris
#235985
An all-encompassing study of the hedgehog and its habitat, shedding new light on conservation efforts crucial to the survival of this charming creature.
The Hedgehog
Pat Morris
#212733
This booklet presents general information on biology and behaviour of the hedgehog.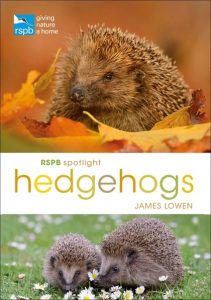 RSPB Spotlight: Hedgehogs
James Lowen
#239043
A lively, readable and well-illustrated account of one of Britain's most loved but most vulnerable animals.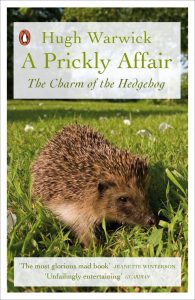 A Prickly Affair: The Charm of the Hedgehog
Hugh Warwick
#241371
In this glorious book, Hugh sets out to answer our questions about hedgehogs, from the practical to the sublime.