To celebrate International Women's Day we have put together a selection of incredible nature and science writing books from some brilliant female writers. 
Tamed: Ten Species that Changed our World
by Alice Roberts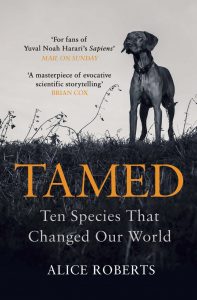 In Tamed, Dr. Alice Roberts uncovers the amazing deep history of ten familiar species with incredible wild pasts: dogs, apples and wheat; cattle; potatoes and chickens; rice, maize, and horses – and, finally, humans. Alice Roberts not only reveals how becoming part of our world changed these animals and plants but shows how they became our allies, essential to the survival and success of our own species – and to our future.                                                            
Poached: Inside the Dark World of Wildlife Tracking
by Rachel Love Nuwer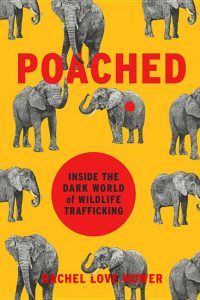 In Poached, science journalist Rachel Nuwer takes us on a harrowing journey to the frontlines of the illegal wildlife trade, exploring the forces currently driving demand for animals and their parts – such as the widespread abuses of Chinese medicine and the links with drug trafficking and international crime cartels – and introduces us to the individuals battling to save them: the scientists and activists who believe it is not too late to stop the impending extinctions.
Spirals in Time: The Secret Life and Curious Afterlife of Seashells
by Helen Scales
Helen Scales tells the story of the seashell, showing how these simple objects have been sculpted by fundamental rules of mathematics and evolution, how they gave us colour, gems, food and money, and how they are prompting new medicines and teaching scientists how our brains work. Seashells offer an accessible way to reconnect people with nature, helping to heal the rift between ourselves and the undersea world. 
by Helen Macdonald 
Destined to be a classic of nature writing, H is for Hawk is a record of a spiritual journey – an unflinchingly honest account of Macdonald's struggle with grief during the difficult process of the hawk's taming and her own untaming. At the same time, it's a kaleidoscopic biography of the brilliant and troubled novelist T. H. White, best known for The Once and Future King. It's a book about memory, nature and nation, and how it might be possible to try to reconcile death with life and love.
Field Guide to the Ladybirds of Britain and Ireland
by Helen E Roy
Professor Helen Roy's research focuses on the effects of environmental change on insect populations and communities. This illustrated field guide covers all 47 species of ladybird occurring in Britain and Ireland in a handy and easy-to-use format. Twenty-six species are colourful and conspicuous and easily recognised as ladybirds; the remaining species are more challenging, but the clear illustrations and up-to-date text in Field Guide to the Ladybirds of Britain and Ireland will help to break down the identification barriers.
A Crack in Creation: The New Power to Control Evolution 
by Jennifer Doudna
CRISPR is a breakthrough discovery in genetic modification that is causing a revolution. It is an invention that allows us to rewrite the genetic code that shapes and controls all living beings with astonishing accuracy and ease. Jennifer Doudna is the co-inventor of this technology and a scientist of worldwide renown. Writing with fellow researcher Samuel Sternberg, here she provides the definitive account of her discovery, explaining how this wondrous invention works and what it is capable of.
Bats: An Illustrated Guide to All Species
by Marianne Taylor
Marianne Taylor has written prolifically on the natural world. This lavishly illustrated handbook offers in-depth profiles of 300 megabats and microbats and detailed summaries of all the species identified to date. An endlessly fascinating guide with an introduction exploring their natural history and unique adaptations to life on the wing. Bats includes close-up images of these animals' delicate, intricate and sometimes grotesque forms and faces, each shaped by evolution to meet the demands of an extraordinarily specialized life.