The orchard has been a traditional component of the British landscape for many centuries. However, subsidies have led to the destruction of  older traditional orchards to make way for more intensive farming and now only a fraction remain.
The value of these orchards for wildlife has long been underestimated. Ben Macdonald and Nick Gates spent years visiting a traditional orchard across all seasons observing its imperilled and overlooked abundance of life.
Ben and Nick have taken time to answer our questions about their book and this remarkably fertile habitat.
Could you tell us a little about your backgrounds?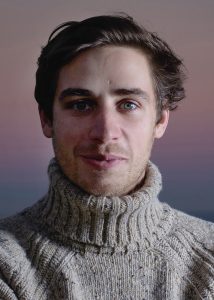 Nick Gates (NG): I grew up in West Sussex, and could usually be found building a dam across a stream or out catching grasshoppers and slow worms on the Ashdown Forest somewhere. I ended up reading Natural Sciences at Cambridge and, similar to Ben, have now found myself making wildlife documentaries. But I adore spending time in the field, and am forever looking for new areas to explore, new behaviours to interpret and new species to learn about.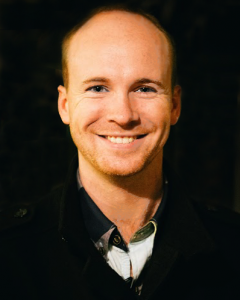 Benedict Macdonald (BM): I grew up north of Bristol, and my fascination with nature began with raising butterflies at school, which then took me onto my great passion for birds. I took a different route to Nick, studying English at Oxford to improve my journalistic skills before moving into the natural history film industry. The love of birds remains – and it was indeed the search for breeding lesser-spotted woodpeckers for the BTO's Bird Atlas that, one magical morning, led me to the Orchard.
Where did the motivation for this book come from? Are Orchards a subject that you have been wanting to write about for some time?
NG: The project actually started as a photographic record, nest-box project and field diary. We certainly didn't envisage when first visiting the orchard that one day we'd be able to convert our passion for it into a book. As the years went by, and we uncovered more of the orchard's stories each season, we realised we had built up a library of magical stories about this special place – and the book idea was born.
You divided the book into chapters by each month; was this something you planned all along and why did month-by-month fit the narrative of the orchard so well?
BM: As any pair of naturalists will tell you, the skills you have are similar but often complimentary. In January, for example, much of the expertise lies in tracking small mammals around the orchard, and reading prints etched in the snow – one of Nick's favourite past-times. May is all about birdsong and concealed nests, and spoke deeply to my own love of birds. But make no mistake – every month is special in the orchard. The players are always on the move.
NG: Having spent six years visiting the orchard across all seasons, it was clear that its stories were deeply rooted around the lifecycles of the apple and perry pear trees – which themselves have a very defined year. Once the book idea became a reality, it seemed the most natural way to introduce our audience to the orchard world. As Ben and I both often travel abroad on our respective filming trips, it also worked really well when dividing the chapter structure, as we each had unique experiences from certain months that we wanted to share.
The neighbouring orchard is run intensively and very differently to the orchard you studied; what would you say are the practical advantages of being less intensive?
NG: The major benefit appears to be maintenance. Spraying an orchard many times a season requires expensive inputs in machinery, as well as the manual labour required to continually prune each tree to a very defined shape to make the spraying as efficient as possible. In an unsprayed orchard, many different age classes of trees can thrive alongside each other. If an elderly tree is lost to a storm, it is easy to leave some of the deadwood and replace it nearby with a new young specimen. But the biggest benefit is that with an intact food chain, your costly pesticide inputs are replaced with spotted flycatchers and redstarts, which arrive for free each year and willingly hoover up all manner of insects that enjoy nibbling fruit trees!
BM: The summer migrants are critical to the success of the orchard – but the residents play an invaluable role. Throughout the winter, various species of tits, finches and woodpeckers, especially lesser-spotted, are all rooting out potentially harmful insects from the bark of the orchard's trees. And as Nick puts it, treecreepers act as tree 'dentists', removing lots of tiny insects that could eventually end up reducing the lifespan of the trees.
The orchard you observed rewarded you with plenty of surprising stories and scenarios. Was there one single episode that stood out for you?
BM: For me, it was when we finally solved the mystery of the goshawk's larder. Our generation has grown up with the idea that goshawks are limited to big woods and often those dark, silent plantations. The idea a goshawk could be hunting our orchard didn't even occur to us at first, even after we found pheasant after pheasant neatly plucked. It was only when the pair decided to display right overhead one March that, like an Agatha Christie novel, it all came together.
NG: I have been out in the field looking for interesting stories in the natural world for as long as I can remember, so it is always rewarding coming across something unexpected. The best thing about the orchard, is that this just seems to happen so regularly! But if I had to single out one, I'd say my biggest surprise was the day I excitedly returned to photograph the coal tit family nesting in a pear tree, only to find the entrance to their nest firmly blocked with a rather unfortunate wood mouse. Having most likely scoffed the nest contents, it couldn't fit back through the hole it had entered through. It was one of the most extraordinarily bizarre things I've yet chanced upon in the natural world.
Do you think a separation from the EU's Common Agricultural Policy (CAP) can create any opportunities for wildlife and biodiversity?
NG: Yes. The CAP model has ample opportunity for reform, and I hope that this is reflected in whatever system is adopted post Brexit. A model that rewards land owners for improving the biodiversity on their land is long overdue, as is a system that recognises carbon capture. There are certainly massive opportunities for British biodiversity – it is now up to those in positions of decision making to ensure they chose the correct advisers to inform these new policies.
BM: The Common Agricultural Policy has paid for enormous destruction of the countryside, and even models such as orchards that should be profitable to farmers – not just wildlife. In my view, we actually need a specific orchard subsidy. It seems mad that we can continue to pay for sheep grazing to denude hillsides and accelerate the flow of water off the hills, yet we cannot pay our farmers to grow apples. But this subsidy has to happen soon: orchards are vanishing fast.
Installing a wildlife pond is often sited as being the best way to add biodiversity to a garden; for those lucky enough to have the space, would you recommend planting an orchard for a similar reason?
NG: Absolutely. With something like a pond, you tend to see the rewards within just a few months of installing it, as the first newts and dragonflies arrive to breed in the new water source. Whilst fruit trees can take a few years to start blossoming and become increasingly valuable for your local wildlife, they mature incredibly quickly relative to most other tree species. Apples and pears are usually producing blossom and a crop in five to seven years, and by 40 years of age are well on their way to becoming an 'ancient orchard'. Also, fruit trees, particularly those grafted to dwarf rootstock, don't actually need a lot of room – and considering it only takes half a dozen trees to be called an orchard – most public green spaces could host a small wildlife orchard that would be of great help to local biodiversity.
After a well-earned rest, are there any plans or works-in-progress that you can tell us about?
NG: Ben and I have a few ideas for co-authored projects in the future but our next respective titles will both be individually written. I am currently working on a book about an urban wildlife garden…watch this space!
BM: As I approach the end of writing my third book, Cornerstones – for Bloomsbury (published January 2022), I have to be honest that a writing break is in order. Both writing and publicity are fantastic to be involved in but they do take a lot of time. Perhaps I can put my feet up and read Nick's wildlife gardening book!
Orchard: A Year in England's Eden
By: Benedict Macdonald and Nicholas Gates
Hardback | August 2020| £16.99 £19.99
Ben Macdonald and Nick Gates spent years visiting a traditional orchard across all seasons observing its imperilled and overlooked abundance of life. If we can favour traditional methods and harvesting, the benefit will not only be for wildlife but for people too.
All prices correct at the time of this article's publication.