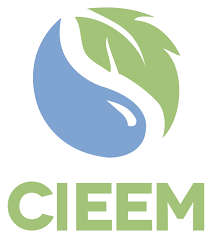 CIEEM's summer conference this year discussed the urgent need to address the interlinked climate emergency and biodiversity crisis for the sake of the planet, the species and habitats it supports and for future generations. Due to lockdown and social distancing restrictions, the conference took place online, with speakers and participants attending from their homes via Zoom.
Wildlife Equipment Administrator Claire Graham attended the conference and has summarised her experience of the event and the talks below.
---
Logging into Zoom to take part in my first online conference, I couldn't help but wonder if this is going to be the future of large events for a while… But, given the topic of the CIEEM conference 'Climate and Biodiversity Crises: Professional Approaches and Practical Actions', maybe there are positives to this! Certainly, creating a way to hold important conferences, without the need for everyone to have to travel (often long distances by plane or car) has its upsides.
So, with everyone speaking and listening from home, the day began with an introduction from Max Wade, the president of CIEEM. Following a quick mention of the unusual circumstances being dealt with by everyone this year and a reference to the growing importance of issues such as climate change and biodiversity loss, it was time for the first talk.
Diana Pound from Dialogue Matters opened with the keynote presentation: 'Seize this Moment and Get Fresh Momentum'. She took us straight into a positive and inspiring talk, encouraging people to shift from an attitude of fear and doubt to one of optimism and hope. Diana asked us to highlight strengths instead of problems in conversations and dialogue, as a more effective way of motivating people to change, rather than focusing on everything that is being done wrong. Diana stated that the world is starting to wake up and a recent survey showed that 97% of those surveyed thought climate change was serious and 70% thought it was very serious. It also showed that 77% of people believe we should make as many lifestyle changes to stop climate change as we are doing to stop Covid-19. Overall, we were reminded to remain hopeful and be inspired to action; a quick poll demonstrated the power of this.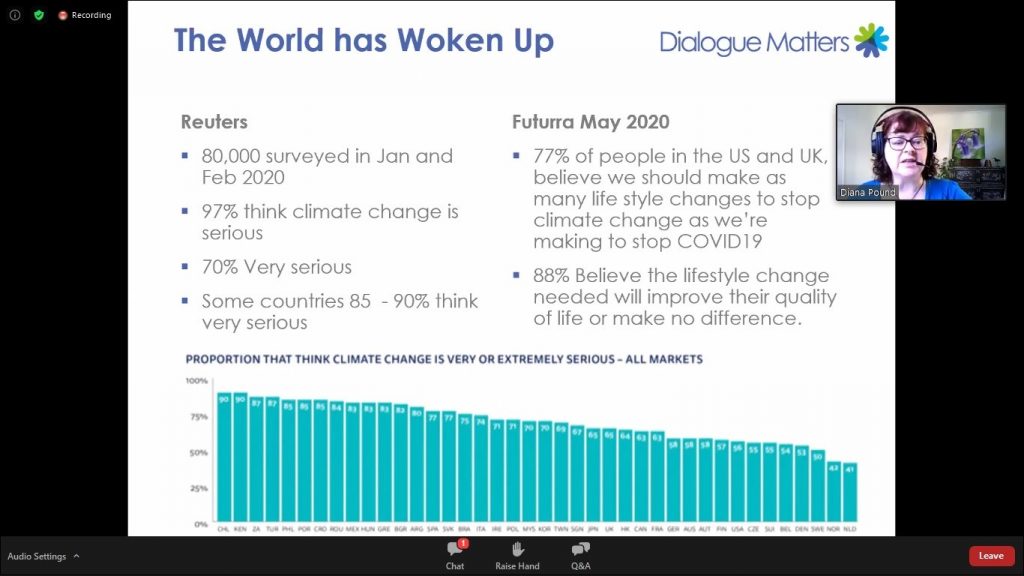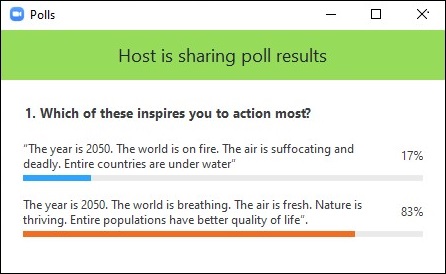 This led us into the next talk by John Box (from the CIEEM Action 2030 group) which discussed the actions that CIEEM are taking to deal with the interlinked climate emergency and biodiversity crisis. He provided lots of advice about offsetting carbon emissions and explained that CIEEM aim to achieve net zero carbon emissions in all its activities by 2030. John also emphasised the importance of environmental organisations sharing knowledge and building relationships.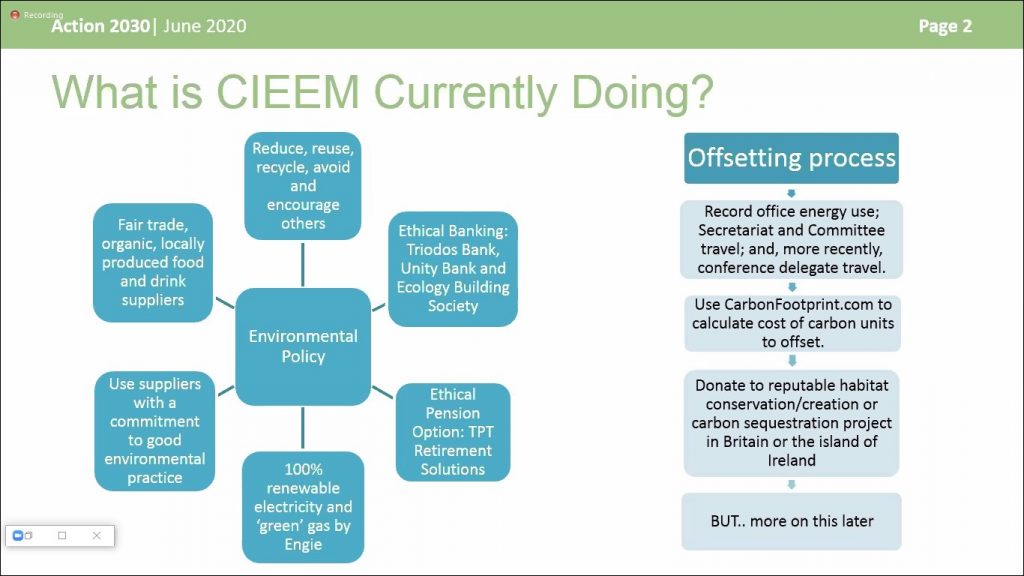 Penny Anderson (a member of the Action 2030 group and Ecological Restoration and Habitat Creation SIG) followed with a talk about 'Habitats and Carbon, Storage and Sequestration'. She explained that, to meet the latest 2050 net zero target, the Committee on Climate Change have recommended tree planting, peatland restoration and green infrastructure. Penny explained that around half of emissions from human activity are absorbed by land and oceans and the rest in the atmosphere. Surprisingly, there is globally 3-5 times more carbon in soils than in vegetation and 2-3 times more than in the atmosphere. All semi-natural habitats hold more carbon than arable or improved grassland and these types of habitats are also better for biodiversity. Therefore, we need to concentrate on diversity within habitats and not just think about trees; there is a simultaneous need to protect remaining habitats and minimise losses in soil while also undertaking habitat creation or restoration.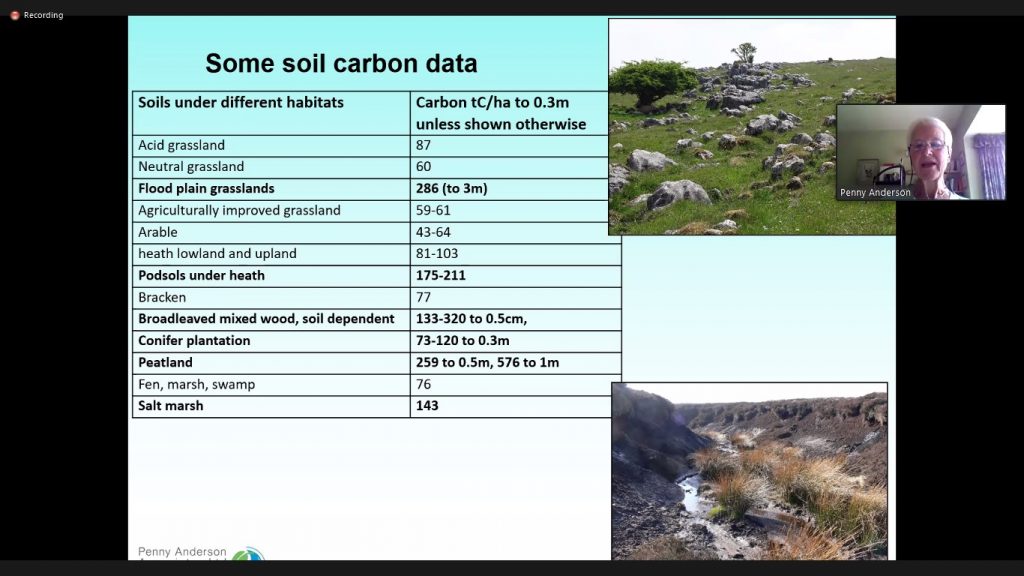 The next talk was by Ben McCarthy, the Head of Nature Conservation and Restoration Ecology with the National Trust. He explained the role the National Trust are going to play in the climate change and biodiversity crises, as well as the challenges they face as the largest land-owning NGO in Europe. Ben explained the organisations plan to repurpose farmland and create 20,000ha of new woodland and 25,000ha of new priority habitat, including restoring peatlands – a big challenge, but one they are determined to achieve! The National Trust recognise the significance of their land which is home to 44% of UK species including 737 that are threatened with extinction. Half of their properties have priority habitats that are highly sensitive.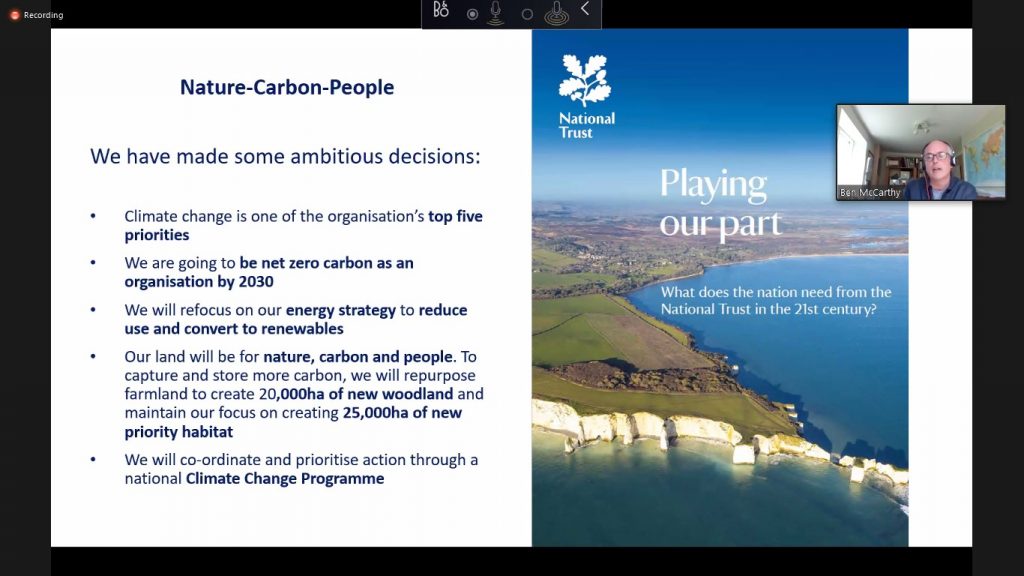 Continuing on the subject of peatland restoration, the next talk was by Clifton Bain from the IUCN Peatland Project Programme. His talk on 'The Peatland Code: Business Funding and Environmental Assessment' discussed the importance of peatlands and their many benefits and gave an overview of the Peatland Code. The Peatland Code is a voluntary certification standard that helps to gain funding for peatland restoration projects by giving assurance to buyers; they fund the projects in exchange for climate benefits and mitigation. He compared the ecosystem services in healthy vs damaged peatland and discussed how damaged peatlands emit carbon rather than acting as a carbon sink. He also mentioned the loss of unique biodiversity that comes with damaged peatlands.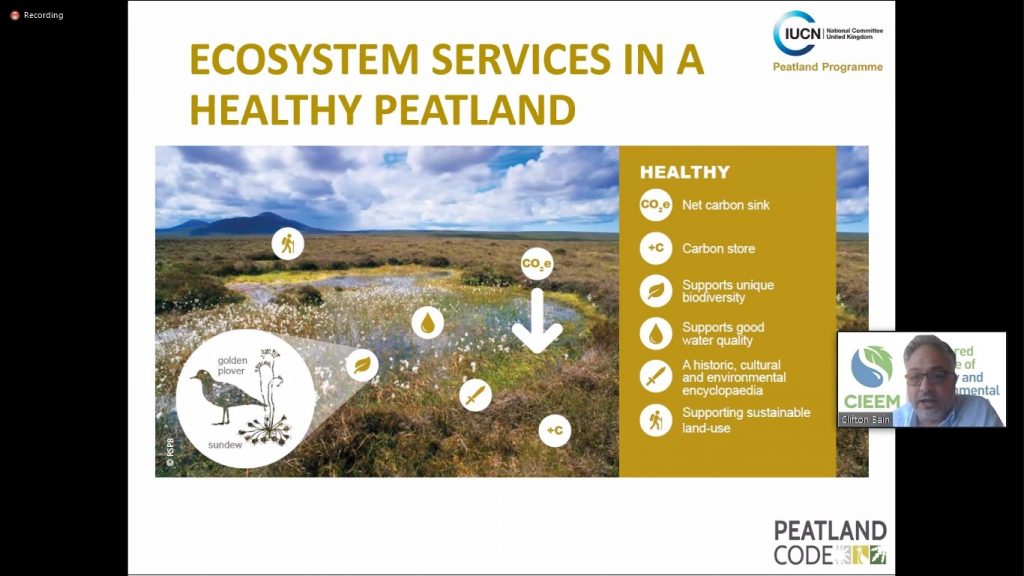 After lunch we jumped back into the next talk with Richard White from NatureBureau with his fascinating talk 'Blue Carbon – The Sea, the Coast, and the Climate Crises'. Richard discussed ocean warming and acidification, sea level rise, shifting species distribution and methods of mitigation. He reviewed the role that ocean and coastal ecosystems have in the carbon cycle and the link between protecting and restoring marine biodiversity and mitigating our carbon emissions. Seagrass beds and saltmarshes act as globally significant carbon stores but only 21% of these habitats are currently protected by our Marine Protected Areas (MPAs). There is a need to work to protect these habitats and support restoration projects.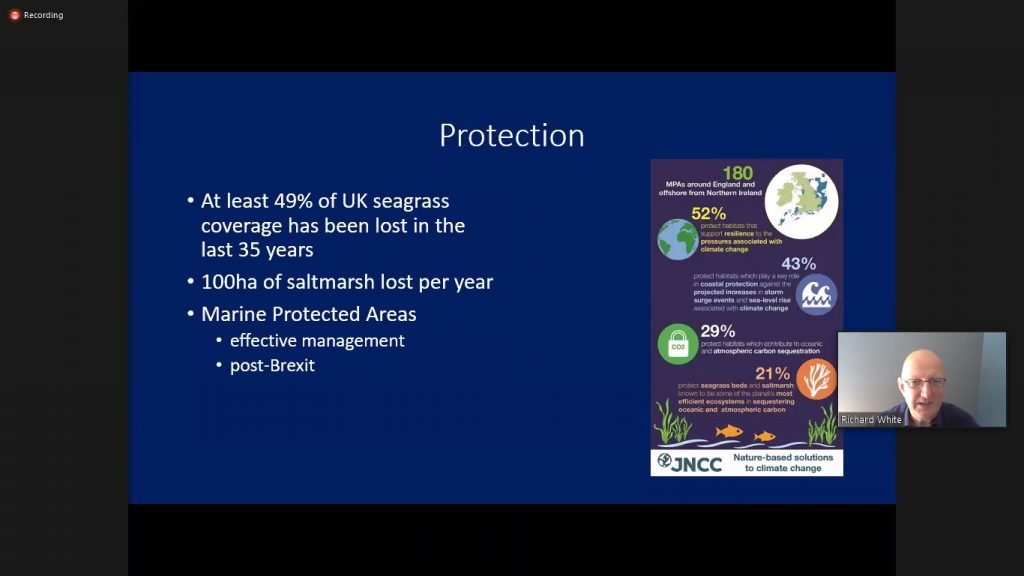 Richard Lindsay from East London University continued with more information about the importance of peatlands with his talk 'Peatland Restoration and Carbon: Sphagnum, Carbon and Timescales'. He advised that, despite many peatlands and blanket bogs being damaged and emitting carbon, restoration projects can sometimes be challenged as successful carbon mitigation due to them being thought of as slow-growing systems. However, Richard discussed the use of adding Sphagnum to peat restorations due to it being a significant carbon sink and advised that it can be grown rapidly in optimum conditions.
The next talk was David Holland from Salix on 'Soft Engineering Approaches to River, Wetland & Swale Projects'. He talked about the high carbon cost and negative ecological impacts of traditional hard engineering techniques and discussed low carbon solutions that can be used instead. Using natural materials and processes, rather than materials such as concrete, rock or metal, generates less waste, needs less future maintenance and improves the water quality and habitat, as well as providing vegetation that will continue to absorb carbon and benefit the environment.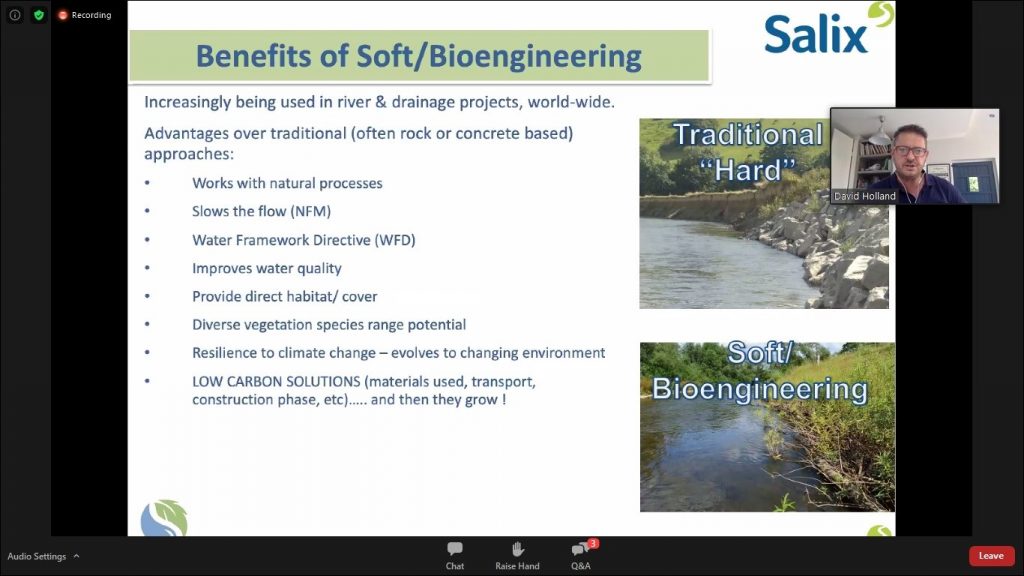 The closing talk of the day was by Lee Dudley, Head of Environmental Carbon with the Woodland Trust and focused on 'Carbon and Woodland Creation'. He explained that the Woodland Trust aim to conserve, restore and re-establish trees; their vision is a UK that is rich in native woods and trees for wildlife and people. The fact that woodland creation is now being recognised as a cost-effective method of climate change mitigation enables the potential for more woodland creation projects. Lee also discussed the importance of matching the right species to the right sites for the best outcomes and reminded us that it is not just about trees, but about the whole environment.
The day was wrapped up with a quick conclusion from David Parker from CIEEM. He thanked the speakers for all their extremely important and interesting talks and with that the event was over. My first experience of an online conference was positive all round; the talks were fantastic, and everyone enjoyed them from the comfort of their own homes with few technical difficulties. Hopefully the next conference can be attended in person but, if not, this experience has demonstrated there are definitely ways to keep talking and learning about these important issues.