Conservation Land Management (CLM), a quarterly magazine published by NHBS since 2016, is widely regarded as essential reading for all who are involved in land management for nature conservation in Britain. Here, CLM's Assistant Editor Catherine Mitson introduces the magazine and describes how CLM came to be.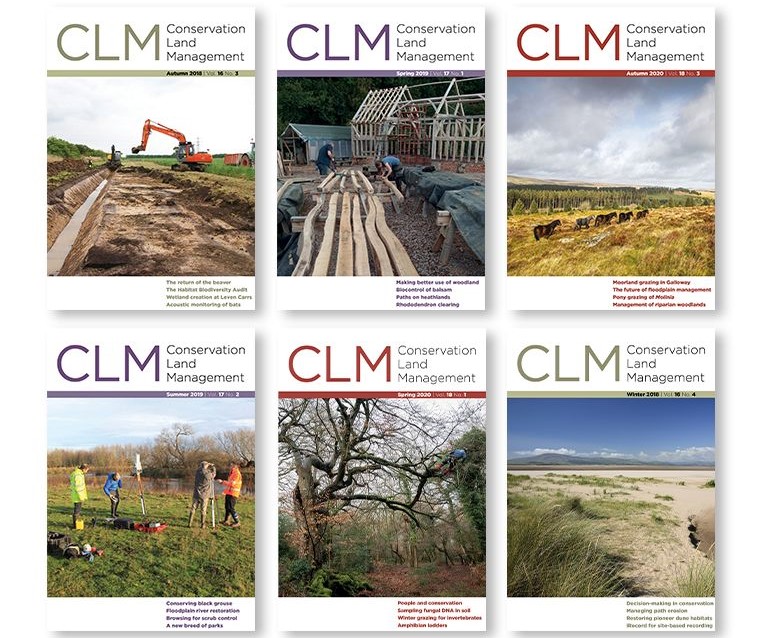 The magazine that went on to become CLM first went to print in the spring of 1993. At this time it was named enact, and was published by English Nature (the forerunner of Natural England). Enact aimed to promote land management for nature conservation and provide easy-to-understand advice on useful techniques; the magazine featured a wide variety of topical articles written by those working in the field, as is still the case today.
English Nature went on to publish enact for a further ten years, but in 1995 production of the magazine was handed to British Wildlife Publishing (BWP). BWP was established in 1989 by Andrew and Anne Branson, and by 1995 had gained a reputation as a well-respected small publishing house specialising in natural history, already well known for publishing British Wildlife magazine (also now published by NHBS).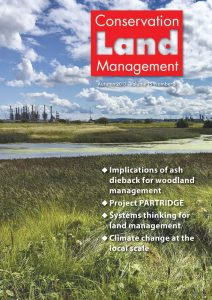 Fast forward to the spring of 2003 and enact was relaunched as Conservation Land Management and received a complete makeover. The themes and topics covered remained the same, but new features such as Briefing (listings of relevant events and publications) and On the ground (updates and advice on the latest products) made their first appearances. Conservation has changed greatly over the past 28 years, and CLM today covers a wider variety of practical conservation issues than did enact. It continues to be an invaluable source of information about good conservation land management practice.
NHBS acquired CLM in 2016, and it was decided in 2018 that the time was ripe for the magazine to be updated once more. CLM was given a complete redesign and volume 16.1, published in spring 2018, was the first to display the new look. But despite the change of appearance, the core aim of CLM is still the same: to continue to serve those people on the ground working to conserve nature in the British countryside.
The articles in CLM focus on a wide range of topics, using up-to-date case studies to support practical solutions. Some places and themes covered by CLM in recent issues have included: considerations for lichens and bryophytes in the management of riparian woodlands; moorland grazing in the heart of Galloway; the options for wildflower seed harvesting; evidence-based decision making in conservation and land management; the development of the 'amphibian ladder'; raising the standards of veteran tree management in Europe; wilding hedgerows in modern landscapes; conservation of native black poplar using seeds; and many more!
Even just this small selection of previous articles demonstrates the core purpose of CLM, to provide our readers with practical advice. CLM's readership is diverse – encompassing staff working for statutory agencies and government departments, local authorities, charities, universities and research institutes, as well as ecological consultants, university and other higher education students and lecturers, volunteers, farmers and other private landowners, and individuals with an interest in how best to care for Britain's wildlife and habitats.
Our upcoming Spring 2021 issue marks the beginning of volume 19 and the selection of articles cover a wide variety of topics and techniques. Here is a sneak peek of what is included:
The new Environmental Land Management scheme: what do we know so far?
Introducing… Beaver Trust
Using location-based evidence to prioritise catchment-wide land management
St George's flower bank Local Nature Reserve: thirty years of road verge management by a local community
Wet farming in the Great Fen
In every issue you can expect to see Briefing and On the ground, but other features that regularly appear include Viewpoint, a similar length to our main articles, but here authors can voice their own views on various conservation issues; Introducing, a feature focused on organisations involved in conservation, and here they can discuss their aim and describe specific conservation projects they are involved in; and Review, which can include letters from readers or updates from our authors.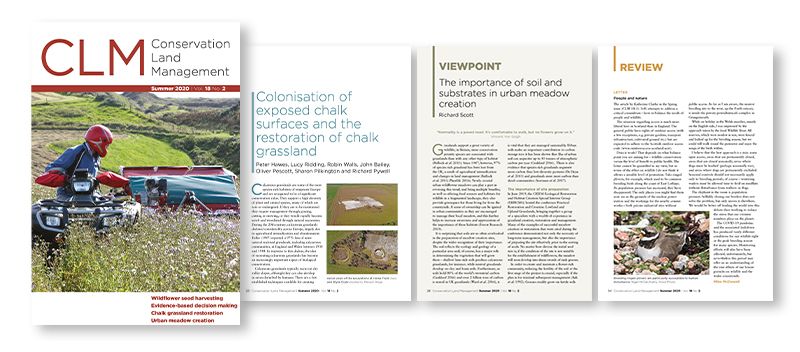 CLM is published four times a year in March, June, September and December, and is available by subscription only, delivered straight to your door. Subscriptions start from £22 per year. Previous back issues are also available to purchase individually (subject to availability).
If you are involved in a conservation project and think your experiences could be useful to other practitioners, we would love to hear from you. If you are interested in writing for CLM feel free to contact us – we will be happy to discuss your ideas with you.