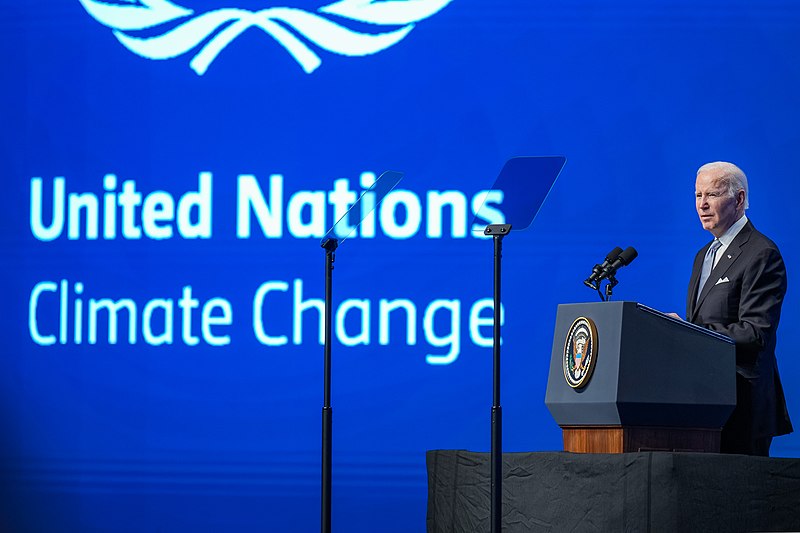 The UN Climate Conference COP27 took place in Sharm el-Sheikh, Egypt, from 6th to 18th November. Bringing together over 45,000 people from around the world, the list of delegates included indigenous peoples, local communities, civil society and world leaders, with the aim of delivering solidarity between countries and following through on commitments made in the landmark Paris Agreement.
In this post we'll take a brief look at some of the outcomes of the conference.
Breakthrough agreement on "Loss and Damage" fund
In negotiations that went up to and beyond the official closing date of the conference, an agreement was finally made to establish a "loss and damage" fund to help those nations most at risk due to the climate crisis. Although many of the details to do with the fund have yet to be ironed out, the money is expected to go to the most vulnerable countries to assist with problems arising from droughts, flooding and other situations caused by climate change.
Commitment to limiting global temperature rise
Although the final agreement of COP27 stated "the urgent need for deep, rapid and sustained reductions in global greenhouse gas emissions" and a renewed commitment to limit global warming to 1.5°C above pre-industrial levels as stated in the Paris Agreement, there were widespread concerns that there have been no concrete plans to cut fossil fuel emissions since COP26.
The global transformation to a low carbon economy has been estimated to require investments of USD 4–6 trillion per year. This amount would require a complete transformation of financial systems, and concerns were raised that developed countries are not yet showing signs of working together to achieve this.
World Leaders Summit
The World Leaders Summit took place over two days and involved 112 world leaders in six round table discussions. Under the general title "Together for Implementation", these discussions were intended to break down the steps required to translate commitments into concrete and achievable action. Topics covered by these discussions included:
Just transition
Innovative finance
Investing in the future of energy
Food security
Water security
Climate change and the sustainability of vulnerable communities
The voice of youth at COP27
Children and young people were given much greater prominence at COP27, with governments being encouraged to listen to their thoughts and opinions, and incorporate their ideas in solutions and policies.
The first ever Pavilion for Children and Youth featured a lively programme of discussions, panel events, creative workshops, talks and networking, and provided a dedicated space where the voices of young activists could be heard.
Also new at COP27 was the youth-led climate forum which brought together policymakers with young representatives from the Conference of the Youth (COY17), who presented the Global Youth Statement and highlighted the topics that they wanted raising during COP27 discussions.
Other key outcomes
• The second technical dialogue of the Global Stocktake took place. The Global Stocktake aims to assess collective progress on the implementation of the Paris Agreement. The UN Secretary-General will convene a 'climate ambition summit' in 2023, ahead of the conclusion of the stocktake at COP28 next year.
• The Forest and Climate Leaders' Partnership was launched, which aims to half forest loss and degradation by 2030 by uniting action by governments, business and other community leaders.
• A USD 3.1 billion plan was announced by the UN Secretary-General which would ensure that everyone on the planet is covered by early warning systems by 2027. This is particularly important for the most vulnerable communities who often have no idea that hazardous weather is on its way until it is too late.
• A 12-month masterplan was drawn up to help make cleaner energies more accessible. Involving 25 collaborative actions to be delivered in time for COP28, the plan aims to speed up decarbonisation within five key areas: power, road transport, steel, hydrogen and agriculture.
---
For information about last year's COP26, check out our series of blogs on its importance, the first week update and a round up of all the major outcomes from that event and how they could affect our efforts to combat climate change, if countries and businessess stay committed. We also have a series of blogs that look at some of the toughest global climate challenges that we are currently facing.
However, climate change isn't the only challenge the natural world is facing. Despite world-wide and on-going efforts, biodiversity is deteriorating on a global scale, with the decline projected to worsen if nothing changes. COP15, the UN Biodiversity Conference, is currently underway (7th to 19th December 2022) and aims to agree a new set of goals for nature over the next decade through the Convention on Biological Diversity post-2020 framework process. For more information on this, please check out the dedicated UN webpage.