In the first of our two-part series, Gardening for Wildlife: Providing Food, we looked at how to attract wildlife to your garden by including plants for pollinators and providing food for birds and mammals. In the second of our two-part 'Gardening for Wildlife' series, we look at how to create nesting or overwintering habitat effectively for the wildlife that visits your garden. Natural nesting sites for birds, insects and mammals have become rare in the broader landscape due to changes in farming, woodland management practices and building construction techniques. Wildlife-friendly gardens can provide fantastic habitat for invertebrates, birds, amphibians and mammals by making a few simple changes and by letting a bit of wildness back in.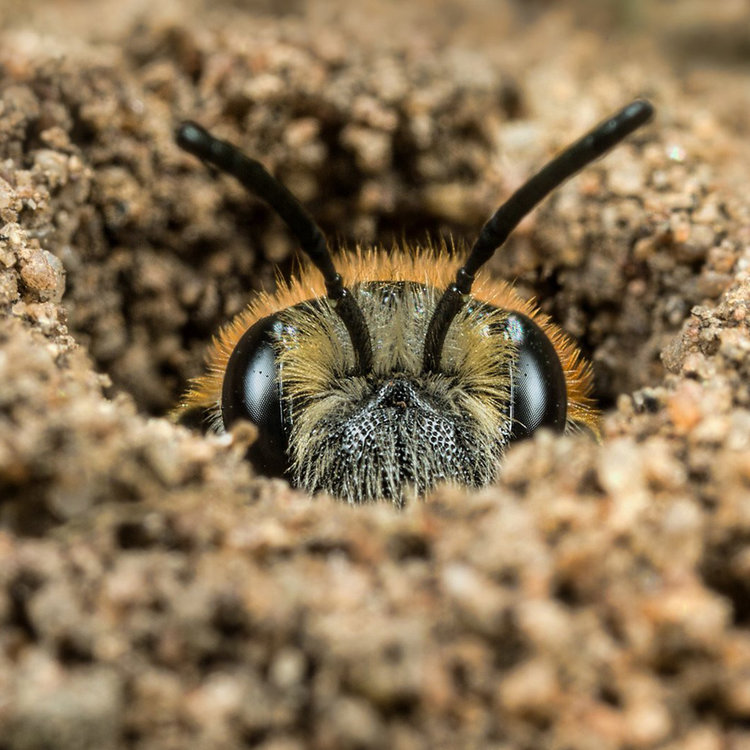 Insects
It is easy to provide habitat for insects in your garden just by leaving the lawnmower in the shed. Setting aside a patch of grass to grow longer should encourage wildflowers to grow in your lawn, and will provide food and shelter for insects and small mammals. Creating a log pile in which beetles, woodlice and earwigs can shelter is also an easy way to increase garden wildlife habitat. You can provide additional nesting space for solitary bees or overwintering quarters for other insects by creating or installing an insect house. These can be homemade and constructed to your own design, or you can purchase purpose made houses. These are particularly important for solitary bees, who use tunnels in wood, mortar, plant stems or artificial houses to nest. They lay eggs and place a food source in a series of cells, and then block the entrance with materials such as mud, leaves or fine hair. Other nest sites can be provided by leaving dead wood and stems standing and leaving a patch of bare earth or mud bank for mining bees.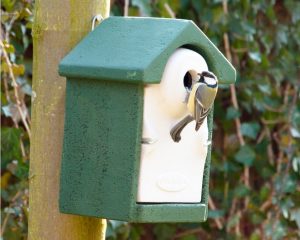 Bird Boxes
Providing bird boxes in your garden can be an excellent way of helping wildlife, as natural nest sites can be rare due to changes in house construction and woodland management techniques. There is a vast array of nest boxes available for many different species of birds, so it is worth knowing which bird species visit your garden before selecting a box. A good place to start is by providing a nest box with a 32mm entrance hole that is suitable for house sparrows or blue and great tits, who are enthusiastic occupiers of nest boxes. Most nest boxes are made of breathable materials such as wood or wood fibres mixed with concrete (Woodcrete or WoodStone). The advantage of Woodcrete and WoodStone nest boxes is that they are much more durable and can last for 10 years or more. Purpose-built nest boxes are available for many different species such as swifts, treecreepers and even robins. For more details on our most popular nest boxes, please see our series of blog posts on nest boxes suitable for different locations. For more details on where to hang your nest box, please see our blog post.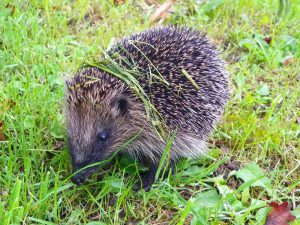 Mammals
Gardens are extremely important for hedgehogs and can provide excellent opportunities for foraging and hibernation. Leaving a pile of fallen leaves or a log pile can give them a place to shelter during the daytime or you can choose to invest in a hedgehog nest box. These can provide a safe place for hedgehogs to sleep or hibernate – there is even the option of installing a nest box camera so that you can watch footage of them using the box.
Hedgehogs can travel up to 2km each night, eating as they go. Allowing them to move freely between gardens is important to ensure that they can obtain enough food and find safe spaces to sleep. If you have a garden fence, cut a hole at the bottom measuring 13 x 13cm to allow hedgehogs to pass through on their nightly wanderings. You could also remove a brick from the bottom of a wall or dig a channel underneath. 
Bats also use gardens for foraging, so increasing the number of invertebrates in your garden will help to attract them. Bats naturally roost in a variety of spaces including holes in trees. With natural cavities being rare, providing a bat box can be a great way of helping them and our series of blog posts on the top bat boxes for different locations, and our advice on where to hang your bat box is a great place to start. The best time to watch them is at dusk when you can sit in the garden and see them whizzing around catching mosquitoes. Alternatively, you can invest in a bat detector and identify the species visiting your garden. For both bats and hedgehogs, connectivity to other patches of suitable habitat is key. Hedgehogs use hedgerows or need access through fences to be able to visit multiple gardens, and bats use treelines and hedgerows when foraging.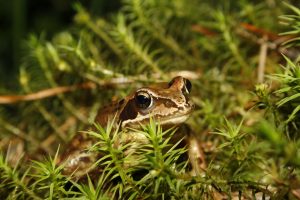 Amphibians and Aquatic Invertebrates
The easiest way to help aquatic invertebrates and amphibians is by creating a pond or small body of water. Even if you have a small garden, you can create a mini pond with an old belfast sink or a washing up bowl. Choose a warm, sunny spot that will be good for dragonflies and tadpoles, consider planting a few native freshwater plants and wildlife such as pond skaters, damselflies and water beetles should soon find the spot. Please ensure that ponds are positioned with safety in mind if you have children, and that you include rocks or sloping edges so that wildlife can get in and out. There are fantastic guides to creating a pond available, such as the Wildlife Pond Book, and once your pond is up and running you can even try some pond dipping. It is not recommended to collect frogspawn from the wild, but you can encourage amphibians into your garden by providing damp areas such as log piles or a frog and toad house.
Watching Wildlife
Having attracted wildlife to your garden, there are several ways you can get fantastic views up close.  Binoculars give you a great view of wildlife that is further away, but with close focus distances now much improved, they also offer a great way of magnifying insects and aquatic invertebrates. Read our blog post to find out how to choose a pair of binoculars. Alternatively, trail cameras can be used very effectively in gardens to record garden visitors such as hedgehogs and birds. These standalone weatherproof cameras use passive infrared to detect passing warm-bodied animals and take either still photographs or videos. For more information on trail cameras, see our blog post on how to choose a trail camera. For a really close-up insight into what the wildlife in your garden is doing, consider installing a nest box camera. See our guide on how to choose a nest box camera for advice on the different options. A hedgehog nest box camera can also give you really amazing footage of hedgehogs feeding and nesting.
By providing food resources and suitable habitat for wildlife, you can ensure that your garden becomes a sanctuary for the animals around you and a spectacle of nature right on your doorstep.
Recommended Reading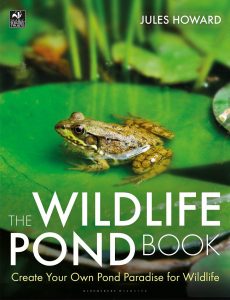 The Wildlife Pond Book
#246688
This offers a fresh and unique perspective on ponds, encouraging readers of any budget to reach for the spade and do something positive to benefit their shared neighbourhood nature.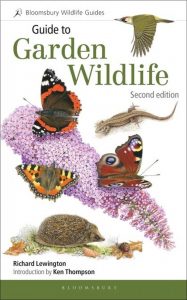 Guide to Garden Wildlife
#246618
Even the smallest garden can be an important haven for wildlife, and this authoritative guide enables everyone to explore this wealth on their back doorstep. It covers all the main animal groups – including pond life – likely to be found in a garden in Great Britain and Ireland.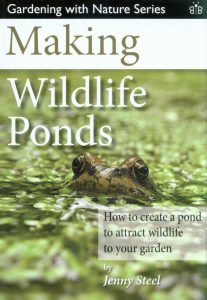 Making Wildlife Ponds
#231864
This guide can help you create an aquatic habitat in your garden, home to stunning, brightly coloured damsel- and dragonflies with iridescent eyes, amphibians which choose to breed, and birds and mammals of many kinds that come to drink at such placid waters, including hedgehogs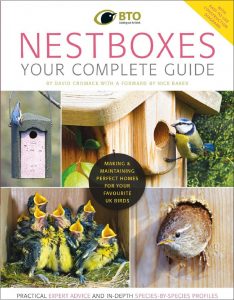 Nestboxes: Your Complete Guide
#241181
Building your own nestbox and watching a pair of birds raise a successful brood will bring pleasure to the whole family, and this book provides all you need to know to get started. Written by Dave Cromack and drawing on the BTO's expertise, this provides the perfect guide to building, erecting and monitoring nestboxes for a broad range of bird species.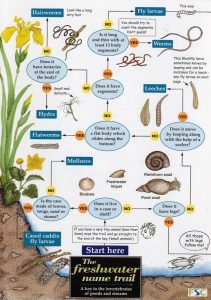 FSC Freshwater Name Trail
#175156
Aimed at KS2 and above, this 8-page fold-out chart is a fully illustrated key to help users identify the main animal groups found in freshwater. None of the identification in the key goes beyond family level, and some of it stays at the phylum or class.
Recommended Garden Products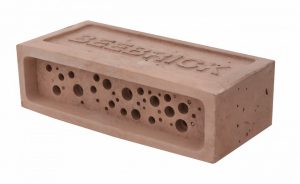 Bee Brick
#244140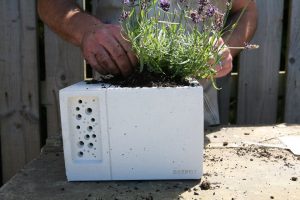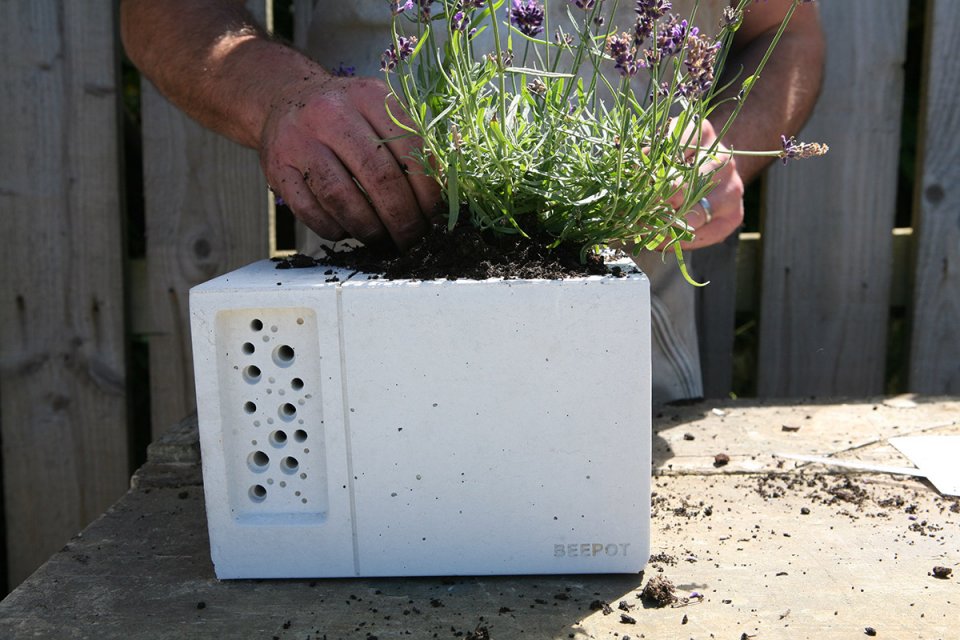 BeePot Bee Hotel
#244760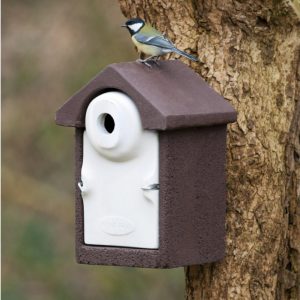 Vivara Pro Seville 32mm WoodStone Nest Box
#234956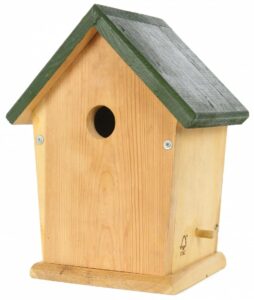 Brecon FSC Nest Box
#252721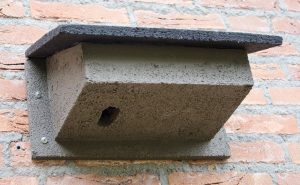 WoodStone Swift Nest Box
#217160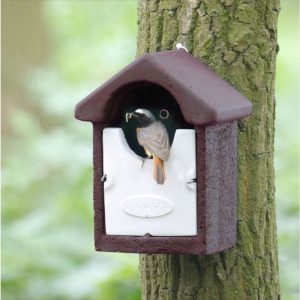 Vivara Pro Barcelona WoodStone Open Nest Box
#234963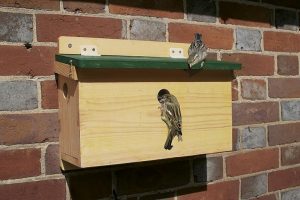 House Sparrow Terrace FSC Nest Box
#201458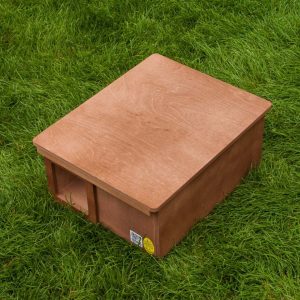 Hedgehog Nest Box
#179141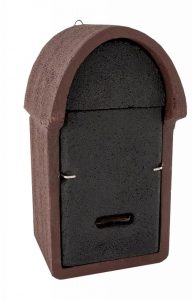 Large Multi-Chamber WoodStone Bat Box
#246918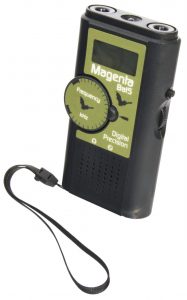 Magenta Bat 5 Bat Detector
#171849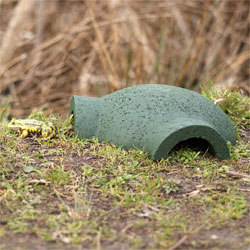 WoodStone Frog and Toad House
#209839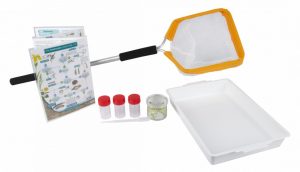 NHBS Pond Dipping Kit
#244947