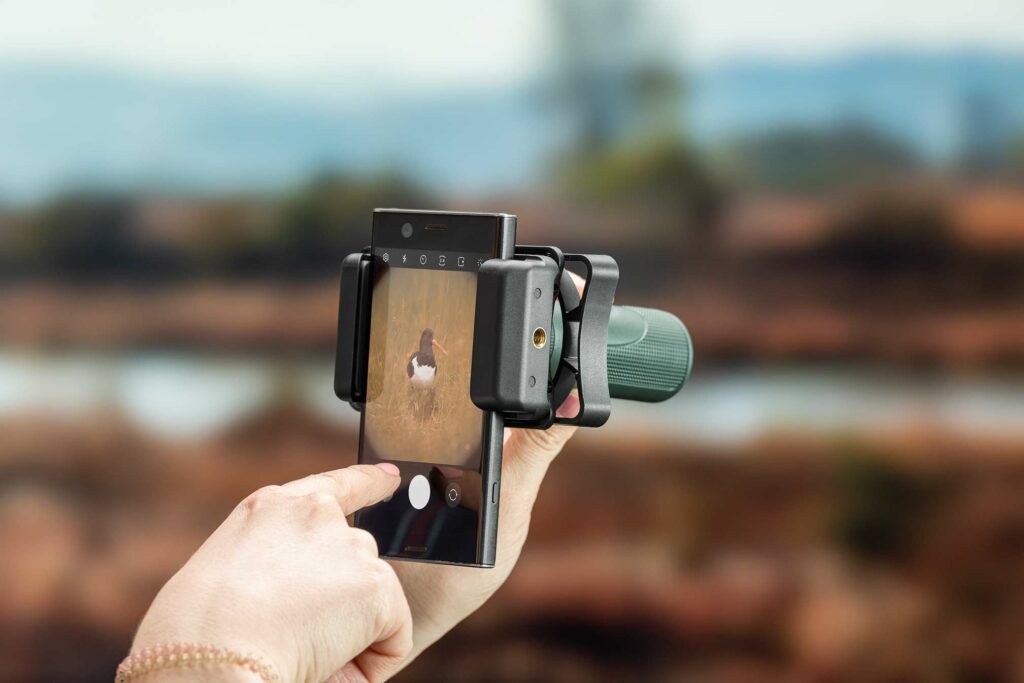 Getting into nature photography can be a daunting prospect. What camera do you buy? Which lenses do you choose, and what size should they be? How much should you spend? These are all questions that require a good bit of thought, and rightly so. However, what if you wanted to dip your toe in at the shallow end and use equipment that you may already have lying around to take decent photos at a fraction of the price? That's precisely where the Hawke Digi-Scope Smart Phone Adapter comes in. I decided to put it to the test by taking images of local wildlife at a variety of ranges with two of Hawke's spotting scopes and a pair of Kite binoculars. To do this, I used the Hawke Nature-Trek 20–60 × 80 and the Nature-Trek 13–39 × 56 scopes, and a pair of Kite Ursus 8 × 32 binoculars. 
Hawke have established a name for themselves as producing reliable and rugged optics for the entry to mid-level markets and this optical adapter fits nicely into that niche, giving anyone with an optical device the option to transform their optics into a camera lens, when combined with a smartphone camera. 
---
Out of the box – first impressions 
The adapter comes packaged with a small instruction manual and some small foam sticky pads to place around the aperture clamp and prevent damage to the ocular lens of the optics you are using. Made from lightweight ABS plastic, the adapter feels light in the hand but not fragile. Stated compatibility on the box is for eyepieces 23–50mm in diameter, so make sure that the optics you plan to use meet these specifications. There is also a minimum and maximum size for compatible phones (width 66–95mm), but most currently produced models should fit fine.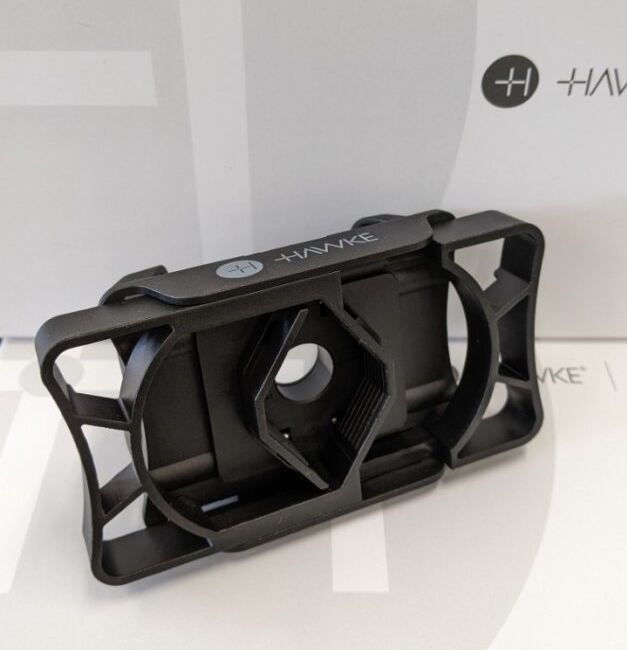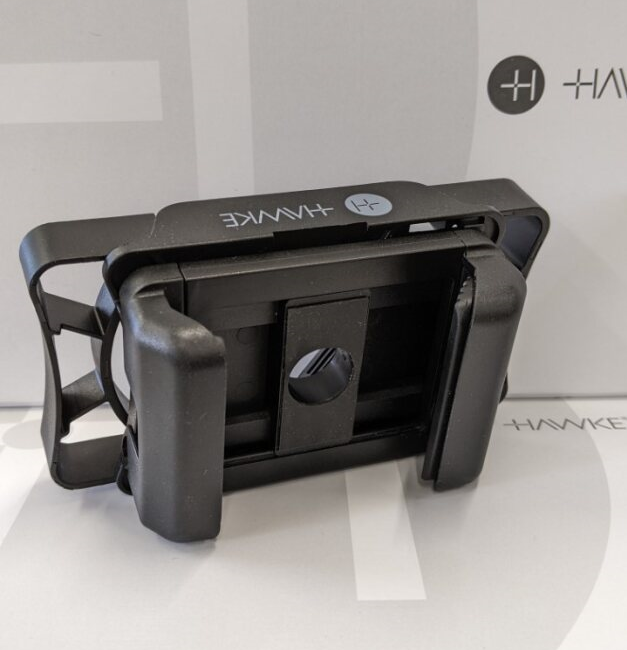 Ease of use  
The adapter is a simple piece of kit that is designed to fit around the ocular lens of a spotting scope, microscope, telescope or, most commonly, a pair of binoculars. The spring-loaded clamp then allows you to place your phones rear camera to the eyepiece and align them, in essence creating an inexpensive camera and physical lens arrangement. This will then allow your smartphone to take photos at ranges that the vast majority of devices on the market wouldn't be capable of. Getting this alignment right can be quite fiddly but once found, the adapter holds fast, and the point of focus doesn't drift. It's important to try to remember to reduce/disable the auto focussing on the device as this can be at odds with the manual focus of the scope itself. Likewise, make sure to zoom the phone camera slightly to avoid giving a 'scoped' view to your photos, with a circular black border (see below).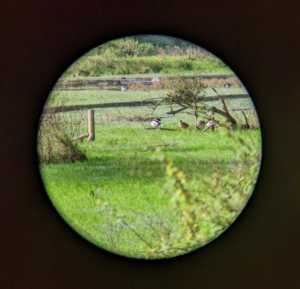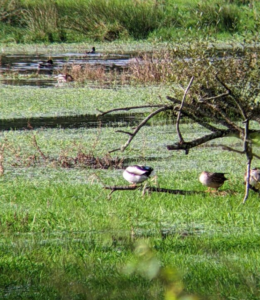 In the field 
Testing the adapter involved setting it up on the window ledge of a bird hide and using it while combing along the River Dart, allowing tests over variable distances to look and capture at different focus points and ranges. I often found that target acquisition with the scopes was a bit of a lesson in trial and error as any hand movement through high magnification lenses will be exacerbated massively through the screen. However, this will be greatly reduced by using a lesser magnification or a stabilising structure such as a tripod (or a handy fence post). The use of a phone in this case proved crucial as the post- processing from the device helped to mute the amount of disturbance to the final image from this unavoidable shaking. While there was some aberration introduced to the final photos, it didn't mar the result too much or overly distract from the images (see below).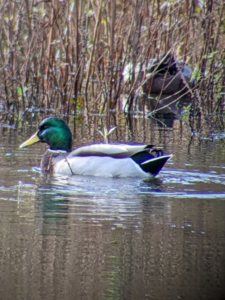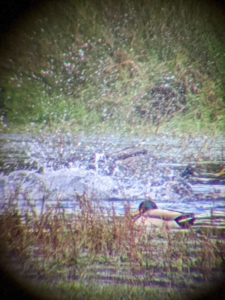 Using the adapter with a pair of binoculars was where the Hawke Digi-Scope really shone. Quick to acquire and quick to capture, the photos produced were, in my opinion, superb, making this an ideal tool for an enthusiast beginning their journey into nature photography. (see images below)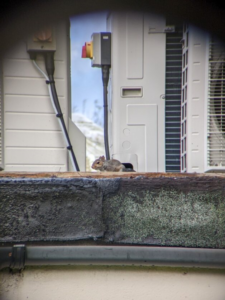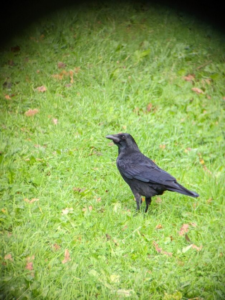 While the adapter itself is a lightweight bit of kit, whatever you mount within it will add weight to the back of your optics and upset any built-in centre of balance – much as I found out when, after attaching the phone, the scope made a determined attempt at see-sawing off the bird-hide window ledge. When not attached to the optics, however, the adapter is small and portable, fitting easily into a pocket without any discernible bulk or weight. 
Taking pictures with the adapter was as simple as hitting the camera button on the phone and snapping away, making sure to adjust the focus using the scope/binoculars as needed (this took a bit of practice to get used to). I didn't manage to get any images of animals moving at great speed (something a dedicated nature photography camera would have no issues doing) while using the scopes, as acquiring and holding onto the target while also focusing using the scope lent itself to more stationary birds (see image 9). The binoculars, on the other hand, were great for reactive type photography, albeit at much reduced ranges (e.g. image 10).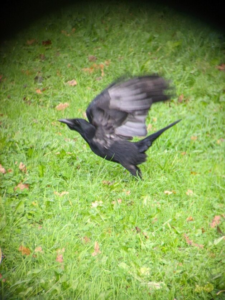 Conclusions
While using the Hawke Digi-Scope, it is important to remember that the phone you use, the post processing that it does, and the settings you enable will all modulate the end result in some way, and this is an unavoidable part of using your phone to take images with a non-attached magnification device. Unlike an expensive camera with light meters and other tools, this setup will never quite produce a true to life image with no introduced imperfections.  
In terms of optics, the scopes performed well and were great in their own right; however, both the models I used were technically 1–2mm over the maximum specified eyepiece diameter. This was surprising as the mount seemed to fit fine (a little snug if anything), but also surprising as it begs the question as to why this adapter doesn't fit the full range of Hawke products. This was not an issue with the binoculars as they have a much smaller ocular aperture. 
It is just as important to stress this wasn't a test of the optics used but rather the adapter itself and, in that role, it performed very well. It held the phone securely and the rubberised touch points prevented slippage, keeping both the scope and phone lenses aligned. But, as stated before, this was a bit of a fiddly procedure.  
I do think that this adapter helps to bridge the gap between the more professional nature photography market and the more casual enthusiast who wishes to go and get some decent photos of what's living in the area around them, and it will help to extend the reach of the average person's smartphone camera by quite a distance. The speed of setup and lack of any frills really helps to make this adapter a portable, reliable workhorse or a spur of the moment image capturing tool. If you're looking for an inexpensive bit of kit to add to your usual birding/hiking/survey gear alongside your pick of optics, this is the adapter for you.  
---
The Hawke Digi-Scope Smart Phone Adapter is available at www.nhbs.com/digi-scope