Over time nest boxes can become home to parasites such as lice, fleas and mites, so giving them a thorough clean at the end of each breeding season is good practice to ensure the health and safety of the birds nesting there. Removing old nest material also means that the following year's birds can build their own nest as far as possible from the box entrance hole, thus reducing the risk of predation.
When to clean your nest boxes
The best time to clean out your nest boxes is in the autumn, after any young birds have fledged. Any time between September and January is fine, but bear in mind that birds who have raised a late brood may still be occupying boxes throughout September. By cleaning boxes during October or early November, you will also be able to leave them undisturbed for birds to roost in during the winter. Unhatched eggs may only be legally removed between 1st September and 31st January (or 1st August and 31st January in Scotland) and any eggs must be destroyed.
What you need
• Rubber gloves
• Stiff brush or nest cleaning tool
• Boiling water
• Wood shavings/clean hay (optional)
What to do
1. If possible, remove the box from the tree/wall so that you can safely work at ground level.
2. Wearing rubber gloves, remove old nesting material from the box, along with any unhatched eggs. Eggs must be disposed of – it is illegal to keep them. If possible, try to remove the nest in one piece, as it is fascinating to study the structure and to see the variety of materials that have been used in its construction. This is a great thing to do with children!
3. Use a nest cleaning tool or stiff bristled brush to clean out any remaining debris from the box corners.
4. Use boiling water to kill any lice, fleas or parasites. Don't use soap, insecticides or flea powders as the residues of these can be harmful to birds. Leave the box open, preferably in a sunny spot, so that it can dry out.
5. Placing some clean hay or wood shavings in the base of the box may encourage mammals to hibernate or birds to roost in the box over winter. This is not essential, however, and any nesting birds arriving in the spring will bring in their own nest-building material.
Cleaning Bird Feeders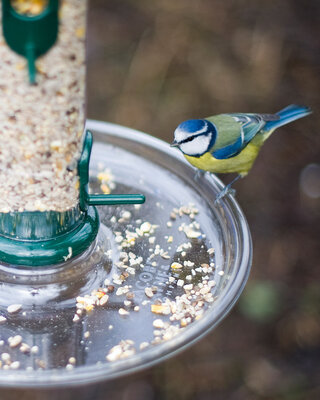 While you're in the garden cleaning your nest boxes, why not take the opportunity to clean out your feeders and bird table too, ready for use over the winter. To thoroughly clean a bird feeder, first empty out all of the old food. Mix up a solution of animal-safe disinfectant in a bucket and soak the feeders for 10-15 minutes. Use a bottle brush to scrub them then rinse thoroughly in cold water. Leave feeders to dry before refilling.
Health and Safety
By following a few simple guidelines you can make sure that both the birds' and your own health are not compromised. Always wear rubber gloves when cleaning out your nest boxes and feeders and make sure to wash your hands and forearms well with hot soapy water when you have finished. Take care not to breathe in any of the dust when emptying out the remains of old nests. Both nest boxes and feeders should be cleaned outside rather than bringing them into the house. If possible, nest boxes should be removed for cleaning, as dealing with boiling water while perched at the top of a ladder is not advisable. All brushes and equipment used for cleaning boxes, feeders and bird tables should be cleaned after use and should only be used for this purpose.
---
Visit nhbs.com to see our complete range of nest boxes, feeders and bird tables.