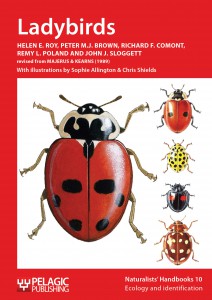 Helen Roy, Ecological Entomologist at the Biological Records Centre, is one of a team of authors who have been involved in the revision of this classic Naturalists' Handbook.
I see from your professional history that throughout most of your career you have been involved in research with ladybirds. What originally drew you to these fascinating insects? Does it stem from a childhood interest?
Ladybirds are fascinating beetles. I can remember, as a small child, observing ladybirds as they emerged from their pupal cases on the vegetables in our garden on the Isle of Wight. Simply magical and I was entranced. Throughout my childhood I pursued my passion for natural history and have been so fortunate to continue to do so through my working life.
What do you feel are the biggest pressures on UK populations of ladybirds at present?
There are many factors that contribute to dynamics of insect populations. In recent decades the effects of environmental change on insect populations has been the focus of my research. It is widely recognised that invasive alien species, climate change and habitat destruction are all major players in the declines of many insects. Ladybirds are no exception. However, there are so many questions that remain unanswered. It is important that we address these questions with robust and rigorous research. We have so much to learn about the many subtle and complex interactions between insects, other organisms and the environment.
In your book you state that winter is a very critical period for ladybirds and, during this time, they survive entirely on their own fat reserves. How severely do you think ladybird populations in the U.K. will have been affected by the very long and cold winter we have recently experienced?
Every year winter conditions result in the death of ladybirds – winter is a tough time for ladybirds in Britain. However, they have many amazing adaptations for surviving the adverse winter conditions. Ladybirds recently began to wake up from winter and I am reassured by the observations I am receiving from people across the country, through the UK Ladybird Survey.
The arrival of the Harlequin ladybird in the U.K. has obviously been a very big concern and has been covered extensively in the media. How serious a threat do you feel this is to our native species and are there any viable steps that could be taken to halt the spread?



The harlequin ladybird, Harmonia axyrdis, is an invasive alien species which is predicted to cause problems for a number of insects. It is a voracious predator and not only has the potential to outcompete other insects but also eats the other insects. The 2-spot ladybird, Adalia bipunctata, was a widespread and common species during my childhood. Not so now. I worked with a team of scientists, using the observations received through the UK Ladybird Survey from many, many people (an inspiring number of volunteers), to look at how the distribution of native ladybirds is changing in response to the arrival of the harlequin ladybird. A number of species appear to be declining and the 2-spot more than most. Unfortunately there is nothing that can be done about the harlequin ladybird but it will be interesting to continue to monitor this species and its interactions with other species in the coming years. Additionally the harlequin ladybird has demonstrated the effectiveness of people at recording alien species, and with the rate of new arrivals increasing rapidly people can play an extremely important role in surveillance and monitoring. I invite people to submit sightings through a recording form developed for species surveillance (including alien species) at the BRC.
For any amateur naturalists who are interested in ladybirds and wish to get involved or help in some way, what would you suggest is the best way to do this?
I have been utterly inspired by the contributions that people from across the country make to the UK Ladybird Survey, and indeed many other wildlife surveys, by reporting the ladybirds they see wherever they may see them. Biological recording is a wonderful way to get involved with natural history. I often receive detailed observations from people who have been recording ladybirds in a particular location on a regular basis. This information is incredibly useful. Some people have even been recording the parasites they see attacking ladybirds. Natural history studies are fun, rewarding and an invaluable source of information. Professor Mike Majerus wrote the first edition of this book and we open the revised version with his inspiration: "Biological Science must stand on its foundations in basic observations of organisms in the field: what they do, when they do it, why they do it, and how they have come to do it." Majerus, 1994
Do you have any plans for further books?



I have a passion for writing. As a teenager I contributed to the newsletter of my local natural history society – I enjoyed writing and I hoped that people would enjoy reading what I wrote. Writing, coupled with my love of natural history, remains very important to me. I will definitely be writing another book… perhaps the parasites of ladybirds, which are almost as charismatic as their hosts, would be worthy of attention?
Record your ladybird sightings at the UK Ladybird Survey
Pick up your free copy of the new NHBS Ecology & Biodiversity Equipment Catalogue 2013 which includes survey kit for entomologists