Pulsar Helion XP50 Thermal Imaging Scope
Thermal imaging technology has become an invaluable tool for researchers and ecologists studying nocturnal, crepuscular, cryptic or reclusive species. Thermal imaging devices work by using an electronic detector to convert heat emitted by the subject into a visible colour pattern. They have a distinct advantage over other night vision technologies in that you can use them during the day and in foggy conditions, as well as in total darkness. This means that they are ideal for surveying bat roosts, detecting nocturnal foraging animals, spotting birds in cover and even nest finding.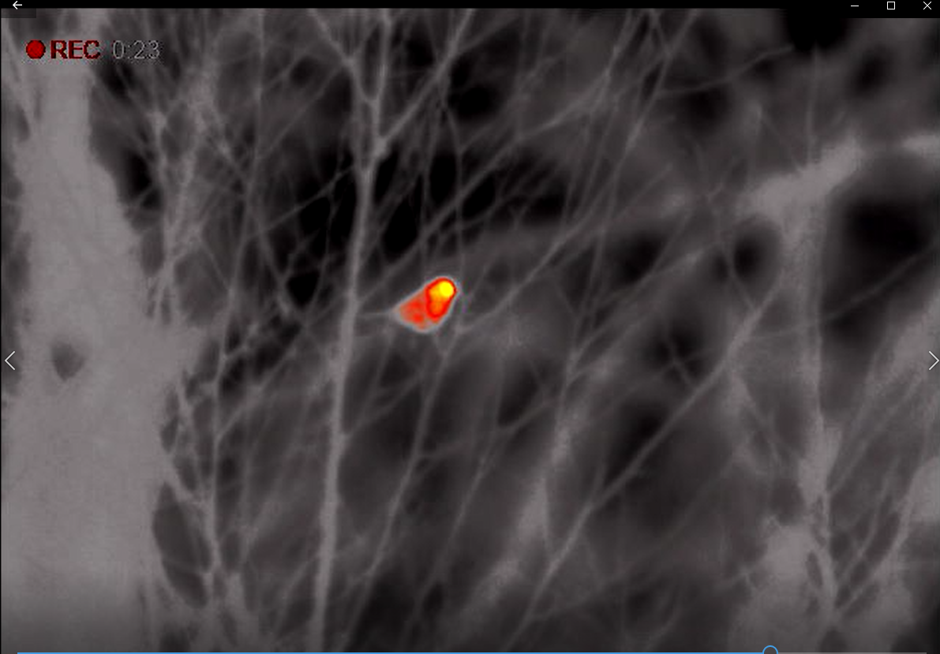 We tested the Pulsar Helion XP50 Thermal Imaging Scope at night time and in daylight. Our aim was to see if it enhanced our ability to detect and observe animals. We also wanted to examine the quality of the footage it produced.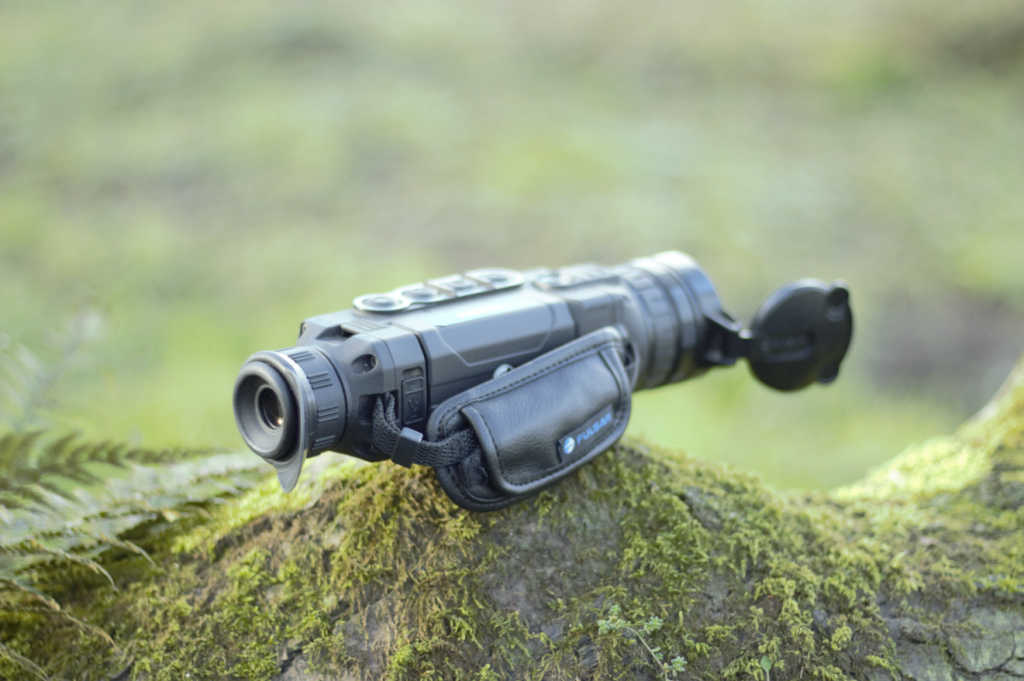 The Pulsar Helion XP50 is a powerful thermal imaging scope with 640 x 480 resolution and a detection range of up to 1800m. With a 50Hz frame rate it is great for observing even fast moving animals such as bats. The XP50 has inbuilt memory for storing video and still images, which can then be downloaded later via USB. Alternatively you can live stream, record and store images and video on a smartphone or tablet via the Stream Vision app.
How We Tested
We took the Pulsar Helion XP50 out a few times during daylight and night time to test its capabilities in as many conditions as possible. Steve went out searching for Lesser spotted woodpeckers on Dartmoor, Simone took the scope out to get some night footage of woodcock and we tested the daytime recording functionality again near the NHBS head office.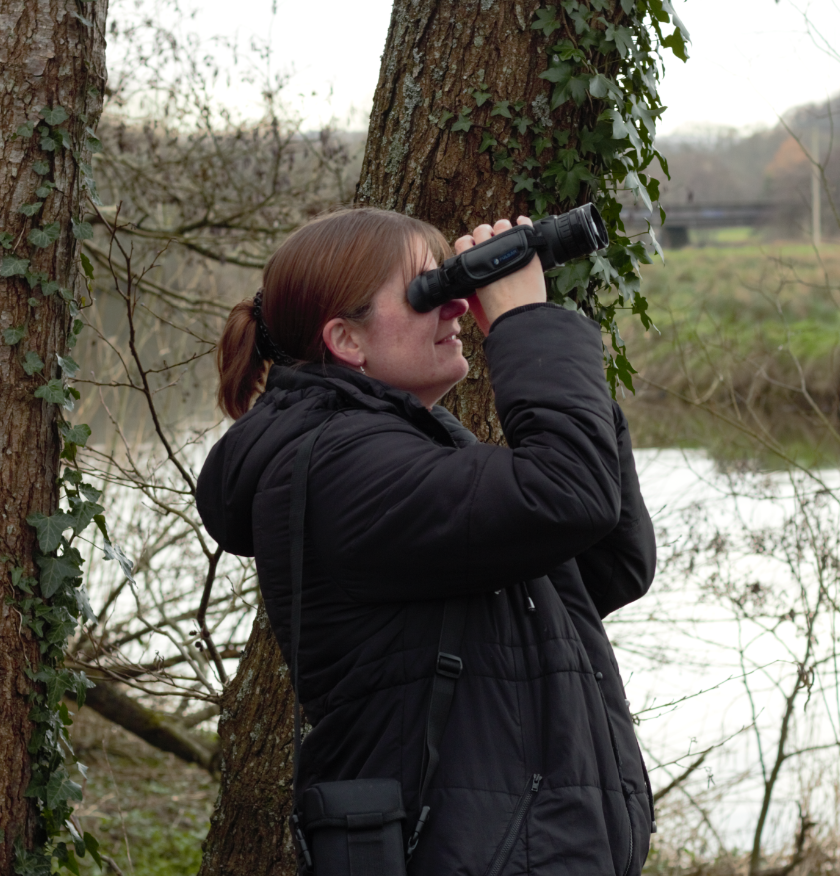 To get night time footage we tested the XP50 on a very drizzly, foggy evening in January, on agricultural land in Dorset that is managed organically. We knew this was a good area for overwintering woodcock and hoped to spot some foraging along with other wildlife. The scope is an all-in-one unit, so we just took it in its case and didn't need any other accessories.
What We Found
We found the scope easy to use one-handed, particularly due to the strap and the design of the button interface. It was simple to switch magnification zoom setting, take still images or videos, change colour palette and look at the stadiametric rangefinder one handed, meaning we could maintain our focus on the wildlife in front of us. All of the menu options appear on the screen and on recordings so you know what settings you had when you took the footage. The detection range was impressive and we easily spotted larger animals such as deer and hares when scanning the fields in the dark.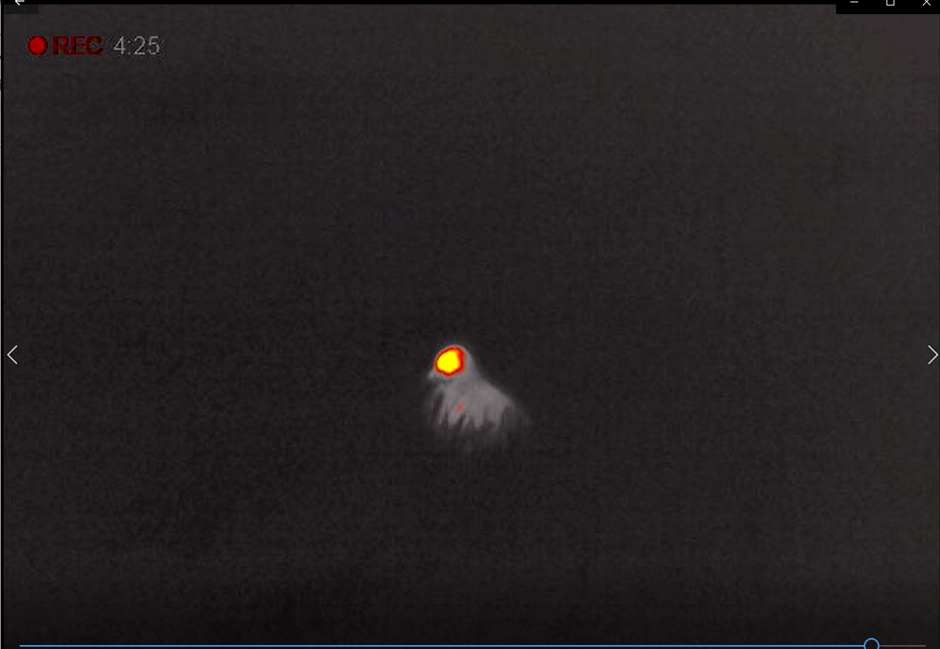 The WiFi streaming was exceptionally easy to set up and a fantastically useful tool to allow other people to view what was happening through the camera. It also allows you to control the camera and record footage. Downloading images from the internal camera memory via USB was very simple afterwards.
Daytime use
We obtained good daytime footage of squirrels and passerines such as blue tits, robins and blackbirds, with the scope making it very easy to pick out birds moving through the leafless tree canopy. The mallards on the river near NHBS head office were easy to spot without the scope but it did help us find a hidden teal and a moorhen that we would have missed otherwise. 
Night time use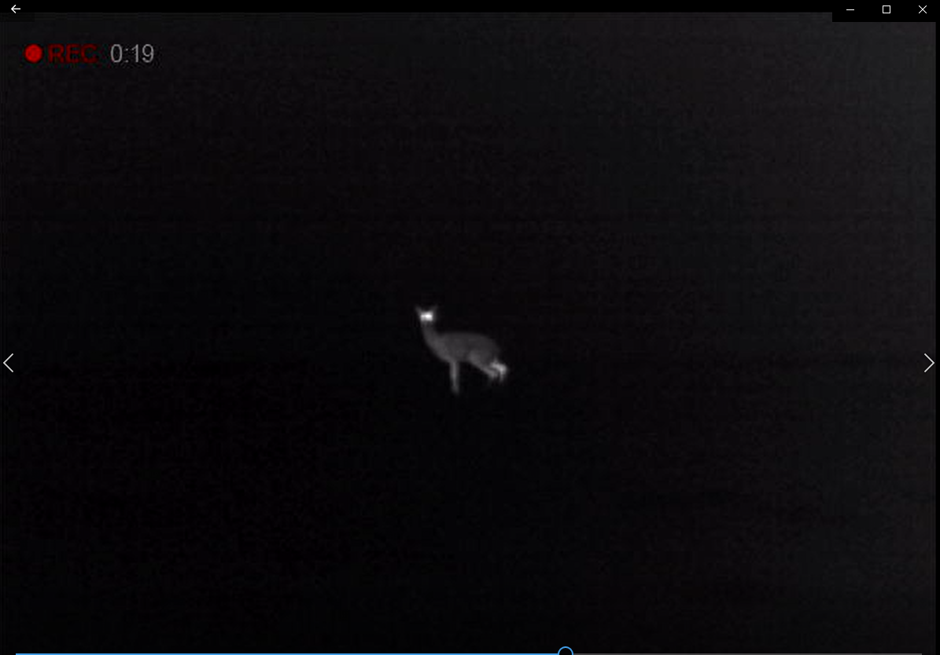 The XP50 came into its own at night and we picked up many animals that were missed when we surveyed the area with a lamp, even small animals such as mice and meadow pipits. We detected animals through the fog, drizzle and some ground cover with ease. We spotted roe deer, hares, rabbits, mice, meadow pipits, woodcock and a barn owl. The bird species were easy to follow when flying and provided smooth video footage due to the fast frame rate.
Our Opinion
We think that the Pulsar Helion XP50 is an absolutely fantastic thermal imaging scope and would be a great addition to any researcher or ecologist's survey equipment collection. The standout features are the detection range, the one handed operation and the streaming function. We would advise users to memorise the shortcut buttons before you go out as it can be difficult to remember how to switch modes in the field. The magnification zoom was useful if animals were fairly close but the footage became very blurry if they were further away so we tended to stick to 2.5x or 5x. Camera shake also becomes a real problem at the higher magnifications and a tripod would have improved our recorded footage quite dramatically. Thermal imaging technology opens up a world of possibilities for night time wildlife watching, bird ringing and surveying and we think this is an excellent scope for all of these purposes.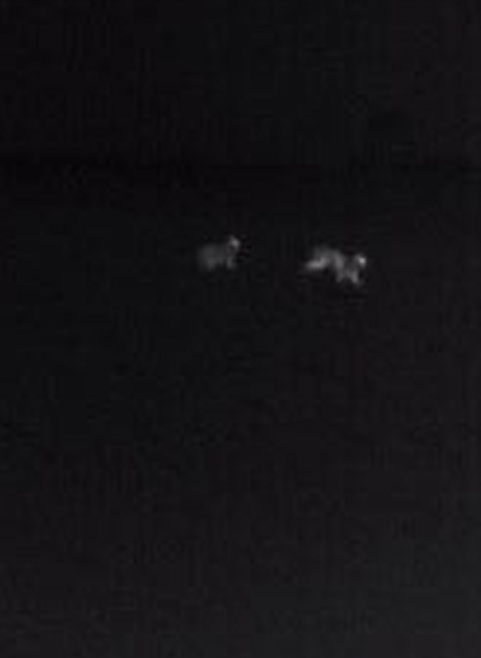 For more information on night vision technologies and the NHBS range, please see our blog post
NHBS Guide to Night Vision and Thermal Optics.
The Pulsar Helion XP50 is available from the NHBS website. For assistance with any queries regarding our range of thermal imaging cameras, please do not hesitate to contact our team of Wildlife Equipment Specialists.