The Sensory Ecology of Birds is a fascinating new work that explores the sensory world of birds from an evolutionary and ecological perspective. The author Professor Graham Martin gives us some insights into his inspiration, the incredible diversity of avian sensory adaptations, and how studying sensory ecology can help in developing practical conservation solutions.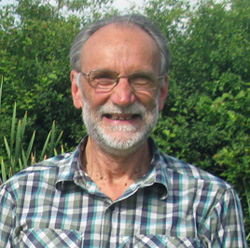 How did you first become interested in bird senses?
Through owls. As a child I used to listen to tawny owls calling all through the night in a nearby wood and I wanted to know what they were doing and how they did it. My father took me round the woods at night and that experience led me to wanting to know more about the eyesight of owls.
What inspired you to write the book and what kind of readers do you think would find it useful?
I have been studying bird senses all of my working career. Nearly 50 years ago I started to get paid for looking into bird senses; it has been a strange and exciting way to spend my time. After such a long time of investigating the senses of so many different birds I wanted to bring it all together, to provide an overview that will help people understand birds from a new perspective. I think anyone interested in birds will enjoy the book and find it useful. No matter which group of species intrigues you most, this book will enable you to see them from a new perspective. Understanding bird senses really does challenge what we think birds are and how they go about their lives.
Sensory ecology is a relatively new field of research; could you explain a little about what it is and what makes it particularly relevant today?
Sensory Ecology is basically the study of the information that birds have at their disposal to guide their behaviour, to guide the key tasks that they perform every day to survive in different types of habitats.  Different habitats present different challenges and to carry out tasks animals need different sorts of information. Birds have at their disposal a wide range of different sensory information, they are not just reliant upon vision. However, each species tends to be specialised for the gaining of certain types of information. Just as each species differs in its general ecology, each species also has a unique suite of information available to them. Sensory ecology is also a comparative science. It compares the information that different species use and tries to determine general principles that apply to the conduct of particular behaviours in different places. For example how different birds cope with activity at night or underwater.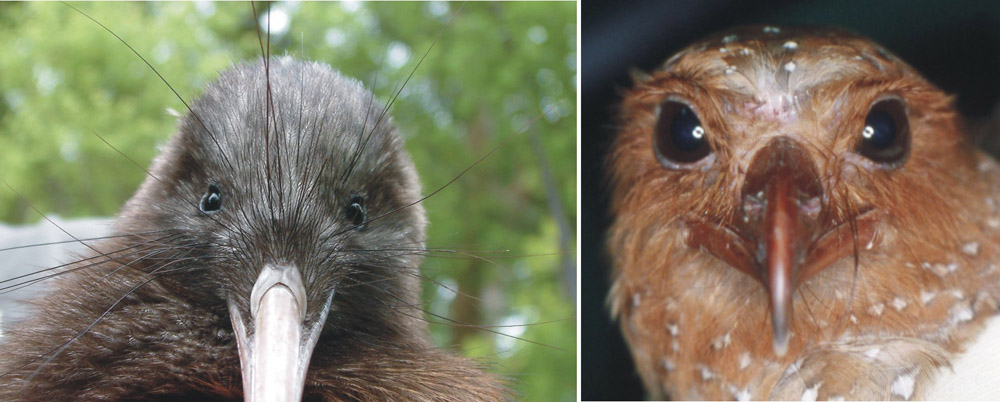 Sensory Ecology also looks at why evolution has favoured particular solutions to particular problems.  I think the major result of this kind of approach is that it certainly challenges our assumptions about what birds are and also what humans are. We do not readily realise that our view of the world is very much shaped by the information that our senses provide. We are rather peculiar and specialised in the information that we use to guide our everyday behaviours. My hope is that people will come to understand the world through birds' senses, to get a real "bird's eye view". In doing so we can understand why birds fall victim to collisions with obvious structures such as powerlines, wind turbines, motor vehicles, glass panes, fences, etc. We can then work out what to do to mitigate these problems that humans have thrown in birds' way.
An understanding of how a species perceives its environment can be very useful in designing practical conservation measures. Could you give us some examples?
Yes, I have been involved in trying to understand why flying birds apparently fail to detect wind turbines and power lines, or diving birds fail to detect gill nets.  These investigations have led to a number of ideas about what is actually happening when birds interact with these structures and what we can do to increase the chances that birds will detect and avoid them.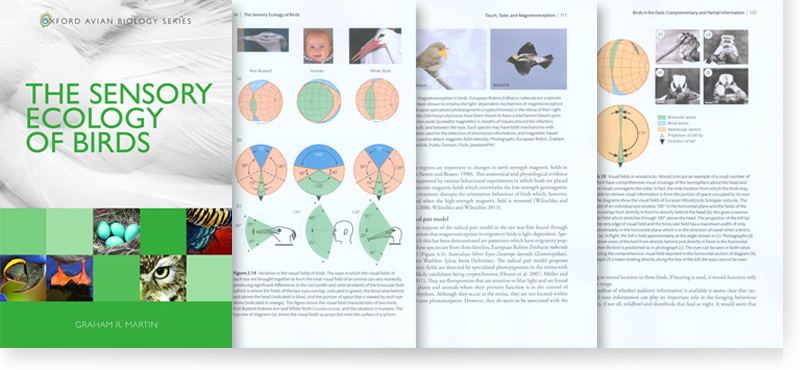 How do you think that studying avian sensory ecology can enhance our understanding of our own sensory capabilities and interaction with the world?
It gives a fresh perspective on how specialised and limited our own view of the world is. We make so many assumptions that the world is really as we experience it, but we experience the world in a very specialised way. Sensory ecology provides lots of new information and facts about how other animals interact with the world, what governs their behaviour, but equally importantly sensory ecology questions very soundly our understanding of "reality", what is the world really like as opposed to what we, as just one species, think it is like. This is quite challenging but also exhilarating. We really are prisoners of our own senses, and so are all other animals. Sensory ecology gives us the opportunity to understand the world as perceived by other animals, not just how we think the world is. That is really important since it injects a little humility into how we think about the way we exploit the world.
Could you give us some insight into how birds can use different senses in combination to refine their interpretation of the world around them?
Owls provide a good example. Their vision is highly sensitive but not sufficiently sensitive to cope with all light levels that occur in woodland at night, so owls also rely heavily upon information from hearing to detect and locate moving prey. The nocturnal behaviour of owls requires these two key sources of information but even these are not enough. To make sense of the information that they have available to them the woodland owls need to be highly familiar with the place in which they live, hence their high degree of allegiance to particular sites.  Other birds, such as ducks, parrots and ibises rely heavily upon the sense of touch to find food items. The degree to which this information is used has a knock on effect on how much the birds can see about them. So a duck that can feed exclusively using touch, such as a mallard, can see all around them, while a duck that needs to use vision in its foraging cannot see all around. This in turn has implications for the amount of time birds can spend foraging as opposed to looking around them, vigilant for predators. In many birds the sense of smell is now seen as a key source of information which governs not just foraging, but also social interactions.
Are there interesting examples of species that are specialists in one particular sense?
Usually birds rely upon at least two main senses that have become highly specialised and which are used in a complementary manner. For example, in ibises it might be touch and vision, in kiwi it is smell and touch, in some of the waders it is touch and taste, but in other waders touch and hearing.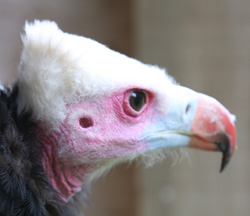 Probably the most obvious single sense specialisations are found among aerial predators such as eagles and falcons, they seem to be highly dependent upon vision to detect prey at a distance and then lock on to it during pursuit. However, we really don't know anything about other aspects of their senses and there is a lot left to learn about them.
Can you tell us about any species that you have studied that you find particularly fascinating?
Oilbirds; they are really challenging to our assumptions about what birds are, how they live and what information they have available to them.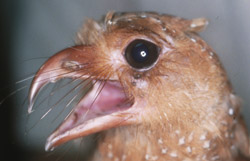 Oilbirds are the most nocturnal of all birds, roosting and breeding deep in caves where no light penetrates, emerging only after dusk and then flying over the tropical rain forest canopy to find fruit. But they are a form of nightjar! In the complete darkness of caves they use echolocation to orient themselves and calls to locate mates. When searching for food in the canopy they use their sense of smell to detect ripe fruits, they have long touch sensitive bristles around the mouth. And their eyes have sensitivity close to the theoretical limits possible in vertebrate eyes.  They seem to rely upon partial information from each of these senses, and use them in combination or in complementary ways. They really are marvellous, but in truth the senses of any birds, and how they are used, are fascinating and intriguing, it is a matter of delving deep enough, and asking the right questions.
In what kind of direction do you think future sensory ecology research is headed?
We now have available a lot of techniques to find out about the senses of birds, from behavioural studies, to physiology and anatomy. Armed with these techniques, and also with ways of thinking and measuring the perceptual challenges of different tasks and different environments, there are so many questions to investigate. We have some fascinating findings but we have only just scratched the surface with regard to species and it does seems clear that senses can be very finely tuned to different tasks. I like to compare the diversity of the bills that we find in birds with the same diversity in the senses in those species.
Every bill tells a story about form and function, about evolution, ecology and behaviour. The senses of birds show the same degree of diversity and tuning. So to me sensory ecology is a wide open field with lot of questions to investigate. To appreciate the world from a bird's perspective will, of course, give us a much better understanding of how to mitigate the problems that humans have posed to birds by shaping the world for our own convenience.