Puffballs are a type of fungi in the division Basidiomycota. They are so named due to the dust-like spores that are emitted as clouds when the fruitbody bursts. They are characterised by their lack of an open cap with visible spore-bearing gills. The spores are, instead, produced internally within the gasterothecium, a spheroidal fruitbody. Stalked puffballs have, as the name suggests, a stalk to support this structure, which is tough, woody and made of infertile material, whereas true puffballs have no visible stalk. Some species, such as ones attached to the substrate by mycelial cords, may become unattached and roll with the wind.
Puffballs are saprotrophic, meaning they feed on non-living organic matter, known as detritus. They break down detritus into utilisable nutrients and minerals, which maintains soil health and aids plant growth. Puffball species can be identified by the shape and size of the fruitbody, any surface features and the presence and shape of a stem. Species can also be determined by the examination of spores using a microscope. When cut in half, young puffballs whose spores have not begun to develop will be pure white all the way through. Older species turn yellow or brown on the inside. This can help distinguish them from earthball species, which has a dark interior (or gleba), or other mushroom species, which have visible gills.
Most puffballs are not poisonous but can resemble young poisonous mushrooms such as the death cap. True puffballs are edible when immature but any spore can cause digestive upset if consumed and caution should always be taken as some fungi are highly poisonous. This blog is not meant to be used as a guide for foraging. This blog covers the key identification features, distribution, season and habitat preference of some of the puffball species known in the UK.
Common Puffball (Lycoperdon perlatum)
Distribution: Common and widespread in Britain and Ireland
Habitat preference: Deciduous and coniferous woodlands, grasslands and along roadsides.
Season: July to November
What to look for: This species usually has a pear-shaped fruitbody that is 3–6cm tall. Its surface is covered in pearl-like attachments, called pyramidal warts, that are different sizes. These warts begin as a cream colour before turning ochre and falling off to leave an olive-brown surface marked with scars. Older specimens will have a dark area at the apex, where the pore hole develops. The common puffball has a visible stem that resembles an often distorted inverted cone. The spore mass is olive-brown and turns dark brown when fully mature.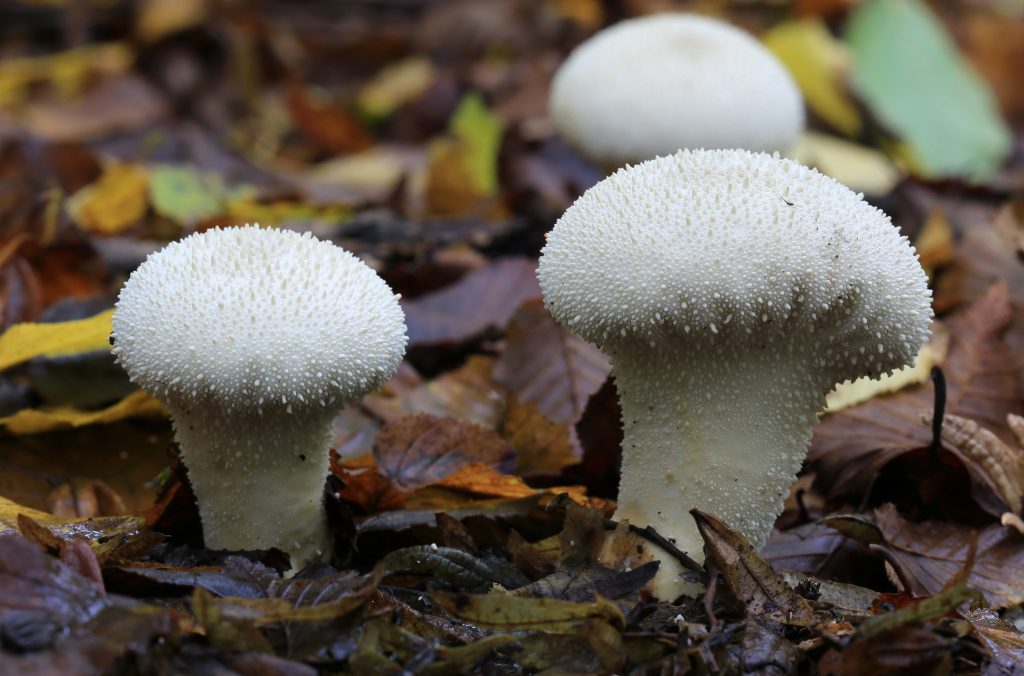 Giant Puffball (Calvatia gigantea)
Distribution: Widespread and fairly common
Habitat preference: Roadside verges, field edges, nettle and other rank vegetation, woodland edges and occasionally found in open woodland or woodland clearings
Season: July to November
What to look for: This species can achieve a massive size, typically 10–80cm across. They are initially white, with a lumpy and leathery appearance, connected to the substrate by a root-like mycelial cord. While the interior of the immature puffball is white, mature specimens have a greenish-brown gleba.
Did you know? This species is known to form fairy rings. The mycelium hyphae spreads horizontally in a radial pattern. The hyphae can then sprout fruitbodies on the surface, forming a circular pattern thought in folklore to be the dwelling places of fairies and other magical beings.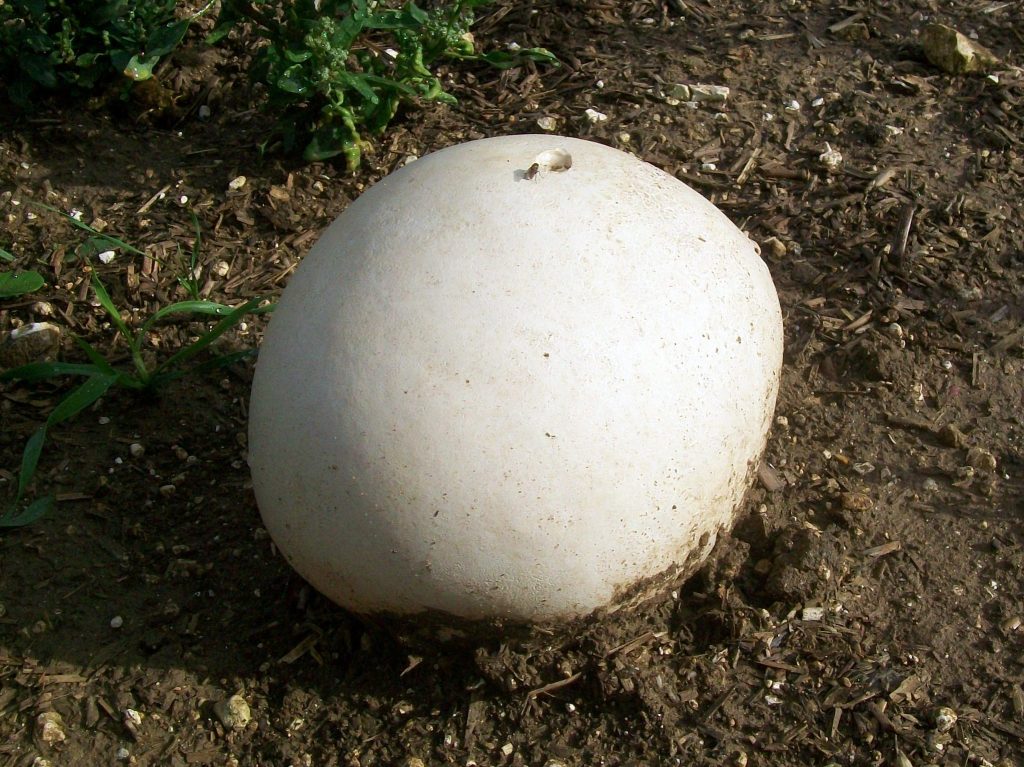 Pestle Puffball (Lycoperdon excipuliforme)
Distribution: Widespread and fairly common
Habitat preference: Woodland and short grassland
Season: August to November
What to look for: The pestle puffball is initially white but turns ochre as it ages, and grows to between 10–20cm tall. The globe-shaped head grows between 4–10cm wide. The stem-like section, called a stipe, is often wrinkled in appearance and usually around half the diameter of the head. It is covered in pointed warts that fall off, leaving a smooth surface.
Did you know? After the head has ruptured and released the spores, the stipe will grow and remain intact throughout winter.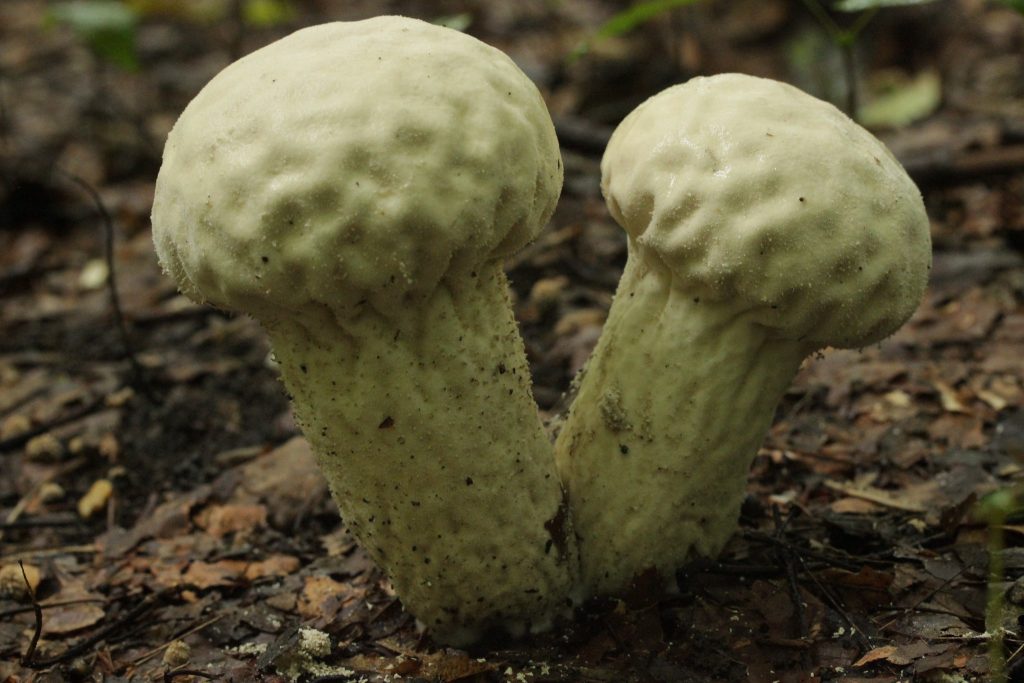 Dusky Puffball (Lycoperdon nigrescens)
Distribution: Widespread, fairly common
Habitat preference: Variety of habitats, such as woodland, moorland and sand dunes
Season: June to September
What to look for: The dusky puffball is usually between 2-3.5cm tall and 2-4cm across. It is pear-shaped, with a surface that begins pale brown before turning darker. It is covered in dark-brown spines that fall off as the puffball matures. This species has a visible, short stem with shorter spines. The spore mass inside is initially white and firm, before turning yellowish-brown and then dark brown and powdery.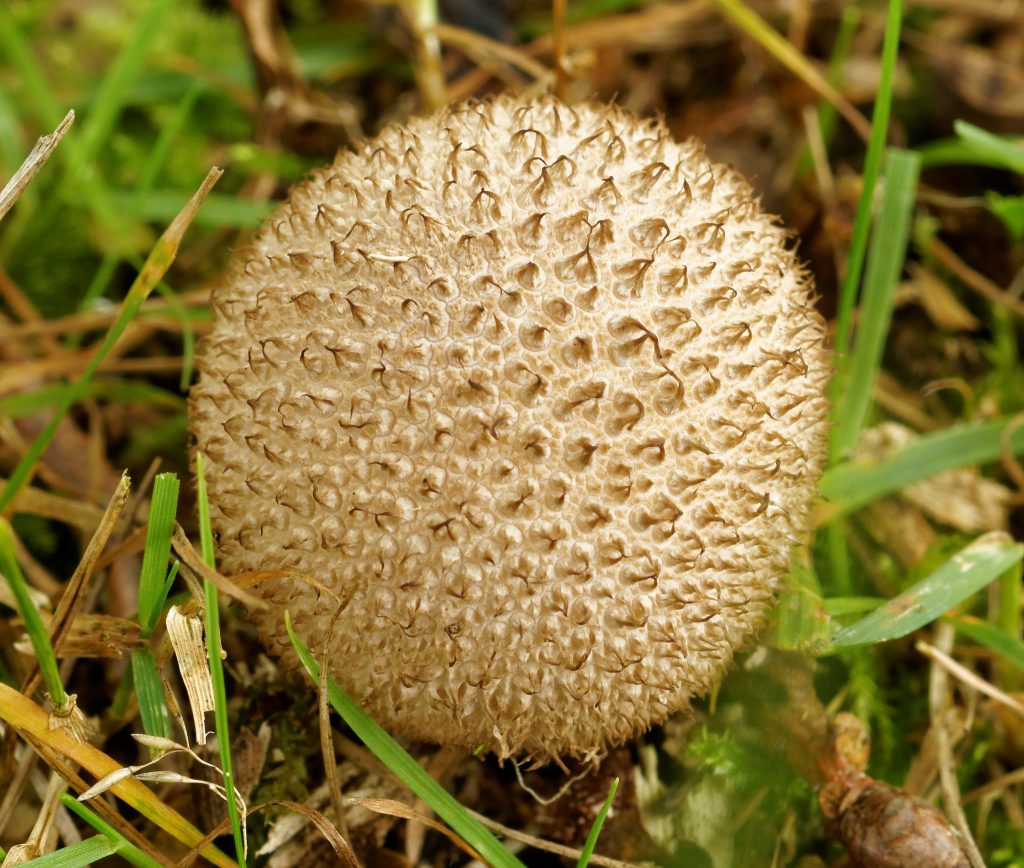 Mosaic Puffball (Lycoperdon utriforme)
Distribution: Widespread but uncommon
Habitat preference: Sandy open pastures or heaths
Season: July to November
What to look for: The common name for this species is derived from the pattern across the head of the fruiting body, which develops as the specimen matures and the outer wall breaks into patches. It is subspherical to pear-shaped, between 6–15cm across and up to 15cm tall. The fruitbody turns grey-brown with age and the scales begin to fall away before the fruitbody eventually ruptures.
Did you know? The base of this species can also persist for several months after the fruitbody has burst. It resembles a blunt-ended inverted cone.
Other synonyms: Calvatia caelata, Calvatia utriformis, Handkea utriformis, Lycoperdon bovista, Lycoperdon caelatum, Lycoperdon sinclairii, Lycoperdon utriforme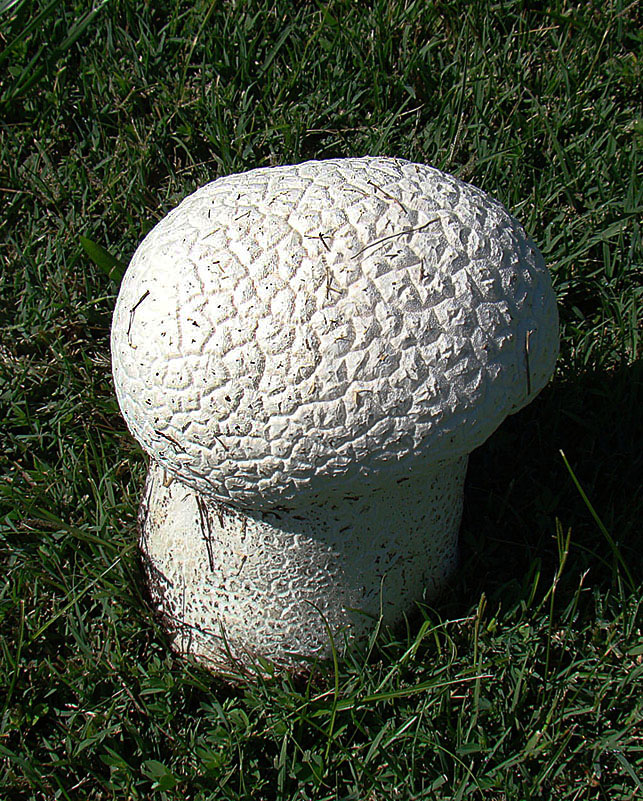 Brown Puffball (Bovista nigrescens)
Distribution: Widely distributed, more frequent in southern counties
Habitat preference: Grassland and pastures, but can also be found in fields, lawns or roadside verges
Season: Late summer to autumn
What to look for: The fruitbody is between 3–6cm across, with a slight point at the bottom. This species lacks a stem and is attached to the substrate by a mycelial cord. The outer wall is initially white but flakes off as the fruitbody matures to expose the dark purple-brown inner wall.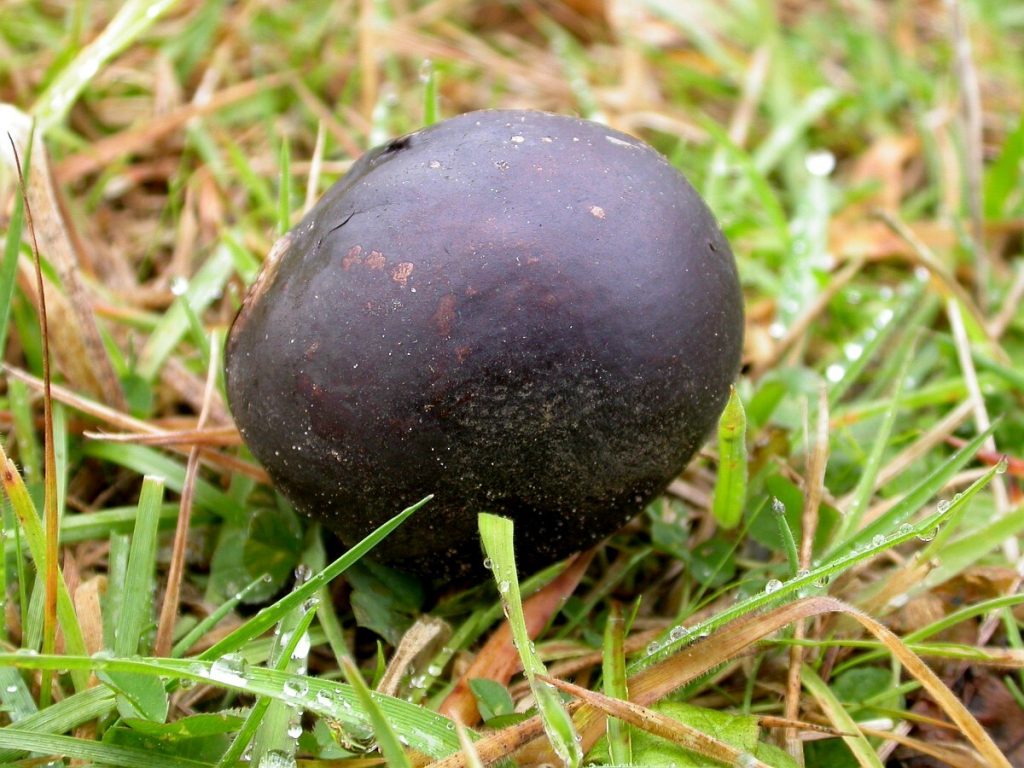 Stump Puffball (Lycoperdon pyriforme)
Distribution: Widespread and fairly frequent
Habitat preference: Grows mainly on decaying trees and logs
Season: July to early December
What to look for: This species is typically 1.5–4cm across and around 3–4cm tall. It has a pestle- to pear-shaped fruitbody that is initially covered in short pyramidal warts. The originally white surface browns with age, developing a dark area at the apex where the pore will occur. The stump puffball is attached to the substrate by several mycelial filaments. The stem remains white as the head matures.