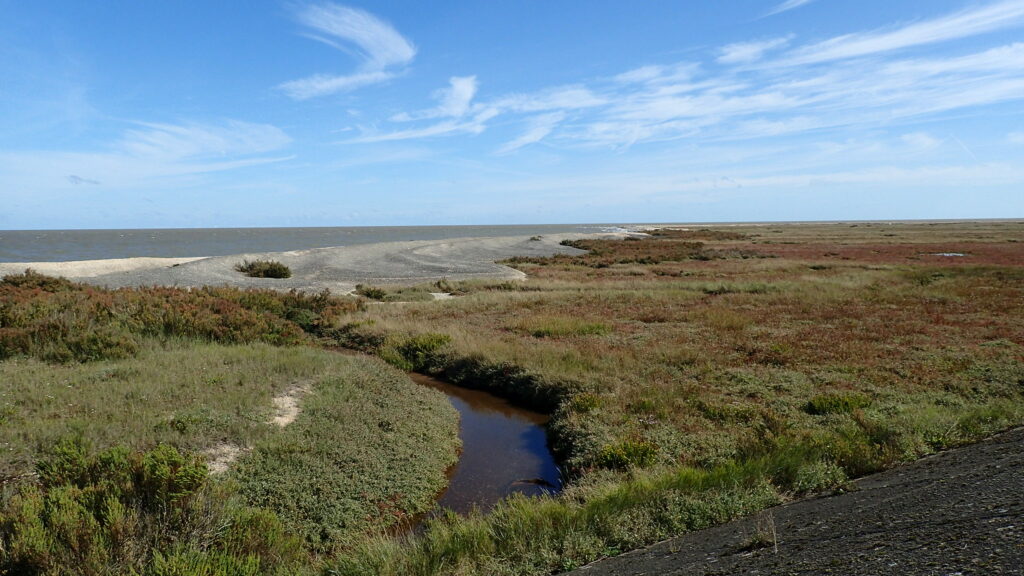 Saltmarsh, the next habitat in our NHBS Introduction to Habitats series, is an area of the extreme upper shore of sheltered coasts that is inundated with seawater periodically during high tides. However, saltmarshes can also occur further inland, such as along tidal rivers. These habitats are usually angiosperm-dominated areas of vegetation that can develop on a variety of sediment types, including sand and mudflats. They often display striking vegetation zonation patterns across elevational gradients, relating to the degree or frequency of immersion in seawater. This means that, usually, more salt-tolerant species (halophytes) will be found lower down the shore on the seaward side, while less tolerant species would be more likely situated further up on the landward side. These zones  are broadly referred to as low marsh and high marsh, but can be further split into an initial intertidal sand- or mudflat, a pioneer zone, lower marsh, middle marsh and the upper marsh zone. These most tolerant species are usually the pioneer species, growing in mud- or sandflats – this marks the beginning of ecological succession in saltmarshes; these plants stabillise the substrate, and add oxygen and other nutrients to the saltmarsh, allowing other plants to establish.
This is a generally well-studied habitat, which is fully classified by the UK National Vegetation Classifications, with 26 types defined. Saltmarshes are made up of a network of creeks and pans (pools), creating sections of land and water. These creeks are developed by the growth of pioneer plant species that grow on raised areas. This concentrates any water flow into channels, which deepen to form creeks as the saltmarsh develops. These areas can be very productive habitats, as the muddy channels can contain sediment rich in decaying matter, supporting a wide diversity of species such as crabs, shrimps and snails, providing food for wading birds and other predators.
What species can you find here?
Flora
Saltmarsh grass (Puccinellia sp.)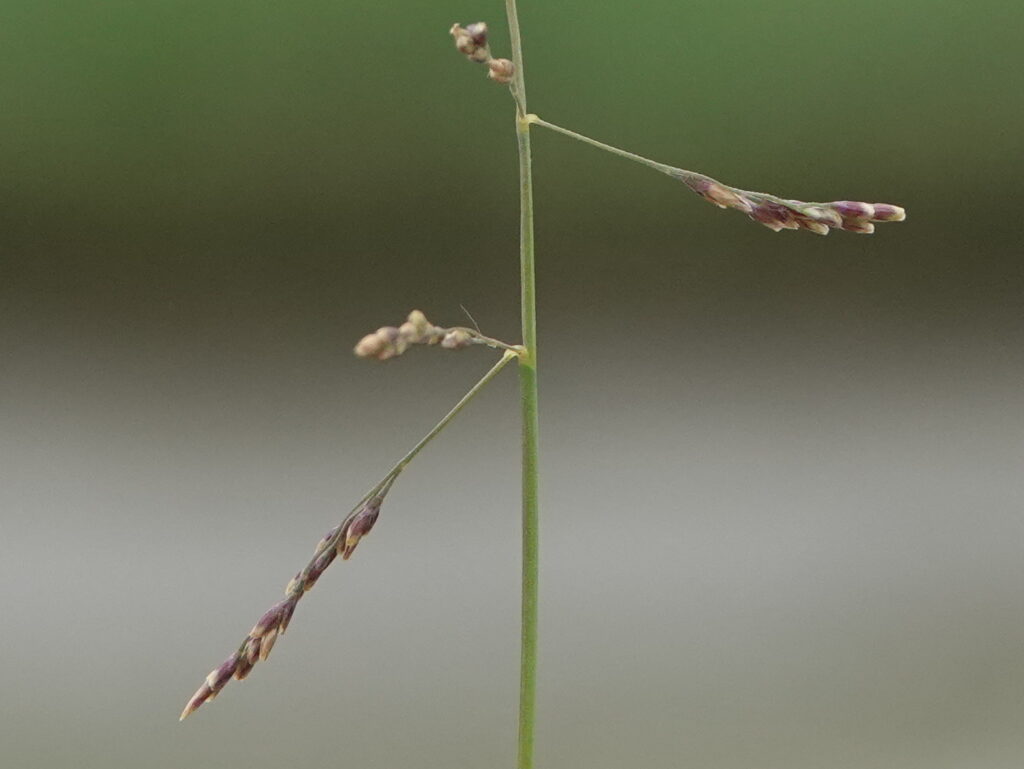 Puccinellia, also known as saltgrass, is a genus of grass that grows in wet environments, often in saline conditions. Some of the saltmarsh grasses within this genus, such as common saltmarsh-grass (Puccinellia maritima), can dominate saltmarsh plant communities, creating dense tufts of hummocks. They can also often be found in pioneer communities, such as in recently disturbed or forming areas of saltmarsh. Some species can grow to quite a height, some between 60cm and 80cm, and provide a refuge for many different animal species.
Annual Sea-blite (Suaeda maritima)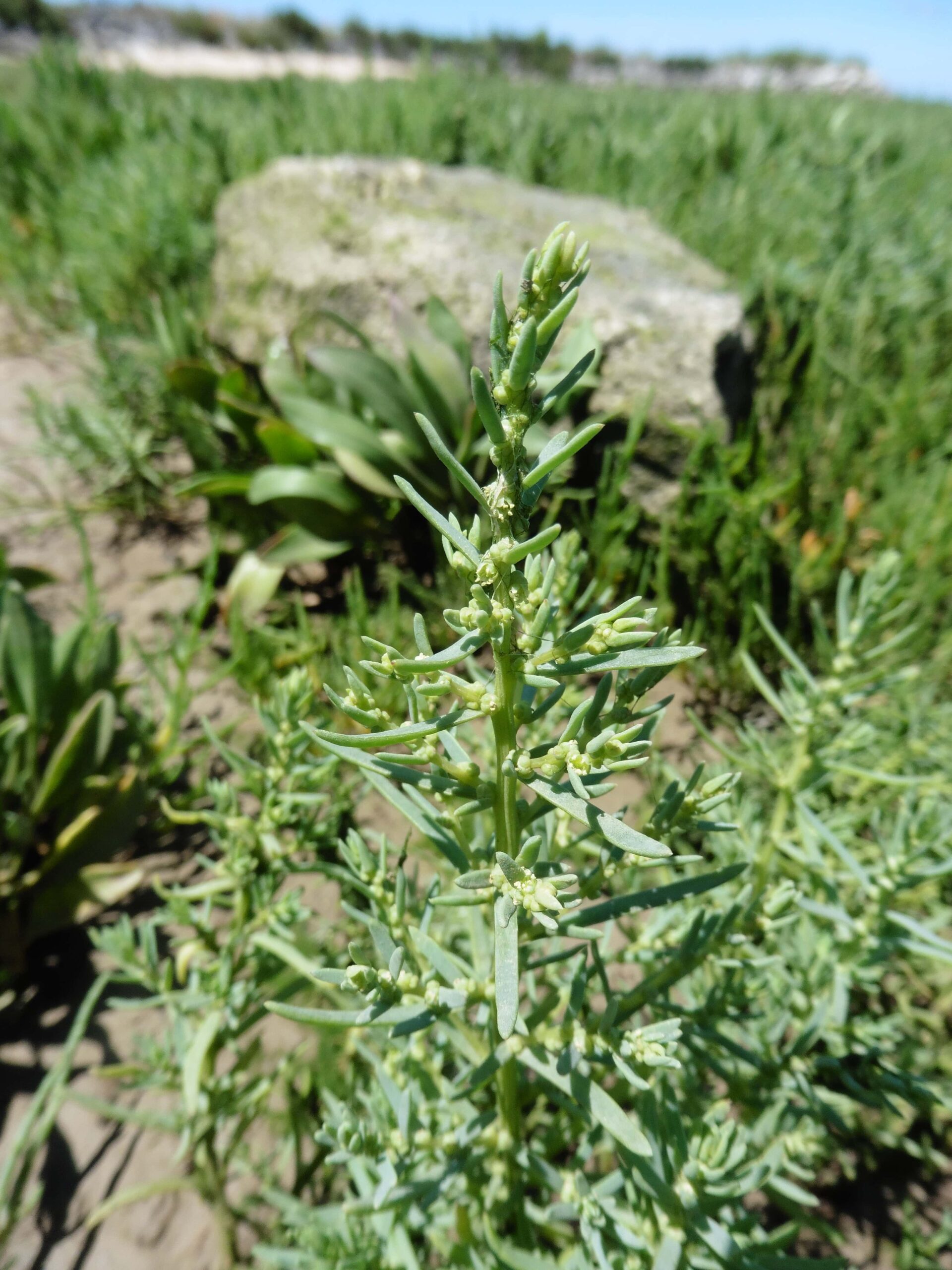 This flowering plant, also known as herbaceous seepweed, is a yellow-green shrub with succulent leaves and green flowers. It grows in aquatic, terrestrial and wetland habitats, but is mainly found in salt marshes and along seashores, reaching up to about 35cm in height. It's an important habitat-building species, as it captures mud and other sediment, and stabilises the saltmarsh.
Sea Aster (Aster tripolium)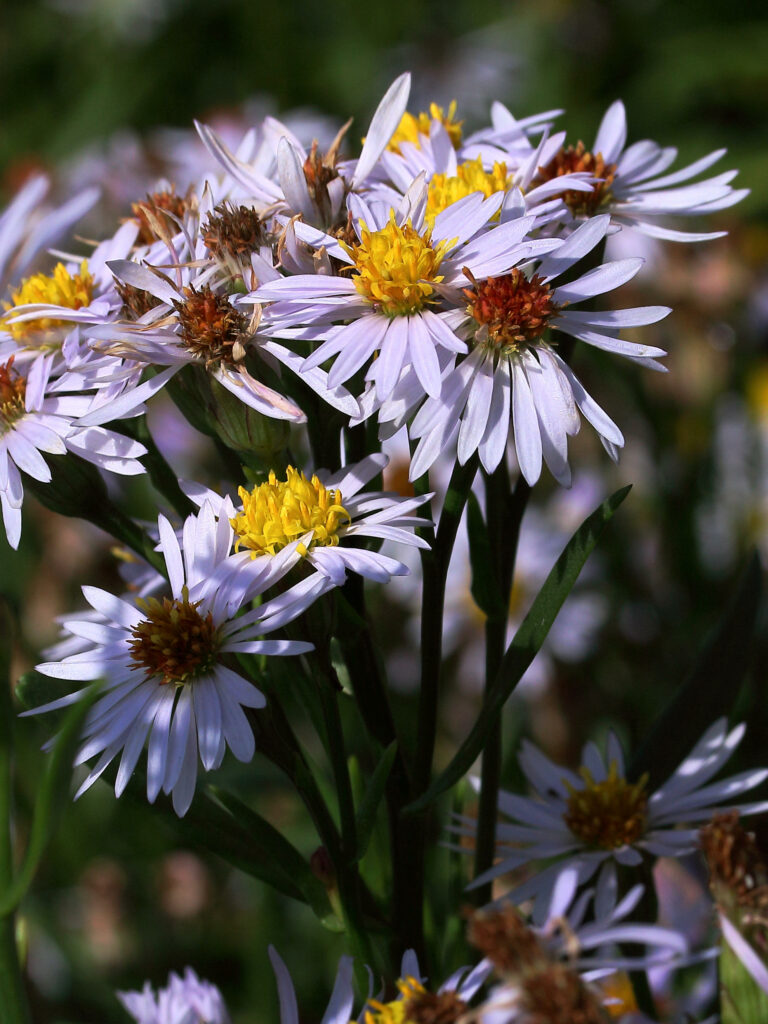 Also known as Tripolium pannonicum, Aster pannonicus or seashore aster, this flowering plant is mainly confined to saltmarshes and estuaries, although it's occasionally found on cliffs and inland salt works. Sea asters are a short-lived species that can form dense patches. They're also known as Michaelmas daisies, as their late flowering period is between July and October. Thus, they're an important source of nectar for several late butterfly species, such as the red admiral.
Sea purslane (Halimione portulacoides)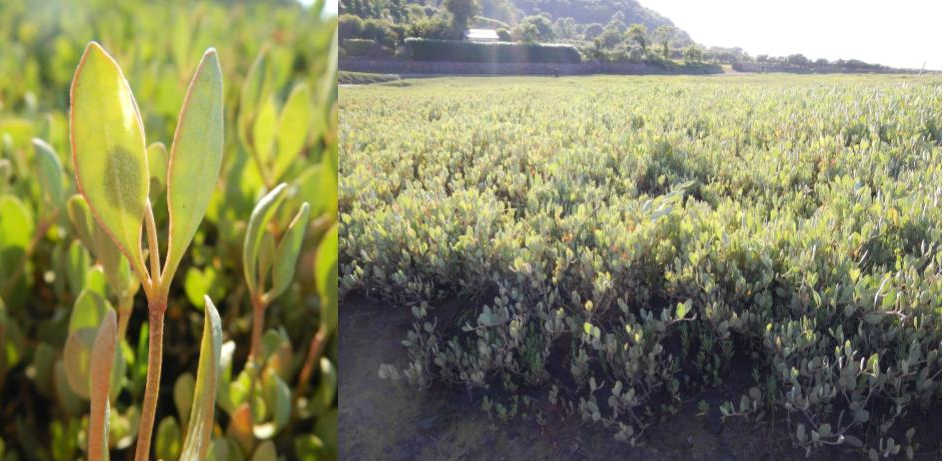 There are several different species with the common name sea purslane, but this species is a greyish-green shrub found in salt marshes and coastal dunes, usually flooded at high tide. They're evergreen and contain important nutrients such as zinc and iron. This species can also be used as a bioindicator and biomonitor for mercury contamination in saltmarshes, as it accumulates in the roots and (at lower levels) in the leaves.
This species also has several botanical and common synonyms, including Obione portulacoides, Atriplex portulacoides, purslane orach and lesser shrubby orach.
Fauna
Saltmarshes are important breeding grounds for birds, such as waders and waterfowl, and feeding grounds for overwintering or migrant birds, including wheatear (Oenanthe oenanthe), redstart (Phoenicurus phoenicurus) and goldcrest (Regulus regulus). They also provide nursery sites for many fish species and support a large number of invertebrates.
Saltmarsh Plume (Agdistis bennetii)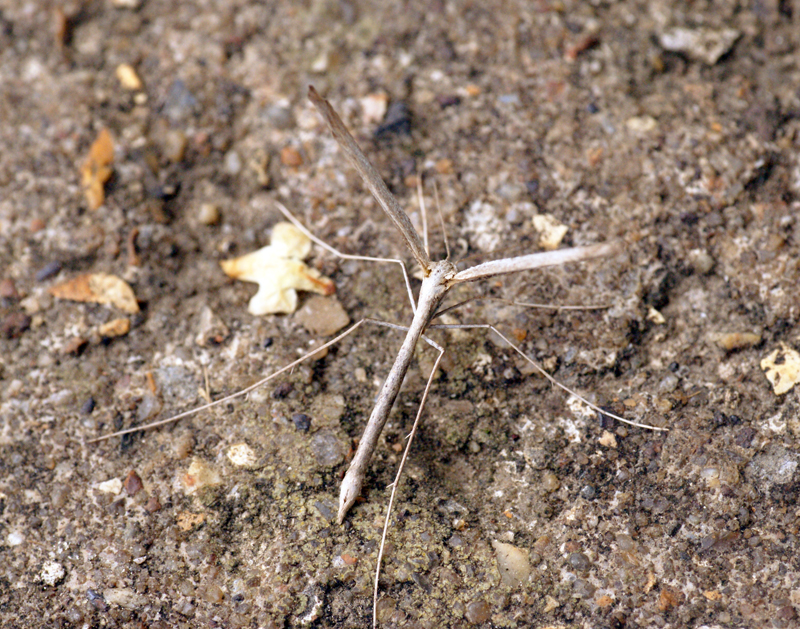 The variety of habitats and conditions within saltmarshes supports a diverse range of invertebrates, including the saltmarsh plume moth.  This distinctive species is found in saltmarshes in the south and east of England, with its larvae feeding on species such as sea-lavender (Limonium vulgare) and rock sea-lavender (Limonium binervosum). They feed on the underside of the leaves, hibernating close to the base of the plant until it can restart feeding in spring. Invertebrate species can be used as indicator species for the level of grazing a saltmarsh has undergone. For example, Agdistis bennetii is an indicator species for ungrazed saltmarshes, as they show a significant preference for these areas and are, therefore, more likely to be found in higher numbers than in grazed areas. This is most likely due to the larvae's reliance on only Limonium species as food plants, which may be reduced or removed with grazing.
Three-spined stickleback (Gasterosteus aculaeatus)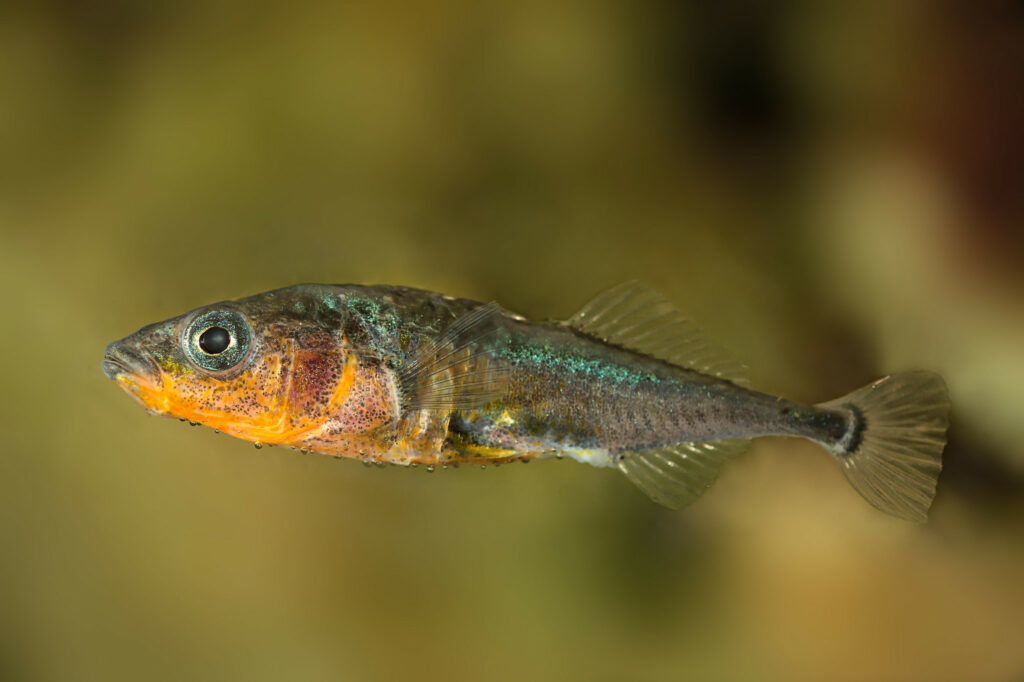 The three-spined stickleback is a small predatory fish that inhabits fresh, salt and brackish water and is very tolerant of changes in salinity. With a preference for slow-moving water with areas of vegetation, it can often be found in ponds, lakes, ditches and marshes. These fish have a brown back with silverish sides and belly. As their name suggests, they have three spines on their back. Males develop bright green flanks and a red throat and belly during spring (as pictured). They hunt invertebrates, including worms, crustaceans, insect larvae and small snails. They're also prey for several species, including larger fish, such as trout, pike and perch, and birds, such as herons and kingfishers. Eggs, fry and juveniles are also prey for macroinvertebrates, such as dragonfly naiads.
Shore crab (Carcinus maenas)
Shore crabs are found along all shores of Britain and Ireland and inhabit a wide variety of shoreline habitats, from the intertidal zome down to a depth of 60m. They're especially abundant in salt marshes and estuaries, feeding on algae, plants, arthropods, annelids (worms), molluscs and carrion. They're also prey for some predatory fish and birds, including gulls, cormorants and certain duck species. Herbivory by certain crab species is thought to be impacting saltmarshes in certain areas. For example, bank die-offs of cordgrass species (Spartina spp.) in the saltmarshes of Cape Cod, Massachusetts has been attributed to the native purple marsh crab (Sesarma reticulatum), as dense populations are leading to intense grazing. Other crabs, however, such as the tunnelling mud crab (Helice crassa) found in New Zealand, are thought to be ecosystem engineers, as their burrows help to transport dissolved oxygen into the surrounding anoxic sediments, helping to promote nitrogen cycling bacteria.
Ragworm (Hediste diversicolor)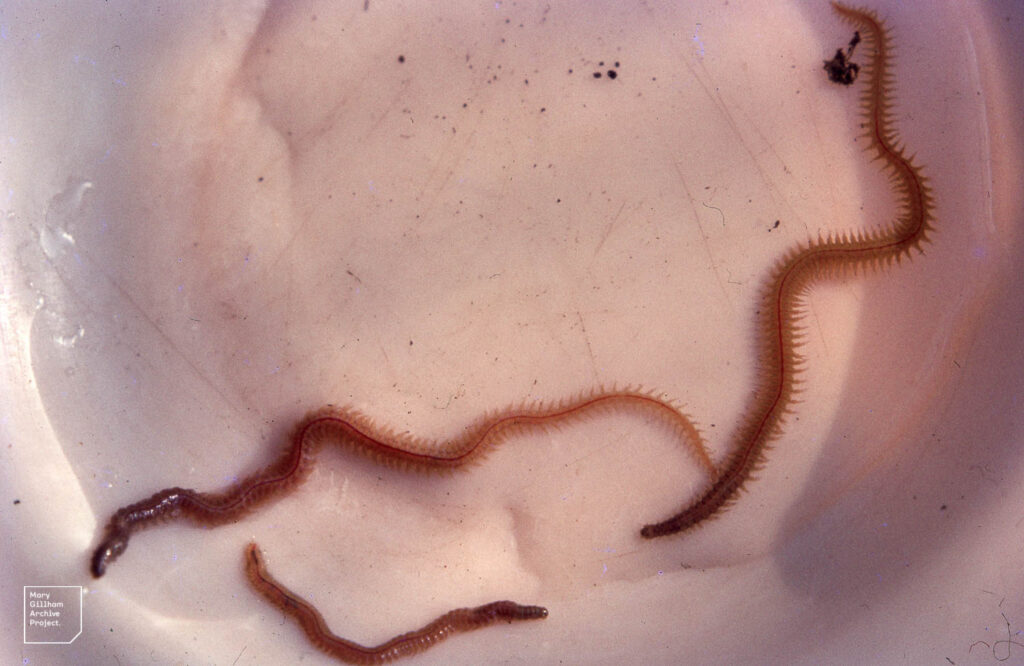 Polychaete worms, also known as bristle worms, are a class of annelid worms that are generally found in marine environments. These species have pairs of fleshy protrusions on each segment of their body, resembling legs. Ragworms live in burrows and are widespread and common, often found in coastal or estuarine intertidal zones. They're a key food source for many species of birds and fish, such as pied avocet (Recurvirostra avosetta), curlew (Numenius arquata), bar-tailed godwit (Limosa lapponica), grey plover (Pluvialis squatarola), common sole (Solea solea) and European plaice (Pleuronectes platessa). These polychaetes have also been found to have deleterious effects on saltmarsh establishment, as well as seagrass meadows. This is thought to be due to ragworms pulling the leaves of cordgrass (Spartina anglica) into their burrows to feed while their burrowing activities is thought to reduce establishment rates due to its disturbance of the substrate.
Mud snail (Hydrobia ulvae)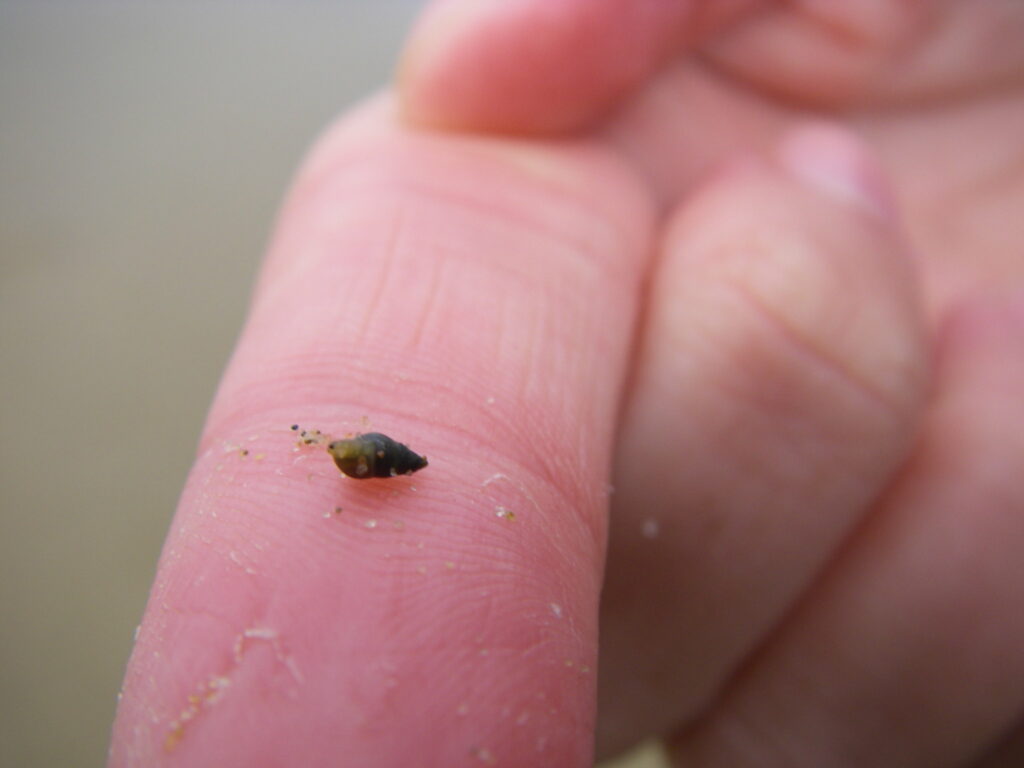 This small, spiral-shelled snail is found along the British and Irish coastline. It is typically found in muddy sand, estuaries and saltmarshes, although it also occurs in lagoons and seagrass beds. Also referred to as Peringia ulvae or the laver spire shell, this species is most common in the upper half of the intertidal zone, feeding on detritus, microflora and seaweeds. They can be quite abundant across saltmarshes, therefore providing a major food source for multiple predators, including flatfish, such as common dab (Limanda limanda), and overwintering waterfowl, such as shelducks (Tadorna tadorna).
Overwintering birds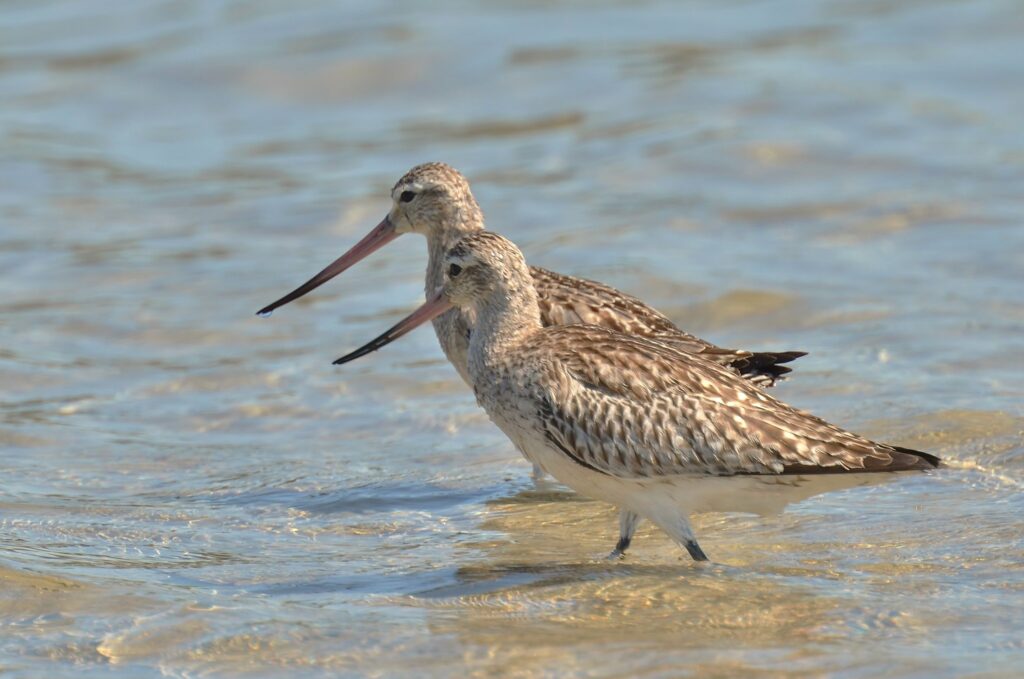 Saltmarshes are key habitats for many ducks, geese and waders, including the bar-tailed godwit (Limosa lapponica). While some non-breeding individuals can be seen in the UK in summer, the highest numbers generally occur between November and February.  They use their long bills and legs to pick their way through estuaries, mudflats, sandy shores, saltmarshes and other wetland habitats, mainly eating worms, shellfish, marine snails and shrimps. For more information on the other birds that utilise these habitats, check out our identification guides on UK ducks, geese and waders.
Several mammal and reptile species also utilise saltmarshes, such as Sika deer, adders, otters and stoats. Check out our identification guides for UK Deer, Reptile and Mustelid species for more detailed information about these.
Threats
The main threats to multiple coastal habitats are erosion, pollution, climate change and development. Sea level rise, combined with development, can cause a coastal squeeze – where saltmarsh habitats are unable to 'move' in response to changing tide levels, therefore they're 'squeezed' between the rising sea and developed areas, such as where coastal defences have been built. Many coastal habitats are low-lying and are therefore vulnerable to flooding and are where flood defences are most likely to be placed. Aside from contributing to the coastal squeeze, this changes the relationship between the land and the sea, impeding natural inundation and sediment supply and the dynamics necessary to maintain the saltmarsh habitats.
Erosion from wave action, adverse weather, disturbance, farming and grazing can lead to a reduction in stabilising plants and the rich substrate to be washed away. This reduces the habitats ability to support its diverse wildlife and reduces its suitability as a breeding ground for birds. However, carefully managed, low-intensity grazing can maintain saltmarshes, as it increases vegetation patchiness, reduces succession by woody species and, therefore, increases biodiversity.
Development, such as urban development, ports, harbours and land-claim for agriculture and industry, can threaten these habitats, although this is far less common now. Other threats include pollution, through run-off, litter, oil, heavy metals, air pollution and plastic pollution; invasive species, such as Spartina anglica (cordgrass), which can outcompete native plant species and dominate habitats; and overfishing, which can reduce top predators, leading to a collapse in saltmarsh ecosystems.
Hopes for the future
Protecting the remaining saltmarsh habitats, as well as restoring and creating new habitat areas, is an important part of conserving and increasing our biodiversity. Conservation often involves livestock grazing, site management, conservation designations, strict development planning policies, scientifically informed fishing quotas and public campaigns for litter picking, personal responsibility and reducing foot traffic on degraded areas. Restoration efforts usually focus on removing sea defences to restore the natural tidal influences such as inundation, removing invasive species and planting pioneer species to aid the return of natural saltmarsh communities. However, habitat restoration is a difficult and expensive process, and it can take many years to establish. They also may not always be successful, therefore the monitoring and study of saltmarshes are often a key part of restoration projects.
Areas of significance
Barnaby's Sands and Burrows Marsh Nature Reserve, in Lancashire, which contains an extensive area of ungrazed saltmarsh.
Welwick Saltmarsh, East Riding of Yorkshire, is a sizable area of saltmarsh habitat on the bank of the River Humber, which hosts thousands of wading birds, as well as raptors and owls.
South Efford Marsh, a nature reserve in Devon, includes a patchwork of saltmarshes and grazing fields next to the River Avon.
Rye Harbour Nature Reserve, East Sussex, consists of a mosaic of coastal habitats including saltmarshes, shingle ridges, scrub and woodland.
Fingringhoe Wick, Essex, is a Site of Special Scientific Interest that hosts up to 200 species of birds and 350 species of flowering plants.
West Williamston, is a reserve in Wales made up of tidal creeks, saltmarsh, muddy shores, limestone rock outcrops and woodland. This site is frequented by a large number of waders and waterfowl, including little grebe, shelduck and curlew, as well as other birds such as tawny owl and wren.
Solway Firth is mostly tidal rivers, estuaries, mud and sand flats and lagoons, but there are also salt marshes, salt pastures and steppes. The saltmarshes of Solway Firth stretch along the coast of north Cumbria as well as crossing the border into Scotland. Over 70% of Scottish saltmarshes are within SSSIs.
Further reading and useful equipment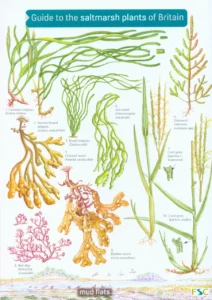 Guide to the Saltmarsh Plants of Britain
£3.75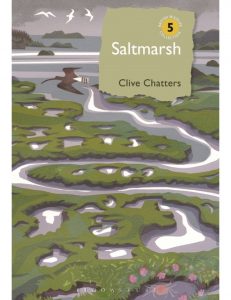 Saltmarsh
£27.99 £34.99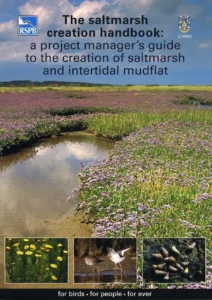 The Saltmarsh Creation Handbook: A Project Manager's Guide to the Creation of Saltmarsh and Intertidal Mudflat
£29.99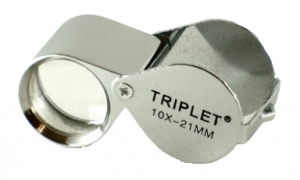 Singlet Loupe 10 x 21mm Hand Lens
£9.50
Check out our guide to hand lenses and our full range.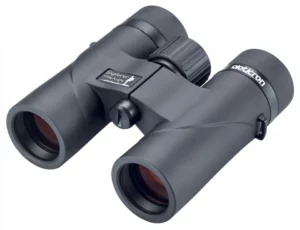 Opticron Explorer WA ED-R Binoculars
£239.00
Check out our full range.
All prices correct at the time of this article's publication.