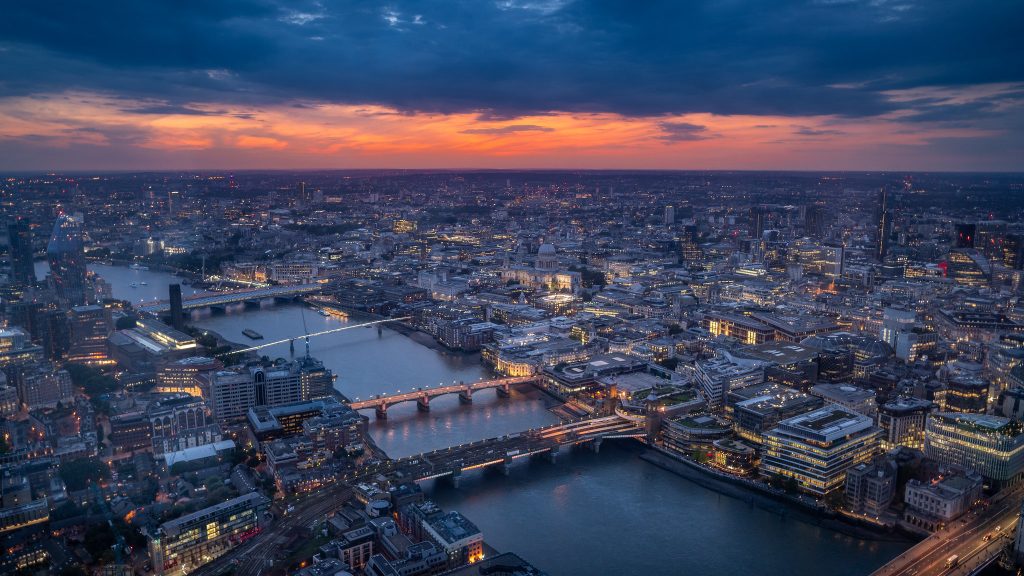 The next habitat we will be exploring in our Introduction to Habitats series is urban and suburban habitats. These are extremely diverse, from parks, gardens, cemeteries and bare ground to highrises, bridges, landfills and houses. Due to this wide diversity, urban habitats are often extremely fragmented, with small, isolated patches surrounded by unsuitable areas. These patches are also often highly disturbed, by light, people, pets, cars and other anthropogenic activities. Some species also have to deal with reduced availability of food, due to the limited plant life, and fewer nesting and breeding spaces. Much of the surfaces in the urban environment have been altered, covered in concrete, roofing tiles, and tarmac. This changes the amount of rainwater that can infiltrate the soils underneath, as well as how much heat from the sun is absorbed. The temperatures can be higher in urban areas, particularly when there is little to no tree coverage to provide shade.
To survive in an urban environment, species must be adaptable. Many studies have found key behavioural and physical differences between urban and rural dwellers of the same species. For example, birds have been found to sing higher, longer and louder in cities than in the countryside. Generalist species are more likely to be able to exploit these habitats as they can occupy wider ecological niches. Specialist species can have more restricted diets or need more specific conditions to develop or reproduce, making them less able to adapt to changing environments. Those able to transition from natural to man-made habitats, however, may actually see large fitness benefits, due to fewer predators and, for some species, abundant food supplies.
Gardens and public green spaces can often be a refuge for many urban species, providing food, shelter and protection from other disturbances. But overly manicured gardens and parks do not provide the resources necessary for many species to survive. Wildflowers, hedges, shrubs, trees and other native vegetation are needed to boost insect numbers, along with limiting the use of harmful herbicides and pesticides. Many other species rely on insects for food, and so increasing insect populations benefits other species throughout the food web.
What species can you find here?
Flora:
Cow Parsley (Anthriscus sylvestris)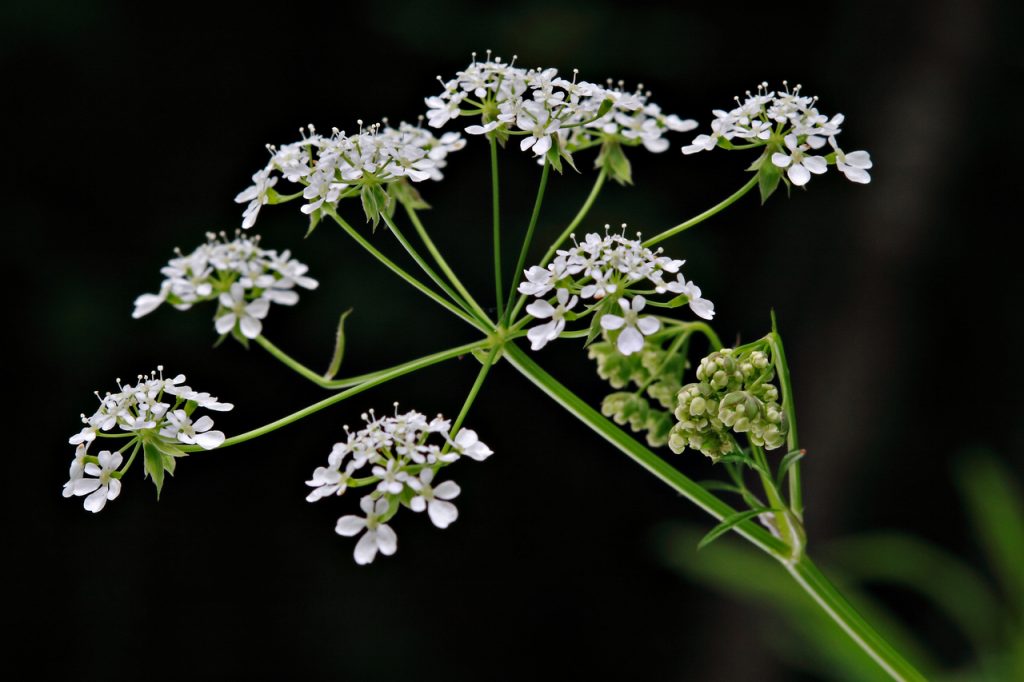 This species is a member of the carrot family and is commonly found on verges, hedgerows and less intensively-managed green spaces, with a preference for shaded habitats. It is a fast-growing plant, that appears in the summer before dying back, and its white flowers are clustered together in an umbrella-like shape. They are a great food resource for many invertebrate species, as well as for rabbits. There are several similar-looking plants, including the poisonous hemlock (Conium maculatum), although hemlock has distinctive purple blotches on its stem.
Three-cornered Garlic (Allium triquetrum)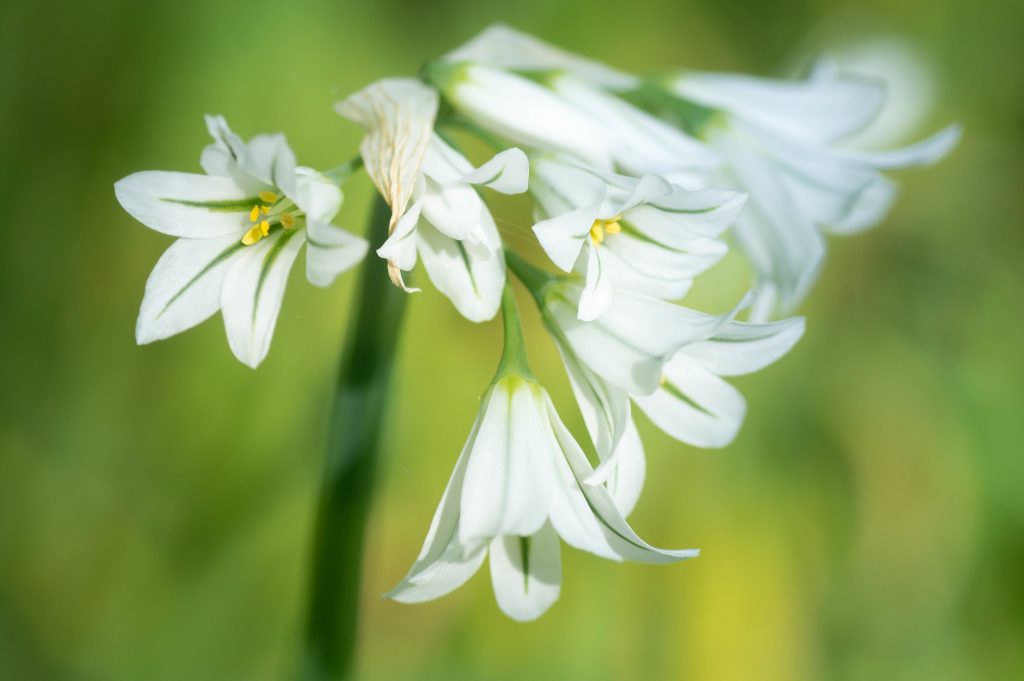 This is an invasive species, often found along verges, roadside banks, hedgerows and on waste ground. It can form dense colonies and are spread naturally by ants. Its white flowers have a green stripe on each petal and a garlic/oniony smell. They are edible, tasting similarly to spring onion or chives.
Common Chickweed (Stellaria media)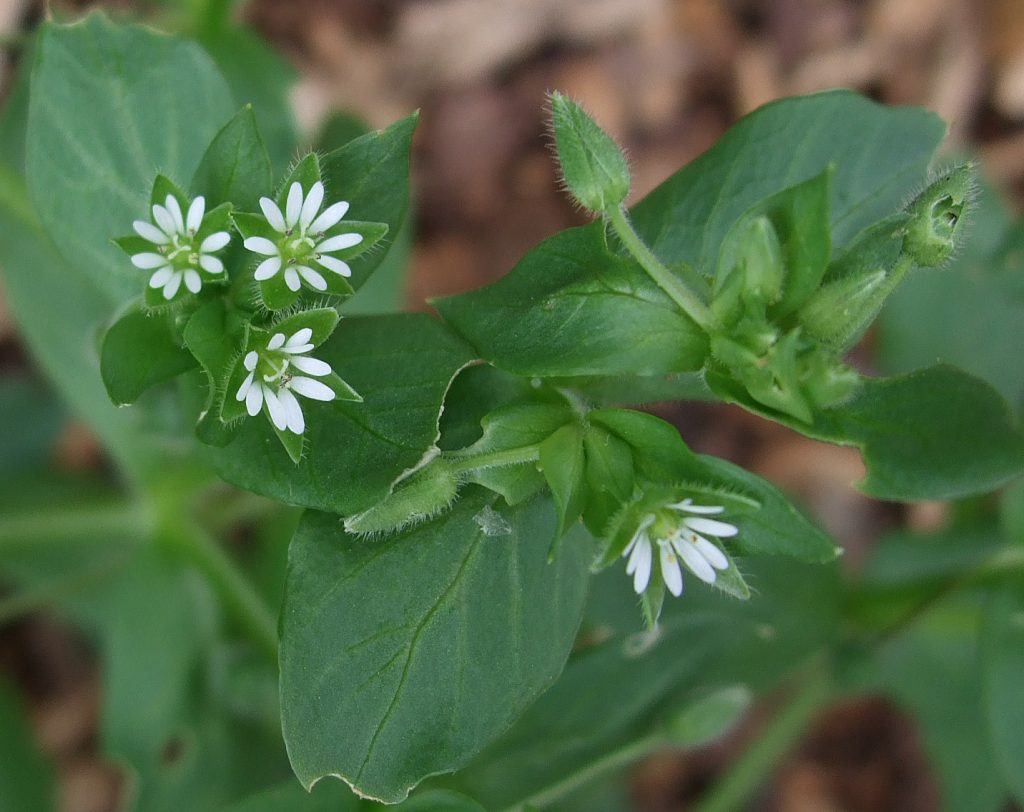 This plant has multiple common names, including chickenwort, maruns, craches and winterweed. They form large mats and are found in many gardens and fields. It has one line of fine hairs on its stem, with oval leaves and small white flowers. Chickweed was used in folk medicine as a remedy for pulmonary disease and several itchy skin conditions. It is even prescribed today by modern herbalists for many other conditions, although not all these uses are supported by scientific evidence.
English Ivy (Hedera helix)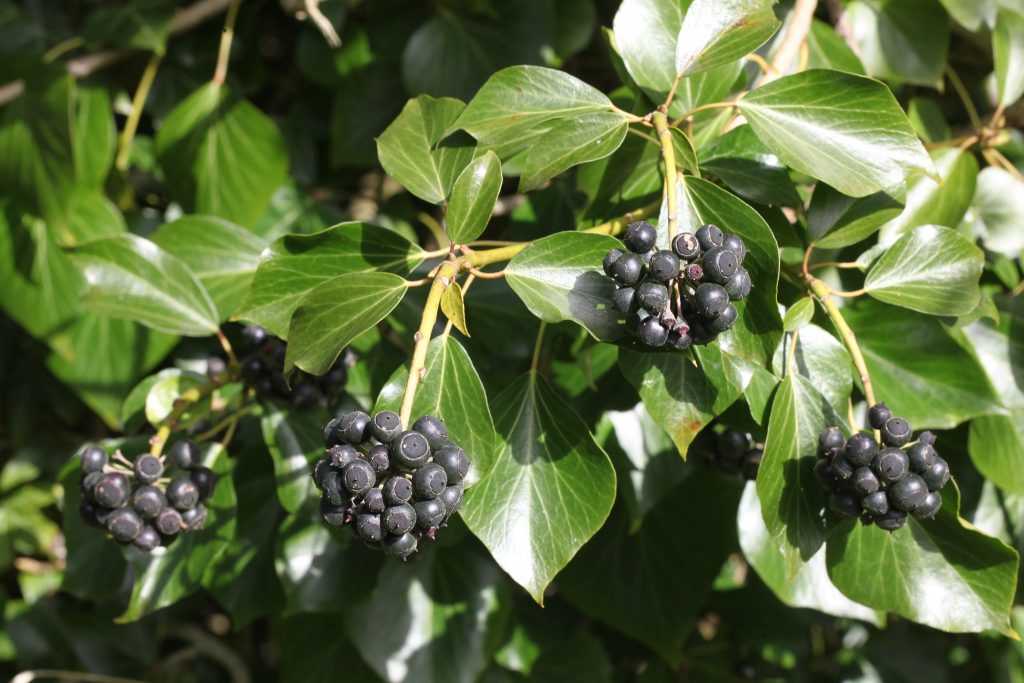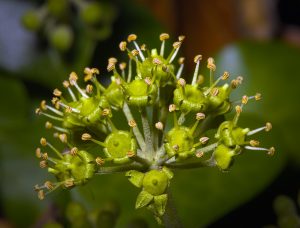 This is a climbing plant that can often be found on walls, buildings, trees and other man-made and natural structures. It is an evergreen species that can also grow as groundcover when there are no vertical surfaces. The flowers are a greenish-yellow colour and the fruits, which ripen in late winter, can vary in colour from purple-black to orangy-yellow. They are an important food source for many insects and birds, particularly in autumn and winter, and their foliage is also browsed by deer.
Fauna:
Feral Pigeon (Columba livia domestica)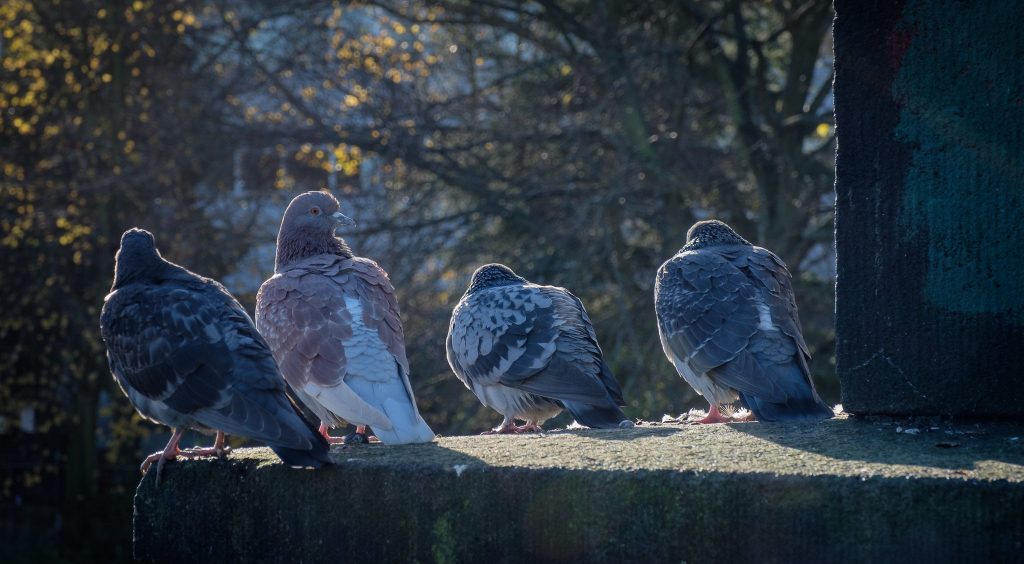 There are several species of pigeon in our urban areas. Feral pigeons, also known as city or street pigeons, are descended from the domestic pigeon, a subspecies derived from the rock dove (Columba livia). They have substituted their natural habitats of sea cliffs with ledges on buildings and other man-made structures. They have a wide variety of colours and patterns compared to the rock dove, but urban pigeons tend to have a darker plumage compared to individuals in rural areas.
Red Fox (Vulpes vulpes)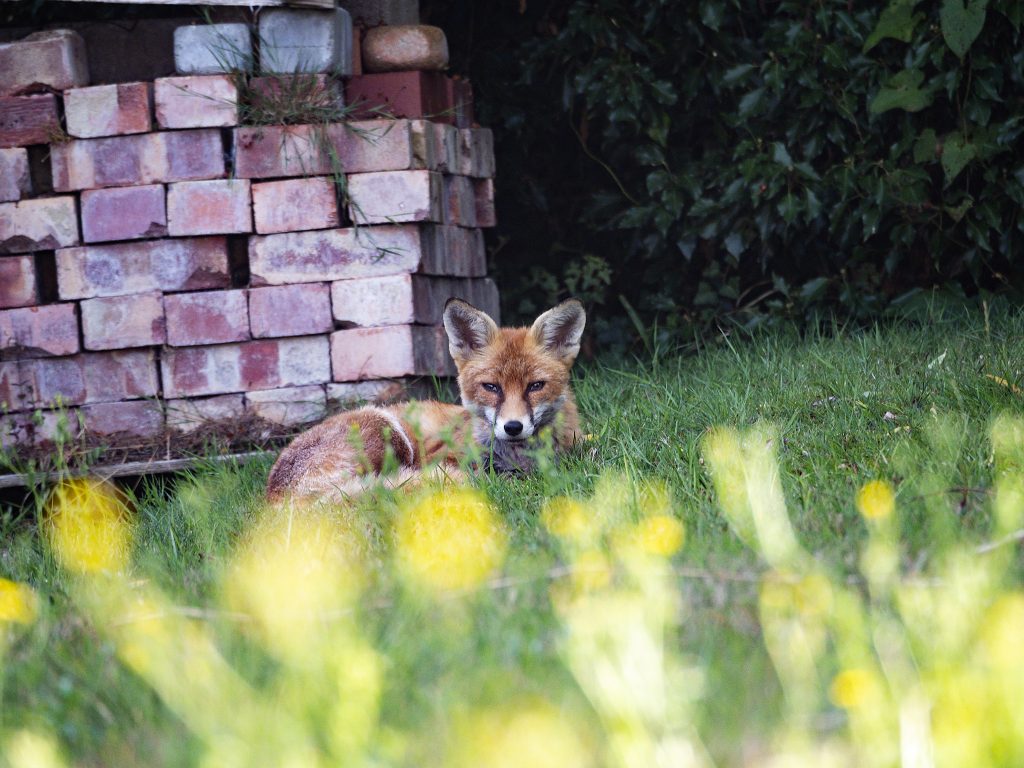 An iconic urban species, the red fox is one of our largest land predators. Usually living in groups or pairs, they feed mainly on small mammals and birds, but also amphibians and fruit. In urban areas, they are very successful scavengers, helped occasionally by people who leave food out for them. They are more common in less dense suburban areas but have been found right in city centres. It is thought that the movement between urban and rural fox populations is quite fluid.
European Hedgehog (Erinaceus europaeus)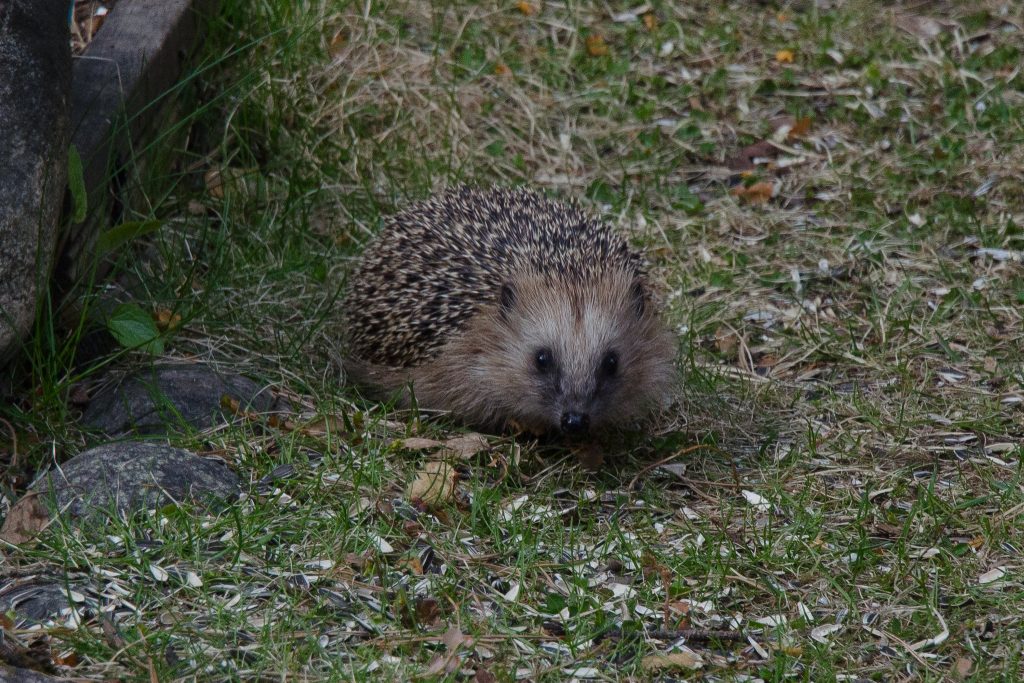 Another iconic British species, the hedgehog has seen severe population declines, though true population estimates are difficult, due to the lack of data and their elusive nature. In the 1950s, population estimates put the number of hedgehogs in the UK at 36.5 million (although this is not thought to be accurate), which is now thought to have dropped to 1.55 million by 1995. It is believed that populations are still declining, but there are still no reliable methods for estimating the true numbers. They face several threats, including habitat loss, chemical use in gardens, cars and a drop in invertebrate populations.
Peregrine Falcon (Falco peregrinus)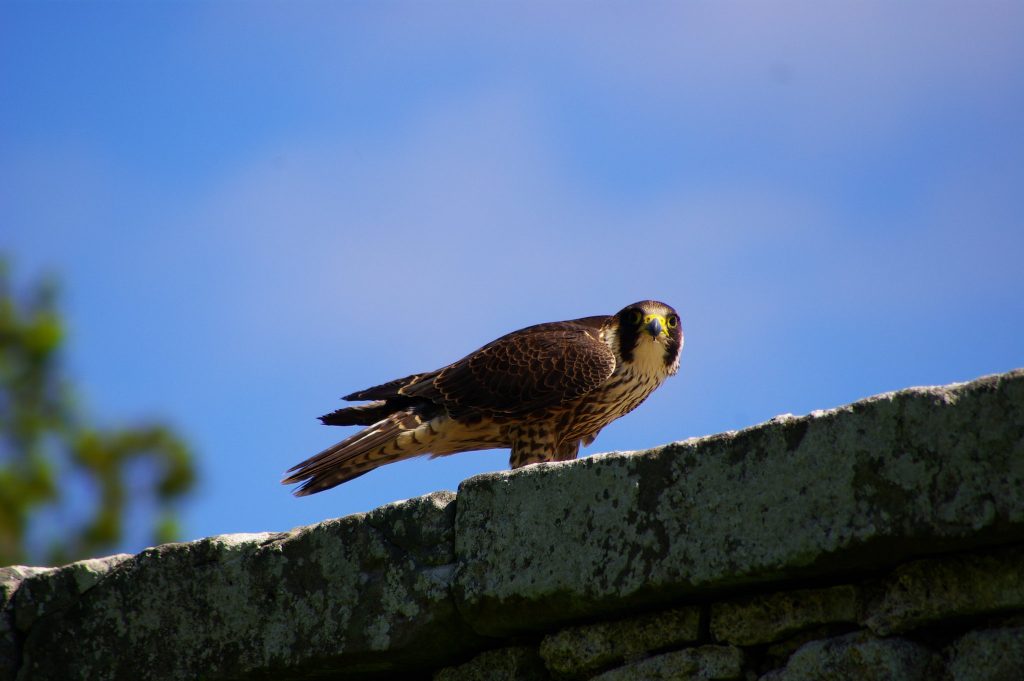 This bird of prey is not only the fastest bird in the world, but also the fastest member of the animal kingdom, clocking up a dive speed of over 320km/h. Their populations suffered after decades of persecution and pesticide use, but their numbers have begun to recover. They nest in tall buildings, bridges and pylons, and prey mainly on pigeons but also collared doves, blackbirds and starlings.
Garden Snail (Cornu aspersum)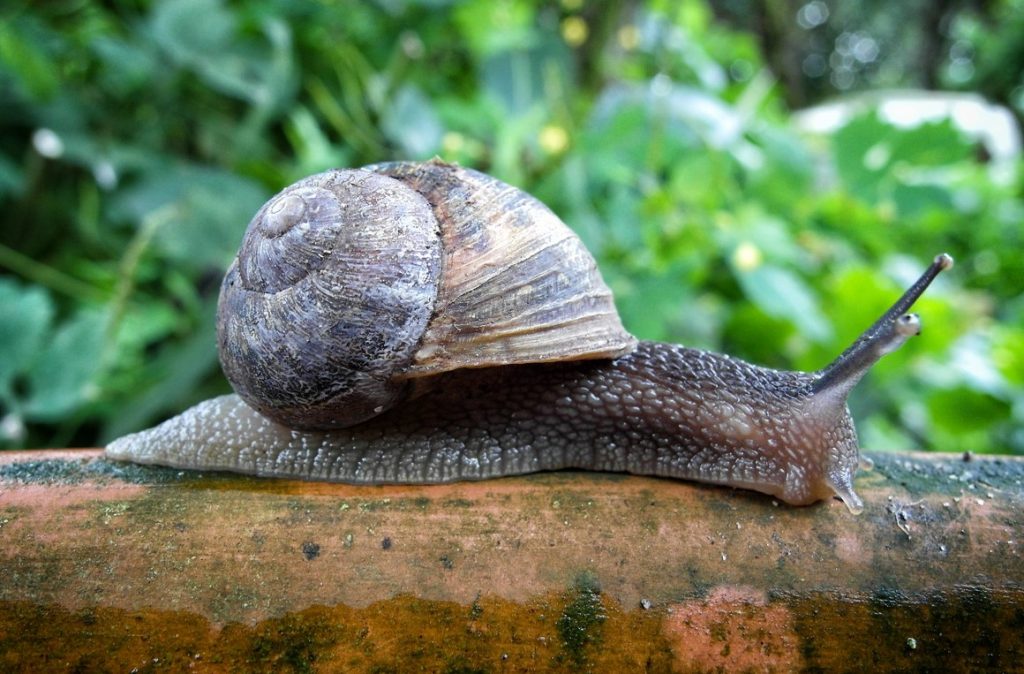 A wide variety of invertebrates can be found in urban and suburban habitats, particularly gardens and parks. The garden snail is a common visitor to our lawns, plants and vegetable patches. They're often considered a pest due to the damage they cause to leaves and fruits but they play a vital role in the health of our soils. They help decompose plant matter, allowing for the cycling of nutrients back into the soil. Snails are also an important food and calcium source for many animals, such as birds.
Urban and suburban environments are also home to many garden bird species, as well as bats, butterflies, moths and spiders. For more information on these, check out some of our guides to UK species identification.
Threats
Urban and suburban areas are becoming more and more densely inhabited as more of the UK's population moved into towns and cities. This increases the levels of disturbance, from more cars on the road, more noise, light, waste, pets and people. Higher disturbances decrease the ability of species to survive, as they are less likely to feed, develop and reproduce successfully. It can also increase the likelihood of direct mortality.
With a rising human population is an increasing need for more housing and infrastructure. Consequently, this reduces the amount of undeveloped and semi-natural areas; fewer green spaces and the over maintenance of gardens and parks are serious threats to biodiversity in urban habitats.
Public opinion can also threaten urban wildlife. Many species that have managed to colonise the urban environment are considered pests and there are often calls to eradicate them. Fox culls are a controversial suggestion, with many people wanting a way to control the populations and reduce the damage they cause, while others are concerned with animal rights. Additionally, there are suggestions that culls are ineffective, as removed foxes are often replaced by another individual, with no change made to urban population numbers.
What can you do to help?
There are several simple steps you can take to help improve urban biodiversity. You could plant more native plants, reduce the chemicals you use and decrease how often you mow your lawn. Placing bird feeders, nests, and other shelters are also ways that can help wildlife. On a bigger scale, you can urge your local council and government to help too. They could increase the areas of green space and tree cover, and manage roadside verges with nature in mind. Another important step is to decrease light and noise pollution. With some simple steps, we can help to increase the suitability of urban habitats for many wildlife species.