At NHBS, all members of staff have the opportunity to partake in conservation volunteering days as part of the company's philanthropic initiative to carry out nature conservation locally. As part of this initiative, I recently chose to volunteer at an event for a cause that is close to my heart nearby in Totnes.
On Friday 8th June, I volunteered at a Farm and Wildlife Fayre run by Ambios, an organisation that provides education and volunteering opportunities in nature conservation in the UK and abroad. Set in the beautiful Sharpham Estate, with the river Dart and rolling hills surrounding the farm, it was the perfect setting to engage others in nature conservation. This place is special to me, as this is where my initial nature conservation training began before I joined NHBS in 2017. Below is a video of the Wildlife Fayre filmed by Ross Gill of Fresh Ground Films.
At the Wildlife Fayre I worked alongside conservation volunteers, knowledgeable experts in the field and the charity, United Response, who provide a range of support services for individuals with physical and learning difficulties. The aim of the event was to get a wider audience of people involved in nature conservation by allowing them to take part in accessible activities that help individuals to get up-close and personal with local wildlife. More than 200 children and young adults from special needs schools and colleges attended, in addition to young families from the local area.
Engaging and educational activities drew in crowds, including bug hunts, bird box making, forest school sessions, green woodworking and plant identification. The air was filled with excitement as children and adults alike rushed around with their newly carved spatulas and bird boxes. Footsteps hurried as groups rushed between activities with freshly picked produce from the farm in their hands.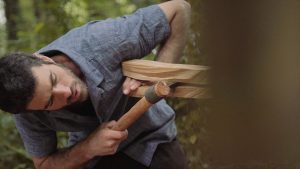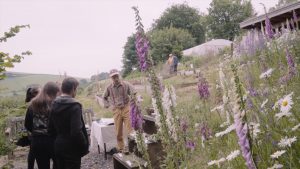 The farm office was transformed into a wildlife information hub, which hosted an array of interesting finds. Through microscopes you were transported into another world where you could view bumblebees and Garden Chafer Beetles at close range.
Tanks held Palmate Newts hiding amongst curtains of pond weed and field guides lay next to plaster-cast footprints of creatures who had visited the farm. In one corner, a table was covered with flora found locally for anyone wishing to test their plant identification skills. In another, an array of uncommonly seen finds were lined up including the skulls of animals and tightly woven dormouse nests.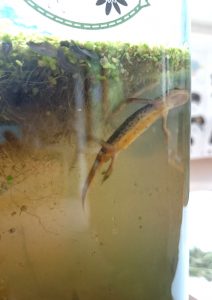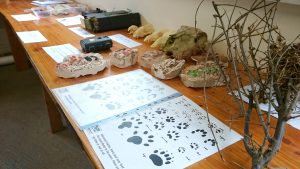 Something that really drew me in were the screens in the wildlife information hub which displayed stories of the wild residents of Sharpham, including nest box inhabitants and various small mammals. You could watch a timeline of Blue Tits building their nest and sitting on eggs. Later you saw the chicks being fed, strengthening their wings and finally fledging!
My responsibilities whilst volunteering at the event revolved around providing support and an extra pair of hands. I helped groups to move between activities and demonstrated how to use tools and equipment such as nets and pooters. At NHBS I work as a Wildlife Equipment Specialist, so it was great to be able to show others first-hand how to use the equipment that we have access to every day. It was lovely to see how excited the children got about using the equipment to get closer to nature.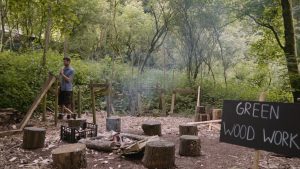 The Farm and Wildlife Fayre was a fantastic success! The event proved to be a brilliant way of captivating young minds and introducing them to the natural world. By partaking in accessible activities, each person felt confident enough to try something new and learnt a great deal along the way.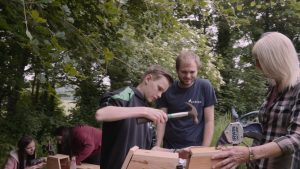 Ambios Director and Farm Manager said,
"Our farm and wildlife fayre was a huge success – we are delighted! We had nearly 200 people over the day, from all walks of life experiencing what we do at lower sharpham farm, and getting up close and personal with wildlife as well as getting to know our farm animals. Our farming practice aims to prioritise wildlife, and we are delighted to share our work and our story with a wide audience. Our next event will be a barn dance in the late summer, so watch this space!"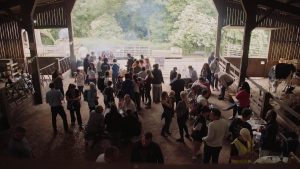 It was great to be involved and I love to think that if this event has inspired just one person to appreciate and protect nature a little further, then it was all worth it!
Stay tuned for more volunteer event posts from my colleagues at NHBS as they embark on their own conservation volunteering days.
To find out more about NHBS's approach to philanthropic work, please follow this link. For more information about the work that Ambios does, please follow this link.