What is hibernation?
During the winter months, cold temperatures and a lack of food can make survival challenging for many species. Some animals, particularly birds, solve this problem by migrating to a warmer location where food is more plentiful. Other animals utilise a different solution and enter a period of torpor or hibernation as a way of conserving energy throughout this time.
During hibernation, the animal will slow their heart rate and breathing while at the same time lowering their metabolism and body temperature, all of which vastly reduce the amount of energy they require. Throughout the hibernation period, the animal may become active again briefly, either for a bathroom break, to eat some food, or if the temperature becomes too low for them to survive without moving. As preparation for a period of hibernation, as much food as possible will be consumed and a suitable refuge or hibernacula found (or built).
Which animals hibernate in the UK?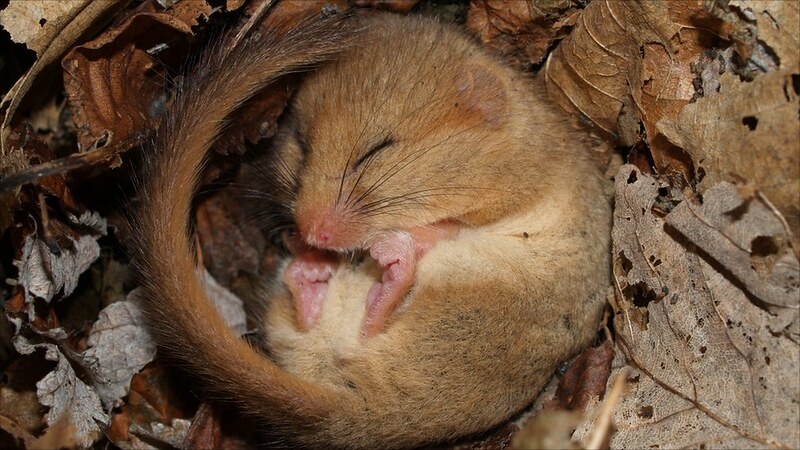 Mammals
Although many small mammals, including mice, shrews, badgers and rabbits, enter short periods of torpor throughout the winter, the only mammals in the UK that truly hibernate are bats, dormice and hedgehogs. Bats utilise hollow trees, roof spaces, caves and bat boxes and will usually spend the entire winter, from November to April, in hibernation. Dormice choose the seemingly riskier solution of making a nest using natural items such as logs and leaves on the floor of forests and woodland. Hedgehogs build hibernacula using dead leaves, twigs, log stacks and compost heaps and, although evidence shows that they rouse several times during their hibernation, they rarely leave these nests. The only exception to this is when the temperature drops too low – at this point they may depart their existing nest and build a completely new one with better insulation! In general, hedgehogs hibernate from November to April, but depending on the temperature and weather, this can vary from year to year.
Reptiles and Amphibians
All reptiles in the UK hibernate. Typically this will begin in October in response to reduced daytime temperature and shorter day length, but it can vary depending on the year and species. In general reptiles will use dry and sheltered spots, often utilising tree roots, abandoned animal burrows or compost heaps.
All species of amphibian in the UK also hibernate, although not all individuals will do so on any given year. In mild winters newts may simply enter a state of low activity rather than complete hibernation. Most amphibians will choose a quiet location in the soil, a compost heap or rockery, or even a garden shed to spend their hibernation. A small number of frogs, however, will hibernate at the bottom of a pond.
Insects
Bumblebee colonies die off in the autumn with only the new queens surviving. To make it through the winter, these queens burrow into the soil where they are protected from the cold and weather for up to nine months! Honey bees use a different strategy and do not hibernate as such – instead they survive as a reduced-size colony which huddles together with the queen at the centre. The bees rotate their positions so that each takes its turn on the outside where the temperature is lowest.
Most butterflies spend the winter in larval form. Several species however, including Brimstone, Peacock and Comma will hibernate as adults, using either vegetation such as bramble and ivy, or outdoor structures such as garden sheds and barns.
Ladybirds survive the cold winter by hibernating in rotting logs, under leaf litter or even inside houses. They like to hibernate in colonies, often forming groups containing thousands of individuals.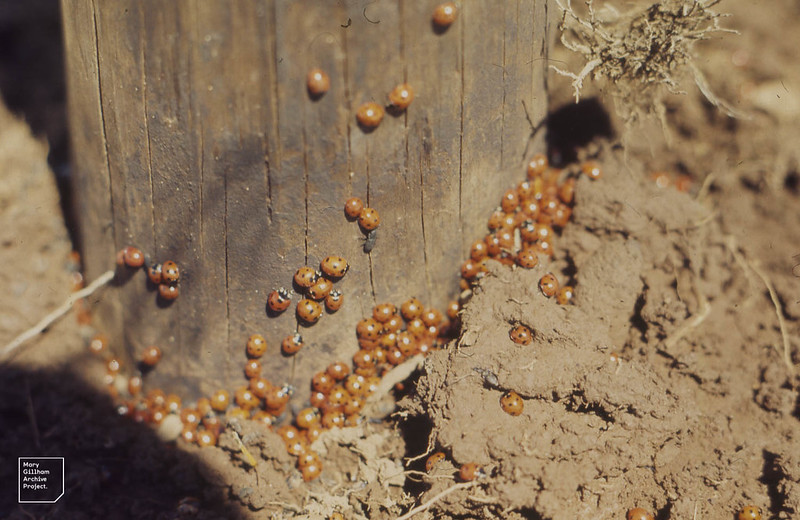 Climate change and hibernation
Most animals that hibernate rely on a combination of cues such as day length and temperature to know when it is the right time. As climate change continues to affect local and global temperatures and weather patterns, many animals are hibernating later in the year and becoming active again earlier in the spring, as temperatures during the winter are now often much warmer. Hibernating for a shorter period can put pressure on food availability and can cause a mismatch in the timing when animals require a resource and when that resource is available. For example, bees emerging from hibernation require a ready supply of nectar. If they emerge earlier than usual however, before flowering season, this food source may not be available to them.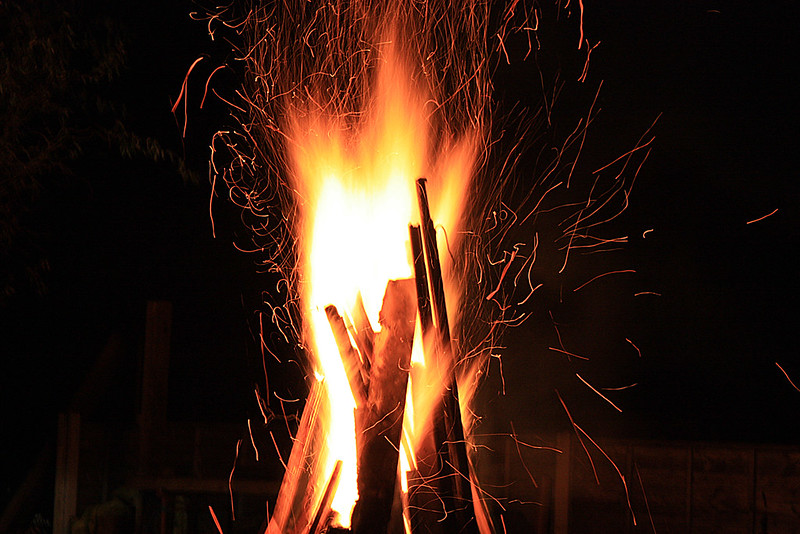 How can I help hibernating animals?
• Leaving some areas of your garden that are untidy and overgrown will provide plenty of space for animals to hibernate over the winter. Piles of logs, long grass and compost heaps all provide safe places for animals such as snakes, hedgehogs and other small mammals.
• If you're celebrating bonfire night, don't forget to check the bonfire for hibernating animals before you light it – particularly if you have built the structure several days or weeks before the big night.
• Providing artificial hibernacula in your garden, such as a bat box, hedgehog house, or insect box, will help to provide suitable hibernation spots for these species.
• If you find a butterfly that has chosen to hibernate inside your house, it's best to gently relocate it to an unheated building outside, such as a shed or garage. (Central heating is extremely damaging to a hibernating butterfly and will desiccate their delicate wings and bodies).
• Don't forget those animals that don't hibernate over winter. Birds in particular will benefit from a variety of foods such as peanuts, mealworms, fat balls and seed.