The 6th International Berlin Bat Meeting was held online from 22nd–24th March 2021 and consisted of a series of varied and fascinating live lectures based around a timely theme: 'The Human Perspective on Bats'. Over the three days, speakers from around the world spoke on topics such as bat coronaviruses, bat health, human interventions, bats in anthropogenic habitats, ecosystem services, conservation marketing and citizen science. 
The first day of the conference began with a keynote talk from Prof. Felix Drexler (Institute of Virology, Charité Berlin) who spoke about emerging viruses with a focus on bats and SARS-CoV-2. He began by relating the fact that most (around 60%) of human pathogens have a zoonotic origin and that several notable animal-borne diseases have originated in bat hosts (eg SARS 2003, Ebola), although it is currently still debated whether bats are particularly prone to becoming reservoirs of zoonotic pathogens or whether they are just very diverse and numerous in comparison to most other mammals.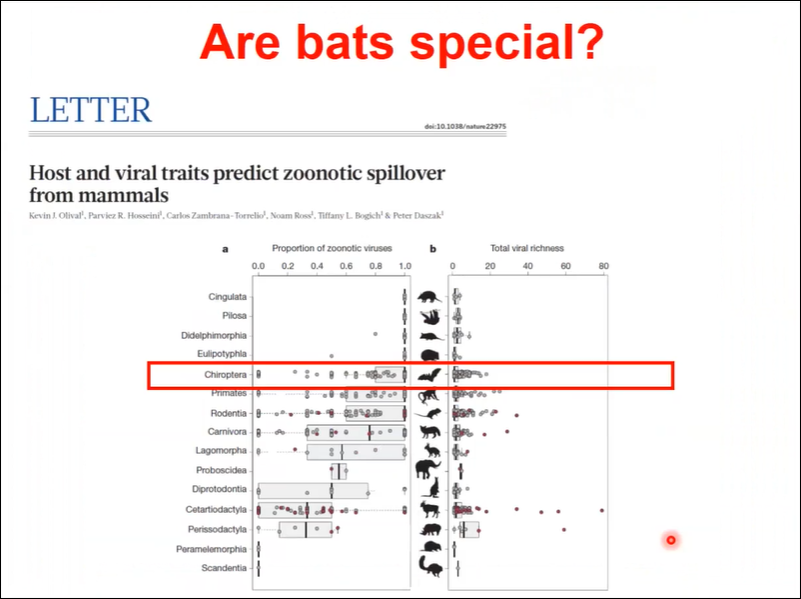 It is a constant challenge to predict where future diseases or pandemics may arise, although important factors appear to be Exposure (whether humans have close contact with the species), Ecology (aspects of the animals' behaviour or ecology that are favourable for the maintenance and transmission of pathogens) and Evolution (as pathogens are more likely to cross species boundaries if species are genetically and antigenically related). 
Moving forwards, Prof. Drexler suggested that better surveillance is required to respond to cases of zoonotic spillover, as an early response is vital in preventing future pandemics. This is particularly important in peripheral healthcare settings such as where small numbers of cases initially crop up in developing countries. 
Later on in the day, Dr. Jon Epstein (EcoHealth Alliance, USA) continued this theme with a talk that looked at the interconnectedness of animal and human health. He stated that, although the exchange of microbes between animals and species is normal, many aspects of modern life, coupled with our dense populations, have made it more likely that pathogens will make the jump from animal to human. Emerging disease hotspots often show the same trends in terms of high species diversity, large numbers of intensively farmed livestock, high human population densities and land use changes which increase contact with local wildlife. Intensive agriculture, wildlife provisioning and legal or illegal wildlife trade, which often occurs in unsanitary 'wet markets', are thought to be particularly problematic.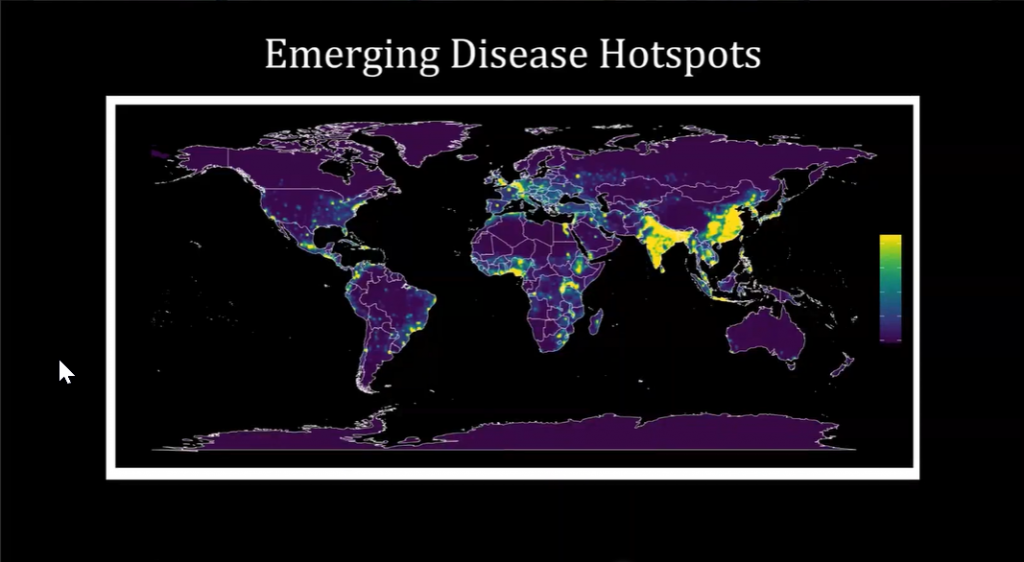 As stated by Prof. Drexler in his earlier talk, Dr. Epstein concluded that surveillance is critical, alongside appropriate community interventions in cases where spillover has been found. These may include, but are not limited to, reducing the commercial trade of wildlife, building barriers so that wild animals cannot come into contact with farmed livestock and their food, and protecting food sources (such as the date palm sap that is widely collected in Bangladesh and which is often contaminated with saliva and faeces from local flying foxes who have exploited this practice as a useful food source).
Towards the end of the day we were treated to an interactive session from Dr. Tigga Kingston (Texas Tech University, USA) who used the online whiteboard, Miro, to allow the audience to discuss and document what they felt were the biggest challenges for bat conservation. Personal observations were added in the form of virtual 'sticky notes' to each category and then the audience was asked to vote on which areas they felt confident in tackling, and which they felt less able to deal with. Persecution of bats, habitat loss, and restrictions on fieldwork/research due to Covid-19 were found to be areas that people generally felt were the most problematic and challenging to address. The talk ended with a brainstorming session to pose various solutions to these issues.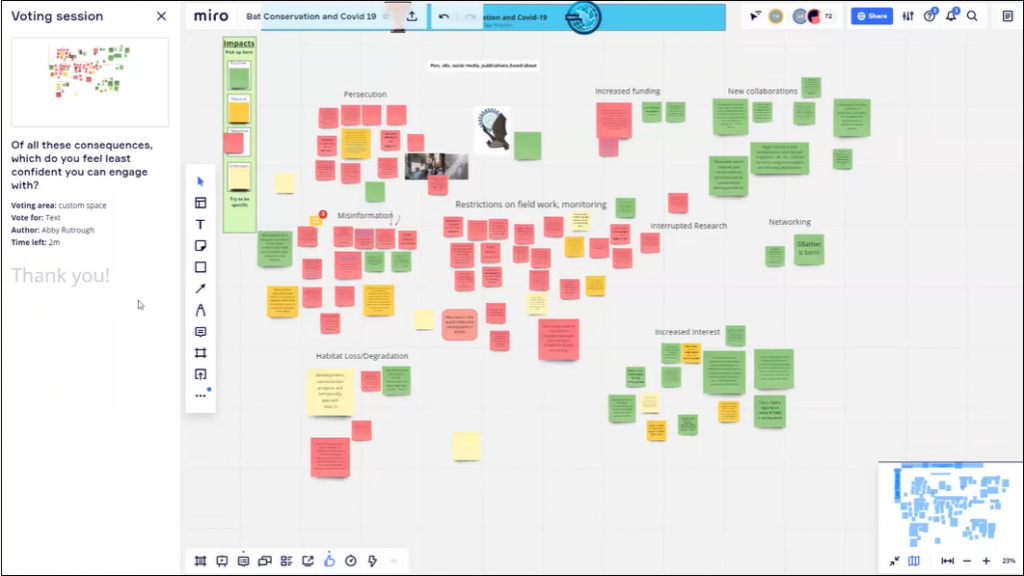 The second day featured a session on ecosystem services. This began with a keynote speech from Dr. Rudolf de Groot who spoke about the economic importance of bats. Much of his talk focused on the limitations of our current economic models (eg GDP) when it comes to conservation and the environment, as conservation is generally only ever considered as a cost, while ecosystem values and services are rarely factored into the equation.
In a paper published in Nature (1997), the global value of ecosystem services and natural capital was calculated to be US $33 trillion. To put this into perspective, global GDP at the time was US $27 dollars. A later paper, published in Science (2002) estimated that the cost of ecosystem loss was 2-5% GDP per year, and this was expected to increase to 7% by 2050. (Interestingly, and worryingly, the amount currently spent annually on protected areas is US $24 billion, just 40% of the amount that is spent each year on ice cream).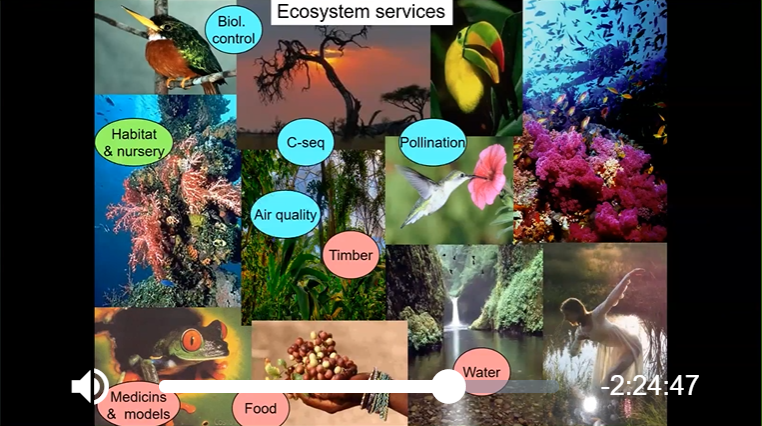 Speaking more specifically about bats, Dr. de Groot listed several of the services that are dependent on bats, including pest control, pollination of more than 300 food plants and 80 medicinal plants, as well as the development of several important vaccines following research into bat viruses.
His concluding remarks reminded us of the importance of raising awareness and spreading the message about the value of the natural world and the services it provides.
On the third and final day of the conference we heard a fascinating talk from Dr. Diogo Verissimo (University of Oxford, UK / Institute for Conservation Research, San Diego Zoo Global, USA) titled 'Can Conservation Marketing Save Bats'. Many of the sessions from the final day had focused on the importance of social scientists and biologists working together to implement change and promote conservation practices. Dr. Verissimo's talk took this a step further by discussing how effective marketing can contribute to conservation science.
The problem with bats – he initially stated – is that people don't like them. In multiple surveys conducted around the world, bats rank low on the list in terms of popularity, and the current Covid-19 situation has done little to improve this state of affairs. He then went on to discuss how Batman is, conversely, one of the biggest media franchises of all time, and this indicates that the way in which a subject or species is marketed and packaged can have a huge impact on its public appeal.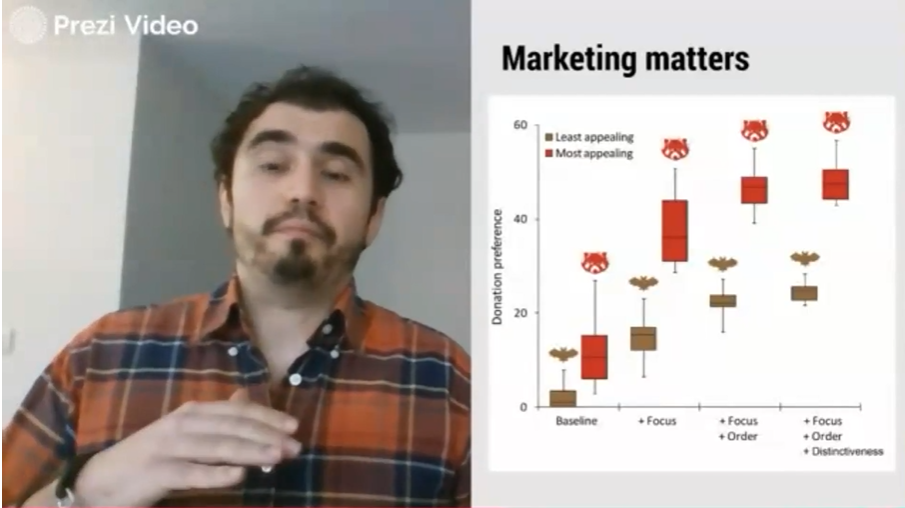 Dr. Verissimo explained that 'social marketing' involves the use of marketing principles to influence the behaviour of individuals and communities for the general good. When it comes to conservation this means that we need to show individuals how conservation and ecosystem services have a value to them, whether that is a tangible benefit (such as pollination being vital for the food they enjoy), or intangible (such as pride in a local rare species or habitat).
He went on to suggest that emotions are much better at driving change and decisions than facts, and environmentalists must always remember that everyone in the world is not going to think in the same way as them, as people have different life experiences and therefore different priorities. It is incredibly important to understand the target audience of any marketing campaign and to appreciate that only a small percentage of this audience are likely to be influenced – however, these are the people that need to be focused on. Finding out who they are is a huge part of the process.
In his final remarks, Dr. Verissimo stressed the importance of including social science research when considering conservation and conservation marketing campaigns. Although working in such an inter-disciplinary manner can be a challenge in itself, he believes it is critical for the future of global conservation.
The talks and poster presentations that we saw over the three days of the meeting were lively and varied and it was great to hear from people from a variety of disciplines and backgrounds. I'm certain that everyone who attended would join me in congratulating the organisers of the meeting for an exceptionally well planned and executed meeting that brought together people from around the world to share their expertise and opinions on 'The Human Perspective on Bats'.