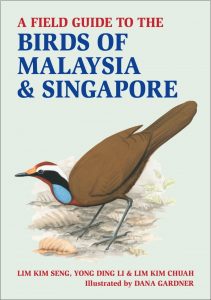 This comprehensive, clearly illustrated field guide, looks at all 815 bird species of Malaysia and Singapore. The main identifying features of each species are described and key facts cover size, voice, range and status and habitat. Distribution maps provide a view of where the birds can be found. The book also includes information on taxonomy and nomenclature, the breeding cycle, migration, conservation and key bird-watching sites of the region. This guide is essential for any naturalist interested in this region of the world.
Recording and observing such a rich diversity of birds, with over 800 species of birds including endemics in abundance is a huge undertaking.  How does such a daunting project come to fruition?  We asked contributors: Lim Kim Seng, Yong Ding Li and Lim Kim Chuah to answer some questions about themselves and the creation of A Field Guide to the Birds of Malaysia & Singapore
 Can you tell us a little bit about your backgrounds within ornithology and conservation?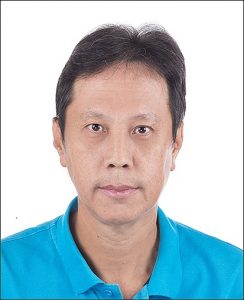 Kim Seng – I started birding when I was about ten years old. I grew up in a family farm in Sembawang, in the northern countryside of Singapore. Together with my four other brothers, we explored the streams, hills and swamps and grew to love nature. One day, I saw a large kingfisher with a brown head, bright red beak and blue wings. It was my first Stork-billed Kingfisher and I was hooked. I was able to identify it through a book that I found in our National Library Natural History Section. Five years on, I joined the then Malayan Nature Society (now Nature Society (Singapore)) as a student member and just four years later, I led my first official society birdwatching outing at Rifle Range Road, together with my other birding brother Kim Chuah. With the help of other dedicated members, I learned a lot and was able to play my part in nature conservation, documentation, research and outreach, and have been an active member since then.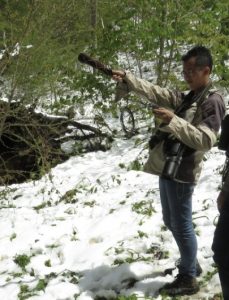 Ding Li – I have been birdwatching since my primary school days, after finding what I later discovered, to be Magpie Robins near my home in Kuala Lumpur. Subsequent visits to the mangroves of Kuala Selangor introduced me to the colourful world of birdwatching. Through various research projects, I have professionally studied birds in diverse settings ranging from Malaysian rainforests and the mountain forests of Sulawesi (Indonesia), to Australian woodlands. I now work full-time for BirdLife International, coordinating projects on bird conservation in Southeast Asia.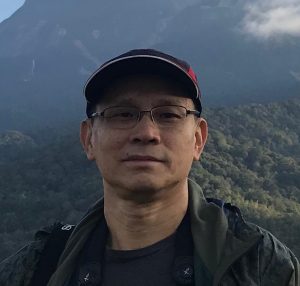 Kim Chuah – I grew up in a farm in rural Singapore in the '60s and the surrounding woodlands and marshes were my playground. During my many sojourns into the wilderness, I started to notice some of the birds that lived around me – White-breasted Waterhen, Yellow-vented Bulbul, Common Tailorbird etc. That's how I became interested in birds and it became my life-long passion. I've been volunteering in the Bird Group of the Nature Society (Singapore) since I was an undergrad. I participated in many of the birdwatching activities organized by the Bird Group including regular bird census and bird surveys. The data we collect helps towards a better understanding of birdlife in Singapore and is useful in building our case for better protection of habitats in Singapore.
How long has this project been in the making?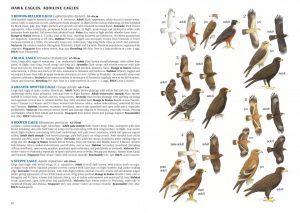 Kim Seng – My friend Dana Gardner, the illustrator of this book, got me interested in doing another book. We had successfully collaborated on a first field guide to the birds of Singapore in 1997 and were keen to work together again. Dana had a friend who was a publisher and we decided to a do a single volume field guide to the birds of the whole of Malaysia, since none existed. This was in 2010. Unfortunately, our publisher pulled out not long after that and we were left stranded. Luckily, through my fellow collaborators – Kim Chuah and Ding Li – we managed to get John Beaufoy interested in our project. A contract was signed in 2016 and as they say, the rest is history!
 What was the biggest challenge in creating this field guide?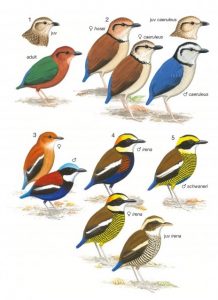 Kim Seng – Each of us had different ideas on how to do the book and also other personal commitments. We as the writers also had to contend with differences in writing styles. Luckily, we decided to stick with a standard format, came up with a list of who was writing what chapters and what bird families and managed to more or less stick to our deadlines. Another challenge was the impressive work done by our illustrator. He had to do illustrations of all 829 species all by himself. To ensure accuracy, he would send us completed plates for comment, and we duly responded if changes were needed. Not an easy task, as we were based in Singapore and he, in the USA.
What features do you hope will make your field guide stand out from any others?
Kim Seng – This book is compact and contains all the necessary information you need to identify any bird species you see in the listed countries. The text is crisp and the illustrations accurate and there is also a detailed site and habitat guide to get birders to the most interesting places quickly and see those fascinating birds, based on the authors' many years in the field.
Have the travel restriction due to COVID – 19 presented any threats or opportunities for the avifauna of Malaysia and Singapore?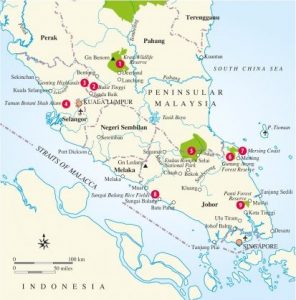 Kim Seng – Well, COVID-19 has placed tremendous restrictions on travel in both Malaysia and Singapore. You could bird in certain areas but only with social distancing and other safe practices in place. Initially, we could only look at the birds from our balconies or backyards but this was an opportunity for some of us to study some of the neglected urban birds and understand a little better. I actually published two blogs based on my observations of urban birds from my balcony! In the last couple of months, restrictions have been eased and we are allowed to go birding in our favourite birding places, but I'm still waiting for the day when I can travel freely and bird in Malaysia again.
 Do you think eco-tourism is beneficial to conservation?
Kim Seng – Definitely. I believe ecotourism brings a lot of attention to the tremendous beauty and biodiversity of the natural habitats in both countries. It also brings revenue and employment opportunities to the local community who in turn will help to protect these wonderful places for a long time to come.
 What in your view are the best reasons to visit Malaysia and Singapore if you are a birdwatcher or an ornithologist?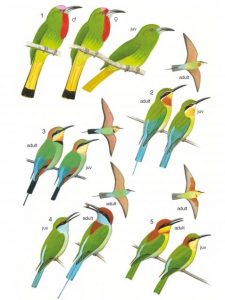 Kim Seng – Three reasons – good birds, good food and good company. All three are never in short supply in these two amazingly friendly countries. The people are generally very friendly and the variety of local food is really incredible. Of course, the fascinating diversity of birds, with over 800 species of birds and Bornean, Peninsular and Sunda endemics in abundance are dreams to savour for birdwatchers and ornithologists alike.
Are you working on any other projects you can tell us about?
Kim Seng – I am currently working at putting up an adult learner's module or course on "Birdwatching for Beginners". It's something I had worked on in the past and I want to continue my work in getting people of all ages interested in birdwatching as I believe it is a healthy and useful pastime. It should be fun as there are outdoor trips as well.
Ding Li – I am currently working with a team of designers to develop a board game on the migratory bird species of Asia. Such a concept to promote bird conservation has not been done in this region, so I am quite excited to see the final project materialise. I am also working with a team of international researchers to review the state of all of Asia's migratory birds. If all goes well, this will be published in early 2021, and will bring together lots of new insights from all over the region and how migratory birds can be better conserved.
Kim Chuah – I am currently organising the 36th Singapore Bird Race. It will be interesting to see how we can organise the race during this pandemic. We will use the social media and available digital tools to make the race as exciting as in previous years. I am also working on action plans to better protect and conserve the critically endangered Straw-headed Bulbul in Singapore.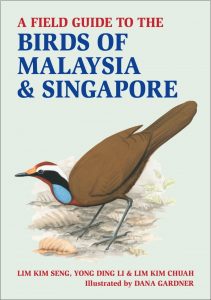 A Field Guide to the Birds of Malaysia & Singapore
By: Lim Kim Seng, Yong Ding Li, Lim Kim Chuah, Dana Gardner(Illustrator)
Paperback | August 2020| £19.99 £24.99
A fully comprehensive field guide to the 815 bird species of Malaysia and Singapore. Published by: John Beaufoy Publishing
All prices correct at the time of this article's publication.