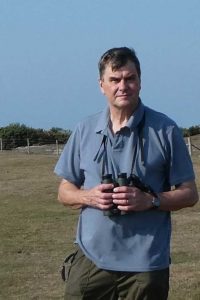 The Amphibian and Reptile Conservation (ARC) Trust is a charity dedicated to conserving amphibians and reptiles and saving the disappearing habitats on which they depend.
Dr Tony Gent, CEO of the ARC Trust, recently took the time to talk to us about the challenges faced by amphibians and reptiles in the UK, some of the charity's success stories, and ways in which you can get involved with amphibian and reptile conservation.
---
Firstly, could you give us a brief introduction to Amphibian and Reptile Conservation and the work that you do?
Amphibian and Reptile Conservation (ARC) is a national conservation charity dedicated, as its name suggests, to conserving frogs, toads and newts, snakes and lizards. ARC manages a network of over 80 nature reserves in England and Wales that cover some 2,000 hectares. These include a significant suite of lowland heathland areas that are home to all six native reptile species. The trust is also custodian for nationally important habitats for natterjack toads and pool frogs, plus sites established specifically to support populations of great crested newts.
ARC leads on recovery programmes, especially for more threatened species, including managing reintroduction and captive breeding programmes, direct engagement through site management and running national monitoring schemes. We actively engage with advocacy in the UK and further afield, to ensure that amphibians and reptiles are considered via legislation, policy, and funding streams. We also support and undertake research and run education and training programmes to promote amphibian and reptile conservation. Though UK based, we also work with partner organisations across Europe and in the UK's Overseas Territories.
Our team achieves this through a network of volunteers, partner organisations, Governmental agencies and engaging with the wider public.
As for most groups of animals in the current climate, the factors affecting their populations are obviously complex. However, what do you consider to be the greatest challenge faced by amphibians and reptiles in the UK?
A number of factors are impacting on our reptile and amphibian populations including disease, climate change, pollution, drought and wildfires. However I consider the biggest challenge is ensuring that there is enough suitable habitat available for these species to maintain their populations and distribution across the country, given the vast pressures for alternative land uses.
Of our seven species of amphibian, comprising of three newt, two frog and two toad species, some such as the common frog are widespread, while others such as the natterjack toad are found in a restricted number of habitats and endangered. Similarly, the three species of lizard and three species of snake that make up our reptile fauna include widespread species, such as the slow worm, and other species such as the smooth snake and sand lizard that have much more restricted ranges. All, however, need certain habitat features to survive; reptiles in particular need generally open habitats with a good ground cover, while amphibians need ponds for breeding.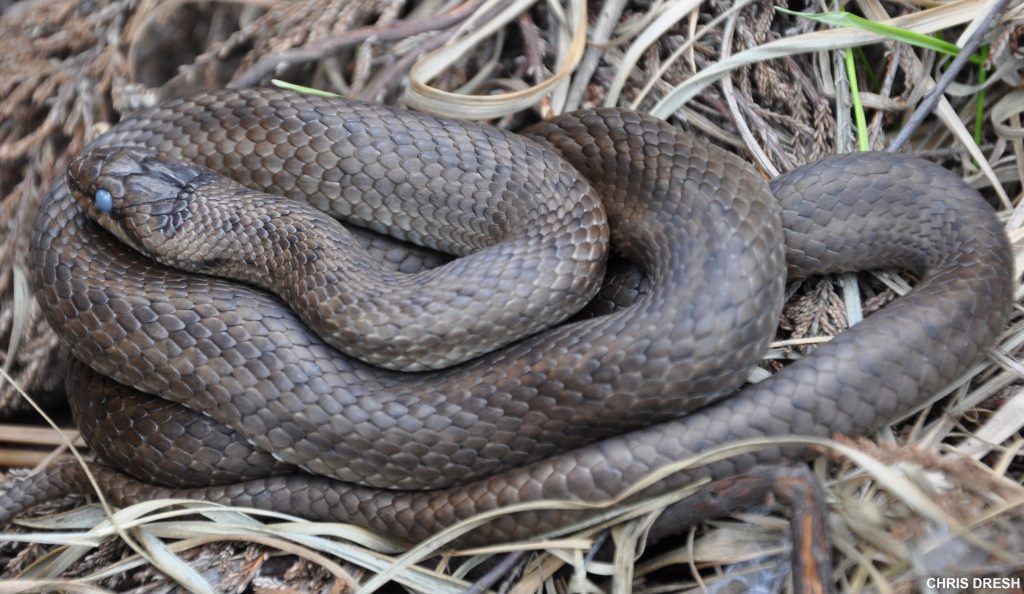 The loss and degradation of the habitats on which these rare amphibians and reptiles depend has been a major factor contributing to their decline. Pond numbers in England and Wales decreased dramatically from an estimated 800,000 in the late 19th century to around 200,000 in the 1980s; this in turn has impacted on amphibian populations. Heathland, the only habitat occupied by all six of our native reptile species, has declined by over 85% since the late 18th century. The heaths that remain are highly fragmented, meaning that some patches are too small to sustain characteristic native reptile species.
As well as ensuring that areas are not lost to competing land uses, such as development or intensive agriculture, it is important that these areas sustain the features within them that allow amphibians and reptiles to survive. Having comparatively low mobility, we also need to ensure there are linkages between these areas to prevent populations becoming isolated and to allow for recolonisation if for any reason they become locally extirpated.
Our work securing areas as protected nature reserves can help address this, but we need to see action over a much wider area. ARC both undertakes and provides advice on habitat management on behalf of landowners, who are often steered by government directives. We therefore also lobby for more robust land use policies and funding mechanisms that encourage sympathetic land management. Agri-environment schemes, for example, protect land from the impacts of development, or at least fully mitigate any unavoidable damage that will occur. Underpinning this is the need for a greater awareness and regard towards the conservation of these animals, so that they are considered positively in decision making.
Within the UK, reptiles and amphibians are notoriously elusive – do you think that this affects the extent to which people are aware of them and the conservation issues that they are facing?
The elusive nature of these species makes it difficult for people to see them and therefore often misunderstand them.
In appearance they are neither feathered nor furry and lack the inherent universal appeal of some other animals. This has contributed to their negative profile in tradition and folklore which are often associated with evil, witchcraft and common ailments such as warts. Indeed, even Carolus Linnaeus, the great biologist and 'father of modern taxonomy', described reptiles and amphibians in his book The System of Nature as 'These foul and loathsome animals are abhorrent because of their cold body, pale colour, cartilaginous skeleton, filthy skin, fierce aspect, calculating eye, offensive smell, harsh voice, squalid habitation, and terrible venom.'
This matters because people's appreciation and negative perceptions of amphibians and reptiles are echoed in the low importance placed on their conservation, leading to their needs being often just not considered. This can range from direct persecution to simply over-looking their habitat needs, for example in tree planting programmes.
It is hard to appreciate something you cannot see; indeed many people are not aware that we even have reptiles in UK. However, once appreciated they then become important to preserve. That's why at ARC we place great importance in getting people to see and to learn about the amphibians and reptiles in their area, and to learn how and when they can be seen.
The sight of frogspawn in the garden pond followed by tadpoles and the unmistakable sound of croaking frogs can offer a close-up experience of wildlife and, for some people, this has been the start of a lifelong interest in nature. We are also seeing an increasing fascination with our native 'dragons' and recognition of their cultural significance.
This past year has been unbelievably hard for charities. How has 2020 (and 2021 so far) differed for the ARC Trust and how have you dealt with the difficulties that Covid has created?
Covid shut the door on many of our activities, and especially face to face meetings with people including many educational training events and group activities. This has had a number of different impacts, including the amount of habitat managed, opportunities for us to show people reptiles and amphibians and our volunteer engagement. However we maintained work across all of the different areas of our activity – it just meant we had to do these in different ways and have gained from doing so.
As we saw home working and 'Zoom meetings' become the norm we were in a position to move many of our education and training events online swiftly. Over the year of restrictions we have developed free 'bite sized training courses' and have made some of our sites accessible virtually through virtual reserve walks, drone tours, Q and A panel sessions, quizzes, activities and classroom lessons for children. As lockdown continued, people became more aware of their immediate environments and we offered an opportunity for the public to undertake a home-based survey through our online Garden Dragon Watch survey in addition to our reserves remaining open throughout.
Our two major annual events, the scientific meeting that we co-host with the British Herpetological Society and the Herpetofauna Workers Meeting run jointly with ARG-UK, went online. We explored different platforms for these meetings and, while we couldn't meet face to face, these meetings attracted larger audiences than we could have hosted through physical meetings, reduced costs and gave a voice to people who had not previously joined in before. This not only significantly reduced the carbon footprint of these events but actively engaged a wider range of delegates, networks and researchers. We will be looking at how we can integrate some of these positive outcomes into future outreach.
What would you consider to be your greatest success story so far?
Ultimately we aim to improve the conservation status of all 13 native species of amphibians and reptiles in the UK. Securing 80 sites into active conservation management, 25 of which we own, is something that we would not have imagined possible when the foundations for forming the charity were being laid in the late 1980s. In terms of conservation impact, our translocation work has truly brought species back from (and in one case beyond) the brink of extinction in Britain.
Sand lizards suffered significant declines across their range during the mid to late 20th Century, disappearing from Wales, seeing a huge reduction in the Merseyside populations and loss from huge swathes of Surrey, Hampshire and Kent. We have led conservation efforts for this species in Britain and in 2019 we released our 10,000th sand lizard as part of our long-term reintroduction programme which has restored sand lizards to 70 sites, restoring much of their former range. Similarly, the range of the natterjack toad dwindled over a similar time period and down to a single surviving heathland population south of the River Thames. We have been involved in reintroducing natterjack toads to 17 sites across the UK.
Perhaps our greatest species success story is the pool frog which was formerly considered to be non-native and went extinct from the UK in the 1990s. We worked in partnership to assemble evidence to indicate that they were in fact native and, through our reintroduction programme, we sourced pool frogs from Scandinavia and successfully reintroduced them to Norfolk, bringing the species back from extinction in the UK. Our latest Green Recovery Challenge government funded project will explore how we can restore the species range in East Anglia, by trailing outdoor enclosures.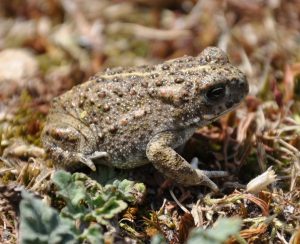 Our greatest success overall is the combination of seeing the status of wildlife improve and the benefits that come to people because of what we do. In the course of working towards our primary mission of conserving amphibians and reptiles, we benefit many other species that share their habitats, such as birds, butterflies and dragonflies. We also provide benefits directly to our volunteers and the public who enjoy our reserves that tell us they benefit in terms of their physical and mental health, social lives, enjoyment, education and career development.
How can people get involved with amphibian and reptile conservation, particularly if they are inexperienced in terms of identification and/or field survey?
Reptiles and amphibians occur throughout the country, but the species that you may encounter will vary in different locations and habitats. There are a variety of ways you can get involved through ARC, and whatever your background, we welcome your support.
If you live close to one of our nature reserves or local projects you might like to join a habitat activity day. We run programmes of habitat management designed for teams of volunteers mainly through the winter months – It's a great way to keep fit, make friends and get a personal insight into looking after your local nature reserve. ARC also offers opportunities to learn more about amphibians and reptiles through training, including online, field and class-based courses and events run in partnership with the Field Studies Council. We are keen to have more people joining in with our national programme of species and habitat surveys, which has various options for people with different levels of knowledge and available time. There is also an opportunity to take part in our Garden Dragon Watch (recording amphibians and reptiles in your garden), or if you have more time sign up to monitor species at a location near you, though the spring and summer months. The information volunteer surveyors supply is valuable in helping ARC to keep track of where amphibians and reptiles are found and how populations are faring.
ARC also runs a members' scheme for people who wish to support the work we do, stay up to date with the ecology and conservation of amphibians and reptiles, gain discounts to events and conferences and claim a welcome pack containing an array of species identification resources.
---
You can find out more about the ARC Trust from their website and by following them on Facebook and Twitter.