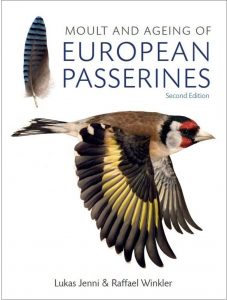 The legendary Moult and Ageing of European Passerines returns in a completely revised second edition. This is the must-have reference for bird ringers, ornithologists, and anyone fascinated by feathers.
Bloomsbury's publisher, Jim Martin has asked the authors Lukas Jenni and Raffael Winkler to share their thoughts about this eagerly awaited second edition.
How did the two of you first come to be interested in ageing birds?
Back in the seventies, Raffael was collecting data on skull pneumatization of live birds at the ringing station Col de Bretolet in the Swiss Alps as part of his PhD thesis, and Lukas was a young birder and wannabe ringer. We met at the Basel Ornithological Society, and began to collaborate. At that time 'skulling' was a new ageing method; we found as we worked that several plumage ageing criteria were either unreliable or simply wrong. We then started to record more precisely the extent of the post-juvenile moult.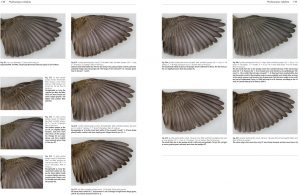 What drove you to keep up your work in counting the moulted and unmoulted feathers of thousands of birds?
We were both fascinated by the large variation in the extent of moult we found, both between species and between individual birds of a species. We wanted to discover the reasons for this variability. And we also wanted to tackle the 'either/or' criteria that prevailed for ageing birds at the time – for example, tail feathers might be recorded as either pointed or rounded, but if a young bird had moulted some tail feathers they would have some of each. Ringers were using fixed 'recipes' for ageing that did not account for the moult process and its variability.
When did you decide to collate your findings into a book?
Lukas became head of the Swiss Ringing Scheme in 1979, and we both held many ageing courses for ringers, and produced numerous fact-sheets for them. The basis of these was Lars Svensson's famous Identification Guide to European Passerines; each new edition of this formidable work was eagerly awaited. However, we realised that explaining verbalised differences – for example, such as between buffish-grey and greyish-buff – was a little difficult. It was much easier to teach ringers with the help of wing preparations and skins from the Natural History Museum, Basel. Finally, we decided to take photographs of these elements, with a view to producing a guide to ageing. This eventually became the first edition of Moult and Ageing of European Passerines, which was published in 1994.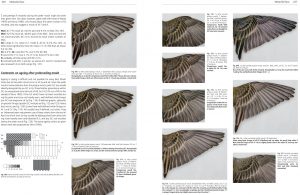 The new second edition is publishing in January 2020. This book is more than an ageing guide. What made you develop the sections on moult strategies?
During our work on moult, we realised how complex the moults of passerines are and how incomplete our understanding of moult still is. We felt that a full review is needed for two reasons. First to demonstrate how important moult is in the life of a bird and how moult interacts with other events of the annual cycle. Second to enhance the understanding of the plumage ageing criteria, and to enable ringers to discover new ones.
This will be expanded on in your follow-up book, The Biology of Moult in Birds, which will be coming out in the summer. For Moult and Ageing, how did you take the many excellent photographs of the wings of live birds?
We developed a simple system of a camera with a ring-flash mounted on a tripod, and put the wing of the bird on an oblique grey board, fixed at the wrist with double-sided adhesive tape (we should add that the birds were completely unharmed by the process). This sounds simple, but the tedious part was to put all the feathers and feather vanes in a perfect order, one that satisfied our sense of aesthetic perfection! We then realised that we needed help, and we employed several people over the years to operate as 'feather beautician' and photographer.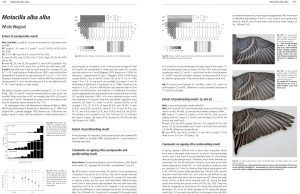 Physically, it's quite a big book, and not easy to use in the field. What was the thinking behind that?
We pondered for a long time about this. We finally decided on such a large format so that the reader can see many photographs on one page for direct comparison. A smaller format would have entailed smaller photographs, or continuously turning pages, or both.
How do you think this book will be received?
We were really surprised at the reception for the first edition, how quickly it sold out, and the enormous price second-hand copies went on to fetch. We therefore decided to do a second edition long ago, but it has taken us many years of research, and so has materialised only now. We thoroughly revised the first part of the book about the moult strategies, we've included a schematic table of the moults of all European passerines and added pictorial schemes of the various moult strategies, and we have also added 16 new species to the species accounts. The book was printed in Switzerland, so we could supervise the printing. We are glad that the quality of the photographs is now 'pretty good' (complying with English understatement) or 'phenomenal' (following American usage), and we hope that readers will feel the same.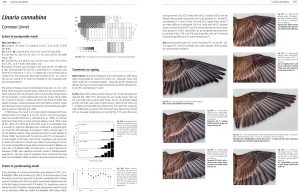 Thank you Lukas and Raffael, and good luck with the new book.
Jim Martin: Bloomsbury Publishing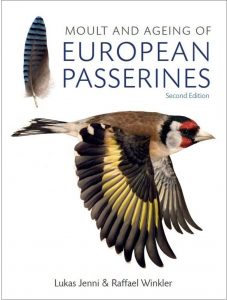 Moult and Ageing of European Passerines
Hardback,  published 9th January 2020,  *£82.99 £94.99
A brand-new, completely revised second edition of Jenni and Winkler's classic guide, updated and improved for the next generation of ringers and professional ornithologists.
*Offer price is only valid for a limited period