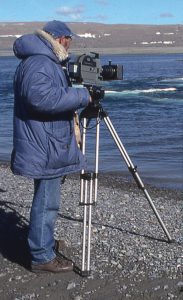 Mike Potts' career as a wildlife cameraman took him to many of the world's most spectacular locations and involved filming with Sir David Attenborough.
Mike has signed copies and answered questions about his new book, Untangling the Knot, Belugas & Bears: My Natural World on Film, giving readers the chance to travel with him and share his incredible experiences.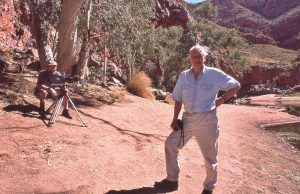 What made you pursue a career as a wildlife cameraman?                         From an early age I developed an interest in natural history and photography, particularly of birds. I was fortunate in being able to turn a passionate hobby into a profession from early beginnings with the RSPB  Film Unit.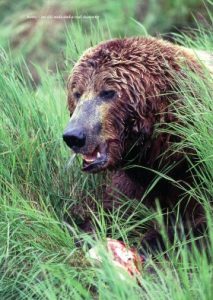 How did you manage a work-life balance when your work took you far away for significantly long periods?
My wife, although working herself, was able to run things at home in my absence.
Today, there is GPS and the internet: 30 years ago that technology wasn't as advanced. What difficulties did that present and how were they overcome? (I'm trying not to say, did you ever get 'lost'?)
In the early years of my career, before mobile phones, we would often be out of contact for many days, or weeks, when out in the field camping. On some trips, we did have the use of the early satellite phones, so at least there was some contact. Having a local biologist that was familiar with the terrain was essential, otherwise getting lost was a real possibility. It did happen in Australia when I was lost on my own in a tropical forest for several hours, quite scary!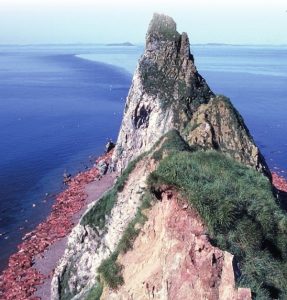 Was there one exceptional location you filmed in that stood out from all the rest?
Alaska particularly has many special memories. I spent over a year there working on three 50 minute programmes. If I had to choose one location, it would be the McNeil River in SE Alaska; here brown bears gather in summer to feed on salmon moving upriver to spawn. Sometimes, over 50 bears can be seen in the river, and standing shoulder to shoulder use various different techniques to capture the fish that are so essential to put on fat for their winter hibernation.
What does 'Untangling the Knot' in the title of your book refer to?
Some years ago I worked on a film called 'Untangling the Knot', which was about the bird, the Red Knot. It has a long migration from its wintering grounds in South America to breeding grounds in the high Arctic of Canada. So 'Untangling the Knot' was the story of the feeding habits, complex migration routes, and remote breeding areas of these great travellers.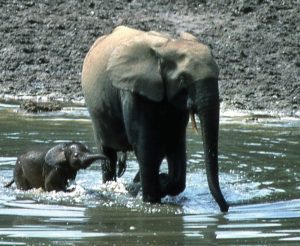 If someone was inspired to pursue a career filming wildlife, what advice would you give them to get started?
When I started my filming career in 1978 everything was shot on film, which was expensive, as was the equipment to shoot it with. The only way to prove your ability was to shoot a sequence and try to get it seen by wildlife producers at the BBC Natural History Unit or the RSPB film Unit. There were not any wildlife film courses back then. Now there are many more people interested in becoming wildlife cameramen, so the competition is great. What advice would I give? One advantage now with the proliferation of video cameras at low cost is that it is possible to go out and shoot a sequence at no great expense. Choose a subject that you have good knowledge of and try to shoot it differently from what has been done before, then get it seen by someone within the business. If you have access to a scarce or unusual subject, even better, especially if it is on your doorstep (always check licence requirements). You can of course try and get a placement on a 'wildlife film making' course but that doesn't mean a job at the end of it. Virtually all cameramen are freelance, so work is never guaranteed. Good luck.
Can you recall any one moment or experience in your career that encapsulates all that being a wildlife cameraman involved?
I think the most rewarding experience was filming Birds of Paradise in New Guinea. Sitting in my tiny mosquito-filled hide in the pitch-black, 150 feet off the ground, I wondered quite what I was doing there. Then as the dawn began to break and the chorus of tropical birds started I knew why. Shortly afterwards as the first Greater Birds of Paradise appeared the excitement was overpowering. Several males with their golden plumes were bouncing around just 60 feet in front of me, courting the growing number of females nearby. This made all the 3.00 am starts, the long walks through the forest and the exhausting tree climbing worthwhile.
What are your current plans and are there any future projects you can tell us about?
I am now retired from filming, and although I have been trying to get a film off the ground on the Albatross, it is difficult to get the substantial funding for these projects. For the last 2 years I have been writing the book and having exhibitions of my photographic work.
Untangling the Knot, Belugas & Bears: My Natural World on Film
Paperback,  published February 2020              £16.95 £20.95
Mike has spent more than 30 years as a wildlife cameraman. A highlight of that career was filming the Birds of Paradise and Bowerbirds with David Attenborough.
Further reading…
Journeys in the Wild: The Secret Life of a Cameraman
Hardback,  published August 2019,
£13.99 £16.99
Gavin's book, Journeys in the Wild, is available from NHBS and you can read more about his life as a cameraman in our blog post from last year.