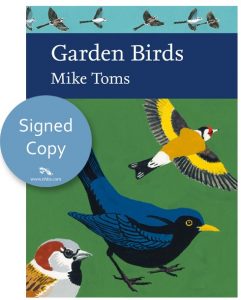 The latest addition to the New Naturalist series is a timely study of the ways in which birds use our gardens.  Garden birds provide a connection to nature and wildlife and  a huge increase in the use of feeders and nest-boxes is a testament to their value.  Author, Mike Toms has worked with the BTO since 1994 and his work on projects such as the Garden BirdWatch scheme makes him the perfect author for Garden Birds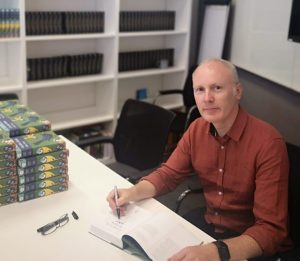 Mike Toms has taken the time to signed a limited number of first editions hardbacks of Garden Birds and answer a few questions about his work for the BTO and his interest in garden birds.
Can you tell us a little about your background and how you got interested in garden birds?
When I joined the BTO back in 1994 I had been working on owls, hence the earlier New Naturalist volume on the subject, but after working on a range of topics I took on the BTO's Garden Ecology Team in 2001. Over the following years, through long term projects like BTO's weekly Garden BirdWatch and the seasonal Garden Bird Feeding Survey, plus some one-off targeted surveys, our team began to explore how birds use gardens and the resources that they provide. This work, which in more recent years expanded to examine the impacts of diseases, such as trichomonosis and paridae pox, and the broader urban environment, has resulted in a great deal of new information, much of which is presented in the book. Gardens have always fascinated me because they are the place where people most often encounter elements of the natural world. Garden birds are common currency for conversation for many people, just like football or music are for others. This means that we have an opportunity to understand birds lives through citizen science surveys, and to inform decisions about how we garden and how we shape our urban environments for their benefit.
What are the biggest changes to populations and distributions of garden birds within the last ten or twenty years?
As our recent paper shows, the communities of birds using garden feeding stations have changed dramatically since the 1970s, when we first started monitoring them through BTO surveys. The provision of a growing range of foods now presented at garden feeding stations has increased the diversity of birds visiting, with feeders no longer dominated by just a handful of species. Changes to feeder design have also played their part, providing access to species that were previously unable to take advantage of them. Long term figures, viewable on the BTO Garden BirdWatch and Garden Bird Feeding Survey (GBFS) web pages reveal the winners and losers over time – GBFS data show the long-term decline of House Sparrow and increase of Woodpigeon particularly well. Perhaps the most dramatic change has come from the emergence of finch trichomonosis, a disease that brought about the sudden collapse in Greenfinch populations. We have been able to monitor the emergence of this disease, and its impacts at a population level, thanks to those who participate in BTO surveys.
What single thing or activity can be a hinderance to birds living in, or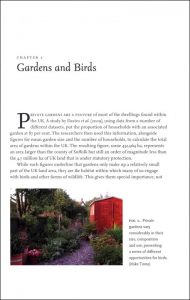 wanting to live in gardens?
Gardens include both opportunities and risks for wild birds and it would be wrong to single out a single factor, not least because the system is fundamentally more complex than this. We need to remember that gardens are an artificial environment, and it is the opportunistic and generalist species that tend to do best in them. As the book explores in its early chapters, the garden environment can alter bird behaviour, breeding ecology and survival in many different ways.
What role can citizen science play in surveying and monitoring garden birds?
Citizen science is absolutely central to the work being done to survey and monitor garden birds. Gardens are private in their ownership, so if we want to find out what is happening within them then we need to involve the owners of those gardens in collecting the information needed. Through BTO surveys like Garden BirdWatch we have been incredibly successful in this, but as the recent Gardenwatch projects – carried out in partnership with BBC, Open University and BTO – have shown, there is a huge army of citizen scientists out there, willing and able to help us increase our understanding of birds and the garden environment.
While writing your book; was there one surprising fact or discovery that you didn't previously know that you'd like to tell us about?
There was an interesting study of House Sparrows breeding on an off-shore island that surprised me in its relevance to how birds cope with the built environment. We know that background noise can impact on urban birds, and indeed those living close to airports and roads, but it can be difficult to test such impacts experimentally. The House Sparrows breeding on this island varied in their breeding success, with pairs nesting close to the island's generators showing reduced breeding success. The noise from the generators reduced the ability of the parent birds to respond to the food begging calls of their chicks, reducing the amount of food provided and lowering chick survival. The generators only ran for part of each day, so the researchers were able to prove the impacts of the noise by watching how provisioning rates changed depending on generator activity.
What are your hopes for the future for garden birds?
There is still a great deal that we need to understand about birds living within the built environment. We need, for example, to understand the impacts of urban living on birds (and other wildlife) so that we can minimise the impacts that planned towns and cities have on biodiversity, but we also need to better understand the impacts that providing supplementary food has on their populations. Evidence relating to the latter is mixed, with some work showing negative impacts on wild birds and some showing positive benefits. Given the scale of food provision in the UK, this is something that we urgently need to address
Do you have any new projects in the pipeline that you'd like to tell us about?
I am currently working with YOLOBirder on a project that is seeking to raise funds for BTO and RSPB research into red-listed Birds of Conservation Concern. The book brings together an artist and a writer for each of the 67 red-listed species. As well as contributing a text, I am putting the book together and, with luck, it should be out in time for Christmas.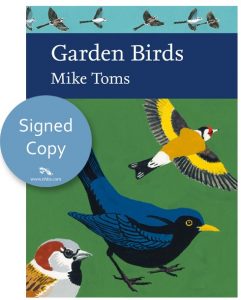 Garden Birds: New Naturalist Series Volume: 140
Hardback| July 2019| £52.99 £64.99 (limited signed copies)
Paperback| July 2019| £27.99 £34.99
We have a limited number of signed, first edition hardbacks, allocated on a first-come-first-served basis, so order now to reserve your copy.