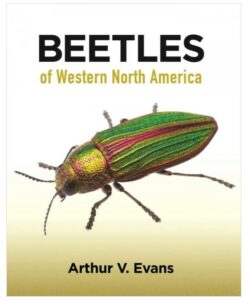 Beetles of Western North America is a landmark book – the only comprehensive colour photographic guide to the remarkably diverse beetles of the United States and Canada west of the Continental Divide.
A follow-up to the highly regarded companion title Beetles of Eastern North America, this engaging and accessible book provides extensive information on 1,428 species from all 131 families that occur in the west, lavishly illustrated with more than 1,500 stunning images. This is an unmatched guide to the rich variety of western North American beetle fauna, a must-have book for anyone from amateur naturalists and nature photographers to insect enthusiasts, students, professional entomologists and biologists.
Arthur V. Evans has kindly taken the time to answer a few questions for us below.
Could you tell us a bit more about how you became interested in entomology? What prompted you to start producing field guides?
My interest in insects began when I was five years old. I grew up on the south-western fringes of the Mojave Desert in southern California, where there were plenty of insects to discover and observe. My parents were incredibly supportive of my interest in insects and nature and took my sister and me on numerous weekend excursions to explore natural areas and historical sites throughout the region. While in elementary school, I met an entomologist who arranged my first visit behind-the-scenes at the Entomology Section of the Natural History Museum of Los Angeles County (NHMLAC), one of the largest natural history museums in the United States. There, I had the opportunity to meet with each of the entomology curators, all of whom encouraged my interest in entomology. During my high school years, I took part in several extended summer field trips to collect insects, especially beetles, throughout southern California and the Southwest. Several of these trips focused on the Sky Islands of south-eastern Arizona, a biodiversity hot spot in North America. Upon graduating high school, I was hired as a student worker at NHMLAC, an experience that ultimately helped to launch my pursuit of academic degrees in entomology at California State University at Long Beach (B.A., M.S.) and the University of Pretoria (D.Sc.) in South Africa.
I have always had a long-standing interest in informal science education. Not long after I finished my doctorate in entomology at the University of Pretoria in South Africa, I accepted a position as the Director of the Ralph M. Parsons Insect Zoo at NHMLAC. While working there, I was invited to write my first book, An Inordinate Fondness for Beetles (with Charles Bellamy, Henry Holt, 1996). On the strength of this book, I was approached by several publishers over the years to write field guides on insects, including Field Guide to California Beetles with James Hogue (University of California, 2004), Field Guide to Insects and Spiders of North America (Barnes and Noble, 2007), and Beetles of Eastern North America (Princeton University Press, 2014). I have always found field guides useful and writing them gave me an opportunity to share my passion for entomology and my insect images with a larger audience.
Beetles of Western North America, and your other related work Beetles of Eastern North America, are comprehensive guides documenting thousands of species. Can you tell us about your decision to tackle such a huge project?
A truly comprehensive work covering the entire beetle fauna of an area as large as western or eastern North America is a very tall order! Still, I accepted the challenge of these writing these richly illustrated books in order to give these fascinating animals their due. Both Beetles of Western North America and its companion volume, Beetles of Eastern North America, are the first books to present in full color representative species from all families known in their respective regions. I think the diversity of beetles presented in these books will not only appeal to coleopterists and other entomologists but also field biologists and naturalists, as well as anyone interested in macro photography. My hope is that these works will not only stimulate interest in beetles but will also encourage the production of similar regional works that feature orders of insects other than Lepidoptera (moths, butterflies and skippers) and Odonata (dragonflies and damselflies).
Surveying and photographing species in an area as large as western North America must have been challenging. How did you select the species that appeared in the book?
My initial goal was to include images of as many genera as possible representing all 131 families currently known to occur west of the Continental Divide, an area that stretches from Alaska south to western Mexico. However, the book focuses primarily on those species that inhabit the region from southern British Columbia to southern California and south-eastern Arizona. Species selections were based on surveys of several museum and university beetle collections in Arizona and California, reviews of species that appear on bugguide.net and iNaturalist.com, and my own field experiences throughout the west. I concentrated on species that people were likely to see at home and in the field. From 2010 to 2018, I undertook six field trips to observe, collect and photograph beetles for this book, driving more than 8,000 miles. Of the 1500+ images in the book, about half of them were photographed by me, while the rest were supplied by 116 other photographers who generously contributed their photographs to the work.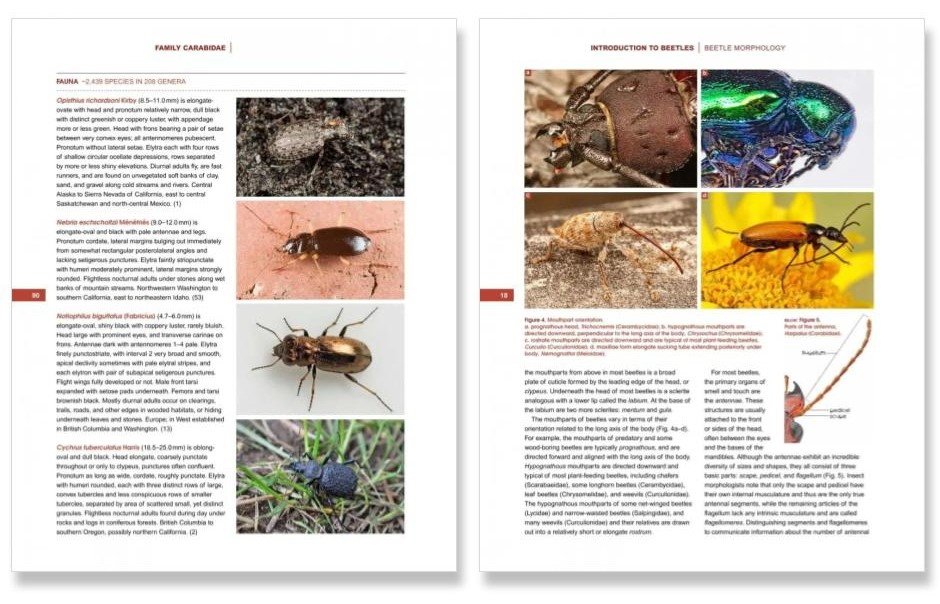 This book is more than just an ID guide; it also provides tips on photographing, collecting and rearing species. Why did you decide to include these sections?
As a child, I grew up using several field guides that included sections collecting and rearing insects. I found this information incredibly useful then and considered the inclusion of this material essential in Beetles of Western North America. The book begins with an extensive introduction to their morphology, behavior and natural history, use as biocontrol agents and indicators of past environments, threatened and endangered species, observation and photography, conservation, collection and preservation, rearing, and internet resources. I have long believed that both collecting beetles and carefully preparing them as museum-quality specimens are essential for their study and conservation. Eventually, all collections should be deposited in museum or university collections where they will be available to researchers in perpetuity.
Do you have any more field guides of this scale planned for the future?
Yes! I am currently working on a field guide to the beetles of Arizona with Margarethe Brummermann that will cover nearly 2,500 species in more than 80 families. Although the focus is on beetles that occur in Arizona, this book will be very useful for identifying species in adjacent states in both the United States (south-eastern California, southern Nevada, southern Utah, south-western Colorado, western New Mexico) and Mexico (Baja California, Sonora).