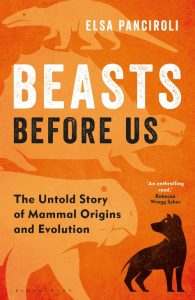 Elsa Panciroli is a palaeontologist who studies the evolution and ecology of extinct animals – particularly mammals from the time of dinosaurs. She is a researcher based at the University of Oxford and an associate researcher at the National Museum of Scotland. A keen science communicator, she has contributed to The Guardian, Palaeontology Online and Biological Sciences Review, and co-hosts the Palaeocast podcast. Beasts Before Us is her first book and tells the amazing story of early mammal evolution, taking the reader back well before the dinosaurs even rose to prominence. Leading up to publication, we reached out to Elsa and asked her some questions.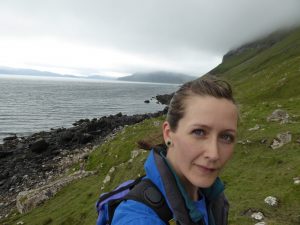 You write that you started your palaeontology career interested in dinosaurs and Ice Age megafauna. What turned you on to the path of our mammal ancestors?
Like so many things in life, it was serendipity. During my masters degree the renowned mammal palaeontologist, Prof Christine Janis, moved back to the UK from the US. I'd recently read her paper on giant extinct kangaroos and I was excited to meet her and learn more. It turned out she was offering a project studying mammal ankle bones, so although there were dinosaur projects available, I jumped at the chance to work with Christine. I learned so much from her, she was (and still is) a brilliant mentor. I soon realised what a lot of questions were still to be answered about extinct mammals. Afterwards, I did my PhD on little-known Jurassic mammals from Scotland, and started exploring their even more ancient past – I just couldn't believe what I discovered! That's why I wanted to write the book, to share what I had learned.
Given that we are so biased to mammals where, for example, conservation is concerned, why do you think that there has been so little mainstream interest in early mammal evolution? Your book shows that there is a fascinating story playing out before dinosaurs even evolved. Do the dinosaurs in that sense enjoy the advantage of incumbency in our imagination? Or do the details of mammal evolution not easily lend themselves to telling a captivating story?
I disagree that mammal evolution doesn't lend itself to story-telling, but the many authors who've tackled the subject up to now focused on recent evolution and assumed everything before then wasn't relevant. I wrote Beasts Before Us because our ancient relatives are incredible! I was quite shocked by this whole plethora of animals that not only predate the dinosaurs, but were incredibly successful, bizarre and exciting. They were the first to evolve iconic features we are fascinated by today, like large body size, sabre-teeth and gnarly horns. It's just the icing on the cake that they are actually related to us. I wanted to show people the history of mammals isn't a story of waiting in the wings for the dinosaurs to disappear, but of the stunning success our lineage (synapsids) over the last 350 million years, including before dinosaurs even existed.
I think there are a few different reasons why early mammal evolution doesn't get the same love as dinosaurs. Dinosaurs are kind of otherworldly – in fact you might argue they are almost mythical – so naturally this makes them extremely compelling. As a result, people forget to look beyond them at what else has happened in evolutionary history. The media don't help, because they overly focus on dinosaurs and always plaster them centre stage. Dinosaurs have become a touchstone for ancient, and other discoveries are always placed in relation to them. There is a lot of dino-noise to get through if you want to tell the stories of other animal groups!
An important theme in your book is that evolution is not a march of progress but a process of adaptation to current circumstances. It seems that our early ancestors thoroughly explored the space of possibilities and pioneered both behaviours (e.g. digging underground burrows) and morphology (e.g. sabre-toothed therapsids) that would later evolve again independently through convergent evolution. Are there examples of morphological adaptations or suspected behaviours in early mammals that have not reoccurred in more recent mammal evolution?
That's a really interesting question! As we make new fossil discoveries, it's increasingly apparent that there is very little happening on Earth today that hasn't been done multiple times before by other animals. Of the top of my head, I can't think of anything they – or other animals – did in the past that hasn't reappeared again, nature is just like that. If anyone can think of something they can always tweet me about it!
I thought one very interesting idea you mention concerns the adaptive radiation of therians, i.e. the group that gave rise to both marsupials and the placental mammals to which we belong. They remained a species-poor group until after the dinosaurs went extinct, and it is traditionally thought it was competition from the dinosaurs that held them back. Instead, here, and in the Current Biology paper that just been published (congratulations, by the way), you argue that it was competition from other mammaliaform groups that held back the therians. Can you give us the elevator pitch in support of this idea?
Part of the problem is that the fossil record can be very misleading, and we can't easily separate cause and effect. People saw that mammals became larger when non-bird dinosaurs disappeared, and so they drew a causal line between the two. To tackle this issue more robustly, my co-authors and I compiled big datasets of the changes taking place in the skeletons and teeth of mammals from the time of dinosaurs, and just afterwards. Our results showed that in the earlier-branching groups of mammals the number of changes taking place in their bodies continued to rise – in other words, they were still splitting into new groups and evolving new specialisations. But for the therian mammals (which include the ancestors and relatives of all modern mammals except platypuses and echidna), the number of changes was pretty flat in the time of dinosaurs. That is, until the disappearance of the earlier mammal groups – some of which didn't become extinct until after the non-bird dinosaurs. Crucially, it wasn't until these later extinctions that we really see therians diversifying more widely, therefore showing that it was competition with the other mammals that had been preventing them from diversifying prior to that point.
You mention Clashach quarry in Scotland as a site of great scientific interest due to its record of fossil footprints. I often shudder to think how many body and trace fossils are destroyed forever during mining and construction activities. Do you generally find commercial operators willing or interested to cease or move activities when fossils are found? Or would most rather just quietly ignore them to prevent costly delays?
Although you're right that fossils are destroyed during extraction, we can't forget that most fossils wouldn't have been discovered in the first place if it wasn't for quarrying and mining! The ties between extractive industries and palaeontology are really important, but they also form part of the colonialist history of the discipline, which we must acknowledge. The attitude of extraction companies varies from place to place, but many are really keen to support scientific study as much as they can. For example I know several have welcomed info sheets and talks from experts on how to recognise fossils, so that the workers know what to look out for. They'll often put aside potential fossil finds so that they can be examined and studied. It's hard to find a balance between industry and conservation, but for the most part quarry workers are just as excited about fossils as everyone else!
In your book, you broach the sensitive issue of decolonisation, acknowledging the often dark and unsavoury history of our scientific disciplines. Beyond words, what actions do you think are necessary to get to terms with our past? For example, is the repatriation of museum specimens always the preferred option?
Decolonising science and museum collections is a complex subject, and I'm not an expert, but the first step for all of us is to listen: we need to hear about, understand, and explore the legacy of colonialism and empire on our lives, not dismiss it. Repatriation of objects is appropriate in some cases, but there are many other things that need to happen as well. For example many objects are completely separated from their context – where they came from, the circumstances of their collection, and who collected them. We need to ask ourselves what the purpose of collections actually is now, who they are for? The scientific system itself was built in such a way that it biases who carries out research, how we carry it out, how it's published, and who benefits. It's going to take time and thought to rebuild it to be more equitable.
I was very impressed with the visual language you use throughout this book and read that you have a keen interest in science communication. I am a regular listener of the Palaeocast podcast that you co-host, but beyond that, what other platforms and outlets do you contribute to?
I have to admit I don't keep a regular online presence at the moment, except for my twitter feed! I used to blog, but as I've ended up writing more articles (I wrote for The Guardian for a while, and some other freelance work) I've had less time. However, when possible I place content on my YouTube channel, particularly short videos explaining new research, or talking about fossils. I've also done some readings of Beasts Before Us, if you want a wee taster!
Beasts Before Us is your first book. Now that it has been published, is it time to turn your attention back to research, or was the experience rewarding enough that we can look forward to more books in the future?
I've actually been carrying out my research alongside writing, which has been pretty exhausting! It'll be nice to devote more attention just to the research for a while. Having said that, I do have a second book lined up, and many more ideas in the queue, so you can definitely expect more in the future!
Beasts Before Us: The Untold Story of Mammal Origins and Evolution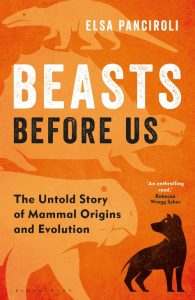 By: Elsa Panciroli
All prices correct at the time of this article's publication.