In What an Owl Knows, Jennifer Ackerman provides us with a magical and captivating glimpse into the lives of owls. Covering all aspects of their biology, ecology and evolution, the book takes us on a wonderful journey into their lives and those of the people who study them. Through her prose, facts and stories, we discover just why it is that these birds have been enthralling humans for so long, and why they are so intricately interwoven into our culture, art and language.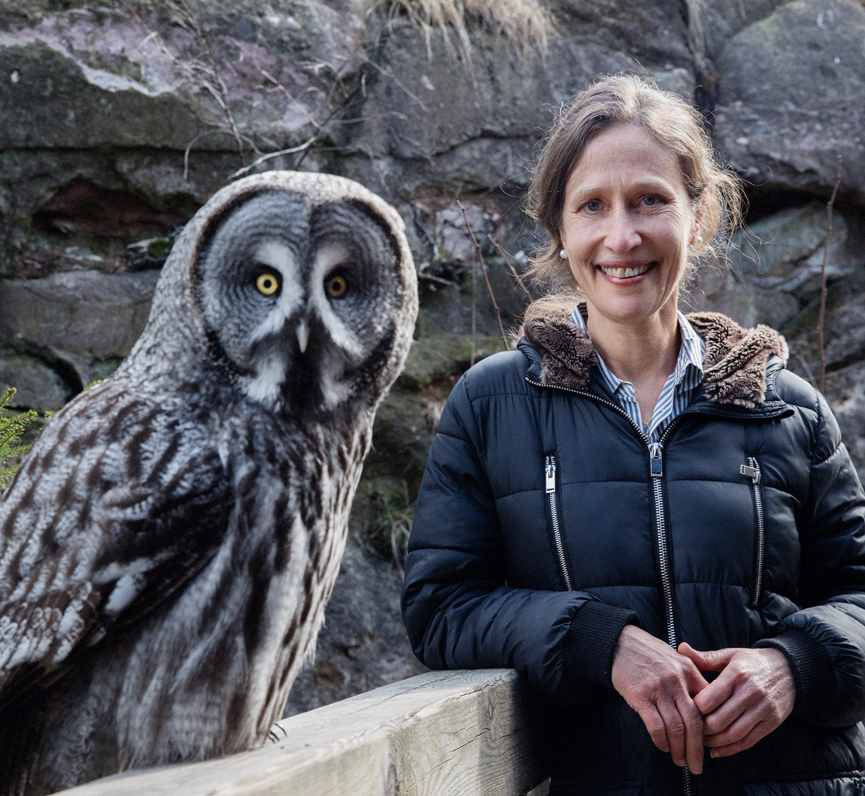 Jennifer Ackerman is an award-winning writer who wrote for National Geographic for seven years and has written extensively for many publications, including the New York Times, Wall Street Journal, Scientific American and Smithsonian Magazine. She is well known for her ornithology books including The Bird Way and The Genius of Birds, both of which celebrate the brilliance of birds through the light of new and continuing research into their biology, ecology, behaviour and cognition.
We were thrilled to chat with Jennifer about her most recent book, What An Owl Knows, as well as about owls' reputation for wisdom, the incredible research that is shedding more light on their lives, and the mysteries that still remain.
---
Your most recent books, The Bird Way, The Genius of Birds and, to some extent, Birds by the Shore, have all focused on various aspects of bird behaviour and cognition. What inspired you to focus on owls for What An Owl Knows?
I wanted to focus in on a family or group of birds and take a deep dive into their biology and behaviour. I love birds, all birds. But owls? They're unique in the bird world, night hunters with eerily quiet flight and extraordinary senses. When I started to think about writing a book about owls, they made my head sizzle with questions. What makes an owl an owl? How did owls get to be the way they are, so different from other birds? Why are they active at night? They have a reputation for wisdom, but are they in fact smart? I wanted to explore these questions and find out: What do we really know about owls? Quite a lot, it turns out. We've been studying them for a long time. But only lately have there been the advances necessary to solve some of the mysteries that have been around for centuries. Which made it a very good time to write this book.
Everywhere we look in the world, owls are intrinsically tied up in human art, culture and language. What do you think it is about them that captivates us so much?
It's true, humans have been obsessed with owls for tens of thousands of years. Among the oldest examples of cave art ever discovered is an etching of an owl in Chauvet Cave in France 36,000 years ago. Now, all over the world, owls appear in stories and as symbols, sometimes of wisdom, beneficence and good fortune, and sometimes as emblems of evil and omens of death. I think it's a combination of things that makes these birds so powerful. We see ourselves in them, with their round heads and big forward-facing eyes. Some species are cute, baby-like. But they're also so different from us, creatures of the night, fierce in their hunting, so mysterious and uncanny. It's this whole package of cute and brutal, familiar and strange, that makes these birds so exciting and sometimes, so troubling.
You mention near the beginning of the book that research into owls has, until relatively recently, been fairly sparse. What research techniques or tools do you think have allowed more progress to be made in recent years?
We have new "eyes" in the field—infrared cameras to see what's going on with owls at night, radio tagging to track their movements and drones to explore remote owl habitats and peep into nests. New advances in satellite telemetry are illuminating the movements of owls over short and long distances. Remote acoustic monitoring—placing tiny audio recorders over large landscapes to listen in on owls—has helped us understand their populations and offered a window into their social lives. Nest cams have revolutionized the study of how owls raise their young, offering a 24-7 intimate look at interactions that would otherwise be impossible to observe. This technology is advancing new discoveries and also confirming observations by banders and other researchers who have been working in the field for decades.
Owls have long been associated with wisdom, although more recently, scientific studies have taught us that they aren't as intelligent as previously imagined, especially in comparison to other birds such as corvids or parrots. Do you think this is accurate or simply a reflection of our tendency to view intelligence from a human perspective?
The science of understanding the minds of other animals is still in its infancy, and we still tend to view intelligence through our own lens. But there's a growing awareness that there are different kinds of intelligence, different ways of knowing in the animal world that are hard to conceive of and hard to measure. On the question of owl intelligence, the science has been swinging back and forth. It's true that owls may not be smart in the same ways that parrots and corvids are smart (and in the same ways we are smart). But they do have large brains for their body size, just as these other bird families do—and also, perhaps, ways of knowing that go beyond ours. People who train raptors used to consider owls not as bright as other birds, especially other raptors. But now that they're beginning to understand the subtleties and complexity of owl behaviour and knowledge, they're changing their tune. In their stories and in my conversations with other owl experts, I found plenty of good examples of intriguingly clever behaviour among owls.
What an Owl Knows delves deep into the science of owls and covers their adaptations, communication, courtship and breeding, as well as the lives of the people studying them. Following the incredible amount of research that you undertook, are there any questions or mysteries about owls that remain unanswered for you?
So many mysteries remain. We still have a lot to learn about basic things, like how many owls are out there and the details of how they're moving around from season to season. Questions about their communication and their inner lives still abound. When one owl hoots or squawks or chitters at another, what is it really saying? How much information is packed into an owl's vocalizations that we might be missing? When an owl is on a night hunt, what does it actually see and hear? And what is really going on in an owl's mind?
What was the most fascinating thing you learned while researching this book?
I have to pick just one? Ok. I loved learning that burrowing owls—comical little owls that nest in the burrows of other animals like prairie dogs, woodchucks and armadillos—adorn the outside of their burrows with all sorts of weird and wonderful "treasures": cornstalks and corncobs, bits of wood, bones, moss, swatches of fabric, bison dung, coyote scat, even pieces of concrete. Why? Why in the world would they expend energy on this sort of apparently frivolous decorating?
Finally, are you able to tell us what you are working on next?
I do have another book in the works, but I'm going to be owly about that and keep it a secret…
---
What an Owl Knows by Jennifer Ackerman is published by Oneworld Publications in July 2023 and is available from nhbs.com.