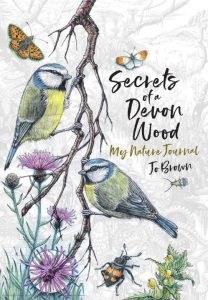 One of NHBS's bestselling books to date, Secrets of a Devon Wood has captivated people across the globe. An exact replica of Jo Brown's original Moleskine journal, each page features extraordinary illustrations of species such as the buff-tailed bumblebee, blue tit, red campion and oyster mushroom, and are accompanied by detailed observations and notes regarding physiology and life history. Inspiring for naturalists and budding artists alike, this book will be one to treasure.
Jo Brown is a professional illustrator and a blogging sensation. She graduated from Falmouth College of Arts in 2000 with a BA Honours in Illustration and works from her home studio in Teignmouth. She has very kindly answered some of our questions below.
Firstly, could you tell us about your background and how your interest in the natural world began?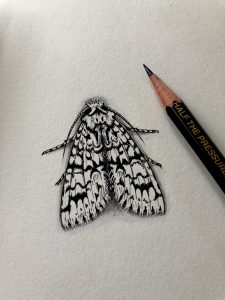 I've been interested in nature from a very young age and have many early memories of my mum taking me into the garden to show me woodlice, spiders and butterflies. I always knew I was going to be an artist, because it was the only thing I ever really wanted to do. I first explored art at school and had a great relationship with my art teacher. Later, when I left university in Falmouth, I freelanced and took on design jobs and commissions, though often creating content that didn't speak to me. Nature and art together came much later when I felt able to produce artwork for myself.
We all absolutely love your book and the original way it's been produced. When you first started your sketchbook, did you anticipate having it published at the end?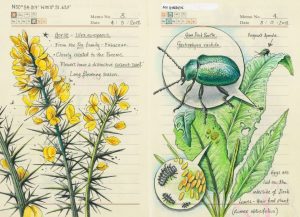 No! I wasn't even thinking about publishing – the journal was a personal project. I realised very early on that when I draw and document things, I remember them. I remember things like Rumex Obtusifolius (the Latin name for Doc Leaf) – it's been a wonderful learning tool and almost everything I've learned about nature, I've learned entirely on my own through observation, supported by research.
After putting up a flick-through video of the journal on YouTube in 2019, my followers jumped from 9 thousand, to 20 thousand overnight. This was incredibly overwhelming for someone who is a bit of a recluse and spends a lot of time on their own. I was approached by several publishers and agents from the UK and US, and came out of the other side with an agent, Clare Wallace, and a publishing deal with Short Books. It was genuine recognition of my work and a wonderful moment. Short books allowed me complete creative control and wanted to publish my journal as it was without any changes.
The response to your book has been phenomenal and people all over the world have been inspired by your artwork. What advice would you give to any new, budding artists?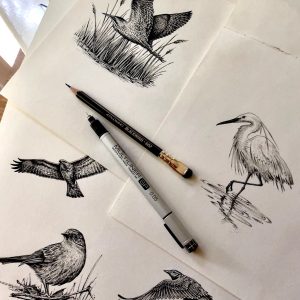 I would say to begin with, if you find or see something that inspires you, whatever it may be – satisfy yourself first. Don't draw for anyone else – as long as you're happy with the work that you're doing and you're improving your own skillset and artistic evolution; it doesn't matter what anybody else thinks. It's not about what's popular, or to gain recognition or approval – the only approval you need is your own. As long as you put your passion into whatever you're interested in, nothing else really matters. It's an absolutely flooded market, but try to find your own way in and fulfil your own needs. Building your own style takes years.
It's always wonderful to see a combined passion and talent for both art and science, as they are often seen as very separate entities. How do you think art can be better used to encourage environmental awareness?
As people's attention span seems to have naturally decreased in the age of social media, I try to use my art to stop people scrolling for a minute. If you can hold someone's attention with an image, you then have a chance to offer up some relevant information in the words beneath – a chance to promote conservation and environmental awareness.
Did you face any challenges while putting together Secrets of a Devon Wood?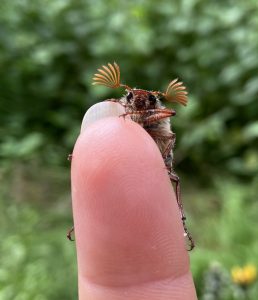 Finishing the book under a national lockdown was incredibly pressured. It was very difficult to feel inspired during such a tremendously hard time. In the middle of the first lockdown, I was coming up to the end of the book and the deadline was looming. If it was up to me, I'd have produced 200-300 more pages, but I had to be realistic. After a month extension, and after weeks of sweat and worry, I completed the last 9-10 pages – half of the book was completed in my own garden because of being in lockdown. The most challenging part of producing the book was getting the work on pages.
We've heard exciting rumours of a second nature journal – is this something you're currently working on? What is your focus this time and when might we expect this to be published?
Yes, though the first book took 2 years to create. I have no deadline for the 2nd Nature Journal, and I have experienced terrible creative block in the third lockdown. When you're an artist, you need peace and little stress to be in the zone. The 2nd Nature Journal will be water-based, focusing on species within 3 miles of the coast. Journalling will be an ongoing project for me, even if it isn't published; I'll never run out of subject matter! I will also be involved in other books and be selling my artwork online.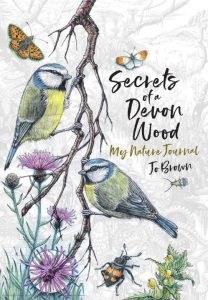 Secrets of a Devon Wood
By: Jo Brown
Hardback | Published October 2020