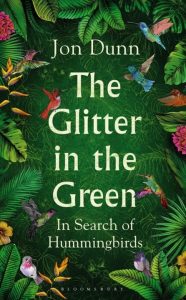 Jon Dunn is a natural history writer, photographer and wildlife tour leader. He is the author of the fantastic Orchid Summer among other books, and his writing and photographs have been featured in Britain's Mammals and numerous wildlife magazines and journals.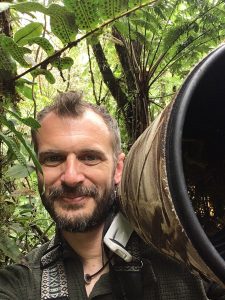 In his latest book, The Glitter in the Green, Jon documents his expeditions from the farthest reaches of Alaska to the tip of South America in Tierra del Fuego in search of hummingbirds. Weaving history and travel writing together, the book describes the special place hummingbirds have in both mythology and culture, all while addressing not only how hummingbirds have suffered in the past, but the threats they face today. Jon kindly agreed to answer some of our questions below.
When and how did you first discover hummingbirds and what is it that draws you to them?
I've got the Natural History Museum in London to thank for planting the seed that was to grow, over the years, into a full-blown hummingbird habit. I was a young kid in the 1980s, taken to London by my mother for a day doing the usual tourist things – she wisely saved a visit to NHM London until later in the day, as she knew once I was in there I wouldn't want to leave.
Amongst the many exhibits one in particular caught me by surprise – a large glass cabinet filled with hummingbird taxidermy. I know, that's a bit bleak by the standards of today, but back then all I had eyes for were the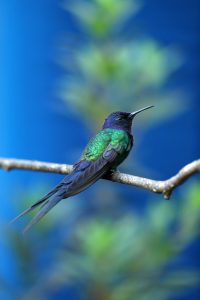 shapes, forms and colours of the birds. They were so very different to the birds I was used to seeing in the Somerset countryside around our home. After that, every now and again I'd see footage of hummingbirds on wildlife documentaries, and began to appreciate further just how remarkable they were – what Tim Dee described as 'strange birds: not quite birds or somehow more than birds, birds 2.0, perhaps'.
As a naturalist and a storyteller, I'm a bit like a bowerbird, drawn to colour. Hummingbirds really have it all going on – their biology is one superlative after another; their plumage is jewel-like; they're found throughout the Americas in almost every conceivable habitat; and they've fascinated mankind from our earliest recorded encounters with them – there's a rich vein of stories to dig into. 
Were there any particular encounters that stood out for you during your research?
Seeing my first Marvellous Spatuletail caught me by surprise. They're renowned for their plumage and rarity alike, so I was prepared to feel that cocktail of joy and relief familiar to any birder who's just caught up with a keenly anticipated species. The reality though far exceeded that – the delicacy of the bird compared to the many other hummingbird species swirling around the clearing in question, those preposterous tail feathers, the culmination of waiting decades to see one… I found that a bird could be literally as well as metaphorically jaw-dropping.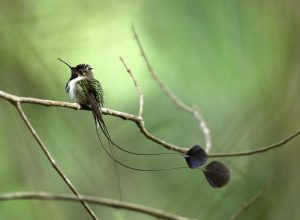 There were plenty of other moments that I'll hold in my heart, and they don't all involve the iconic, rare species. One such was watching Golden-tailed Sapphires, a hummingbird that looks as if it's been dipped in rainbows, feeding in a clearing in the immediate aftermath of a heavy rain shower. As the sun broke through the dripping vegetation and steaming air we were suddenly surrounded by myriad small rainbows through which the birds were flying. That moment was ephemeral, over almost as soon as it began, but it's etched in my memory forever. 
Hummingbirds have long been venerated and romanticised in art and in your book you talk about the emotive response that hummingbirds elicit in people. Why do you think that this is?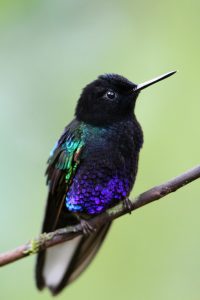 I found myself asking myself that very question as my journey into their world unfolded… Hummingbirds certainly seem to touch something deep inside us. They featured in the mythology of the Aztecs; inspired the most dramatic of all of the immense geoglyphs carved into the desert floor by the Nazca; appear in renowned art and literature; and, to this day, are singled out for particular love by those whose gardens they frequent, people who would not necessarily identify themselves as birders.
I think it's their character as much as their beauty that has always called to us – many species are confiding, and are happy to feed in close proximity to us. Over millennia we've given many animals ample cause to be shy of us – and indeed, down the years we've slaughtered hummingbirds in their millions for their feathers, whether they were to feature in Aztec status symbols, Catholic icons or on 19th century hats. Yet despite this, hummingbirds remain unphased by our presence. Perhaps there's something subconsciously reassuring about that.    
In order to see some species, your expeditions took you to some very remote places. Did this present any challenges?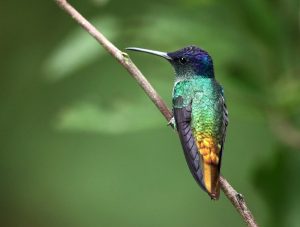 Inevitably there were some logistical challenges to contend with, not least having to reacquaint myself with horse-riding after a decades-long and deliberate avoidance of it! There were a couple of close encounters with large predators that were, in hindsight, more alarming than they felt at the time – as a naturalist, I was thrilled to get (very) close views of a puma… But perhaps the most challenging moment of all was landing in Bolivia at the very moment the country was taking to the streets to protest the outcome of a recent presidential election. There was an incident at a roadblock manned by armed men that was genuinely scary, with an outcome that hung in the balance for a terrifying instant, and could easily have ended badly.
Hummingbirds face many threats to their existence, including habitat loss, climate-change, deforestation, as you talk about in your book. Post-research, do you feel any optimism for these magnificent creatures?
This is a really difficult question. On the one hand, I learned of examples of conservation where hummingbirds – amongst other species, of course – were the beneficiaries of excellent conservation work at a local level. On the other hand, when you start to take a pragmatic long view of our impact to date on the habitats the birds rely upon across the Americas, it's hard to remain upbeat. We've destroyed so much already, especially in the past century – and with a growing global population, the pressures of economic development are only going to intensify human activity and its impacts.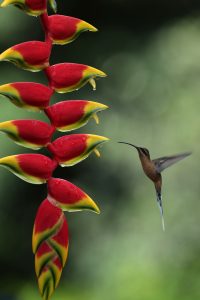 I sometimes think there's almost too much optimism expressed when talking about conservation challenges anywhere in the world – a narrative that suggests "if we only care enough, the [insert iconic species name here] can be saved". And to a degree, that's good – we've got to have hope, as the alternative is too dreadful to countenance – but given our impact to date, and in an uncertain future where the effects of climate change are still unfolding and will continue for many decades to come, to name just the biggest of the mounting pressures on the natural world, I'm not sure that I do feel terribly optimistic, least of all for those hummingbird species that have very localized populations, or depend upon very specific habitats. They're undeniably vulnerable. But like Fox Mulder, I want to believe…   
 Do you have any plans for further books?
I do indeed… Having delved into the worlds of two of my personal favourites, terrestrial orchids and hummingbirds, in the last two books, the book I'm currently writing will have a wider focus – exploring the evolving relationship between humanity and the natural world. It'll be a deep dive into a world of obsession, joy, exploitation and wonder – a place where the truth is stranger than fiction.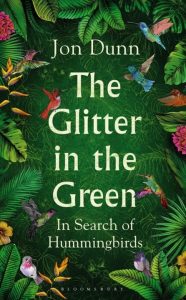 The Glitter in the Green
By: Jon Dunn
Hardback | June 2021
All prices correct at the time of this article's publication.