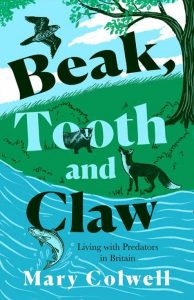 With the recent return of the white-tailed sea eagle to Britain and the mooted return of the Lynx, living with predators is becoming a much more frequent topic of conversation. In Beak, Tooth and Claw, Mary Colwell explores our past and present relationship with predators in the UK, and considers what it might look like in the future.
Author of Curlew Moon, Mary Colwell is an award-winning conservationist, writer and producer, and has written for the Guardian, BBC Wildlife Magazine, Country Life and many other publications. She has very kindly agreed to answer some of our questions about her latest book.
Could you start by telling us a little bit about your background and how you got into conservation?
I became interested in conservation during my career at the BBC Natural History Unit, when it became clear just how much was going wrong. A lot of my work as a producer was celebrating nature, but it was apparent that the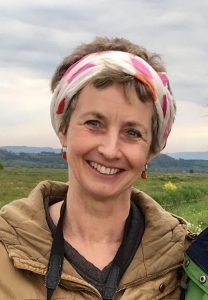 beautiful pictures were covering over a fractured, damaged world. Wild creatures are struggling to make their lives work in our increasingly human-dominated landscapes, and this rich, vibrant planet is thinning out. Over the years the press releases I read, particularly from Ireland, highlighting the decline of curlews were eye-watering. It ate away at me, this relentless destruction, and I decided I had to get more involved. Not so much in the fieldwork and practicality, but in doing what I had been trained to do – tell the stories of the earth and help make the problems accessible and understandable to people like me, non-specialists who care.
Following on from Curlew Moon, what was it that made you decide to write a book about predators?
I was naïve when I first got involved in curlew conservation, I had no idea how enmeshed they are in the biggest conservation issues we face in the 21st century, namely predator control, habitat loss to farming, afforestation and development, climate change, increasing pressure from leisure activities and so on. The predator issue seemed particularly potent in the uplands on grouse moors, but it is a source of contention everywhere. How people view predators is rarely based on science, it is shrouded in cultural attitudes and traditions. I found this interesting, and it also pointed to a way forwards. If conservationists can work with communities within their world view, on the ground projects are far more likely to succeed than trying to impose solutions on people. I don't have definitive answers, but I explore this in the book.
Carefully managed reintroduction of some of Britain's predators has already proved hugely beneficial to biodiversity, and may also pose future economic advantages. What lost species would you like to see returned to Britain next?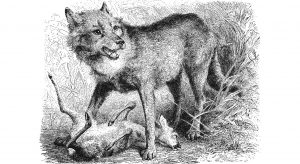 In Chapter 8 I look at reintroductions, and I think what is happening is a very good way to go. Start with wildcat then scale up. The quiet, efficient regulator of woodlands, the lynx next. If we ever find it possible to introduce wolves, it would be incredible, we would live in a very different country, both the physical landscape of Britain, but also the landscapes of our minds would change. We will be wilder in every sense. It won't be easy, in fact it is probably not possible given the direction of travel and the density of the human population, but it is tantalising to think about. I'm aware, though, that it is easy to glow with excitement about wolves in the wilds of Britain, but living with them on the doorstep will be a challenge for rural communities.
Opposing views on predators and reintroduction projects seem irreconcilable – do you think there is any way both sides of the argument can find common ground?
We will only welcome big predators back into our lives if we feel secure in their presence. As long as they are perceived as a threat to us, both physically and metaphorically, there will be opposition. The solution is to find ways that will assuage fear and highlight the positive aspects of their presence. And there are many positives as well as issues to face honestly and with understanding. There have been centuries of mis-information and vilifying which can't be unravelled quickly. This is the long game, the gentle, constant discussion of facts and the erosion of fiction. Taking away fear is not easy, but I hope we get to a place where, although it might feel like a scary and difficult step to take, we will all put our hearts behind a new, wilder world.
What's your vision for the future of conservation and rewilding in the UK? Are you hopeful or pessimistic?
This is the hardest question of all. The future of conservation and the future of rewilding seem, in some ways, like different topics. The future of conservation relies on the pincer movement of sound environmental policies that make it easier for landowners/developers etc to do the right thing, and citizens wanting to have more nature and helping make it happen. We have to incentivise land use that makes wildlife worth preserving and we have to educate people about nature and our role in the natural world – something that has been largely side-lined over the 20th century. We need to create a more nature-literate society, one where people understand the issues and can make informed decisions. Who knows if the government's 25-year plan and green vision will play out as we all hope, but it is there and it is welcome and we all have a role to play in enabling it.
Rewilding is part of that vision, but it is a catch-all term that has a variety of meanings. I take it as increasing biodiversity across Britain, rather than simply the idea that we should let nature go wild without any human interference. The way we live in the UK has made pure, unadulterated nature a dream, not a reality. There is nowhere that is wild but everywhere could be wilder. Rewilding for me is doing what needs to be done, area by area, bit by bit, to increase the net amount of nature across the UK.
Am I optimistic? On the whole, yes. My experience in starting Curlew Action gives me hope. We are a tiny charity that is only 18 months old, yet the support we have been given is amazing. 'Ordinary' people (no one is ordinary!) have supported us in a simple, clear way – they want to show how much they care for nature, and that has been so heartening. Even if many of us are not skilled in the field, we can all play a part in raising awareness and fund raising for conservation efforts to help wildlife.
Always, my advice is – pick something to love and love it. Love never comes alone, it is accompanied by barrow-loads of responsibility and care – so simply saying "I love nature" is not enough. If you love something you will move heaven and earth for it. I think many people will do that if they feel they have permission, despite not being an "expert", so yes, I am optimistic.
Do you have any projects in the pipeline you'd like to tell us about?
I am so keen to push through the long awaited plan for a GCSE in Natural History. We are just waiting for a final yes from the Department of Education – once we have that we are up and running. So I shall continue to work away at that. I am starting my next book for Bloomsbury on walking the Camino last winter in between lockdowns – a 500-mile pilgrimage across northern Spain. The natural world was a constant companion, and it got me wondering about our relationship with nature over the 1000 years people have walked this track. I am also now Chair of the newly formed, Defra supported, Curlew Recovery Partnership, a roundtable of 9 organisations and an extensive network charged with turning it around for curlews over the next 10 years. With Curlew Action work and other projects constantly ticking away, life is full and fascinating.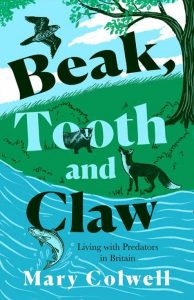 Beak, Tooth and Claw
By: Mary Colwell
Hardback | Published April 2021 | £13.99 £16.99
We have a very limited number of bookplates signed by Mary, available while stocks last.
All prices correct at the time of this article's publication.