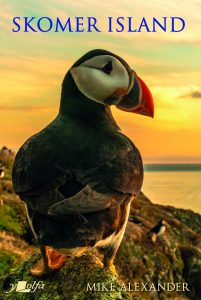 Renowned for its incredible and diverse wildlife, it is no wonder that Skomer Island receives thousands of visitors year upon year. Famous for its thriving populations of seabirds, grey seals and its vast swathes of spring flowers, Skomer is a fantastic example of how carefully managed eco-tourism works alongside conservation.
Mike Alexander was Warden of Skomer for ten years, and has had links to the island for over six decades. He is now Chair of the Wildlife Trust of South and West Wales and the Pembrokeshire Islands Conservation Advisory Committee. Illustrated with his own stunning photographs of the flora and fauna, this book is a comprehensive history of the island and its inhabitants.
Could you tell us a bit about your background and where the motivation for your book came from?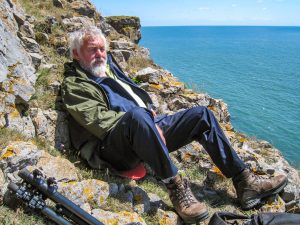 I first visited as a schoolboy in 1962, just a couple of years into Skomer's incarnation as a nature reserve, and it was a day that changed my life forever. The most overwhelming idea that stayed with me from that day was that eventually, whatever it took, I would become warden of Skomer.  I finally fulfilled that long-held childhood dream in the spring of 1976. Following 10 wonderful years on Skomer I moved to North Wales where initially I was responsible for the management of 5 spectacular National Nature Reserves and in 1991, I became responsible for supervising the management of the entire series of NNRs in Wales, a position I held for over twenty years. In 2018 I became the chair of the Pembrokeshire islands conservation advisory committee and so my commitment to Skomer continues.
I had long dreamed of writing a book about Skomer, but in truth had little idea of how I might achieve that goal. Skomer is a cultural landscape shaped over thousands of years by people striving to make a living. I wanted to show how the island has evolved in response to changing human values, attitudes and interventions. I also wanted an opportunity to demonstrate what nature conservation means in practice. Reserves like Skomer are the most powerful advocate for nature that we could possibly have. The island gives visitors an almost magical insight into somewhere that transcends our ordinary world, where one close encounter with a puffin may speak more eloquently for conservation than a thousand words ever could.
Previous to the island becoming an NNR in 1959, you mention Skomer's agricultural history. Could you tell us here a little about the island's past?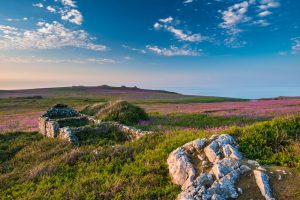 Skomer's time as a nature reserve spans barely a moment in its history. People have occupied Skomer for millennia, and archaeologist John Evans has described Skomer as possibly unique in the completeness of its archaeological remains. Present day visitors to the island can clearly pick out faint patterns of the distant past: field systems, lynchets, hut circles and more. Until recently, archaeologists and historians believed that apart from rabbit trapping and livestock grazing, the island had been abandoned after the Iron Age. However, new excavations in 2017 revealed the presence of medieval land clearance and ploughing.
During my ten years living on Skomer I became increasingly interested in the people who had lived there before me and most of all, the 19th century inhabitants who had farmed and made their living on the island. The people of the 19th century left the heaviest footprints as theirs was a time when people imposed their will on the island, shaping the land to meet their needs. This was a period of intense intervention and although it began to fade towards the end of the century, it was a time when people had the most impact on the island, its scenery and vegetation. How long will it be before the Victorian farmers' footprints fade away? We, the later islanders, have become noninterventionists, and observers of nature's progress. Ours should be the lightest of all footprints, and so perhaps the impact of the 19th century will, for now, be the most enduring of all human influences.
Recent news of Skomer's thriving populations of seabirds like the puffin and Manx shearwater offer much hope. What major changes do you think are necessary to ensure species recovery and habitat restoration in Britain?
My generation has grown up with an almost subliminal pessimism about the fate of our wildlife to the point where decline seems inevitable and we can only hope to slow the rate of it. To have seen Skomer thrive throughout its time as a nature reserve is contrary to nearly everything I have grown up to believe, and yet it is important to remember that Skomer once had the potential for so much more. We know from photographs taken around the turn of the last century, that there was a minimum island population of around 100,000 Guillemots: four times the present number. The photographs also show the grassy slopes above the cliffs thick with Puffins, where now they only form a thin fringe. Perhaps these things will not be possible again, but it is a vital reminder never to set our sights too low and to hold on to that vision of what the future could be.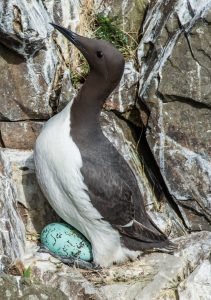 Species and habitat recovery will only happen when our policies and legislation are translated into action.  Good intentions alone will achieve nothing. It is quite ironic that despite the enormous growth in public concern and protest about the fate of our natural environment, governments are failing to provide the essential resources. 
The NNRs, along with all other protected areas, will be a central and essential component of any species and habitat recovery or restoration programme. They are the stepping stones, the vital reservoirs and the crucial resources that will enable landscape scale recovery in Britain.
With restricted movement during the Covid-19 pandemic that many are referring to as the 'anthropause', people across the globe have noticed changes to their local wildlife. How has the lack of eco-tourism affected the wildlife on Skomer during this time?
Skomer is an extremely fragile island with hundreds of thousands of seabirds. Puffins and Manx Shearwaters nest in shallow burrows, while the cliffs provide homes for thousands of Guillemots, Razorbills and Kittiwakes. As a consequence, all visitors to the island understand that they must keep to the system of marked footpaths at all times. This has made it possible for us to claim with confidence that visitors to Skomer have no impact on the wildlife that they come to enjoy. So apart from overgrown paths, there has been no significant discernible impact.
There are plenty of signs from elsewhere that wildlife has responded positively to the lack of human disturbance.  It may well be that some species will gain a short-term advantage, but I am not convinced that the impact of Covid-19 on wildlife will be anything more than a very minor, and almost irrelevant, hiccup, unless of course we can learn from the experience. We must learn to change our behaviour and realise that we will not survive on this planet if we regard unfettered consumerism as our main purpose in life. 
Do you have any other projects on the horizon you'd like to tell us about?
I will take a break from writing and concentrate on photography.  I was recently elected Chair of the Wildlife Trust of South and West Wales and I am looking forward to devoting much of my time to working for the Trust.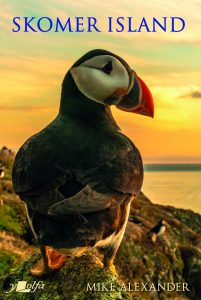 Skomer Island
By: Mike Alexander
Hardback | Due April 2021 | £29.99
All prices correct at the time of this article's publication.