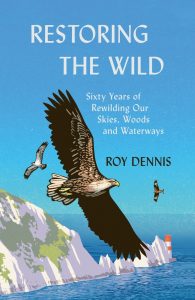 Reintroducing lost species has had a huge part to play in restoring natural processes and enriching biodiversity in Britain. In Restoring the Wild, Roy Dennis MBE documents the painstaking journey to reintroduce some of Britain's lost apex predators, and the subsequent enormous benefits to our ecosystem.
Leading up to the book's publication, Roy kindly agreed to answer some questions.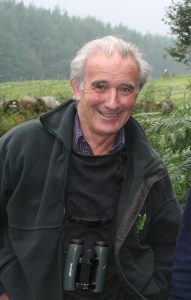 As is made clear from the title of your book, you have a long and amazing history of involvement with conservation projects. Could you begin by sharing what inspired you to pursue a career as a field ornithologist and wildlife consultant?
It really started as a youngster keen on wildlife and living in the Hampshire countryside. Becoming really good at birds and bird ringing which led to a summer job as an assistant warden at Lundy Bird Observatory, instead of going to work at Harwell Atomic Research Station. The following year I was a field ornithologist at the prestigious Fair Isle Bird Observatory, which was fantastic training. There I met George Waterston, the famous Scottish ornithologist, who persuaded me to join him the following year wardening the ospreys at Loch Garten. There I made so many friends in wildlife conservation and became totally convinced that my life was going to be about birds and conservation, restoring species and subsequently ecological restoration.
Of course the obvious aim of a reintroduction project is to bring back a species that has been lost. But in your experience what subsequent benefits are there to reintroductions?
I think in a very damaged world reintroduction projects show there is a chance to bring species back and give people hope. Some species are more important than others from an ecological point of view with beavers being the ecosystem engineer par excellence. My book explains the many advantages of restoring beavers. Other species such as red kites and white-tailed eagle are iconic species, which demonstrate that rare birds can live in the general countryside, not only in nature reserves. Then people can see and enjoy them on the way to work, school or the shops. My whole ethos has been to make rare birds more common and secure for the future.
According to the latest 2019 State of Nature report, about 162 species have thought to have become extinct since the 1500s. How is it decided what species should be prioritised for reintroduction?
It's more a question of our ability to successfully restore a species, is there enough habitat and food, can we find birds to translocate and what is the likelihood of success. I think the most important action is to take action and not be bogged down by procedures.
You spoke in your book about the opposition to reintroduction projects – what would your response be to address these concerns and opposing views?
The opposition can come from many quarters but the most important thing is to listen to all the concerns and address them. It's essential to know the species on its home patch and to be able to present a clear message. Usually people's concerns can be allayed; for example I write in my book about making a special recce to the Netherlands to speak to the experts about white-tailed eagles and agriculture, so that we could give considered views before starting the Isle of Wight project. We have had complaints from some birders that the translocated ospreys at Rutland Water or the sea eagles are not 'real' birds and they cannot count them on their lists. But they forget capercaillies were brought back from Scandinavia long ago. But the recent sea eagles flying in southern England have shown that birders just love to know they are back, and hopefully will breed in England again.
In the final chapter of your book you look forward to focus on newer projects, such as White-tailed Eagle reintroductions on the Isle of Wight and the South Coast Osprey Project. But what else would you like to see reintroduced to Britain in the near future?
In my last chapter of the book I'm really talking about handing over the baton to others to take projects forward. I'm very fortunate that Tim Mackrill joined me a few years ago and I love working with our small team. We are always assessing possible projects but would rather do it in a quiet way, really get to know the species on mainland Europe and talk to all the people that are likely to be involved before we go public with an idea.
White-tailed Eagles, Ospreys, Red Kites and Goldeneyes are a few of the species you have helped to successfully restore to Britain. What has been your personal highlight and why?
"What is your favourite?" is a question I've been asked all my life. But I do not have one – or rather it is the one we are working with at the time. I can recall personal highlights like the first osprey breeding pair at Rutland Water, seeing the young white-tailed eagles fly free on the Isle of Wight was exciting just like when I released the first young sea eagle on Fair Isle in 1968. Seeing red kites, the length and breadth of Scotland and England has been special, made more so when you see them soaring over motorways. During lockdown it's been marvellous to hear from so many people who have seen a sea eagle fly high over them as they sit in their garden. Bringing wonder back.
The Roy Dennis Wildlife Foundation has achieved a great deal over the years since it was formed in 1995, not just in the UK but across Europe too. Can you share what the Foundation has planned for the future?
We want to carry on with our work with wildlife conservation, there are still many things to do and the return of the Lynx is high in my thoughts. We have others in mind for the future so keep an eye on our website and see what's coming next. You will get a great insight to how these projects evolve and work in Restoring the Wild.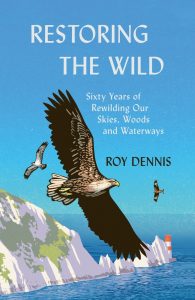 Restoring the Wild: Sixty Years of Rewilding Our Skies, Woods and Waterways
By: Roy Dennis
Hardback | Due April 2021 | £16.99 £18.99
All prices correct at the time of this article's publication.