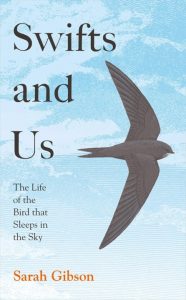 Whirling swifts overhead are evocative of early summer, and their arrival to the UK brings joy to many. In Swifts and Us, Sarah Gibson explores what is currently known about swifts and their ancestry, while also addressing some of the contributing factors to their huge decline over the last few decades. She meets key experts and researchers as well as many determined individuals, all advocating for change to ensure the swifts' survival.
Sarah Gibson is Press Officer for Shropshire Wildlife Trust, as well as Editor of the members' magazine. She also regularly writes nature columns for her local magazines and newspapers. Sarah has kindly agreed to answer some of our questions below.
Firstly, could you tell us about where the motivation for your book came from?
I'd become passionate about swifts since moving into a town from the country.  Then I had a long period of illness and would be exhausted after the briefest of conversations and couldn't even walk up my street – I was so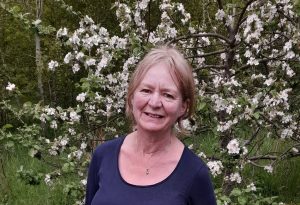 slow I would be overtaken by very old people on Zimmer frames. It seemed as though I'd hit 97 five decades prematurely.
Then I got better and decided it was time to do something new with my life – alongside my now part-time job at Shropshire Wildlife Trust. I knew I could string words together, so decided to research and write a book about swifts to try and inspire others to love and take action for them too.
During your research, did you discover anything especially interesting that you were previously unaware of about swifts?
That hummingbirds are the swift's closest relatives! Fossil evidence from 52 million years ago found in Wyoming, USA, revealed a bird that is the forerunner of both. The characteristic common feature is a super-strong, stout humerus bone, that would enable the swift to endure and flourish in perpetual flight and the hummingbird to flap its wings 50 times per second as it hovers over flowers collecting nectar. Their shared ancestry seems less surprising when you think about the intense aerial demands of both birds. 
Your book features exceptional and inspirational people that have fought to ensure nest spots are protected and accessible for returning swifts. Do you have any particular highlights or success stories that you'd like to talk about here?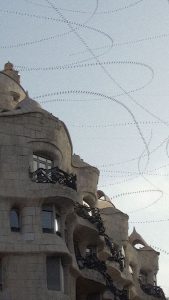 The Crescent Art Centre in Belfast is a cross-community cultural hub, bringing people together from all backgrounds.  It also has a thriving colony of swifts and when major renovation work began 12 years ago, the architects and builders worked with a local swift champion to ensure that access to the original nesting holes was retained and additional holes provided by integrating nest bricks into the walls. This is a great example of how renovation doesn't have to lead to ruin for swifts.  It can be achieved, if thoughtfully carried out. This swift colony is now a living emblem of the arts centre and its aspirations – uniting people across boundaries. 
What role can citizen science play in surveying and monitoring swifts?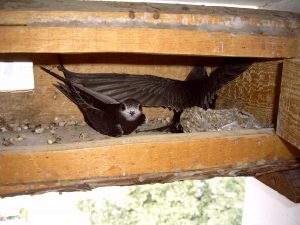 Local surveys to identify swift breeding sites are very valuable. Knowledge of swift colonies can at times make it possible to work with building owners when renovation works are planned, so that nesting holes can be retained. When the data is fed through to local biological records centres, the presence of swifts in particular areas will be flagged up to planners who will sometimes, but not always make it a condition for development that nest bricks should be integrated into buildings.
The RSPB's SwiftMapper is a useful tool and you can find out about surveying with local swift groups from Action for Swifts or Swift Conservation.
Habitat destruction, climate change and a stark reduction in their food supply are just a few factors contributing to the decline of swifts over the past 20 years – the odds appear completely stacked against them. Post-research for your book, do you feel any optimism for the future of these incredible birds?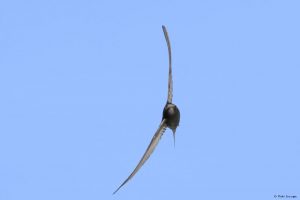 Contemplating the global crisis in nature can lead to despair. Our inability to prevent the destruction of wild habitats and the wild creatures that depend on it strikes deep into our souls, but worrying about the future cripples our ability to act, so I try to live in the present. It is what we do now that will shape the future and we need all of our energy to bring better times.
Climate change is inextricably linked to the degradation of nature. At last, there seems to be a glimmer of awakening at a political level to the fact that nurturing nature is essential for all our sakes. The campaign for 30% of land and sea to be protected by 2030 across the world brings hope but it needs a radical reset of values to be achieved.  All of us though, can do something to help bring it to reality. 
Do you have any current projects or plans for further books that you'd like to tell us about?
I've just been down to my local cemetery where there's a project to turn the unmarked graves area into a wildflower meadow.  The yellow rattle seed we sowed last August is coming up, along with cowslips and violets.  It will be a living memorial for those buried beneath and will attract bees and other pollinators.  I'm also keeping an eye on the eaves of a medieval building managed by the town council. Restoration work on the timbers last autumn included six bespoke swift nest boxes – fingers crossed! 
There will be another book but I haven't written it yet.  It will explore the connectedness of people with nature but I can't reveal more just now.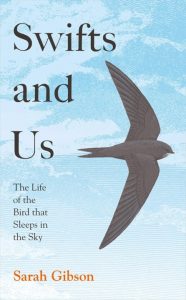 Swifts and Us
By: Sarah Gibson
Hardback | Published May 2021 | £16.99
We have a very limited number of bookplates signed by Sarah, available while stocks last.
All prices correct at the time of this article's publication.