On Friday 12th February the Bat Conservation Trust held their Big Bat Skills Event, which was run online via Zoom and breakout sessions. We were lucky enough to attend several sessions including the Introduction to Kaleidoscope for Bat Analysis run by Wildlife Acoustics – where we learned more about the many uses of Kaleidoscope software, Titley Scientific's session on their product range and Anabat Insight software, Thermal Imaging by Dr Kayleigh Fawcett Williams and Emergency Bat Care for Ecologists by Maggie Brown. We cover a couple of these in a little more detail below.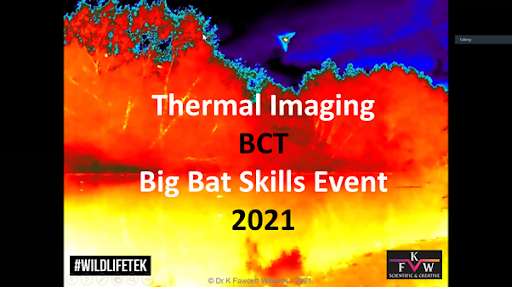 We joined the session on thermal imaging run by Dr Kayleigh Fawcett Williams to learn more about how this equipment is being used in ecological consultancy. Most participants were new to thermal imagery, so Dr Fawcett Williams walked us through the basics. She explained that thermal imaging works by picking up thermoelectrics from the environment – infrared radiation, meaning that it is not at all invasive to the animals as the scopes emit no light (as opposed to night vision cameras that use infrared to light up the subjects).
Dr Fawcett Williams went through the benefits and applications of thermal imaging, and provided this helpful link to a copy of her Thermal Imaging: Bat Survey Guidelines published in association with the BCT.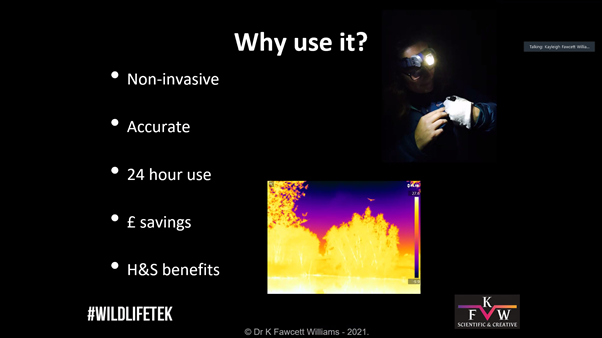 The benefits of this survey method were explained, including: ability to use at all times of day and for long durations and cost effectiveness due to lack of man power needed. Thermal imaging can reduce the risk of false positives when it comes to identification of species and also provide a wider picture of landscape or infrastructure use by illustrating patterns of activity. She also highlighted that it is good for multidisciplinary work (e.g. for firms that work with engineers) as it has a range of applications that are not just ecology based.
Dr Fawcett Williams explained the difference between using thermal imaging as a survey 'aid' – assisting normal survey work, with live results, usually with lower end equipment; and using it for the entire survey 'method' – where higher accuracy is needed and results are analysed at a later date. When surveying for bats, Dr Fawcett Williams recommended using static detectors alongside thermal imaging but noted that the thermal imaging devices have a much longer detection range than static detectors and will pick up more than the static detectors. It is also vital that the time stamps of both devices are lined up so that they are able to be used in unison.
She also made sure to comment that thermal imaging devices cannot see through solid objects but pick up heat patterns which can often be things other than your target species (such as moisture). Thermal imaging is designed to be used for active animals and is therefore not recommended as a replacement for surveys such as internal roost surveys, especially as thermal imaging devices cannot pick up torpid bats.
It was then time to move onto the next session: Emergency Bat Care for Ecologists by Maggie Brown. This session focused on what to do if you came across an injured bat during an ecological survey.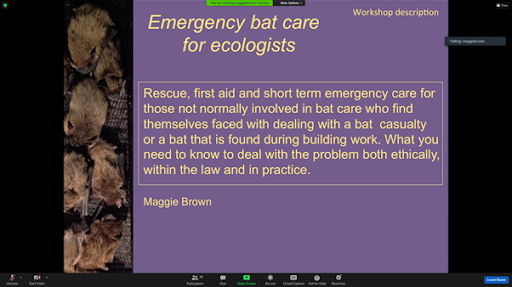 She explained that bats are protected by law and that while only licensed individuals should be in contact with bats, first aid is considered emergency care and so this can be administered without a license. That being said, you will need to be able to justify any contact you have had with a bat so she strongly suggested that you keep records of the encounter.
Reasons that you would have to perform emergency care for bats were covered, such as when the individual is:
Exhausted or disoriented
Trapped and prevented from returning home
Too badly injured to fly and return home
Disturbed or have lost their roost
A flightless baby and has little or no fur; undeveloped wings but oversized thumbs and toes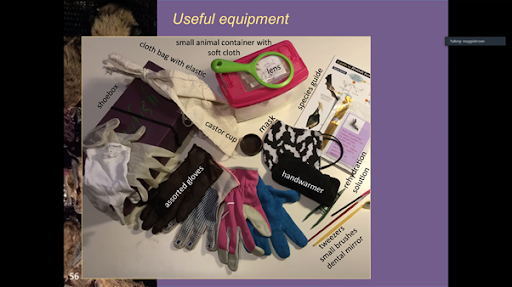 She covered how to know when a bat needs food, how to feed them and how to recognise and deal with dehydration. Great emphasis was placed on the fact that you should always wear gloves for any contact with bats due to the potential risk of them having a strain of rabies (EBLV), and that for this reason some vets may refuse to treat them. It is very important to recognise how much care you would be able to provide yourself and when it is best to pass the care onto a long term bat carer or enlist the help of a vet.
If you think that you may end up in a situation where you need to administer emergency bat first aid, I would highly recommend attending one of Maggie Brown's very informative sessions and, when possible, formal training.
The BCT website is also a useful resource, offering advice on emergency bat care and providing information about the opportunities available for those looking to volunteer.
Overall, the day was very interesting and educational, and it was nice to see such a range of skill sets attending the workshop as well as the enthusiasm shared by all.
You can stay up to date with upcoming BCT events by signing up to the BCT mailing list.