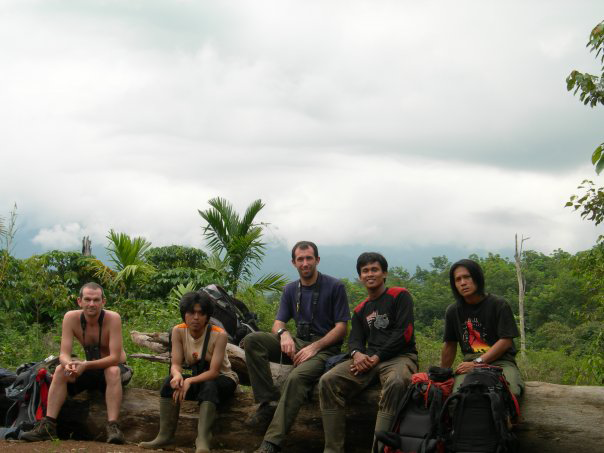 Birds of the Indonesian Archipelago: Greater Sundas and Wallacea is a new field guide dedicated to this major region which contains a massive 13% of the world's avian biodiversity. Featuring over 2,500 illustrations, it describes all 1,417 bird species known to occur in the region.
Co-authors James Eaton and Nick Brickle share some of their birding insights and in-depth knowledge of the region's avifauna in this interview with NHBS.
Could you tell us a little about how you became interested in birding and what drew you to this region in particular?
James – My Grandmother gave me a copy of Benson's Observer's Book of Birds when I was six, and, wanting to see some of the birds in the illustrations in real life, my father agreed to take me to the local nature reserve to look for them, and from that point on it became an obsession!
Nick – Similar story. I got hooked before I was 10 years old, partly thanks to Choughs, Peregrines and my dad's old binoculars on family holidays to Pembrokeshire. Ten years later and I found myself surveying White-winged Ducks in Sumatra and never looked back.
What inspired you to create a field guide that covers the entire Indonesian Archipelago? It must have been quite a challenge to cover such a diverse region.
All four of us are pretty obsessed with the region's birds, both as a hobby and professionally, and all of us have travelled pretty widely in the region over many years. During this time the region has gone from having no bird field guide at all, to having a variety of books covering different parts of it; some now already long out of print. We all decided it was time to put our passion into a project that could do justice to the spectacular diversity to be found here, and so agreed to work together to create the new guide.
Could you explain a little about the unique biogeography of the region which makes it such a biodiversity hotspot?
Hard to sum it up in a sentence! It's a fantastic combination of Asian and Australasian bird families, spread across 1000s of islands, with Wallace's famous line running down the middle, and spectacular endemism throughout. For more, read the biogeographical history section in the introduction to the field guide!
Who is your target audience for the book?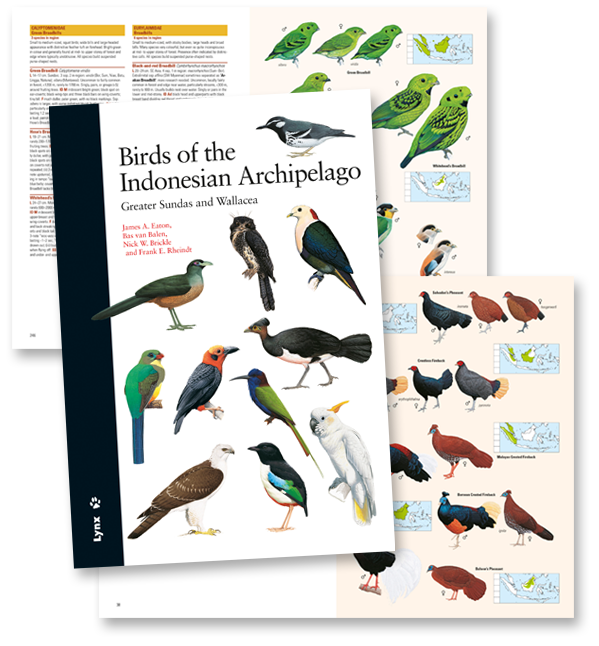 Anyone with an interest in the birds of the region! Visiting and resident birdwatchers are the obvious user, but given that it includes over 13% of the world's birds, anyone with an interest in birds should enjoy it. In due course we also hope to produce an Indonesian language version of the guide, so as to make it more accessible to the growing number of local birdwatchers.
For someone visiting the area for the first time, what are some of the most exciting sites, and the key species that you recommend looking out for?
Where to start! Within Indonesia, the best places for an introduction are probably the mountains and forests of West Java, which are easy to visit from Jakarta, and where many of the most sought after Javan endemics can be seen; or perhaps North Sulawesi, where a trip to see hornbills, endemic kingfishers and Maleo can be combined with beaches and diving; or Bali, where one of Indonesia's rarest and most spectacular birds – the Bali Starling – can be seen with a short trip from the beach resorts.
Another choice for an easy introduction is the Malaysian state of Sabah in the north of Borneo. Here many spectacular and endemic birds can be seen from the comfort of first-rate hotels, including Great Argus and the completely unique Bristlehead. After that, the opportunities are limitless!
How do you kit yourself out for a birdwatching trip to the region, and can you recommend a great birding gadget or app?
At the simplest, you don't need much more than a pair of binoculars (and maybe a rain coat or umbrella!). Beyond that it depends a bit on where you are going and what you'd like to see: a telescope can be useful, but is rarely essential, sound playback or recording equipment can be very useful, a camera if you like to take photos, camping equipment if you plan to visit very remote regions. If you plan to explore off the beaten track (and there are lots of parts of the region that qualify as this!) then a phone and google maps can be a surprisingly useful way to look for patches of forest, and then all you need to do is try and make your way towards them!
Do you have any favourites among the species in the guide? Are there any that proved particularly elusive or challenging to observe?
James – Difficult question, can I give two answers? One would be Helmeted Hornbill. Such an iconic bird that symbolises the region's rainforests. You know when you hear the bird's incredible mechanical laughing call you are in the rainforest, but equally you are reminded how it is disappearing from many areas due to illegal hunting for its casque. Another would be Bornean Ground Cuckoo. Once a mysterious bird, largely unknown due to its shy nature, feeding on the rainforest floor, but now as our understanding of the species has grown it is possible to see it. Nothing gets the adrenalin pumping quite as much as looking for this species.
Nick – Too many to choose from! For me it would have to be something that walks on the ground… pretty much any pitta, pheasant or partridge is a candidate. Maybe Banded Pitta (any of the three species…)? Or the spectacular Ivory breasted Pitta? Then of course there is Rail Babbler… Actually, more often than not my favourite is the last new species that I have seen, or the next new one that I want to see!
With so many endemic species, there must be some that fill very specific ecological niches?
Endemism is very high in the region, and many species are only found within very small ranges, such as Boano Monarch on an island only 20km wide, or Sangihe Island, only 40km long at its widest point, and with five endemic bird species. Damar Flycatcher too, found in the dark understorey of a tiny island that requires two days' boat travel from the nearest city. Kinabalu Grasshopper Warbler is only found on the top of two mountain tops in Borneo. When it comes to specific niches, however, small island endemics are often the opposite, in that they often expand their niche due to the absence of competitors. Birds filling very specific niches are probably more a feature of the large islands groups like Borneo and Sumatra, where the overall diversity is much greater.
It is quite well publicised that one of the biggest threats to the conservation of all Indonesian species is rapid deforestation to create palm oil plantations. Are there other threats to bird species which also need to be highlighted?
Deforestation is a big issue. There has been a huge loss of forest over the last decades, but vast areas still remain, and their value is finally starting to be more widely recognised. Hunting for the captive bird trade also remains a huge threat, particularly to those species most desired as pets, such as songbirds and parrots. Local and international groups are working hard to try and reduce this trade, in particular the public demand, but there is still much work to be done to change attitudes.
How can the international community help to support conservation efforts?
As birdwatchers one of the simplest and best things you can do is to visit the region and go birdwatching! Coming here, spending time, spending money, staying in local hotels, eating local food, using local guides, all serves to create a value to the forests and the wildlife that lives in them. This is not lost on local people or the regional governments. Beyond that think carefully about the products you buy from the region, to make sure they come from sustainable and fair sources. If you have money invested make sure that is not going to support destructive or exploitative practices in the region. Finally, support a good cause! There are many, many local NGOs established and emerging in Indonesia and the wider region, all working and lobbying hard to protect the region's forest and wildlife. Your support will help them achieve this.
Birds of the Indonesian Archipelago: Greater Sundas and Wallacea is available now from NHBS