Conservation Land Management (CLM) magazine is designed for those involved in managing land for conservation, and is an invaluable source of information on good conservation management practice. Here, Assistant Editor Catherine Mitson provides a summary of the range of articles featured in the new Summer issue.
Monitoring and surveying techniques in conservation and ecology are constantly changing and improving. The use of thermal imaging is one example of a non-invasive method that is becoming a popular choice for those involved in wildlife surveys. Dan Brown, ecologist and founder of Wild Discovery, provides an overview of thermal imaging and the potential for its wider application in species monitoring, surveying and ecological consultancy, while still keeping some of its limitations in mind.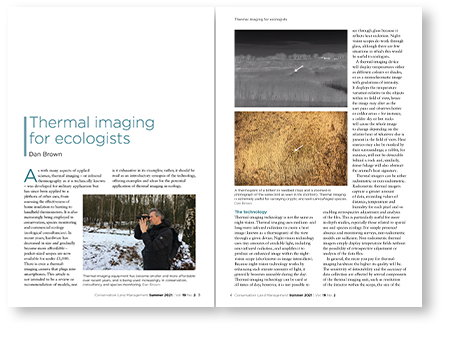 Citizen science also plays an important role in species surveys, and Claire Boothby, Training and Surveys Officer for the Bats in Churches project, describes an opportunity for the public to get involved in bat surveys. Bats can often be found roosting in churches, but due to the open roof structure of many of these buildings, the architecture and items housed inside are susceptible to damage from bat droppings and urine, to the despair of church users. The Bats in Churches project is trialling mitigation measures to enable both humans and bats to use churches harmoniously. This article showcases some churches where these mitigation measures have been implemented successfully and describes how the public can take part in the Bats in Churches Study to improve our current knowledge of how bats use churches.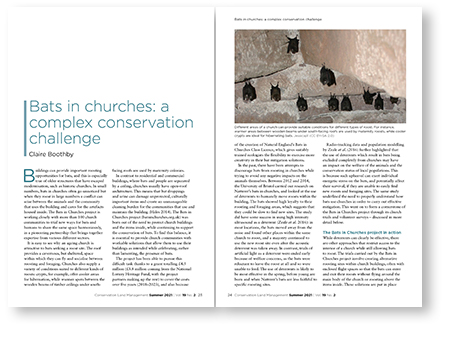 Also in this issue, James Adler and Steve Proud describe the Pirbright Red Deer Project. The Pirbright Range Danger Area (RDA) in Surrey is one of the most extensive and least disturbed tracts of heathland in southern Britain but as this is an active firing range, traditional means of heathland management are not practical. Instead, red deer have been used for conservation grazing to keep vegetation in check, to the benefit of the rarities found at Pirbright. This article discusses the importance of Pirbright and the development, rationale, and results to date of the Red Deer Project.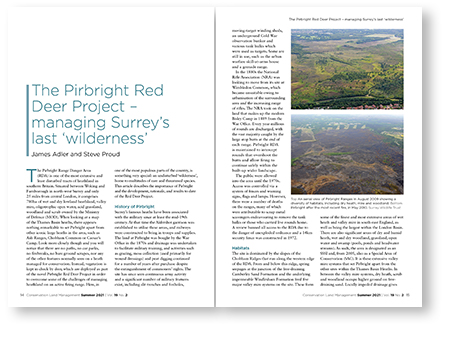 Jos Milner takes us north to the Cairngorms National Park where the Our Water Environment project, delivered by the Tomintoul & Glenlivet Landscape Partnership, has set out to restore and enhance the river Avon catchment. Here the river bank has suffered from bank erosion and sedimentation as a result of overgrazing and loss of riparian tree cover. This article explains how green engineering techniques, which use natural materials such as logs or coir matting as a form of bank protection, have been implemented on the River Avon, and how these could provide an opportunity for landscape-scale river restoration.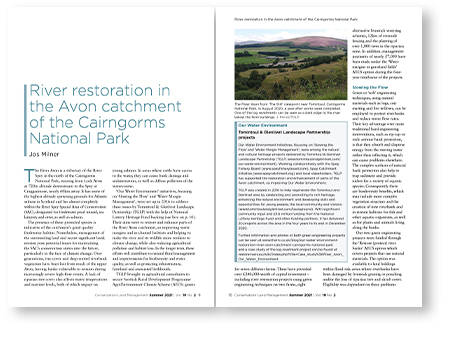 The final article in the Summer issue looks at how one farmer changed the way he farms to benefit wildlife. Martin Lines is a third-generation farmer and contractor, and with the advice provided by Farm Wildlife, he no longer uses insecticides on his land and has instead shifted to an Integrated Pest Management approach. Kathryn Smith and Martin Lines discuss what this has meant for practical farming operations, and the impact this has had on both crop yields and wildlife.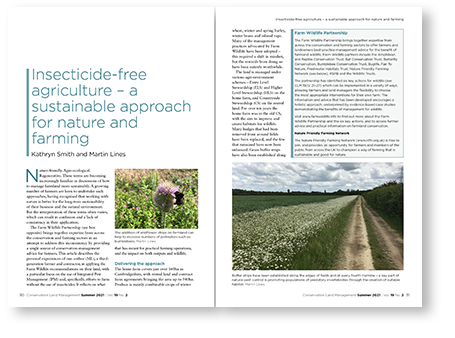 In this and every issue you can expect to see Briefing, keeping you up to date on the latest training courses, events and publications, and On the ground which provides helpful tips or updates on products relevant to land management.
Other features that regularly appear in CLM include Viewpoint, a similar length to our main articles, but here authors can voice their own views on various conservation issues, and Review, which can include letters from readers or updates from our authors.
CLM is published four times a year in March, June, September and December, and is available by subscription only, delivered straight to your door. Subscriptions start from £22 per year. Previous back issues are also available to purchase individually (subject to availability).
If you are involved in a conservation project and think your experiences could be useful to other practitioners, we would love to hear from you. If you are interested in writing for CLM feel free to contact us – we will be happy to discuss your ideas with you.