In just a few weeks, the UK will host the UN's 26th Climate Change Conference, COP 26, in Glasgow. In an editorial in the October issue of British Wildlife, David Stroud, former Senior Ornithologist at JNCC and co-author of International Treaties in Nature Conservation: A UK Perspective, describes the build-up to the conference and what we can expect from the event itself. The editorial is shared in full below.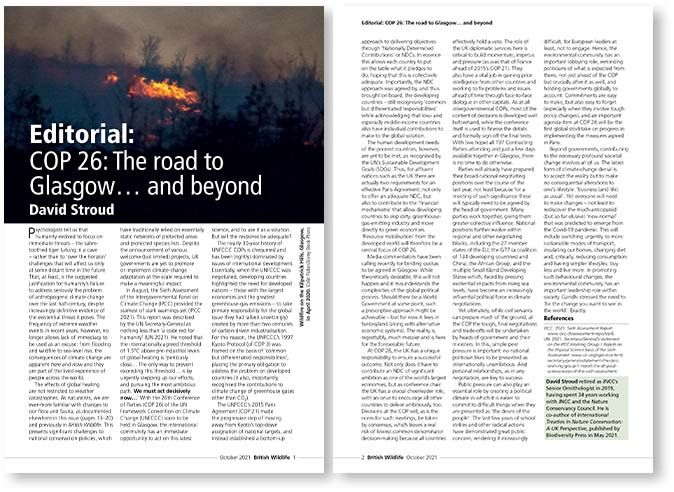 Psychologists tell us that humanity evolved to focus on immediate threats – the sabre-toothed tiger lurking in a cave – rather than to 'over the horizon' challenges that will affect us only at some distant time in the future. That, at least, is the suggested justification for humanity's failure to address seriously the problem of anthropogenic climate change over the last half-century, despite increasingly definitive evidence of the existential threat it poses. The frequency of extreme weather events in recent years, however, no longer allows lack of immediacy to be used as an excuse: from flooding and wildfire to sea-level rise, the consequences of climate change are apparent here and now and they are part of the lived experience of people across the world.
The effects of global heating are not restricted to weather catastrophes. As naturalists, we are ever-more familiar with changes to our flora and fauna, as documented elsewhere in this issue (pages 13–20) and previously in British Wildlife. This presents significant challenges to national conservation policies, which have traditionally relied on essentially static networks of protected areas and protected species lists. Despite the announcement of various welcome (but limited) projects, UK governments are yet to promote or implement climate-change adaptation at the scale required to make a meaningful impact.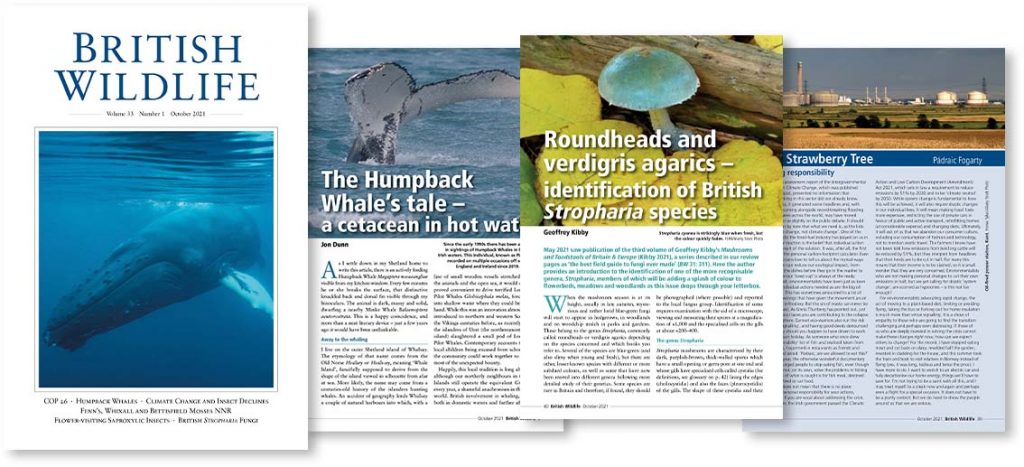 In August, the Sixth Assessment of the Intergovernmental Panel on Climate Change (IPCC) provided the starkest of stark warnings yet (IPCC 2021). This report was described by the UN Secretary-General as nothing less than 'a code red for humanity' (UN 2021). He noted that the internationally agreed threshold of 1.5°C above pre-industrial levels of global heating is 'perilously close… The only way to prevent exceeding this threshold… is by urgently stepping up our efforts, and pursuing the most ambitious path. We must act decisively now…' With the 26th Conference of Parties (COP 26) of the UN Framework Convention on Climate Change (UNFCCC) soon to be held in Glasgow, the international community has an immediate opportunity to act on this latest science, and to use it as a solution. But will the response be adequate?
The nearly 30-year history of UNFCCC COPs is chequered and has been (rightly) dominated by issues of international development. Essentially, when the UNFCCC was negotiated, developing countries highlighted the need for developed nations – those with the largest economies and the greatest greenhouse-gas emissions – to take primary responsibility for the global issue they had (albeit unwittingly) created by more than two centuries of carbon-driven industrialisation. For this reason, the UNFCCC's 1997 Kyoto Protocol (of COP 3) was framed on the basis of 'common but differentiated responsibilities', placing the primary obligation to address the problem on developed countries (it also, importantly, recognised the contributions to climate change of greenhouse gases other than CO2).
The UNFCCC's 2015 Paris Agreement (COP 21) made the progressive step of moving away from Kyoto's top-down assignation of national targets, and instead established a bottom-up approach to delivering objectives through 'Nationally Determined Contributions' or NDCs. In essence this allows each country to put on the table what it pledges to do, hoping that this is collectively adequate. Importantly, the NDC approach was agreed by, and thus brought on board, the developing countries – still recognising 'common but differentiated responsibilities' while acknowledging that low- and especially middle-income countries also have individual contributions to make to the global solution.
The human development needs of the poorest countries, however, are yet to be met, as recognised by the UN's Sustainable Development Goals (SDGs). Thus, for affluent nations such as the UK there are actually two requirements for an effective Paris Agreement: not only to offer an adequate NDC, but also to contribute to the 'financial mechanisms' that allow developing countries to skip dirty, greenhouse-gas-emitting industry and move directly to green economies. 'Resource mobilisation' from the developed world will therefore be a central focus of COP 26.
Media commentators have been calling recently for binding quotas to be agreed in Glasgow. While theoretically desirable, this will not happen and it misunderstands the complexities of the global political process. Should there be a World Government at some point, such a prescriptive approach might be achievable – but for now it lives in fantasyland (along with alternative economic systems). The reality is, regrettably, much messier and is here for the foreseeable future.
At COP 26, the UK has a unique responsibility to ensure a successful outcome. Not only does it have to contribute an NDC of significant ambition as one of the world's largest economies, but as conference chair the UK has a crucial cheerleader role, with an onus to encourage all other countries to deliver ambitiously, too. Decisions at the COP will, as is the norm for such meetings, be taken by consensus, which leaves a real risk of lowest common denominator decision-making because all countries effectively hold a veto. The role of the UK diplomatic services here is critical to build momentum, impetus and pressure (as was that of France ahead of 2015's COP 21). They also have a vital job in gaining prior intelligence from other countries and working to fix problems and issues ahead of time through face-to-face dialogue in other capitals. As at all intergovernmental COPs, most of the content of decisions is developed well beforehand, while the conference itself is used to finesse the details and formally sign off the final texts. With (we hope) all 197 Contracting Parties attending and just a few days available together in Glasgow, there is no time to do otherwise.
Parties will already have prepared their broad national negotiating positions over the course of the last year, not least because for a meeting of such significance these will typically need to be agreed by the head of government. Many parties work together, giving them greater collective influence. National positions further evolve within regional and other negotiating blocks, including the 27 member states of the EU; the G77 (a coalition of 134 developing countries) and China; the African Group; and the multiple Small Island Developing States which, faced by pressing existential impacts from rising sea levels, have become an increasingly influential political force in climate negotiations.
Yet ultimately, while civil servants can prepare much of the ground, at the COP the tough, final negotiations and trade-offs will be undertaken by heads of government and their ministers. In this, simple peer pressure is important: no national politician likes to be presented as internationally unambitious. And personal relationships, as in any negotiation, are key to success.
Public pressure can also play an essential role by creating a political climate in which it is easier to commit to difficult things when they are presented as 'the desire of the people'. The last few years of school strikes and other radical actions have demonstrated great public concern, rendering it increasingly difficult, for European leaders at least, not to engage. Hence, the environmental community has an important lobbying role, reminding politicians of what is expected from them, not just ahead of the COP but crucially after it as well, and holding governments globally to account. Commitments are easy to make, but also easy to forget (especially when they involve tough policy changes), and an important agenda item at COP 26 will be the first global stocktake on progress in implementing the measures agreed in Paris.
Beyond governments, contributing to the necessary profound societal change involves all of us. The latest form of climate-change denial is to accept the reality but to make no consequential alterations to one's lifestyle: 'business (and life) as usual'. Yet everyone will need to make changes – not least to rediscover the much-anticipated (but so far elusive) 'new normal' that was predicted to emerge from the Covid-19 pandemic. This will include switching urgently to more sustainable modes of transport, insulating our homes, changing diet and, critically, reducing consumption and having simpler lifestyles: buy less and live more. In promoting such behavioural changes, the environmental community has an important leadership role within society. Gandhi stressed the need to 'be the change you want to see in the world'. Exactly.
References
IPCC. 2021. Sixth Assessment Report.
UN. 2021. Secretary-General's statement on the IPCC Working Group 1 Report on the Physical Science Basis of the Sixth Assessment.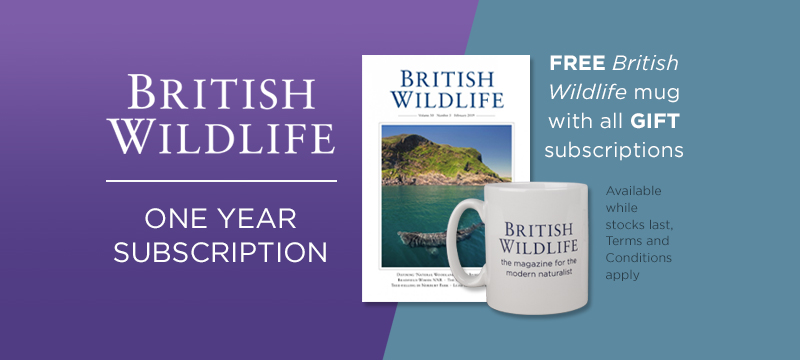 Subscriptions to British Wildlife start from £35 – for more information or to subscribe, visit the website. Individual back issues are available to purchase through the NHBS website.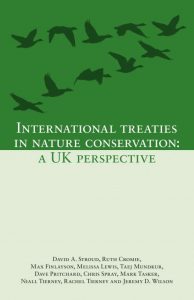 International Treaties in Nature Conservation: A UK Perspective
By David Stroud et al.
Paperback | Published May 2021 | £19.99
Read our interview with the author.
All prices correct at the time of this article's publication.