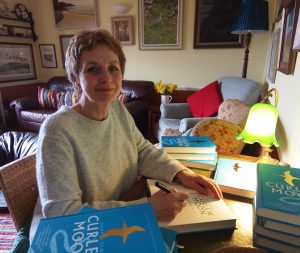 Mary Colwell is an award-winning writer and producer who is well-known for her work with BBC Radio producing programmes on natural history and environmental issues; including their Natural Histories, Shared Planet and Saving Species series.
Her new book, Curlew Moon, documents her 500-mile journey from the west coast of Ireland to the east of England to raise awareness and funds for the Curlew, now one of the UK's most threatened birds. Part travel diary and part natural history, the book is also a beautiful exploration of the way in which the Curlew appears in local myths, culture and language.
We were delighted to chat with Mary about the book and about her fight to save the UK Curlew population before it's too late.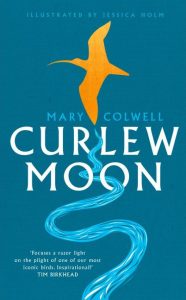 I guess I'll start with the obvious question – why Curlews? What is it about them that captivates you and has made you dedicate so much time and energy to raising awareness for their conservation?
That's perhaps the most difficult question. I honestly don't know why Curlews in particular, other than I love the way they look, how they sound and where they live. Those calls over wetland and meadow or over mountain slopes are soul-grabbing. W S Graham described the Curlew's call as a 'love-weep' a melancholic, yearning, beautiful sound. I grew up in the Staffordshire Moorlands and back then, in the 70s, they were common, so perhaps they infiltrated my brain! What I found on the walk is that many people feel the same. To know them is to love them. And over the last few years, as I became aware of what was happening not out on the savannah or in a rainforest, but right here under our noses, I decided to try to help. A contract with the BBC Natural History unit came to an end and the next day I started to plan the walk.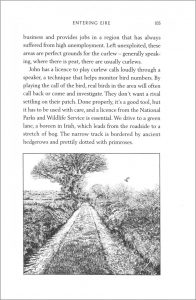 Where I live in North Wales, on the banks of the Menai Straights, the sight and sound of curlew are very common. Living somewhere like this, you could easily believe that they are both abundant and thriving here in the UK. Do you think that this, along with a lack of understanding of their complete natural history (e.g. the types of habitat they require to breed, food sources and predator pressures) contributes to masking the problems they face?
For sure that is the case. The UK and Ireland population of Curlew are boosted by winter visitors. From August to March as many as 150,000 Curlews rest up and feed ready for the breeding season. But come the warmer months most disappear back to N Germany, Scandinavia or Finland, leaving our own breeding birds thinly scattered. Also, as Curlew don't breed until they are at least 2 years old, juveniles may well spend all year on the coast. The story of loss is in the fields and meadows. A Curlew's life is complicated, and we are only just getting to grips with that. It needs whole landscapes to feed, roost, nest and over-winter. They bind the coast to the mountains and country to country. It's hard to understand, but worth the effort. They really are fascinating.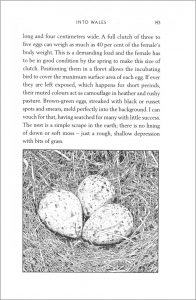 Poetry features heavily in the book and I absolutely loved how you explore the myriad ways in which the curlew features in the myths, legends and cultures of the areas you passed through. (I am currently in the process of moving to Clynnog Fawr so I was particularly thrilled with the tale of St. Beuno!). Why did you choose to style the book in this way rather than writing a more prosaic natural history and travel diary?
I think being a producer on Radio 4's Natural Histories for two series deepened my understanding of just how much the life around us has contributed to art, literature, poetry, science, folklore and spirituality. For all of our time as humans on earth we have looked at the natural world and forged connections. We still do that today. Part of the reason for the walk was to discover how curlews have inspired us. I had known about the lovely story of St Beuno and the Curlew for a long time – enchanted by it – so I knew there must be more out there. And there certainly is!
Particularly at a time where it seems that we are encouraged to value wildlife primarily for how it can benefit us, and 'ecosystem services' type approaches aim to put a monetary value on our wild spaces and creatures, do you think the arts have an important role in highlighting and championing those species that might otherwise fade away without notice?
Yes of course, anything that helps us to re-engage with nature is vital, be that through arts or science or economics. People are complicated – each of us has so many facets, rolled into one being. We are consumers, parents, children, lovers, friends. We are both rational and irrational, emotional and calculating, loving and full of division. Spiritual, religious, atheist, agnostic, often all at the same time. The arts understand this complexity and great art touches all those facets. The role of the arts in our lives is incalculable, so it isn't surprising it doesn't appear on a financial spreadsheet. I'm not sure I could write a straight natural history of any animal, bird or plant. I will always want to delve into its connection to our lives.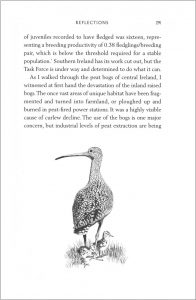 With any conservation work, it can sometimes feel as though you are swimming against the tide, with every move forward followed by two moves back. Especially with a species such as the Curlew, where there seem to be so many challenges to overcome, how do you maintain the hope required to keep fighting and how do you prevent yourself from succumbing to despair?
I touch on this a bit in the book – in the section where I walk though the middle of England with a friend who is an ex- Dominican friar, a gay activist and a writer, Mark Dowd.  He helped put my feelings into context. This wasn't a walk that will necessarily produce tangible proof of more Curlews on the ground within 5 years. Rather it is in the realm of hope –  that something good will emerge at some point. It was a walk of trust, that if you put yourself on the line, people will respond. And so I didn't walk with the aim that there would be a 20% increase in curlews in the UK and Ireland by 2020 (although that would be great), rather it was underpinned by a hope that people will be more aware of what needs to be done and will act on it. The series of workshops I organised with help from so many good people also gave me hope. We may fail, we may yet lose curlews from large areas, but, as David Attenborough once said, "As long as I can look into the eyes of my grandchildren and say I honestly did what I could, then that is all I can do." I agree with that.
My final question is of a more practical nature, as I'm fascinated by people who take time out of their lives to undertake challenging journeys. Are you a seasoned long-distance walker or is this the first walk of this length you have undertaken? How did you prepare for it, both physically and mentally?
I used to do a lot of walking, but then children came along and life changed. So for 20 years I didn't do much. But determination takes you a long way – and going to the gym. I just felt ready for the challenge and was so sure it was the right thing to do. But I did suffer from blisters! Still, a small price to pay and a good excuse to buy new boots for my most recent long distance walk – 230 miles through the Sierra Nevada in California along the John Muir Trail. That was tough, it made 500 miles along footpaths look like a stroll in the park.

Curlew Moon by Mary Colwell is published by William Collins and is available from NHBS. You can read more about Mary and her work at www.curlewmedia.com.
Signed copies of the book are available while stocks last.