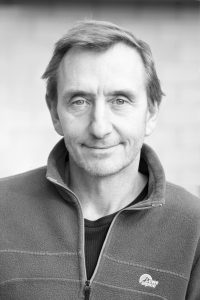 From the Sunday Times bestselling author of The Garden Jungle and A Sting in the Tale comes the much anticipated Gardening for Bumblebees. Part identification guide, part instruction handbook, Gardening for Bumblebees is packed full of information and ideas on how to create pollinator-friendly spaces for all types of garden.
As well as an award-winning author, Dave is also a Professor of Biology at the University of Sussex and founder of the Bumblebee Conservation Trust. We have recently had the opportunity to ask him some questions about his latest book.
Could you start by telling us how you came to write Gardening for Bumblebees, and how it differs from your previous book, The Garden Jungle?
Gardening for Bumblebees is a practical, full
colour, nuts-and-bolts guide to encouraging bumblebees and other pollinators in the garden, including detailed sections on choosing the best flowers, creating meadow areas, building bee hotels, propagating plants yourself, organic pest control, and more. I hope that it will inspire people, and provide them with all the knowledge they need to turn their garden into a haven for wildlife.
In your book you mention several citizen science projects, such as BeeWatch and BeeWalk, both run by The Bumblebee Conservation Trust. What is the aim of these projects, and how are they beneficial?
If we are to effectively look after our bumblebees and other wild insects we need to know where they are, and how their populations are changing over time. Then we can target conservation efforts to the species and places that most need them, and see whether the things we are doing to help are actually working. Members of the public – "citizen scientists" – have an enormously important role to play here. The UK Butterfly Monitoring Scheme is a great long-running example, whereby the efforts of thousands of unpaid volunteers now provide a really accurate picture of how our butterfly populations have changed since the 1970s.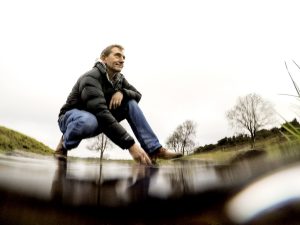 Your book is filled with fascinating facts about bees that I previously did not know. In your opinion, what have you found to be the most surprising discovery in regard to bees?
I first became hooked on studying bumblebees when I noticed how a bee in a patch of flowers will often fly up to a flower but then veer off without landing. I wondered what was wrong with these flowers. It took five years of research to find out that they were sniffing the flowers for the faint smelly footprint of a recent bee visitor – which would indicate that the flower is likely to be empty. Bees use lots of clever tricks like this to help them gather nectar and pollen efficiently. They are remarkably clever!
You mention in your book your fascination with bees from an early age. How do you think we can best encourage environmental awareness in young people?

We need to make sure that young people have regular opportunities to interact with nature, so they do not grow up regarding insects as alien, unfamiliar, and scary. I'd love to see every school having access to wild greenspace, and more support to help teachers themselves learn about nature so that they can enthuse the children. I'd also pair every school with a nature friendly farm, and provide support so that the children could visit the farm at least once or twice a year, to understand the connections between growing food and nature.
There has been much public concern regarding bees, pollination, and the future of our crops. With the increase in publicity and information on how we can make simple changes to help secure the bumblebee population, do you feel hopeful for the future?
It is great to see the growing public appetite for making gardens more wildlife friendly, and councils also reducing mowing and introducing meadow areas to parks. However, to really make a difference we need farming, which covers 70% of the UK, to move away from the current highly intensive approach, which is reliant on many pesticides. The new Agriculture Bill and Environmental Land Management Scheme might, if done properly, provide a mechanism for positive change.
Alongside the Buzz Club, a citizen science project that is focused on garden wildlife, do you have any other projects on the horizon you'd like to tell us about?
I have another book out in August 2021, Silent Earth. It is a blunt assessment of the dire plight of insects globally, but with suggestions as to how we could halt and reverse their declines. I hope it will help to persuade people that we are in a time of crisis, and that we need radical change.
Gardening for Bumblebees
By: Dave Goulson
Hardback | April 2021 | £13.99 £16.99
An inspiring practical guide to creating pollinator-friendly spaces for all types of garden, no matter how large or small your patch is.
Discover other titles by Dave Goulson below.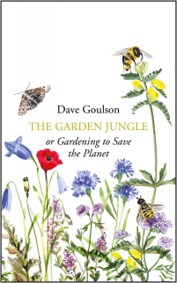 Paperback | £9.99
"An upbeat book about the wonders of the ecosystem in every garden."
– The Times, summer reads of 2019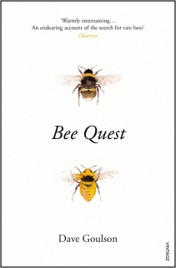 Bee Quest
Paperback | £7.99 £9.99
"Dave Goulson […] has perfected the art of turning the entomologist's technical expertise into easy-reading everyman's prose. He also laces his stories with rich helpings of wit and humour."
–  Mark Cocker, Spectator
A Buzz in the Meadow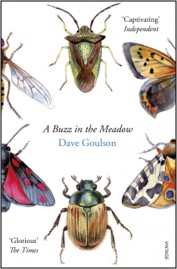 Paperback | £7.99 £9.99
"Buy this book, give it as a present. It is required reading for being a human in the 21st century."
– Matthew Cobb, professor of zoology at the University of Manchester, New Scientist
A Sting in the Tale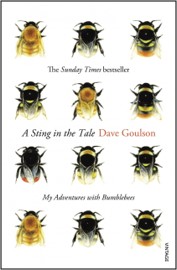 Paperback | £7.99 £9.99
"Goulson has plenty of wondrous biological stories to tell, as well as the tale of his own struggle to return the short-haired bumblebee to Britain."
– Patrick Barkham, The Guardian
All prices correct at the time of this article's publication.