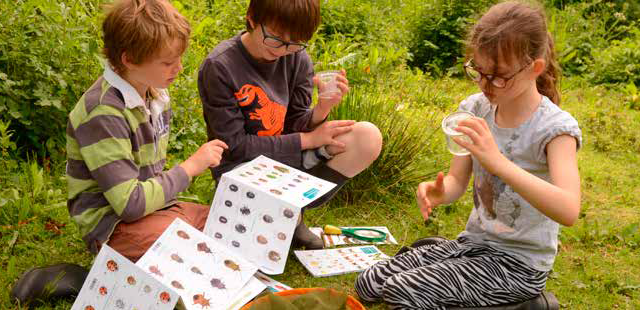 This spring is destined to be a different and difficult one for most of us. Some things, however, remain the same – the leaves and buds on the trees are unfurling, the flowers are blooming, and the outside world is gearing up for a new year of growth and renewal. If you're lucky enough to have a garden, then getting the children outside each day is a great way for them to burn off some energy and to get some fresh air and vitamin D.
With this in mind we have put together ten of our favourite garden activities, most of which are suitable for children (and adults) of all ages – although supervision may be required for the younger ones.
Learn about the insects and bugs in your garden
Insects and bugs are fascinating to children of all ages. As soon as the weather warms up in spring, the garden fills with the buzzing of flies, bees and wasps, whilst the soil teems with beetles, worms and other creepy crawlies. A butterfly or sweep net is ideal for catching flying insects and those in the long grass, while a pooter can be used to pick up tinier specimens. Or simply get down on the ground with a hand lens and see what you can find. There are lots of great field guides that will help you to identify your specimens. FSC guides, such as the Woodland Name Trail and Guide to the Butterflies of Britain and Ireland provide a great starting point. Or, for a more in-depth investigation, the Guide to Garden Wildlife covers not only insects and bugs, but also birds, mammals and amphibians. It also provides suggestions for some great nature-related activities.
Install a nest box (and watch the eggs hatch from the comfort of your home)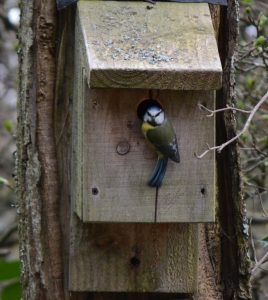 It's never too late to install a nest box. Even in late spring you may manage to entice a breeding pair of birds in time to lay a late clutch of eggs. At the very least, you will provide a useful winter roost space and the box will be ready for the breeding birds next year. You can even equip your nest box with a tiny camera which will allow you to watch all the nesting, rearing and fledging action from the comfort of your home. Kits are available which contain everything you need to get started; choose from wired, wireless or Wi-Fi options. See our blog post on nest box cameras for more information.
Learn to identify plants
Rummage around in the wilder parts of your garden and you're likely to find a wide range of plants that your little ones can study and try to identify. Even in the most manicured of outdoor spaces, you're sure to find some 'weeds' that will provide a useful starting place. This is a great way to learn about common and Latin names and to study the different parts of flowers. The Pocket Guide to Wildflower Families will help you to identify the family to which your flower belongs, and the Collins Wild Flower Guide is a beautifully illustrated guide for those wanting a more in-depth look.
Watch (and listen to) the birds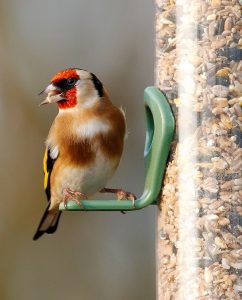 Get to know the birds in your garden by installing a feeder. During the spring there should be plenty of wild food sources for them to use, but protein-rich foods such as black sunflower seeds, mealworm and high-quality seed mixes will provide a valuable addition to their diet. (Avoid feeding fat balls and peanuts at this time of year, as they can be harmful to young birds.) If you're not sure what kind of bird you're looking at, the RSPB website has a great identifier tool which includes information on 408 species found in the UK. Once you've identified your bird, the website also allows you to listen to its song, helping you to further improve your identification skills.
For a fun garden game, why not play bird bingo? Simply draw a 3×3 grid on a piece of paper, and write the name of a common garden bird in each square. Put a cross in the square when you spot the bird – the winner is the first to cross off all nine squares.
Grow something pretty or edible
If you have space, now is a great time to sow some seeds. Sunflowers and sweet peas provide a great splash of colour in the summer and will provide food for birds (sunflower heads) and pollinators (sweet peas). Peas and beans are both easy to grow in a small space and are happy in pots. Strawberries and bush varieties of tomatoes can be grown in hanging baskets.
Making seed bombs is another excellent activity to do with children and, when planted in the garden, will provide much needed flowers for pollinating insects. The Wildlife Trusts have a recipe that's simple to make, along with a list of recommended flower seeds to include.
Be a weather watcher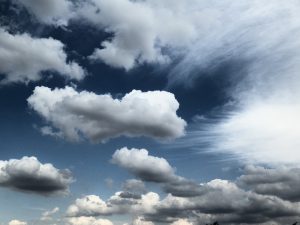 In most temperate countries (and particularly in the UK), the weather is constantly changing, making it a fascinating thing to track and record. A weather diary is a great way to do this. You can include as much information as you like, or keep it simple with just pictures for the younger children. You could even make a weather board, where the day's weather is displayed every day. Wind speed, temperature and humidity can be easily measured using an anemometer, and rainfall with a simple rain gauge. (For more economical options, use a large yoghurt container with measurements marked on the side as a rain gauge and a piece of lightweight fabric tied to a pole to track the direction of the wind).
Clouds are also endlessly interesting – learn about the different types with Weather WizKids which has lots of information and explains how they are formed, why they look the way they do and how we can use them to predict the weather. Why not also investigate some of the old-wives tales pertaining to the weather? For example, is it really true that 'swallows high, staying dry; swallows low, wet will blow', or 'Red sky at night, shepherds' delight, red sky in the morning, shepherds' warning'?
Make a pond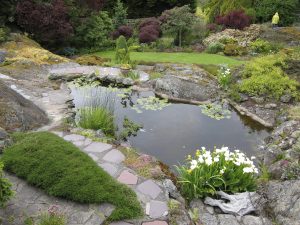 Recent surveys have shown that some amphibians, such as frogs, are now more common in garden ponds than they are in the wild. When planted with a variety of submerged and emergent plants, a pond will provide a complex environment with a variety of micro-habitats, and is also an attractive feature for the garden. Even in a small space it's easy to use a bucket or other container to create a small aquatic environment which will provide valuable habitat for amphibians, insects and lots of other species. Take a look at the Wildlife Trusts website for a step-by-step guide to making a garden pond (including a handy list of suitable aquatic plants) or this RSPB page for advice on making a mini pond from an old washing-up bowl. Always ensure that younger children are supervised around water.
Weave with nature
Weaving with natural materials is a fun activity and a great choice for several reasons: it is cheap to do and the results, while temporarily beautiful, can be composted, making it the ultimate in sustainable art. To begin, make a simple frame from four twigs, held together at the corners with a small amount of natural twine. Wind more twine from side to side around the frame leaving gaps between each winding, and then repeat in the other direction. Collect a wide selection of leaves, twigs, weeds, flowers, feathers and grass and weave into your frame in a pattern of your choice. For the best results, try and include as many different colours and textures as possible. Hang your masterpiece inside or in the garden to enjoy until the colours fade, and then throw it on the compost heap or in your garden waste bin.
Eat some weeds
Did you know that lots of the weeds in your garden are actually edible? And what's more, many contain higher amounts of trace elements like iron than their supermarket equivalents such as spinach and kale. Nettles are extremely common, very easy to identify, and can be made into a tasty soup (don't worry, they lose their sting as soon as they are cooked). Similarly, dandelion leaves, fat hen, hairy bittercress and chickweed are prevalent in most gardens and can be used as salad greens. Children will love knowing that they have picked some of their meal for free, and that they are eating the garden weeds. If you're unsure about what you're picking, there are lots of helpful guides and images on the internet. Or you can invest in a book such as Food for Free, Foraging, or the compact and economical FSC's Guide to Foraging.
Draw from nature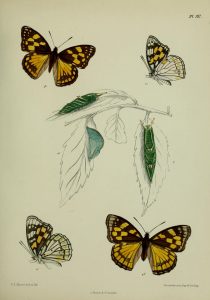 Sketching from nature was once a vital part of the naturalist's skill set. Accurate drawings of specimens, alive or dead, played a vital part in classifying and sharing information about new species. Although this process has largely been replaced by photography, the act of putting pencil to paper and studying a specimen closely enough to draw it accurately can provide an excellent opportunity to study its structure and finer details. Flowers, plants and feathers are ideal starting points as they won't fly or scuttle away; but insects, birds and other animals can also be fun to try. Keep notes of when and where your drawings were made and, over time, they can form the basis of a wonderful nature journal.
During these troubling times, we hope you can find inspiration in nature and we wish you all the best of health.
For a great selection of garden wildlife books and ID guides, take a look at the Garden Activities for Children collection at nhbs.com.