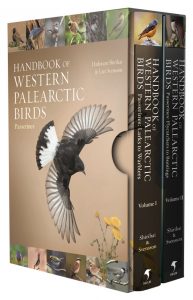 The much anticipated Handbook of Western Palearctic Birds: Passerines has been eighteen years in the making and after extensive research, exhaustive travel and years of dedication, it will finally be available at the end of July 2018. We were lucky enough to catch up with the authors Lars Svensson and Hadoram Shirihai to ask them some questions just weeks before the book is due to be published.
In this exclusive interview, Lars and Hadoram share their ambitions, endeavours and aspirations for this landmark publication.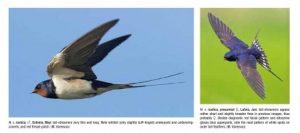 Lars: Let us say that in my case only 15 of these 18 years were spent on the new handbook. I was involved in doing the second edition of the Collins Bird Guide and some other minor projects as well within the time span. But even so, 15 years is a long time for one single book project! Still, if you would ask around among authors behind more ambitious handbooks and group monographs I am sure most would agree that it takes longer than many anticipate to create reference books of this kind. For me, the first edition of the ringers' guide took at least seven years to create and the Bird Guide about twelve (and then I did not have to paint a single plate; Killian and Dan did that work so excellently!).
The Handbook of Western Palearctic Birds (HWPB) focuses on identification, vocalisations, ageing and sexing, moult, geographical variation and taxonomy, with brief summaries of summer and winter ranges, whereas BWP covers also social pattern and behaviour, breeding biology, population size and food, all in a very detailed and scholarly fashion with local variations and references. You could say that HWPB is tailor-made for the ordinary birdwatcher and twitcher who wants an up-to-date summary of what is known about identification, ageing, sexing and taxonomy of each species. This does not say that it could not be useful also for museum workers and other professionals!
There are a few other important differences. We, Hadoram Shirihai and I, decided it was time for a handbook entirely illustrated with photographs. Camera standards had developed significantly in the 90s, and through the internet more and more brilliant bird photographs were shared. The potential was clearly there to portray all species within a large region with all plumages and geographical variation covered in photographs. Secondly, we thought it was a good opportunity to give brief summaries of the various subspecies that were deemed distinct enough to be upheld. Many subspecies in the contemporary handbooks and checklists we thought were extremely subtle or even impossible to separate from neighbouring subspecies, and we set off to independently check the validity of all subspecies in museum collections. Applying the so-called '75% rule' (meaning that at least 3/4 of all individuals should be possible to distinguish based on morphology) we ended up discarding c. 15% of all subspecies as synonyms compared to other handbooks and major checklists.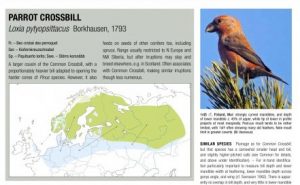 Hadoram: At least as I see it, BWP was made some 20-30 years ago when it was still possible to squeeze information into one project – on distribution, population estimates, atlas, ecology, seasonal biology, behaviour, voice, and so on, as well as identification and variation (but with generally only very basic illustrations, paintings) – and to be satisfied with it!
With so much new information on identification, vocalisations, ageing and sexing, moult, geographical variation and taxonomy (and in parallel the development of revolutionary digital photography), an updated modern handbook of these issues was needed.
In order to illustrate these issues properly and fully, it required a lot of space, for 5-49 images per species (depending on extent of variation). Just for the Passerines it required two volumes, that includes c 5000 images, made by some 800 photographers! Surely it then becomes the most complete photographic handbook for any region.
 What was the biggest challenge in accomplishing this benchmark work?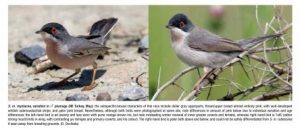 Lars: To assemble the many photographs (there are well over 4000 photographs together in the two passerine volumes) and to achieve full coverage of male and female, young and adult, sometimes also in both spring and autumn, plus examples of distinct subspecies, was of course a major challenge. Hadoram was in charge of this and did a great job, and we got good support from our publisher setting up a home page for the project where photographers could see what we still needed photographs of. Thanks to the prolonged production, many gaps (if not all!) were filled during our course.
But the biggest challenge was undoubtedly to manage our goal to independently examine all commonly described subspecies. This led us to visit about 15 different museums with for me sometimes biannual sessions both in Tring and New York (the two largest bird skin collections in the world) with visits also to Paris, Stockholm, Leiden, Berlin, Copenhagen, Moscow, Almaty and Bonn, to name some other places. Hadoram made targeted visits also to the museums in Vienna and Tel Aviv to seek answers to specific questions. Apart from the considerable expenses for these travels that we took on, the main difficulty was to find enough specimens of some rarer subspecies. Our aim was to examine at least 12 specimens of each sex of each named subspecies. We managed this for the vast majority, and sometimes examined series of each sex in three figure numbers, but for a very few we could not reach the minimum level. However, we did our best and we state sample sizes for all taxa in the handbook.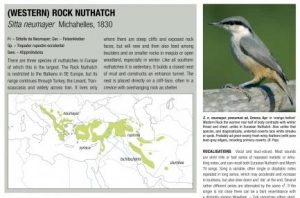 Hadoram: Lars described in his answers very well, the combined efforts with the museum collections work and building the photographic collections and selections for the project.
I may add that the biggest challenge and achievement of this handbook is that it provides to field users masses of new and updated information on variation that is now – 1. available, and – 2. more visible due to improved optics and digital photography. But at the same time, in a balanced approach and focus about what also observers can see and use. In other words, HWPB provides the observer with much new information that he can see and analyse while examining a bird in the field, or when processing their images back home.
You have worked in the field for many years, what would you highlight as the most profound change to the practice of identifying and recording birds? What will be the biggest challenge for ornithologists in years to come?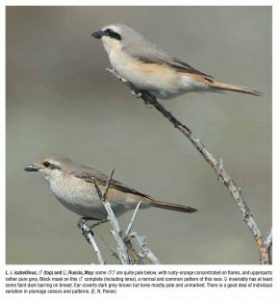 Lars: Digital photography and the existence of internet and websites for documentation and discussion of bird images are the main changes compared to when I started as a birdwatcher. This has speeded up the exchange of news and knowledge in a remarkable way. True, field-guides and birding journals keep offering better and better advice on tricky identification problems, and optical aids have developed to a much higher standard than say 50 years ago. But the new cameras with stabilised lenses and autofocus have meant a lot and have enabled so-called 'ordinary' birders to take excellent photographs. This has broadened the cadre of photographers and multiplied the production of top class images of previously rarely photographed species. Which of course made HWPB possible. The handbook is a wonderful testimony to the high standard of bird photography today, also beyond the ranks of so-called professional photographers.
The biggest challenge in years to come will be to identify the new species, which are nowadays nearly always the result of taxonomic decisions and splits of an existing species containing rather distinct geographical variation. Thus previous subspecies are elevated to full species, and by the very nature of it they are often look-alikes.
Linked to this is the problem of different species concepts when various authorities or published checklists are consulted. Although one universally adopted taxonomic list could seem desirable for facilitated communication and for consistent conservation efforts between countries, differences of opinion have always had the positive effect of generating more research and interest. So taxonomic agreement is recommendable up to a point.
What's next for you?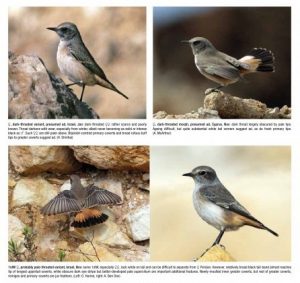 Lars: I have planned for many years now to revise my ringers' guide and produce a fifth edition of it. It is now taxonomically obsolete, but works quite well as to ageing and sexing if you asked me. Amazingly, this book has been alone on the market for over 40 years, and only got its first challenger the other year. After all, the first edition was published in 1970. Now a lot of the offered advice could be improved or refined, and I have started to spend time at the Ottenby Bird Observatory to sharpen up my eyes and knowledge again.
And of course there are the non-passerines for HWPB to do as well. I will not be a true retired man for many years to come yet! I am guaranteed an interesting and varied old age!
I also confess to holding a lifelong interest in bird vocalisation, and I do spend time with my Telinga parabolic microphone and recorder trying to obtain missing sounds, or to improve what I already have. A very relaxing way of birding for me, although I cannot help noticing how disturbance from anthropogenic noise is making good recordings harder and harder to achieve.
Then birds are not everything in my life (but much!). I am a keen Bordeaux wine admirer, and I still play some golf. In other words I am not idle. There is not a day in my life that is not full of activities.
Hadoram: Before I get too old…I am now focusing on completing two main projects for the same publisher:
The HWPB Non-Passerines: it will also come in two volumes, but this time around we are inviting a group of expert authors, with the idea to publish one volume every 3 or 4 years.
The Tubenoses Monograph: already more than 20 years in the making. By now I have seen at sea (and often also on land with live birds) all the taxa, including all species and subspecies of albatrosses, petrels, shearwaters and storm petrels of the world (and examined most of the largest collections too). So I am now writing it with my co-author Vincent Bretagnolle and Tim Worfolk (artist) who has already illustrated many of the plates.
Written by two of the world's most respected ornithologists, this landmark handbook has been highly anticipated for many years and, as of publication, will be the most complete and comprehensive photographic guide to the passerines of the Western Palearctic.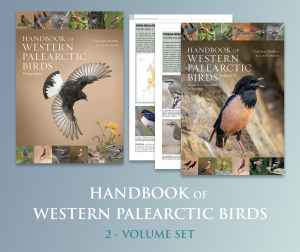 Handbook of Western Palearctic Birds: Passerines (2 Volume Set)
ISBN-13: 9780713645712