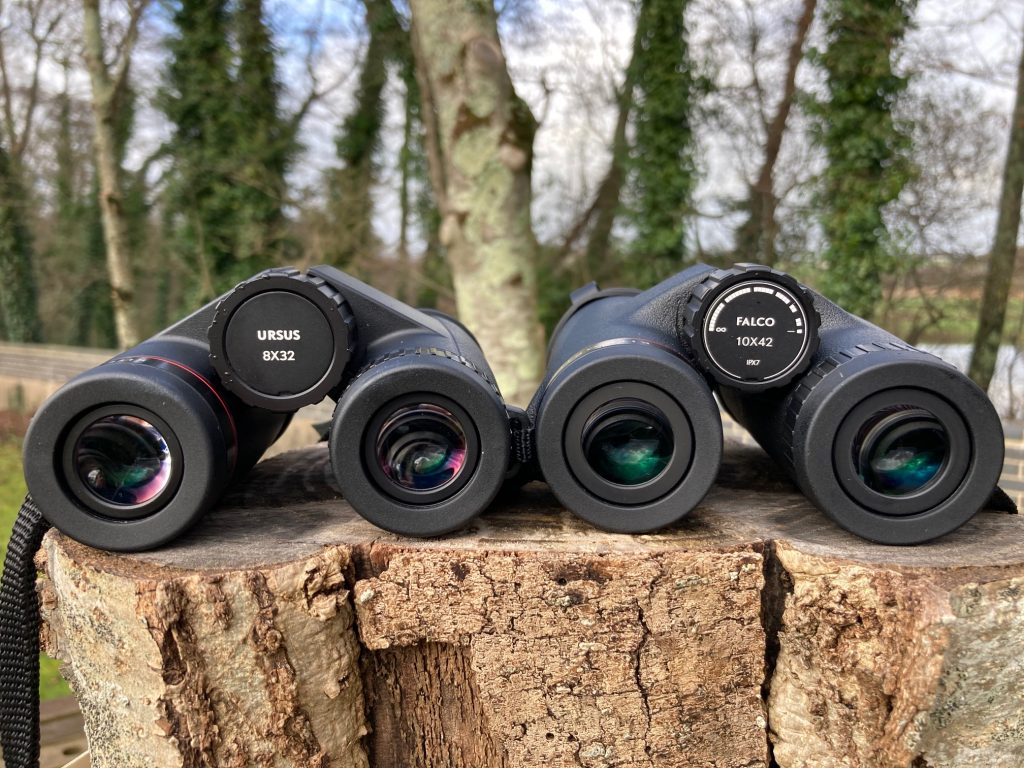 Winter migrant season is in full swing, and birders across the country are enjoying the spectacle of the ducks and geese that each year visit our shores. For the birder, no piece of equipment is more important than a good pair of binoculars, and this month we see two new additions to our range in Kite's Ursus and Falco models.
Kite have been a powerful name in the crowded binocular market, producing high quality optical equipment for decades, and we were excited to see their new, beginner friendly binocular model land last month.
The Ursus is an entry level range, aimed at providing a quality experience for an affordable price. Easy to use and robustly built, boasting a waterproof coating, nitrogen filled interior to prevent condensation and rubber coating to protect the inner workings from impact, they are well-placed for the beginner or for a birder on a budget. There are four models, the 8×32, 8×42, 10×42 and 10×50. Generally speaking, birders will find binoculars with 8x magnification best for their needs, while a lens diameter of 42mm is generally the optimal trade off between being small and light enough to carry conveniently and allowing enough light through to provide a sharp, clear image. More information on choosing the right pair of binoculars for you can be found on a previous blog post, How to Choose a Pair of Binoculars.
Joining the Ursus, the mid-range Falcos are also new to NHBS, with the same selection of models. These are something of an update to the older Kite Toucans, an excellent set of optics in their own right, so we were curious to see how the new model measures up.
With all this in in mind, we were excited to take our new additions into the field and put them through their paces.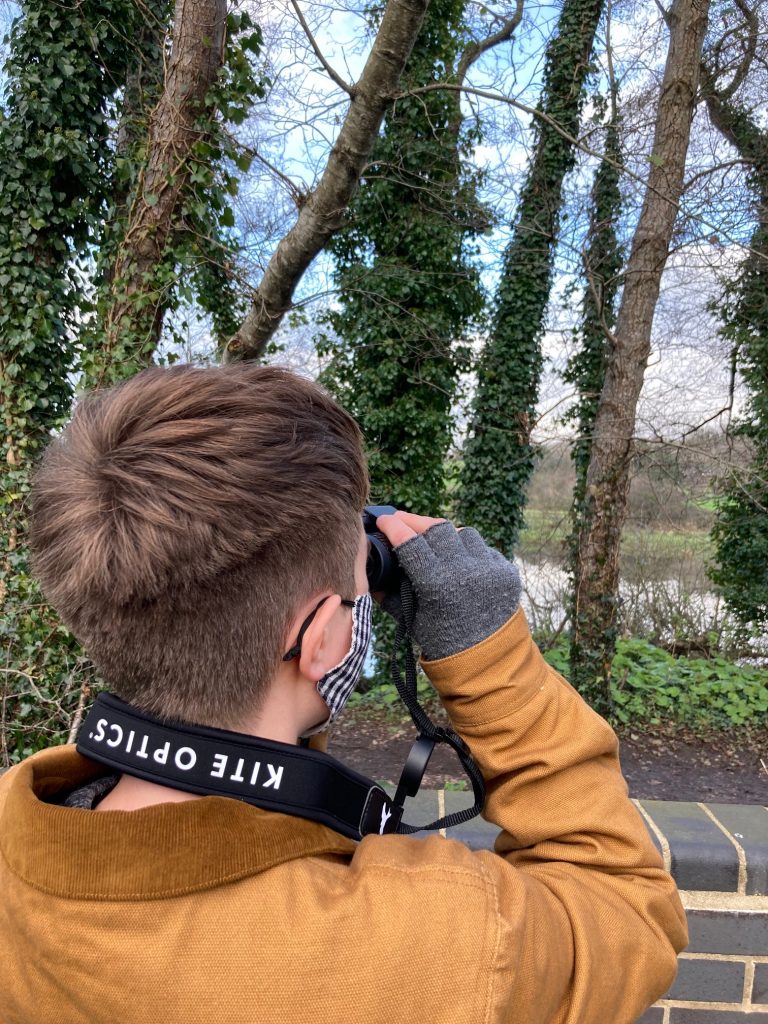 How We Tested
On a cold winter morning we headed down to the banks of the River Dart, loaded with the Kite Ursus 8×32 and more mid-range but equally new Kite Falco 10×42, to see how they measure up against each other. In addition to the irresistible delight of birding, we chose to focus the binoculars on a range of static objects at different distances and in different light conditions, including a buoy on the reflective surface of the river, a dead tree with the darker background of riverside foliage, and a flag set against the sky. The intention was to test how well the different models stand up against one and other at different distances and in different light conditions, hoping to pick up any lateral colour fringing or similar issues that might arise in specific conditions.
Back in the office we examined the pair closely, comparing them to other models across a diverse range of prices. It is important that portable binoculars balance a large enough lens to allow sufficient light for a good sharp image with a convenient weight for long periods around the neck or in a backpack. Comfort while holding is also important, as are practical concerns such as the quality of the waterproofing finish.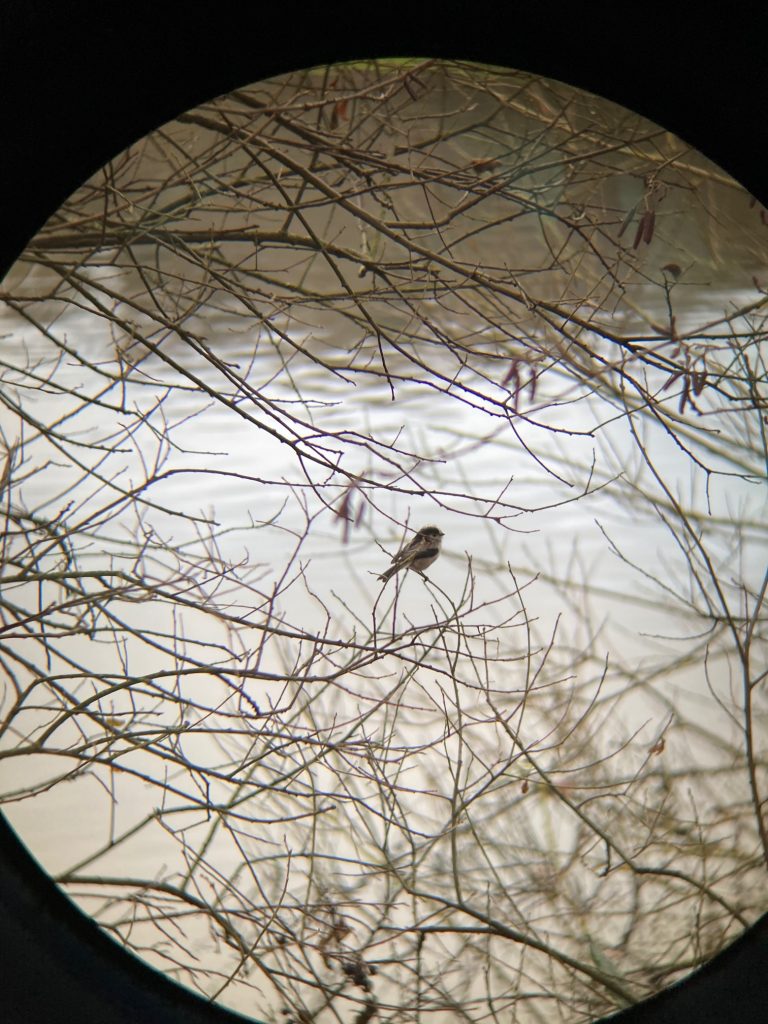 What We Found
First, the basics. The exterior of the Ursus and Falco models are quite similar, finished with the same textured soft-touch rubber to a conserved, simple design. The texturing makes them easy to grip, a particularly helpful feature in damp weather. The two-tone finish of the Falco is particularly comfortable and shows a marked improvement over older Kite models in my mind. While it may be a little unyielding for some tastes, I found that the finish on the binoculars was just as pleasant to hold as considerably more expensive brands and quite superior to the rubbery coating used by some. While the shallow thumb imprints on both models have a limited impact on the overall feel of the binoculars, they do provide a useful indication of where to place your thumbs to keep them well balanced.
As with all Kite binoculars, the finishing is meticulous. The waterproofing – IPX7 standard, indicating that an item can be submerged up to 1m, although I wasn't brave enough to try it – means that they can be confidently used in any conditions that naturalists or star gazers are likely to encounter.
The newer Kite models are denoted by a red ring beneath the right eye cup. This is an entirely superficial but very smart feature that lends the brand a distinct identity.
Impressions of the mechanics were equally positive. The focus wheel moves smoothly and is not too stiff on either model. The hinges are a little more stubborn, particularly on the Ursus, but this is likely to become less noticeable with a bit of use and helps keep the binoculars at a comfortable width. It is worth noting that, although the Kite blurb describes the adjustable eyecups as 4 stage, they appear only to have three positions. This has no real impact on performance.
Undoubtedly the most important factor when it comes to binocular choice, the images provided by the Ursus and Falco certainly match up to Kite's reputation of quality. Both are bright and crisp, Kite's own brand of 'MHR' coating providing exceptional clarity. The Falco in particular combines a bright image with a spectacular field of view. While the clarity of the Ursus' image did become noticeably distorted around the edges, this did not overly impact the experience and the centre of the image, where the user is likely to be focussing, was nice and clear.
We found that the Ursus performs best at medium to long distance while the Falcos are consistently impressive even at short range, and both models provide a clear view even in lower light. The Ursus do start to drop off a little earlier as the light fades, especially in shadowy areas.
We found the Falcos' close focus to be particularly noteworthy. The 10x magnification of the pair I tested makes them a little unwieldy for this purpose but might also be advantageous when it comes to observing insects such as dragonflies. We have noted that other Kite models, such as the Lynx, excel at short distances and were pleased that this pair continue that trend. Unfortunately, the Ursus suffer a little here, providing an image that is noticeably less clear than their sister model and not focussing so close, but still perform well for their lower price bracket.
One fairly common issue among binoculars, from the most entry level models to pairs costing thousands, is lateral colour-fringing (chromatic aberration), a phenomenon in which objects, particularly dark shapes against a light background, appear with a small corona of distorted colour. This is generally a minor annoyance at worst, but I was pleased to discover that I could not spot its occurrence in the centre of either model's image, even in dark birds set against pale clouds in the middle of the day. While fringing will inevitably crop up sometimes, the fact that it is not obvious in these conditions really does say good things about the quality of the 'MHR' coating.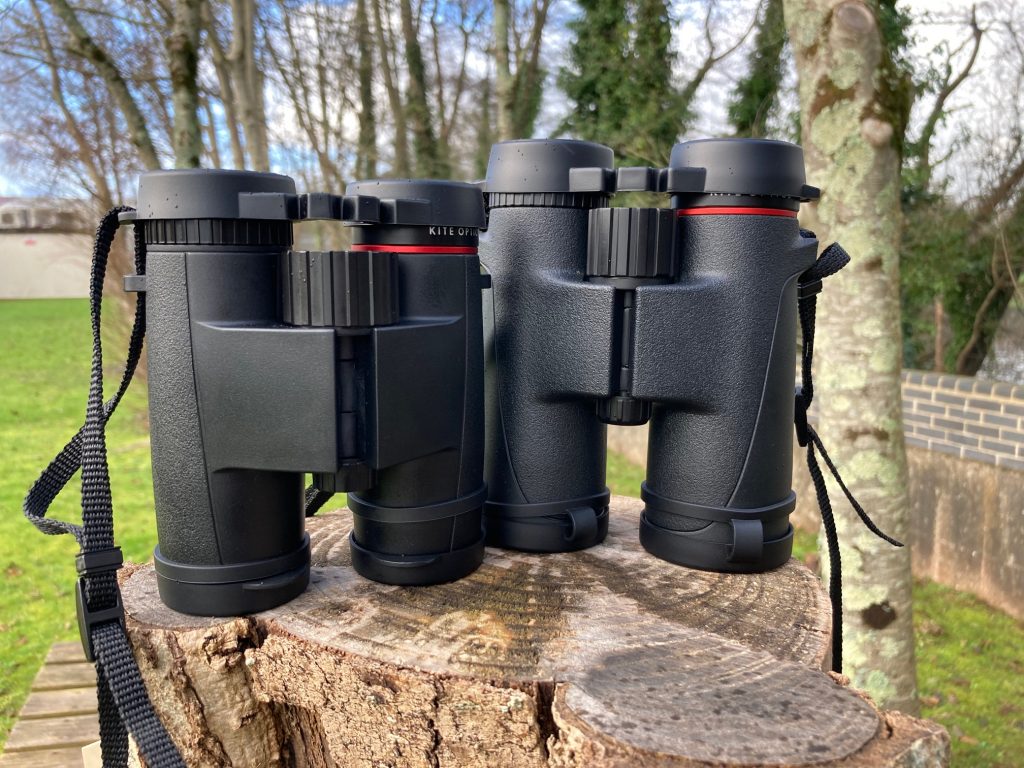 Conclusions
The Kite Ursus are a standout contender among entry-level binoculars. While no optics in this price range are going to be perfect, the clear image and sturdy yet lightweight design create a convenient and very enjoyable user experience. I was able to spot and identify small birds at a range that I would really have struggled with when using some competitors, and their performance in lower light levels is a welcome bonus. The included neck strap is good quality, secure and extremely comfortable, well padded, and easy to attach. I would note that people planning to take them into hot environments may wish to go for something without rubber padding, but for use in the UK I've seldom seen better.
The intermediate Falcos join a selection of Kite binoculars that stand out positively in a crowded market. They are a marked improvement on the already quite impressive Kite Toucan, which they replace, with an improved field of view and more comfortable grip. A combination of excellent image quality, robust, distinctive design and consistently strong performance whether used at short or long range makes for an easy recommendation.
The Kite range has been respected among birders as a reasonably priced mid-level selection of good quality, robust optics. Indeed, they are so confident in the quality of their optics that they offer a staggering 30-year guarantee. The Ursus represent the welcome addition of a beginner-friendly pair that balance the lower price bracket with the quality that has become synonymous with the brand, while the Falco continues their long tradition of exceptional, reasonably priced mid-range optics that balance a robust, modern design with a surprisingly lightweight body. Whether you're a beginner, an improver or a veteran, Kite have a model that will suit your needs.
---
Kite Ursus and Falco binoculars are available from the NHBS website.
To view our full range of binoculars, visit nhbs.com. If you have any questions about our range or would like some advice on the right product for you then please contact us via email at customer.services@nhbs.com or phone on 01803 865913.