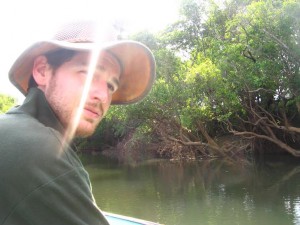 James Byng is the author of the new Gymnosperms Handbook and a founding member of Plant Gateway, the botany organisation that published this, and his previous book, The Flowering Plants Handbook (out of print – new edition pending). In this interview he tells us about his work with Plant Gateway, raising the profile and accessibility of plant research, his own work with the genus Syzygium, and a day in the life of a working botanist.
You are a founding member of the Plant Gateway team. What is the vision for this botany organisation?
Taxonomic research is an underfunded and underappreciated branch of science and so few plant taxonomists are employed today in universities, and most national botanical institutions are cutting staff. However, the need to document the world's species diversity has never been greater with as many as a fifth of all known plant species estimated to be threatened with extinction.
We believe at Plant Gateway an important step in slowing the biodiversity crisis is making plants more relevant and more accessible to people. It sounds simple but plant research in general is never quite appreciated as much as research on animals or in other scientific disciplines. But plants are fundamental for our own existence and continued survival on this planet, and we still barely know anything about most of them. Plant Gateway was founded for passionate like-minded taxonomists to make sense of the complicated botanical literature by publishing practical literature, running affordable and engaging identification courses, and undertaking taxonomic research with the aim of bringing it to a wider audience and making significant strides in our knowledge.
Who are the Plant Gateway courses for and how can they get involved?
Whilst training to be a plant taxonomist I witnessed over the years that plant identification skills were rarely being taught at universities anymore despite there still being a huge demand. Even though several courses exist which teach these skills, many of the courses are very expensive and/or taught too much from the specialist's point of view which scares people off. Our courses are designed for everybody and anybody whatever a participant's botanical background – all you need is an interest and love for plants! On past courses we have had undergraduate and postgraduate students, university professors and lecturers, horticulturalists, ecologists, Friends of Botanical Gardens and gardeners. We run several 1-day identification courses all over the UK in May and June, and a week long course in Tenerife around Easter time in 2016. Places on these courses can be reserved on our website.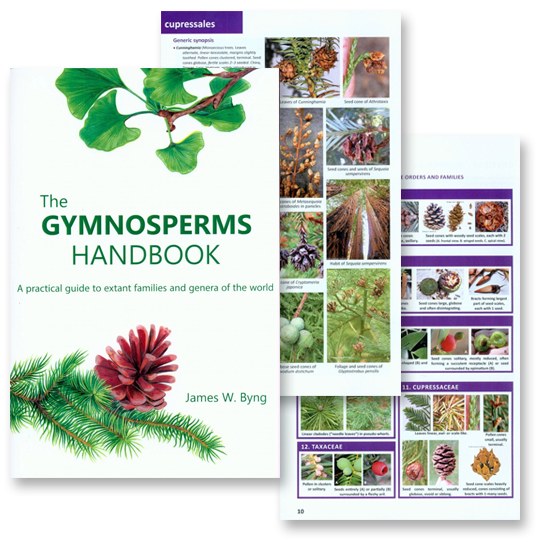 The Gymnosperms Handbook is the second publication from Plant Gateway. Who is this book aimed at?
The Gymnosperms Handbook is a concise introduction to identifying extant gymnosperms of the world. It is aimed at both specialists and non-specialists; ranging from experienced botanists, ecologists, horticulturalists, biologists and gardeners to students and those people who are learning about and interested in conifers, cypresses and other gymnosperms because they see them in their local parks and forests. So the handbook is aimed for everybody whatever their background.
Part of your own research is focused on the systematics of Syzygium (Myrtaceae). What led you to this particular genus?
In 2007 I was an undergraduate at the University of Aberdeen when I first encountered the genus Syzygium in Zambia while undertaking ecological fieldwork. Since then I have been intrigued by the genus as most botanists seem scared by the sheer number of (known and unknown) species and the difficulty in identifying them due to the seemingly poor diagnostic characters which separate species. The genus is famous for containing the commercial clove (Syzygium aromaticum) and is now the largest tree genus in the world with over 1,200 species. I am now leading a project, with collaborators in the USA, Australia, Africa and Asia, to unravel evolutionary relationships of Syzygium and to document all species in a global monograph.
What does a working day as a botanical researcher look like for you?
A typical working day for a plant taxonomist in the twenty first century varies from week to week. Most of my time is spent with dried plant collections, housed in herbaria, where I sort through specimens collected from past and present field expeditions and document and describe species diversity. I also spend time collecting new data and plants in the field, usually in the tropics, and undertaking lab work where I extract and amplify DNA to understand evolutionary histories. Lastly, but perhaps most importantly(!), I spend time in front of the computer writing up my findings in the form of scientific papers, reports and books. It can be a combination of enjoyment and stress but once I finish a piece of work it makes it all feel worthwhile.
What's next in line for publication from Plant Gateway?
One of the next titles in our practical handbook series will be a revised second edition of The Flowering Plants Handbook which will include notes on all flowering plant genera, more images, and will follow the soon to be published Angiosperm Phylogeny Group (APG) IV classification system. Also, there will be a practical handbook on ferns and their allies co-authored with my Plant Gateway colleague, and leading fern specialist, Dr Maarten Christenhusz.