With their horn-shaped cephalic fins and large, gaping mouths, manta rays have long been the source of mariners' myths and legends. Today, we know much more about these curious creatures, although many features of their lives and behaviours remain a mystery.
Marine biologist and co-founder of the Manta Trust Guy Stevens has spent many years researching mantas in an effort to understand their lives and to promote conservation practices that will ensure their continued survival. In Manta he has joined forces with National Geographic photographer Thomas Peschak to create a visually stunning and informative tribute to these animals.
To coincide with the re-release of the book, we recently spoke to Guy about his work with Mantas and the conservation challenges that they face.
---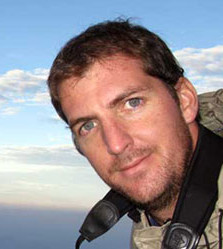 Your life as a researcher and CEO of the Manta Trust must be incredibly varied and exciting. I'm curious what a typical day in the life of Guy Stevens looks like. Or, if a 'typical' day is unheard of for you, can you describe a recent day for us?
My days tend to be dictated by where I am. When in the field I am usually diving or freediving with manta rays on a daily basis, collecting data or guiding tourist expeditions. However, increasingly the majority of my time is spent on my computer behind a desk responding to emails, having Skype calls, writing papers, applying for grants and managing an ever increasing manta team.
Setting up an NGO must require an immense amount of work and passion. What did you find most challenging about the process and, as an extension of this, what advice would you offer other conservationists who are hoping to travel a similar path?
The most challenging part of the process, which still remains the main challenge today, is ensuring there are funds to enable the charity to carry out its mission. My advice to anyone wishing to follow a similar path would be to ensure you diversify your revenue streams.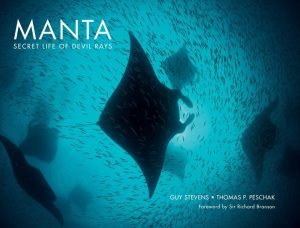 The work conducted by yourself and other researchers around the world has contributed a huge amount to the body of knowledge about manta rays. What do you think are the next big questions that need to be addressed and how do you think new technologies (e.g. satellite and acoustic tagging / genetic techniques) will contribute to these?
From a conservation perspective one of the next big focus areas is to try and quantify the extent and impact of bycatch fisheries on the high seas (such as purse seine tuna fisheries) to manta rays and their close relatives, the devil rays; how many are being caught, which species, where, when and how many survive release after capture? Using post-release mortality tags can help us to estimate how many of the rays are likely to survive being captured after release, while the implementation of better management practices can hopefully reduce bycatch.
It is clear from your book that the problems facing mantas are incredibly complex and, as such, will require complex solutions. The final message I took from your book, however, appears to be one of hope. What significant changes would you like (or hope!) to see happen within the next five years in the arena of manta ray conservation.
I would like to see a world shifting away from industrial fisheries which employ unsustainable fishing practices; such as drift nets, long-lines, gill nets, etc. The oceans are rapidly being depleted and we need to protect much greater areas of this common resource from fishing if we want to stand any chance of safeguarding the world's charismatic species like manta rays from extinction in the next few decades.

Finally – and I appreciate that you must have hundreds to choose from – is there a single encounter with a manta ray that really stands out in your memory and that will stay in your heart forever?
Yes, certainly the encounter which stands out the most is the one I describe in the book with the manta Slice, who I rescued from fishing line back in 2008 in Hanifaru Bay….there are lots of detail on this encounter in the book and here's a link to the story on our website (although it is a bit outdated now); http://www.mantatrust.org/amazing-experiences-entangled-manta-rescue/
---
Manta: Secret Life of Devil Rays is available from NHBS.
To find out more about the work of the Manta Trust and how you can support them, go to www.mantatrust.org